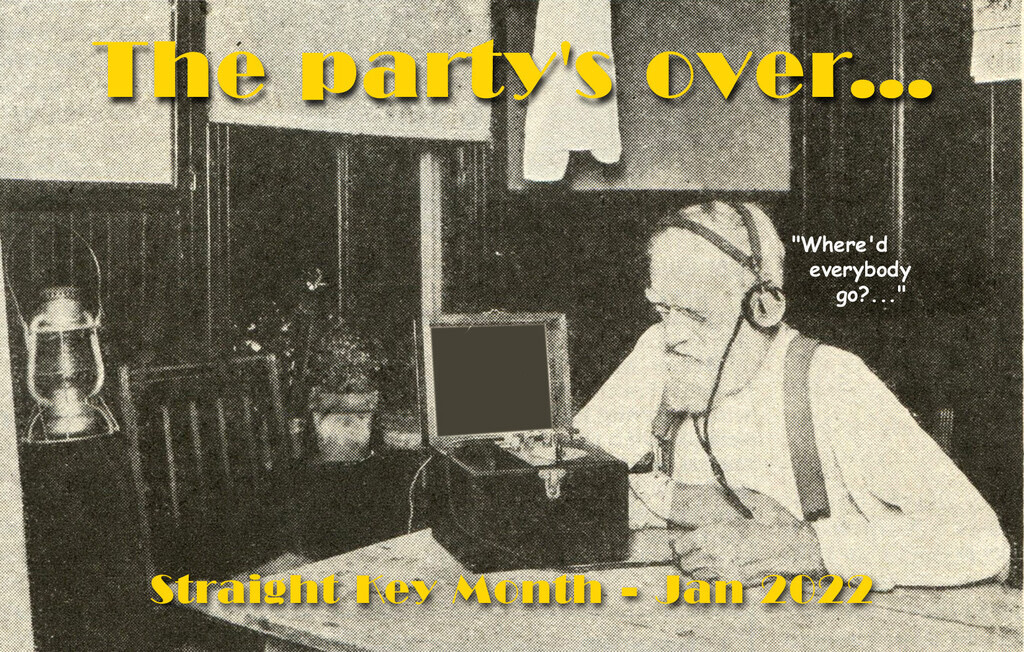 Visit the K3y Homepage for more information!
---
SKCC Club Keys by W1SFR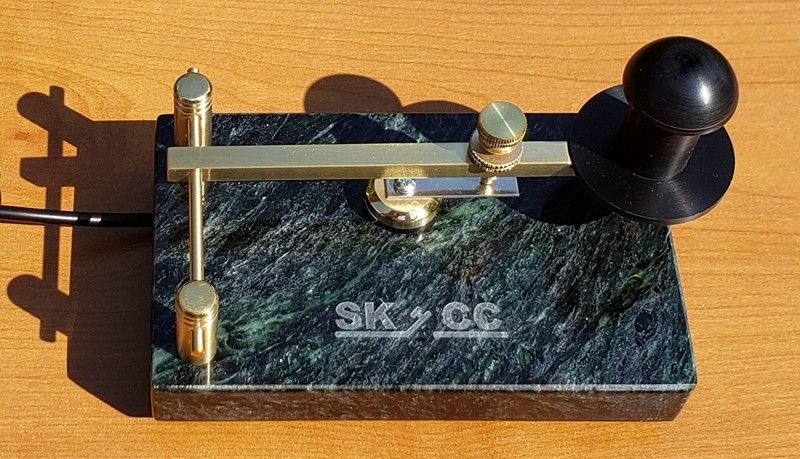 The Straight Key Century Club is proud to offer the W1SFR keys for sale.
Please click on the Pic for details.
---
The March 2022 Newsletter Has Been Posted!
Please take some time to check it out. It can be found here.
73,
Ted — K8AQM/VE9AQM
SKCC —1629S
---
Surprise!
A very nice W1SFR SKCC engraved Green Machine Key has been presented to Mike WI5H, the lucky SKCC member who participated
SIX (6) separate times in the
Slow Speed Saunter during 2020 !
Mike's Callsign was drawn from a virtual Hat containing the Callsigns of all the members who participated in 4 or more of the monthly SSS operating events during 2020 and reported their activity on the Slow Speed Saunter Results page.
The SKCC Green Machine is a single paddle key mounted on a beautiful green Quartz base mined in Vermont. The key is also unique in that it may be used either as a single paddle key with a radio's internal electronic keyer, or may be used as a Sideswiper key also known as a Cootie key!
CONGRATULATIONS MIKE WI5H !
We hope to make an SKCC Slow Speed Saunter Operating Event Participation Presentation annually.
Join us in the SSS on the first day of each month, and be sure to record your participation on the Results page!

The Slow Speed Saunter is not a contest !
The SSS is a monthly operating event held on the first day of each month in conjunction with the SKCC Straight Key Nite (SKN), and is designed to provide for a relaxed 24 hours of slow speed CW operating outside of any contesting event. It's a great time to practice, improve your skills, or just enjoy CW at speeds under 13 wpm. Go at your own pace with the knowledge that others will match your speed.
Complete information about the Slow Speed Saunter can be found
here @ The Slow Speed Saunter page.
Rich - W4RQ Amateur Radio: The Original Social Media
---
What's New...
SKCC Skimmer download link added
Under the "Member Services" section to the left. If you have not used the skimmer while chasing awards, you are missing out. Those last few contacts are always hard to find.
---
SKCC's Monthly Operating Events
Monthly Straight Key Night
SKCC Straight Key Night (SKN) occurs from 0000 - 2359 UTC on the first day of each month. It is not a contest, so there is no need to submit logs. But it is a good opportunity to work toward the club's achievement awards. The operating event, the club's first, was inspired by the ARRL's annual Straight Key Night. The SKCC's founders wanted to have Straight Key Night every month -- a good way to bring members together on the air on a regular basis. The tradition continues!
---
Monthly Slow Speed Saunter:
Occurs on the first day of each month from 0000 - 23:59.
This is not a contest. The goal is to work slow speed operators @ 12 wpm or less. Please QRS.
Visit the Slow Speed Saunter Home Page for details.
---
Straight Key Sprint-Europe: Thursday, 09-June-2022, from 1900 - 2100 UTC with 15 minutes added on each end for QRS exchanges.
The Monthly SKCC Euro-Sprint (SKS-E) occurs on the first Thursday of the month. The event time varies according to British Summer Time (BST). BST details can be found here TimeAndDate.com
Visit the SKSE Home Page for sprint details.
---
Weekend Sprintathon: From 11-June-2022 @ 12:00 UTC to 12-June-2022-23:59 UTC
The Monthly Weekend Sprintathon (WES) occurs on the Saturday following the 6th of each month @1200 through 2359 the next day (A total of 36 hours).
Visit the WES Home Page for details.
---
Straight Key Sprint: Wednesday, 25-May-2022, from 0000 - 0200 UTC
The Monthly Straight Key Sprint (SKS) occurs on the fourth Wednesday of the month and runs from 0000-0200 UTC. This means Tuesday evening in the US.
Visit the SKS Home Page for sprint details.
---
Are you new to CW?
Then check out our CW Beginner's Corner page. It has plenty of basic information about CW operations that will help turn those first CW QSOs from jitters to joy.
If you want personalized, on-air help, check out our Morse Elmers page. You'll find contact information for members who have volunteered to serve as CW mentors. Drop one an email to set up an on-air schedule. Or just visit the club's sked page. You'll see a list of members logged in and can use the page's messaging functions to reach a member to arrange an on-air contact.
You have lots of help available to you as you become more adept at using the original instant-messaging mode! You'll find links to the Beginner's and Elmer pages in the navigation column at left under Getting Started. The link to the Sked Page appears under SKCC Community.
---
Odds 'n' Ends
Looking For A Sked?
Visit the club's sked site at https://sked.skccgroup.com. It's a fun, friendly place. New members and beginners are encouraged to join! No commands to learn, no Mickey Moussing around with new software. The system simply asks you to provide some basic info about yourself and, presto, you get a list of all SKCC members looking for some CW fun! Can't get any easier than that! A hearty "thank you" to Mark, K7MJG, for developing the sked page. A link to it also appears under SKCC Community in the navigation column at left.
SKCC Files & Downloads Section
Looking for SKCC related software? Download club related software free. Programs like W5ZR's SKCC Awards tracker. If you are a software author and have club or CW related programs to contribute, please contact the webmaster@skccgroup.com See the Files and downloads under Member services at left.
What's an SKCC Elmer?
We have all faced the daunting task of firing-up the radio for that first CW contact. Now you can take that shaky, uncertain hand and turn it into a confident, firm fist with the help of our group of SKCC Morse Code Elmers. Simply click on the Morse Elmers link at left, choose from the list of Elmers, send him or her an email requesting a sked, and before you know it you'll be enjoying the thrill of sending and receiving solid CW.
SKCC Shopping Mall
So now you've joined SKCC, you have your mechanical sending device, radios, antennae, and other station accessories. But do you have the SKCC "look"? Here are some gift ideas you might think about when gift-giving/receiving time arrives. Why not stop by some of the vendors who are providing SKCC-related gear and do a little virtual window shopping?



For an SKCC name badge, stop by the SignMan of Baton Rouge, purveyor of the SKCC badge shown at left. If you're interested in pinning one on your shirt pocket, you can order an SKCC badge here.