!!!Attention to All Members!!!
When submitting award applications, please ensure your callsign and the word "Application" are in the subject line. We are trying to reduce our spam and increase the spam filter success rate.
Thanks!
---
The Straight Key Century Club is the most active group of mechanical-key Morse code radiotelegraph operators in the world. Founded in January 2006, we have thousands of members around the globe.
Here's how it works:
-- Apply for free membership. (Open to licensed amateur radio operators only.)
-- Make HF radio contacts using any of the three early original types of manual telegraph keys: Straight Key, Bug and Cootie.
-- Gain on-air experience in sending and receiving by swapping numbers with other members; enter Club sponsored sprints, contests and special events; rag chew; earn activity & achievement awards; access our online resources, newsletter, forums and chat.
Please see the description of mechanical key types and participation guidelines here.
To receive an SKCC number, click on the Join SKCC link at left. If you are helping someone who wants to join but doesn't use email, you can download a snail-mail application here.
---
The 17th SKCC Anniversary Straight Key Month Has Ended!
---
The SKCC Annual Print Calendar has been posted!
---
The Winners are in!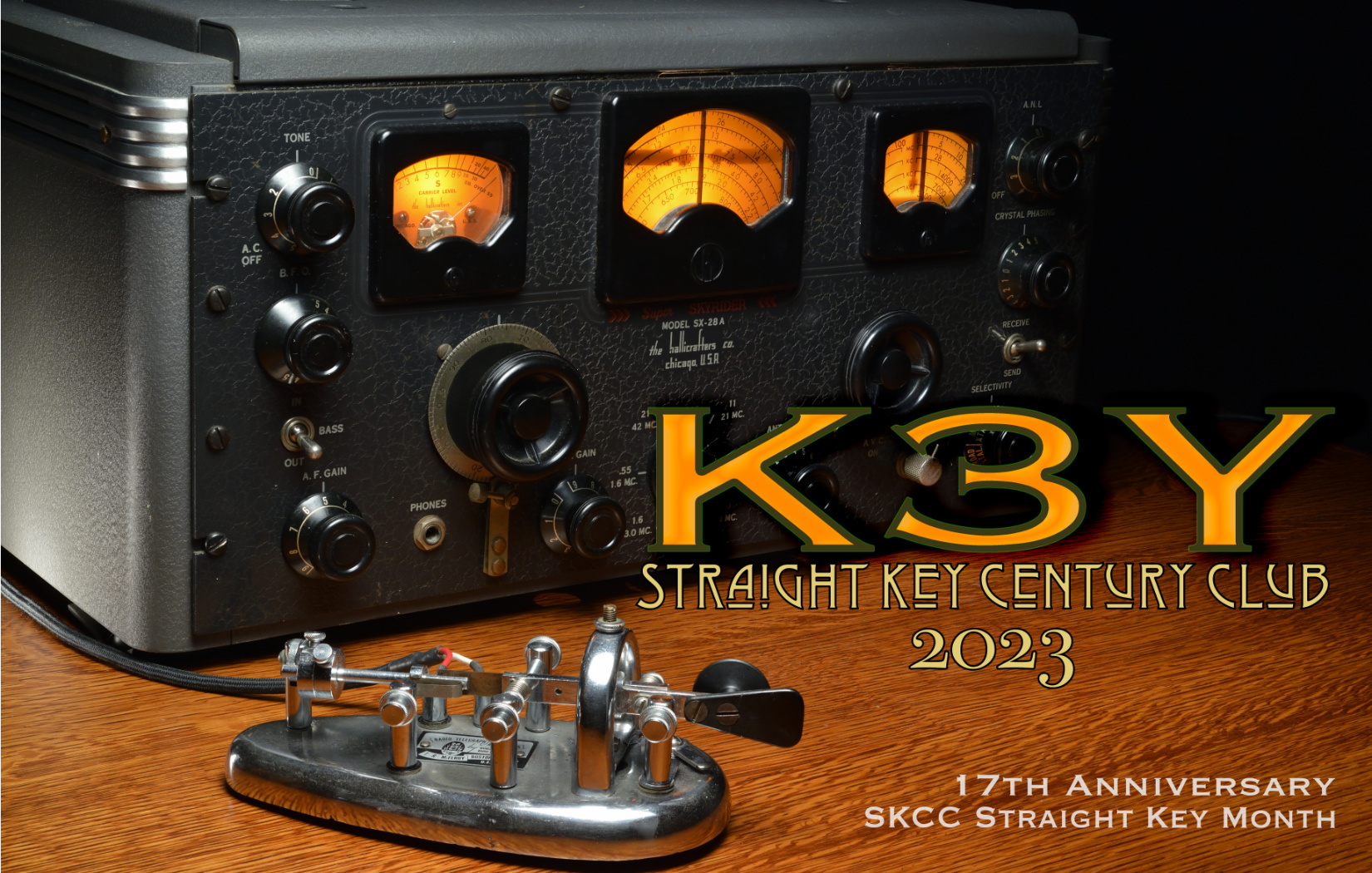 Congratulations to Steve, NØXC Nr. 10091. He submitted the winning QSL design, Entry #41, for the 2023 K3Y QSL.
GT, W1FIF Nr. 26332T claimed the seonnd place with Entry #50
Third Place goes to Gary, K4IIG Nr. 25208T for entry #02
Please see our K3Y QSL page for design Winners!
---
Two New SKCC Events
The Straight Key Century Club is Excited to Announce Two New Operating Events.
Straight Key Sprint Asia (SKSA)
A two hour event, to be held on the second Friday of each month from 2200Z through 2359Z.
The inagural event will be on September 9th.
Please see the event homepage @ https://www.skccgroup.com/operating_activities/sksa/ for more details.
Our second new event will be Oceania QRS Saunter (OQS)
A 24 hour event will start on the third Saturday of each month from 0000Z through 2359Z.
The inagural event will be on September 17th.
Please see the event homepage @ https://www.skccgroup.com/operating_activities/oqs/ for more details.
---
The March 2023 Newsletter Has Been Posted!
Please take some time to check it out. It can be found here.
73,
Ted — K8AQM/VE9AQM
SKCC —1629S
---
PRESENTATION OF FIFTEENTH SKCC MARATHON AWARD
SKCC is pleased to announce the fifteenth SKCC Marathon Award presentation to Ai Nguyen, AI8AI, #23084.
Ai made her first marathon QSO on August 27, 2022 and confirmed her 100th on December 31, 2022. She is the first YL to complete this endeavor. Ai joined the SKCC on September 23, 2020.
Ai was licensed in July 2020. A month later, she began learning CW with the Long Island CW Club, which has become an integral part of her journey. On December 23, 2020, Ai made her first three CW QSOs on 40m.
Ai became interested in amateur radio as an alternative method of communication. She owns a Yaesu FT 891, and an Elecraft KX3. For the past two years, she attended Field Day with the Nassau Amateur Radio Club, K2VN.
After completing her first marathon with Cathy, W4CMG, Ai embarked on the journey herself as a means of further honing her CW skills and meeting new and wonderful experienced ops along the way.
The Marathon Award was established in 2008 to recognize SKCC members who demonstrate their skill, talent, and love for ragchewing by completing 100 QSOs each with a separate SKCC member lasting 60 minutes or more. The first award occurred in 2014, and now has a total of fifteen awardees. Consider joining in the fun and developing your ragchewing skills.
---
What's New...
Begining in February 2023, WES Dates are moving to the Second Saturday of each month.
---
SKCC's Monthly Operating Events
Monthly Slow Speed Saunter:
Occurs on the first day of each month from 0000 - 23:59.
This is not a contest. The goal is to work slow speed operators @ 12 wpm or less. Please QRS.
Visit the Slow Speed Saunter Home Page for details.
---
Straight Key Sprint-Europe
The Monthly SKCC Euro-Sprint (SKS-E) occurs on the first Thursday of the month from 1900 - 2100 UTC with 15 minutes added on each end for QRS exchanges. The event time varies according to British Summer Time (BST). BST details can be found here TimeAndDate.com
Visit the SKSE Home Page for sprint details.
---
Weekend Sprintathon
The Monthly Weekend Sprintathon (WES) occurs on the Saturday following the 6th of each month @1200 through 2359 the next day (A total of 36 hours).
Begining in 2023, the WES will start on the second Saturday of each month.
Visit the WES Home Page for details.
---
Straight Key Sprint - Asia
A two hour event, held on the second Friday of each month from 2200Z through 2359Z.
Visit the SKS-A Home Page for details.
---
Oceania QRS Saunter
A 24 hour event held on the third Saturday of each month from 0000Z through 2359Z.
Visit the OQS Home Page for details.
---
Are you new to CW?
Then check out our CW Beginner's Corner page. It has plenty of basic information about CW operations that will help turn those first CW QSOs from jitters to joy.
If you want personalized, on-air help, check out our Morse Elmers page. You'll find contact information for members who have volunteered to serve as CW mentors. Drop one an email to set up an on-air schedule. Or just visit the club's sked page. You'll see a list of members logged in and can use the page's messaging functions to reach a member to arrange an on-air contact.
You have lots of help available to you as you become more adept at using the original instant-messaging mode! You'll find links to the Beginner's and Elmer pages in the navigation column at left under Getting Started. The link to the Sked Page appears under SKCC Community.
---
Odds 'n' Ends
Looking For A Sked?
Visit the club's sked site at https://sked.skccgroup.com. It's a fun, friendly place. New members and beginners are encouraged to join! No commands to learn, no Mickey Moussing around with new software. The system simply asks you to provide some basic info about yourself and, presto, you get a list of all SKCC members looking for some CW fun! Can't get any easier than that! A hearty "thank you" to Mark, K7MJG, for developing the sked page. A link to it also appears under SKCC Community in the navigation column at left.
SKCC Files & Downloads Section
Looking for SKCC related software? Download club related software free. Programs like W5ZR's SKCC Awards tracker. If you are a software author and have club or CW related programs to contribute, please contact the webmaster@skccgroup.com See the Files and downloads under Member services at left.
What's an SKCC Elmer?
We have all faced the daunting task of firing-up the radio for that first CW contact. Now you can take that shaky, uncertain hand and turn it into a confident, firm fist with the help of our group of SKCC Morse Code Elmers. Simply click on the Morse Elmers link at left, choose from the list of Elmers, send him or her an email requesting a sked, and before you know it you'll be enjoying the thrill of sending and receiving solid CW.
SKCC Shopping Mall
So now you've joined SKCC, you have your mechanical sending device, radios, antennae, and other station accessories. But do you have the SKCC "look"? Here are some gift ideas you might think about when gift-giving/receiving time arrives. Why not stop by some of the vendors who are providing SKCC-related gear and do a little virtual window shopping?



For an SKCC name badge, stop by the SignMan of Baton Rouge, purveyor of the SKCC badge shown at left. If you're interested in pinning one on your shirt pocket, you can order an SKCC badge here.