SKCC at Hamvention
SKCC at Hamvention, Xenia, Ohio !!!
Friday, May 18th through Sunday May 20th, 2018
SKCC was in Building 4, Booth #4112, at Hamvention in Xenia, Ohio. Many thanks to all the members who volunteered to staff our booth during the event.
All members who dropped by the booth and checked in with us are listed below.
We took a group picture around 2:00 PM on Saturday.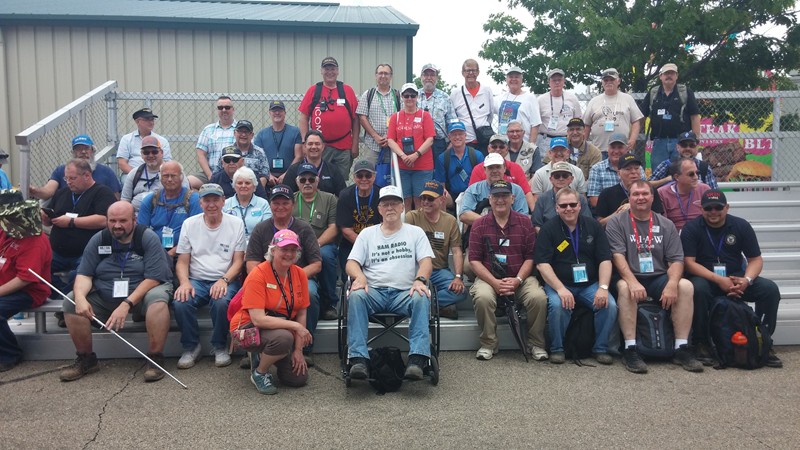 The CW Ops organization awarded SKCC a plaque for our outstanding achievement in advancing the art of CW. The award read:
STRAIGHT KEY CENTURY CLUB (SKCC) for 12 years as a very active organization promoting manual keying of CW through activities, awards, and helping newcomers. SKCC has over 18,000 members worldwide and promotes CW on the air as well as maintaining an excellent mentoring program for assisting in leaning CW. They have an awards program including 14 different CW awards. Their operating activities include 2 monthly sprint contests, a yearly month-long straight key month, a monthly straight key night, and a monthly 36 hour "Sprintathon" contest.
Steve Szabo, WB4OMM, attended the CW Ops Dinner on Thursday evening and accepted the award on behalf of SKCC.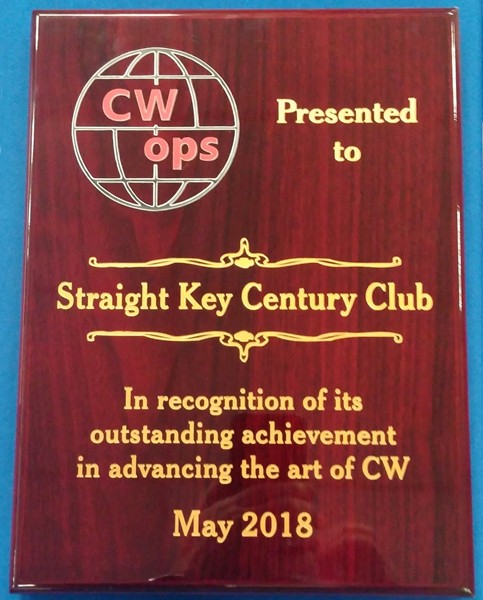 ---
Pictures From Dayton
---
Dayton Booth Check In Roster
The following SKCC members stopped by our Booth and logged in for a chat.
| Login | Date | Time (UTC) | Callsign | SKCC Nr | Name | City | SPC |
| --- | --- | --- | --- | --- | --- | --- | --- |
| 1 | 5/18/2018 | 11:12:13 | AC2C | 2748S | Ron | Ellicott City | MD |
| 2 | 5/18/2018 | 11:12:18 | AH6AX | 11165S | Larry | Sykesville | MD |
| 3 | 5/18/2018 | 11:12:24 | WA2JSG | 3018S | Curt | Carneys Point | NJ |
| 4 | 5/18/2018 | 11:12:35 | N2JKA | 15058 | John | Sykesville | MD |
| 5 | 5/18/2018 | 11:12:52 | KA8HFN | 2046S | Larry | Wapakoneta | OH |
| 6 | 5/18/2018 | 11:13:01 | W8HOG | 8775T | Jerry | Lynchburg | OH |
| 7 | 5/18/2018 | 11:57:15 | K0NEB | 9144 | Joe | Lincoln | NE |
| 8 | 5/18/2018 | 11:57:55 | W9PJ | 13425 | Paul | Roscoe | IL |
| 9 | 5/18/2018 | 12:02:06 | NX1K | 11024S | Mark | Milwaukee | WI |
| 10 | 5/18/2018 | 12:31:15 | W8FAX | 3063 | Alan | Fairborn | OH |
| 11 | 5/18/2018 | 12:32:43 | WB4OMM | 8793T | Steve | Port Orange | FL |
| 12 | 5/18/2018 | 12:44:43 | NX3X | 13667 | Larry | Altoona | PA |
| 13 | 5/18/2018 | 12:49:45 | K4KRW | 1576 | Richard | Charlotte | NC |
| 14 | 5/18/2018 | 12:50:36 | K4FAN | 4276 | Eric | Charlotte | NC |
| 15 | 5/18/2018 | 12:57:02 | W7SMW | 13215 | Steve | Incline Village | NV |
| 16 | 5/18/2018 | 12:58:25 | AA8MI | 8424T | Gene | Perrysburg | OH |
| 17 | 5/18/2018 | 13:02:06 | W8FHF | 753T | Sonny | Norwich | OH |
| 18 | 5/18/2018 | 13:13:53 | W8BFT | 13629S | Ed | Beavercreek | OH |
| 19 | 5/18/2018 | 13:19:17 | K8DV | 1489 | Dave | Goshen | OH |
| 20 | 5/18/2018 | 13:20:00 | W8TEE | 18491 | Jack | Cincinnati | OH |
| 21 | 5/18/2018 | 13:25:59 | W9LW | 6222S | Jay | Fort Wayne | IN |
| 22 | 5/18/2018 | 13:26:35 | WD9GET | 18258 | Keith | Alvin | TX |
| 23 | 5/18/2018 | 13:28:22 | KD9AGH | 15205 | Bruce | Ladoga | IN |
| 24 | 5/18/2018 | 13:31:05 | WA2TLY | 14544 | Larry | Buffalo | NY |
| 25 | 5/18/2018 | 13:33:52 | K9DAC | 10148S | Tom | Dayton | OH |
| 26 | 5/18/2018 | 13:34:23 | N4OW | 11375S | Al | Port St Lucie | FL |
| 27 | 5/18/2018 | 13:43:18 | KB0P | 15647 | Paul | Ishpeming | MI |
| 28 | 5/18/2018 | 13:46:08 | K8FAC | 2506S | Frank | Youngstown | OH |
| 29 | 5/18/2018 | 13:47:25 | WA8TON | 10707 | John | Ann Arbor | MI |
| 30 | 5/18/2018 | 13:59:43 | K0FG | 15244T | Fred | Sunrise Beach | MO |
| 31 | 5/18/2018 | 14:01:07 | NM8W | 7136 | Craig | Bowling Green | OH |
| 32 | 5/18/2018 | 14:03:54 | PD3OES | 11405 | Andre | Emmen | DX |
| 33 | 5/18/2018 | 14:05:09 | K9TM | 12335T | Tim | Sylvania | OH |
| 34 | 5/18/2018 | 14:05:35 | N3OS | 3849 | Gary | Dade City | FL |
| 35 | 5/18/2018 | 14:06:12 | W8JLT | 3793 | John | Harrison | MI |
| 36 | 5/18/2018 | 14:13:18 | K7EK | 7115 | Gary | Radcliff | KY |
| 37 | 5/18/2018 | 14:14:18 | W7JD | 16509 | Gary | Radcliff | KY |
| 38 | 5/18/2018 | 14:16:49 | K4IA | 5724 | Buck | Fredericksburg | VA |
| 39 | 5/18/2018 | 14:20:49 | WB9DKL | 16317 | Ron | Indianapolis | IN |
| 40 | 5/18/2018 | 14:21:37 | KG6MC | 11229S | Bob | Simpsonville | SC |
| 41 | 5/18/2018 | 14:26:04 | W8XW | 15218 | Ernie | Oakland | MI |
| 42 | 5/18/2018 | 14:26:25 | WK8S | 15164 | Pete | Manitou Springs | CO |
| 43 | 5/18/2018 | 14:28:59 | WK4WC | 17012C | Lane | Mount Pleasant | NC |
| 44 | 5/18/2018 | 14:34:30 | KD8TFR | 12337 | Tony | Upper Arlington | OH |
| 45 | 5/18/2018 | 14:41:34 | KP4WK | 15952 | Norbert | Brandon | FL |
| 46 | 5/18/2018 | 14:43:28 | K3ATO | 13992 | Hal | Resding | PA |
| 47 | 5/18/2018 | 14:45:48 | KC9IL | 11766S | Warren | Buffalo Grove | IL |
| 48 | 5/18/2018 | 14:46:41 | K1ND | 6099T | Jan | Ypsilanti | MI |
| 49 | 5/18/2018 | 14:47:36 | N3III | 780 | Rich | Freeland | MD |
| 50 | 5/18/2018 | 14:47:45 | N3SB | 17730 | Steve | Finksburg | MD |
| 51 | 5/18/2018 | 14:51:01 | KA7W | 4112 | Tom | Hamlin | TX |
| 52 | 5/18/2018 | 14:51:14 | WB9TFF | 7057C | Donna | West Allis | WI |
| 53 | 5/18/2018 | 14:51:59 | K9JN | 12346 | Gary | Wauconda | IL |
| 54 | 5/18/2018 | 14:52:20 | WS8D | 11111 | Mike | Rock Hill | SC |
| 55 | 5/18/2018 | 14:52:41 | N3ND | 18370 | Dan | Wake Forest | NC |
| 56 | 5/18/2018 | 14:54:35 | KA9GKE | 17764 | Rose | Fort Wayne | IN |
| 57 | 5/18/2018 | 14:55:17 | WA9BBN | 17763C | Ed | Fort Wayne | IN |
| 58 | 5/18/2018 | 14:55:36 | W8QB | 15812 | Doug | Flower Mound | TX |
| 59 | 5/18/2018 | 14:56:10 | K8HUG | 4428 | Jim | Marietta | OH |
| 60 | 5/18/2018 | 15:01:08 | KM4FO | 16428S | Dwight | Manitou | KY |
| 61 | 5/18/2018 | 15:06:18 | AA8WQ | 8440 | Paul | Dover | OH |
| 62 | 5/18/2018 | 15:07:05 | W4KRN | 4495S | Karen | Nokesville | VA |
| 63 | 5/18/2018 | 15:12:29 | K1YM | 10804 | John | Carlisle | MA |
| 64 | 5/18/2018 | 15:19:12 | W8FA | 11544 | Rick | Dayton | OH |
| 65 | 5/18/2018 | 15:20:15 | W4ALF | 14105S | Chris | Independence | KY |
| 66 | 5/18/2018 | 15:22:23 | KC2NYU | 6518T | Paul | Savannah | GA |
| 67 | 5/18/2018 | 15:25:30 | KD8DEU | 10232S | Al | Columbiaville | MI |
| 68 | 5/18/2018 | 15:27:21 | K8KZB | 5053C | Jeff | Columbiaville | MI |
| 69 | 5/18/2018 | 15:27:55 | AC8W | 2813 | Stan | Marysville | MI |
| 70 | 5/18/2018 | 15:28:18 | NQ8T | 5919 | Steve | Wakeman | OH |
| 71 | 5/18/2018 | 15:29:11 | WA9VFD | 17995T | Kevin | Stallings | NC |
| 72 | 5/18/2018 | 15:31:08 | N9OL | 4014S | John | Evansville | IN |
| 73 | 5/18/2018 | 15:31:37 | N1CUU | 658 | Carl | Stratham | NH |
| 74 | 5/18/2018 | 15:32:38 | KA4WYC | 1889 | Jeff | Lake Wylie | SC |
| 75 | 5/18/2018 | 15:44:04 | WA8PCW | 16389 | Bob | Chardon | OH |
| 76 | 5/18/2018 | 15:45:23 | NN8B | 36T | Don | Hanoverton | OH |
| 77 | 5/18/2018 | 15:57:29 | BX8AAD | 12537 | Gene | Taitung | DX |
| 78 | 5/18/2018 | 16:05:24 | WA2BXY | 11644 | Dave | Ocala | FL |
| 79 | 5/18/2018 | 16:07:43 | K2PI | 13782S | Harv | Warrenton | VA |
| 80 | 5/18/2018 | 16:08:45 | NR3N | 14972 | Angel | Manassas | VA |
| 81 | 5/18/2018 | 16:12:03 | N8KR | 7559S | Ken | New Haven | IN |
| 82 | 5/18/2018 | 16:13:36 | N3GQ | 4056 | Bart | Fredericksburg | VA |
| 83 | 5/18/2018 | 16:14:27 | NX8Y | 15835 | Ron | Milford Center | OH |
| 84 | 5/18/2018 | 16:15:58 | N8RVE | 4811T | John | Lorain | OH |
| 85 | 5/18/2018 | 16:22:12 | W0LGU | 435T | Tom | Center City | MN |
| 86 | 5/18/2018 | 16:24:04 | K3YV | 17259 | Woody | Spring Mills | PA |
| 87 | 5/18/2018 | 16:24:32 | N1RU | 9497 | James | Fort Wayne | IN |
| 88 | 5/18/2018 | 16:24:57 | VE3KCY | 12112 | Ken | Alma | ON |
| 89 | 5/18/2018 | 16:29:13 | W9TLT | 11814 | Jeff | Danville | IN |
| 90 | 5/18/2018 | 16:32:50 | KD8RUQ | 10343 | Mike | Alliance | OH |
| 91 | 5/18/2018 | 16:37:54 | WB1HBE | 18118 | John | Chelmsford | MA |
| 92 | 5/18/2018 | 16:39:57 | KB9ORH | 4913C | Kerry | Crown Point | IN |
| 93 | 5/18/2018 | 16:42:06 | NK8O | 8952T | Chas | Louisburg | KS |
| 94 | 5/18/2018 | 16:43:13 | W0FG | 13470 | Rick | Vinton | IA |
| 95 | 5/18/2018 | 16:47:30 | W3ASW | 10656 | Mike | Newark | DE |
| 96 | 5/18/2018 | 16:49:18 | W3FLH | 5287 | Tony | Levittown | PA |
| 97 | 5/18/2018 | 16:56:00 | NV9X | 1358S | Jim | Blue Island | IL |
| 98 | 5/18/2018 | 17:02:02 | KE9V | 3383T | Jeff | Muncie | IN |
| 99 | 5/18/2018 | 17:09:00 | NR3P | 9987T | Paul | Lewes | DE |
| 100 | 5/18/2018 | 17:15:48 | AD5A | 14339S | Mike | Boerne | TX |
| 101 | 5/18/2018 | 17:18:17 | K9PMV | 1438T | Jerry | Blue Island | IL |
| 102 | 5/18/2018 | 17:21:54 | AB8KT | 4500T | Ken | Toronto | OH |
| 103 | 5/18/2018 | 17:30:57 | G3UGF | 9877 | Richard | Halifax | DX |
| 104 | 5/18/2018 | 17:31:57 | N8YOA | 12338 | Myron | Mansfield | OH |
| 105 | 5/18/2018 | 17:33:38 | AA8TA | 13604 | Joe | Columbus | OH |
| 106 | 5/18/2018 | 17:39:50 | AE4FH | 14423 | Faith | DeLand | FL |
| 107 | 5/18/2018 | 17:55:28 | KM4AHP | 17086 | Mark | Woodruff | SC |
| 108 | 5/18/2018 | 17:56:01 | K9ZU | 253 | George | Brunswick | MD |
| 109 | 5/18/2018 | 17:59:24 | W2APF | 9123 | Thaire | Eaton | NH |
| 110 | 5/18/2018 | 18:00:32 | N3RDG | 13774T | Bob | Pittsburgh | PA |
| 111 | 5/18/2018 | 18:00:53 | N4EWT | 6041 | Newt | Decatur | GA |
| 112 | 5/18/2018 | 18:05:10 | W3HZZ | 10149 | Philip | Saint Simons Island | GA |
| 113 | 5/18/2018 | 18:11:55 | K2YWE | 2658 | Dan | Annapolis | MD |
| 114 | 5/18/2018 | 18:13:44 | W9HT | 7474T | Josh | New Haven | IN |
| 115 | 5/18/2018 | 18:14:11 | W8WZ | 16103 | Carl | Garner | NC |
| 116 | 5/18/2018 | 18:14:38 | AE4TQ | 13632 | Eddie | Marietta | GA |
| 117 | 5/18/2018 | 18:15:19 | W8DEA | 6006C | Don | Massillon | OH |
| 118 | 5/18/2018 | 18:24:04 | NN4ZZ | 4225 | Al | Loganville | GA |
| 119 | 5/18/2018 | 18:24:27 | AK4SQ | 9398 | Dan | Lynchburg | VA |
| 120 | 5/18/2018 | 18:25:08 | K4ZGB | 796S | Tom | Birmingham | AL |
| 121 | 5/18/2018 | 18:26:27 | N4GFH | 10031 | George | Morristown | TN |
| 122 | 5/18/2018 | 18:27:55 | N4CD | 3529 | Bob | Plano | TX |
| 123 | 5/18/2018 | 18:28:33 | K5SI | 2890 | Stephen | Victoria | TX |
| 124 | 5/18/2018 | 18:29:35 | W4QO | 1281T | Jim | Roswell | GA |
| 125 | 5/18/2018 | 18:30:10 | K2HAT | 14037 | Lee | Rensselaer | NY |
| 126 | 5/18/2018 | 18:36:27 | VK2EFL | 15682 | Fred | Randwick | DX |
| 127 | 5/18/2018 | 18:38:09 | KD8CGH | 4203T | Bob | Kent | OH |
| 128 | 5/18/2018 | 18:47:27 | W4VY | 12553 | Mike | Deltona | FL |
| 129 | 5/18/2018 | 18:48:12 | K0FD | 15034T | Dan | Isabella | MO |
| 130 | 5/18/2018 | 18:48:50 | KD8DLV | 13265 | Sam | Bloomfield Hills | MI |
| 131 | 5/18/2018 | 18:49:40 | N8GAS | 16455 | Greg | Bloomfield Hills | MI |
| 132 | 5/18/2018 | 18:50:44 | K4SED | 14748 | Sue | Deltona | FL |
| 133 | 5/18/2018 | 18:56:14 | W8RXY | 13409 | Alan | Lansing | MI |
| 134 | 5/18/2018 | 18:58:47 | W5LNI | 16846 | John | Rogers | AR |
| 135 | 5/18/2018 | 19:00:31 | KD4EE | 11016S | Scott | Fort Thomas | KY |
| 136 | 5/18/2018 | 19:03:24 | K8VCE | 11933 | Jay | Fremont | OH |
| 137 | 5/18/2018 | 19:07:03 | N1CGP | 17912 | Dave | Freedom | ME |
| 138 | 5/18/2018 | 19:09:14 | KA8GOV | 15860 | Clif | Dayton | OH |
| 139 | 5/18/2018 | 19:20:27 | W0EKS | 1662 | Jack | Minneapolis | MN |
| 140 | 5/18/2018 | 19:23:33 | KI8JY | 10751T | Dave | Beavercreek | OH |
| 141 | 5/18/2018 | 19:27:01 | KI0I | 6585S | Mark | Garden City | MO |
| 142 | 5/18/2018 | 19:27:48 | NV5F | 6663 | Virginia | Fort Worth | TX |
| 143 | 5/18/2018 | 19:37:51 | W9BYA | 14441 | Mike | Merrillville | IN |
| 144 | 5/18/2018 | 19:38:24 | K4SAF | 699 | Carol | Clearfield | KY |
| 145 | 5/18/2018 | 20:01:16 | K5PE | 17399 | Roger | Lumberton | TX |
| 146 | 5/18/2018 | 20:20:47 | AD8Y | 13800 | David | Cleveland Heights | OH |
| 147 | 5/18/2018 | 20:43:02 | KB9OS | 17415 | Larry | Fort Wayne | IN |
| 148 | 5/18/2018 | 21:11:10 | N4TMM | 14467C | Jim | Atlanta | GA |
| 149 | 5/18/2018 | 21:16:27 | K8ZBN | 2573 | Steve | Cincinnati | OH |
| 150 | 5/18/2018 | 21:18:03 | N9XAU | 17218 | Bruce | South Bend | IN |
| 151 | 5/18/2018 | 21:18:29 | KA8GFB | 15170 | Tom | Cincinnati | OH |
| 152 | 5/19/2018 | 12:55:09 | KA8HDE | 6913S | Chuck | Andover | MN |
| 153 | 5/19/2018 | 13:02:14 | K8GIB | 11889C | Rob | Enon | OH |
| 154 | 5/19/2018 | 13:05:56 | K9PLG | 16978 | Paul | Greendale | IN |
| 155 | 5/19/2018 | 13:11:35 | WB0SND | 6867T | Mike | De Soto | MO |
| 156 | 5/19/2018 | 13:13:33 | K8WZY | 6280 | Mike | Toledo | OH |
| 157 | 5/19/2018 | 13:17:06 | AC8XU | 349T | Jon | Marion | OH |
| 158 | 5/19/2018 | 13:18:14 | NN4K | 9575T | Mac | Stone Mountain | GA |
| 159 | 5/19/2018 | 13:33:11 | KW1L | 10700 | Paul | Ann Arbor | MI |
| 160 | 5/19/2018 | 13:39:04 | KI8FV | 14717T | Steve | McArthur | OH |
| 161 | 5/19/2018 | 13:43:35 | KC8ZKD | 6810 | Walter | Middlefield | OH |
| 162 | 5/19/2018 | 13:51:14 | WA3UVV | 5863 | Cory | Glassboro | NJ |
| 163 | 5/19/2018 | 13:53:01 | KE5AL | 12776S | Jim | Pflugerville | TX |
| 164 | 5/19/2018 | 13:55:36 | K1DW | 17169 | Dallas | Folsom | LA |
| 165 | 5/19/2018 | 14:00:10 | KB4CMF | 1627 | Christopher | Dolgeville | NY |
| 166 | 5/19/2018 | 14:01:25 | XE1AY | 5555 | Ismael | Manzanillo | DX |
| 167 | 5/19/2018 | 14:03:24 | AA8CS | 11342 | Gary | Copley | OH |
| 168 | 5/19/2018 | 14:08:34 | WB8UPO | 8286C | Terry | Piqua | OH |
| 169 | 5/19/2018 | 14:11:07 | K8GSD | 18691 | Gary | Bellaire | OH |
| 170 | 5/19/2018 | 14:12:51 | AC8RG | 4352 | Walt | Dayton | OH |
| 171 | 5/19/2018 | 14:15:12 | KD8AZO | 2216S | Dave | Coldwater | OH |
| 172 | 5/19/2018 | 14:21:57 | W8BXG | 5281 | Denny | West Chester | OH |
| 173 | 5/19/2018 | 14:22:25 | KH6U | 4295 | John | Kailua | HI |
| 174 | 5/19/2018 | 14:24:38 | K8FN | 10746 | Robert | Tipp City | OH |
| 175 | 5/19/2018 | 14:25:24 | K9JP | 3008S | Jeff | Traverse City | MI |
| 176 | 5/19/2018 | 14:26:03 | KB9B | 15478 | Steve | Greenwood | IN |
| 177 | 5/19/2018 | 14:27:17 | AB6Z | 15632 | Tom | Picayune | MS |
| 178 | 5/19/2018 | 14:49:45 | KD8VSQ | 13072T | Jeremy | Tecumseh | MI |
| 179 | 5/19/2018 | 14:50:09 | KE8CEW | 15805T | Greg | Tecumseh | MI |
| 180 | 5/19/2018 | 14:50:37 | K0LW | 15112 | Lee | Peculiar | MO |
| 181 | 5/19/2018 | 14:55:00 | KA8EZT | 6267 | Terry | Midland | MI |
| 182 | 5/19/2018 | 14:56:20 | K3RC | 4672 | Bob | Stony Ridge | OH |
| 183 | 5/19/2018 | 14:57:17 | WB2QQJ | 17031 | Jay | Woodland Park | NJ |
| 184 | 5/19/2018 | 15:00:42 | W1IE | 10281 | Jerry | Bedford | VA |
| 185 | 5/19/2018 | 15:05:15 | K8ZCT | 145 | Bill | Pickerington | OH |
| 186 | 5/19/2018 | 15:08:05 | K1WCC | 17190 | Henry | East Falmouth | MA |
| 187 | 5/19/2018 | 15:12:08 | N8CC | 7541 | Jeff | Nashville | MI |
| 188 | 5/19/2018 | 15:20:16 | KD4SIR | 17165 | Scott | Seymour | IN |
| 189 | 5/19/2018 | 15:20:29 | KA9OPL | 1723 | Joe | Columbus | IN |
| 190 | 5/19/2018 | 15:23:40 | W5FZ | 713 | Dave | Houston | TX |
| 191 | 5/19/2018 | 15:25:01 | WA0F | 18164 | Mark | Owatonna | MN |
| 192 | 5/19/2018 | 15:34:27 | K8PRG | 14553T | Rick | Toledo | OH |
| 193 | 5/19/2018 | 15:38:29 | KD8BBK | 2443T | Tony | Louisville | OH |
| 194 | 5/19/2018 | 15:39:35 | AC8LJ | 9731 | Eric | Charleston | WV |
| 195 | 5/19/2018 | 15:41:19 | K3PP | 17168 | Glenn | Palmerton | PA |
| 196 | 5/19/2018 | 15:43:04 | N5IR | 12357S | Bill | Sanger | TX |
| 197 | 5/19/2018 | 15:46:43 | AB5XP | 16603 | Mike | Springfield | LA |
| 198 | 5/19/2018 | 16:02:52 | KT8DX | 3983 | Bob | Stow | OH |
| 199 | 5/19/2018 | 16:04:44 | KB2KNX | 140 | Les | Shenevus | NY |
| 200 | 5/19/2018 | 16:17:31 | VE3HG | 12822 | Peter | Oakville | ON |
| 201 | 5/19/2018 | 16:21:11 | W0ZF | 9564 | Dave | Lakeville | MN |
| 202 | 5/19/2018 | 16:32:25 | WD8RIF | 7840 | Eric | Athens | OH |
| 203 | 5/19/2018 | 16:47:21 | WB9EGZ | 11531S | Dave | McFarland | WI |
| 204 | 5/19/2018 | 16:48:11 | AB5EB | 15357 | Mike | New Braunfels | TX |
| 205 | 5/19/2018 | 16:48:51 | KC8TVW | 13101 | Steve | Toledo | OH |
| 206 | 5/19/2018 | 16:58:31 | K9DA | 667 | Donn | Janesville | WI |
| 207 | 5/19/2018 | 17:05:55 | KL7AJ | 846 | Eric | North Pole | AK |
| 208 | 5/19/2018 | 17:13:36 | KF5PFU | 10520 | Ryan | Stillwater | OK |
| 209 | 5/19/2018 | 17:42:08 | NS4Q | 5304 | Larry | Madison | AL |
| 210 | 5/19/2018 | 17:42:26 | WA0ITP | 4024 | Terry | Ottumwa | IA |
| 211 | 5/19/2018 | 17:45:03 | WB9YPA | 17404 | Mike | South Bend | IN |
| 212 | 5/19/2018 | 17:51:53 | K8CHP | 17889 | Chip | Caledonia | OH |
| 213 | 5/19/2018 | 18:24:45 | AC5O | 14258 | Jeff | Raceland | LA |
| 214 | 5/19/2018 | 18:25:20 | NJ3T | 16840 | Jim | Somerset | PA |
| 215 | 5/19/2018 | 18:30:50 | N4EDT | 5014 | Ed | Pell City | AL |
| 216 | 5/19/2018 | 18:31:18 | KI4GKS | 5014 | Ed | Pell City | AL |
| 217 | 5/19/2018 | 18:32:14 | KL3MM | 15790 | Stephen | Soldotna | AK |
| 218 | 5/19/2018 | 18:57:22 | K4NYI | 14097T | Doug | Acworth | GA |
| 219 | 5/19/2018 | 19:05:22 | W0AIH | 18111 | Paul | Fall Creek | WI |
| 220 | 5/19/2018 | 19:05:56 | N8LJ | 9954T | Lee | Metamora | MI |
| 221 | 5/19/2018 | 19:08:33 | W9HLQ | 16658 | Brian | Tinley Park | IL |
| 222 | 5/19/2018 | 19:09:56 | W8KA | 10744 | Frank | Ventura | CA |
| 223 | 5/19/2018 | 19:34:02 | KF2V | 3747 | Richard | Toledo | OH |
| 224 | 5/19/2018 | 19:37:40 | WA7IIC | 17489 | John | Seattle | WA |
| 225 | 5/19/2018 | 19:43:15 | G4FAD | 5881 | Rich | Hereford | DX |
| 226 | 5/19/2018 | 20:15:02 | K8SRG | 12835 | Ron | Bloomfield Hills | MI |
| 227 | 5/19/2018 | 20:23:02 | W4DAX | 6059T | Tom | Goose Creek | SC |
| 228 | 5/20/2018 | 12:24:29 | W8BBQ | 9115T | Mark | Canfield | OH |
| 229 | 5/20/2018 | 13:42:16 | KD8EUP | 6042 | Nick | Maineville | OH |
| 230 | 5/20/2018 | 13:54:26 | K2WW | 13967 | Dean | Tupper Lake | NY |
| 231 | 5/20/2018 | 13:56:31 | KE8EAS | 16136C | Josh | Athens | OH |
| 232 | 5/20/2018 | 14:26:03 | ND8D | 14260 | Andy | Canton | OH |
| 233 | 5/20/2018 | 14:50:44 | KR3EP | 16319 | Jeff | Richmond | IN |
| 234 | 5/20/2018 | 14:51:15 | KC9TUI | 10170 | John | Bloomington | IN |