SKCC at Hamvention
SKCC at Hamvention, Xenia, Ohio !!!
Friday, May 17th through Sunday May 19th, 2019
SKCC is in Building 4, Booth #4112, at Hamvention in Xenia, Ohio. Many thanks to all the members who volunteered to staff our booth during the event.
STRAIGHT KEY CENTURY CLUB (SKCC) for 13 years as a very active organization promoting manual keying of Morse through activities, awards, and helping newcomers. SKCC has over 20,000 members worldwide and promotes CW on the air as well as maintaining an excellent mentoring program for assisting in leaning CW. We have an awards program including many different CW awards. Our operating activities include 2 monthly sprint contests, a yearly month-long straight key month, a monthly straight key night, and a monthly 36 hour "Sprintathon" contest.
Here is a group photo provided by Ted, K8AQM: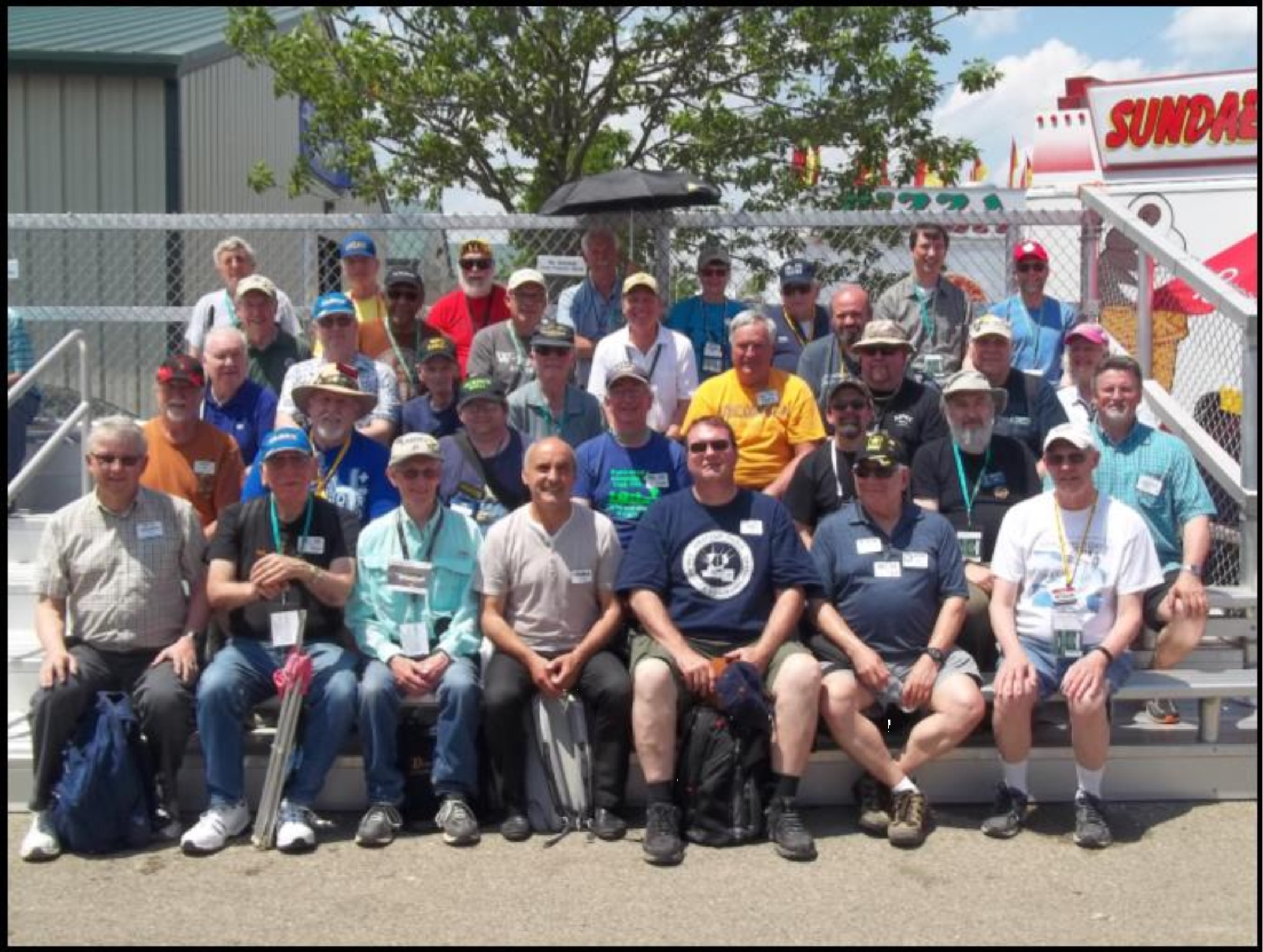 ---
Pictures From Hamvention
---
Hamvention Booth Check In Roster
The following SKCC members stopped by our Booth and logged in for a chat.
| Login | Date | Time (UTC) | Callsign | SKCC Nr | Name | City | SPC |
| --- | --- | --- | --- | --- | --- | --- | --- |
| 1 | 5/17/2019 | 11:29:23 | K8AQM | 1629S | Ted | Adrian | MI |
| 2 | 5/17/2019 | 11:30:14 | WA2JSG | 3018S | Curt | Carneys Point | NJ |
| 3 | 5/17/2019 | 11:30:31 | KD8VSQ | 13072T | Jeremy | Tecumseh | MI |
| 4 | 5/17/2019 | 12:27:22 | AI4VE | 6305 | William | Charleston | SC |
| 5 | 5/17/2019 | 12:35:19 | W8HOG | 8775S | Jerry | Lynchburg | OH |
| 6 | 5/17/2019 | 12:39:36 | AE4TQ | 13632 | Eddie | Marietta | GA |
| 7 | 5/17/2019 | 12:56:10 | K2OO | 10315S | Andy | Columbus | OH |
| 8 | 5/17/2019 | 12:58:36 | F6HKA | 6069S | Bert | Limoges | |
| 9 | 5/17/2019 | 13:10:38 | W9LW | 6222S | Jay | Fort Wayne | IN |
| 10 | 5/17/2019 | 13:11:34 | K9JP | 3008S | Jeff | Brownstown TWP | MI |
| 11 | 5/17/2019 | 13:13:02 | KI0I | 6585S | Mark | Garden City | MO |
| 12 | 5/17/2019 | 13:19:51 | W9OD | 10608 | Craig | Appleton | WI |
| 13 | 5/17/2019 | 13:22:09 | K4IA | 5724 | Buck | Fredericksburg | VA |
| 14 | 5/17/2019 | 13:23:42 | N2HTT | 203C | Mike | Croton-on-Hudson | NY |
| 15 | 5/17/2019 | 13:26:51 | N0JOL | 13671C | Joe | Isanti | MN |
| 16 | 5/17/2019 | 13:29:07 | K4SAF | 699C | Carol | Clearfield | KY |
| 17 | 5/17/2019 | 13:43:32 | N1CGP | 17912 | Dave | Freedom | ME |
| 18 | 5/17/2019 | 13:46:03 | KB3JC | 18101 | Steve | Oil City | PA |
| 19 | 5/17/2019 | 13:46:35 | N8YRE | 20489 | Jon | Lewis Center | OH |
| 20 | 5/17/2019 | 13:46:55 | KC8FRP | 3441 | Thomas | Delaware | OH |
| 21 | 5/17/2019 | 13:49:22 | NX1K | 11024S | Mark | Milwaukee | WI |
| 22 | 5/17/2019 | 13:50:40 | NX3X | 13667 | Larry | Altoona | PA |
| 23 | 5/17/2019 | 13:53:03 | K9TM | 12335T | Tim | Sylvania | OH |
| 24 | 5/17/2019 | 13:54:41 | K9LJB | 1595C | Roger | Springfield | IL |
| 25 | 5/17/2019 | 13:55:13 | KA3LXM | 19460 | Jim | Upper Marlboro | MD |
| 26 | 5/17/2019 | 13:58:05 | WB8UPO | 8286C | Terry | Piqua | OH |
| 27 | 5/17/2019 | 13:58:20 | K3EW | 10605S | Phil | Gaithersburg | MD |
| 28 | 5/17/2019 | 13:59:16 | K0RO | 14800S | Ralph | Petal | MS |
| 29 | 5/17/2019 | 14:01:22 | KF8LE | 8439 | Vern | Hillsboro | OH |
| 30 | 5/17/2019 | 14:08:50 | NX8Y | 15835 | Ron | Milford Center | OH |
| 31 | 5/17/2019 | 14:10:24 | KD8VMU | 17681 | Ben | Spencerville | IN |
| 32 | 5/17/2019 | 14:13:01 | NK8O | 8952S | Chas | Louisburg | KS |
| 33 | 5/17/2019 | 14:16:59 | AC8XU | 349T | Jon | Marion | OH |
| 34 | 5/17/2019 | 14:17:48 | K8QKY | 7552 | Steve | Ann Arbor | MI |
| 35 | 5/17/2019 | 14:23:35 | K9PMV | 1438T | Jerry | Blue Island | IL |
| 36 | 5/17/2019 | 14:28:27 | W4KRN | 4495S | Karen | Nokesville | VA |
| 37 | 5/17/2019 | 14:31:37 | WB9DKL | 16317 | Ron | Indianapolis | IN |
| 38 | 5/17/2019 | 14:31:51 | WW2IND | 18377 | USS Indianapolis | Indianapolis | IN |
| 39 | 5/17/2019 | 14:32:50 | K1ND | 6099T | Jan | Ypsilanti | MI |
| 40 | 5/17/2019 | 14:33:07 | K4IZ | 2577 | Detrick | Lorton | VA |
| 41 | 5/17/2019 | 14:34:27 | KM4FO | 16428S | Dwight | Manitou | KY |
| 42 | 5/17/2019 | 14:35:47 | KM4CH | 9321 | John | Lawrenceburg | KY |
| 43 | 5/17/2019 | 14:42:15 | KK0DJ | 4085 | Dennis | Pella | IA |
| 44 | 5/17/2019 | 14:55:22 | KD4EE | 11016S | Scott | Fort Thomas | KY |
| 45 | 5/17/2019 | 14:56:43 | W8WZ | 16103 | Carl | Garner | NC |
| 46 | 5/17/2019 | 14:58:17 | N8MFN | 1931 | Rick | Batavia | OH |
| 47 | 5/17/2019 | 14:59:54 | KB9ORH | 4913T | Kerry | Crown Point | IN |
| 48 | 5/17/2019 | 15:04:42 | AD0AB | 9667S | Jim | Lenexa | KS |
| 49 | 5/17/2019 | 15:07:29 | N3RDG | 13774T | Bob | Pittsburgh | PA |
| 50 | 5/17/2019 | 15:11:39 | KE4KE | 10471T | Tim | Saint Cloud | MN |
| 51 | 5/17/2019 | 15:11:50 | K2PI | 13782S | Harv | Warrenton | VA |
| 52 | 5/17/2019 | 15:15:36 | WB7DKZ | 14733 | Andy | Grayslake | IL |
| 53 | 5/17/2019 | 15:17:08 | N1SG | 9506 | Steve | New London | NH |
| 54 | 5/17/2019 | 15:21:11 | WV8DH | 4020S | Dave | St Albans | WV |
| 55 | 5/17/2019 | 15:21:23 | KG8V | 19620 | Robin | West Bloomfield | MI |
| 56 | 5/17/2019 | 15:27:47 | NN4ZZ | 4225 | Al | Loganville | GA |
| 57 | 5/17/2019 | 15:29:29 | W0CWA | 20159 | CHRIS | LAWRENCE | KS |
| 58 | 5/17/2019 | 15:37:49 | W9HT | 7474T | Josh | New Haven | IN |
| 59 | 5/17/2019 | 15:38:26 | KD8DEU | 10232S | Al | Columbiaville | MI |
| 60 | 5/17/2019 | 15:38:54 | KB4WJA | 10083T | Mike | Winston Salem | NC |
| 61 | 5/17/2019 | 15:41:54 | KY8R | 3978 | Sam | Sun City West | AZ |
| 62 | 5/17/2019 | 15:42:20 | W8WGT | 19767 | Tom | DAYTON | OH |
| 63 | 5/17/2019 | 15:46:37 | WK4WC | 17012T | Lane | Mount Pleasant | NC |
| 64 | 5/17/2019 | 15:48:43 | KE8NAN | 20456 | Tom | Saline | MI |
| 65 | 5/17/2019 | 15:54:17 | KF0AF | 7713 | Ray | Middletown | OH |
| 66 | 5/17/2019 | 15:58:21 | W3YX | 139T | Scott | Erie | PA |
| 67 | 5/17/2019 | 16:00:36 | WA9VFD | 17995S | Kevin | Stallings | NC |
| 68 | 5/17/2019 | 16:03:11 | N8KR | 7559S | Ken | New Haven | IN |
| 69 | 5/17/2019 | 16:03:52 | N7TES | 15902 | John | Puyallup | WA |
| 70 | 5/17/2019 | 16:08:32 | N8LZN | 17293 | Ken | Cincinnati | OH |
| 71 | 5/17/2019 | 16:09:02 | W0ZF | 9564 | Dave | Lakeville | MN |
| 72 | 5/17/2019 | 16:10:44 | K7EK | 7115 | Gary | Radcliff | KY |
| 73 | 5/17/2019 | 16:15:03 | AC8RG | 4352C | Walt | Dayton | OH |
| 74 | 5/17/2019 | 16:17:34 | K3KI | 5682 | Tom | Waterford | PA |
| 75 | 5/17/2019 | 16:18:42 | W4QO | 1281S | Jim | Roswell | GA |
| 76 | 5/17/2019 | 16:19:06 | KF8LE | 8439 | Vern | Hillsboro | OH |
| 77 | 5/17/2019 | 16:23:29 | KA0NZZ | 8522 | James | Sun City | AZ |
| 78 | 5/17/2019 | 16:30:13 | W9SAN | 20106 | Steve | Fort Wayne | IN |
| 79 | 5/17/2019 | 16:30:59 | WD8RIF | 7840 | Eric | Athens | OH |
| 80 | 5/17/2019 | 16:34:58 | N6HDC | 4219 | Larry | Champaign | IL |
| 81 | 5/17/2019 | 16:42:43 | KG8ZQ | 17248 | Jerry | Centerville | OH |
| 82 | 5/17/2019 | 16:46:32 | W8UZ | 11999 | Don | Woodburn | IN |
| 83 | 5/17/2019 | 16:46:43 | W8LO | 19702 | Larry | Defiance | OH |
| 84 | 5/17/2019 | 16:48:00 | W8BFT | 13629S | Ed | Beavercreek | OH |
| 85 | 5/17/2019 | 16:55:28 | W8FA | 11544 | Rick | Dayton | OH |
| 86 | 5/17/2019 | 16:56:22 | K0NEB | 9144 | Joe | Lincoln | NE |
| 87 | 5/17/2019 | 16:58:59 | N8RVE | 4811T | John | Lorain | OH |
| 88 | 5/17/2019 | 17:03:20 | NN8B | 36T | Don | Hanoverton | OH |
| 89 | 5/17/2019 | 17:05:21 | WA7LNW | 10682 | Jack | Washington | UT |
| 90 | 5/17/2019 | 17:10:56 | AD5A | 14339S | Mike | Boerne | TX |
| 91 | 5/17/2019 | 17:11:18 | K8FAC | 2506S | Frank | Youngstown | OH |
| 92 | 5/17/2019 | 17:14:00 | N8OI | 13997 | Gary | Waynesville | OH |
| 93 | 5/17/2019 | 17:22:12 | K8ZCT | 145 | Bill | Pickerington | OH |
| 94 | 5/17/2019 | 17:23:12 | N8GAS | 16455 | Greg | Bloomfield Hills | MI |
| 95 | 5/17/2019 | 17:23:38 | KD8DLV | 13265 | Sam | Bloomfield Hills | MI |
| 96 | 5/17/2019 | 17:27:12 | AK4SQ | 9398 | Dan | Lynchburg | VA |
| 97 | 5/17/2019 | 17:29:37 | NN4K | 9575T | Mac | Stone Mountain | GA |
| 98 | 5/17/2019 | 17:49:30 | WA9BBN | 17763T | Ed | Fort Wayne | IN |
| 99 | 5/17/2019 | 18:07:27 | W8DEA | 6006C | Don | Massillon | OH |
| 100 | 5/17/2019 | 18:12:19 | WB9TFF | 7057T | Donna | West Allis | WI |
| 101 | 5/17/2019 | 18:15:20 | W9CC | 469T | Larry | Greenfield | IN |
| 102 | 5/17/2019 | 18:26:10 | KB3LAS | 12401 | Mike | Pittsburgh | PA |
| 103 | 5/17/2019 | 18:30:36 | N4EII | 18656 | Al | Cary | NC |
| 104 | 5/17/2019 | 18:32:20 | W4FS | 12071T | Tucker | Efland | NC |
| 105 | 5/17/2019 | 18:39:00 | NU8Z | 11237T | Mark | Tecumseh | MI |
| 106 | 5/17/2019 | 18:42:11 | N3GO | 1838 | Gary | Raleigh | NC |
| 107 | 5/17/2019 | 18:42:27 | KG8CO | 6362 | Brian | Clinton | MI |
| 108 | 5/17/2019 | 18:43:26 | KD5DE | 11293 | Mel | Shreveport | LA |
| 109 | 5/17/2019 | 18:44:53 | N3HCN | 838 | Dave | Felton | PA |
| 110 | 5/17/2019 | 18:53:06 | WD8JJA | 2838 | RICK | Springville | IN |
| 111 | 5/17/2019 | 19:04:49 | K7HIL | 12229 | Michael | Tucson | AZ |
| 112 | 5/17/2019 | 19:26:24 | K0FD | 15034S | Dan | Isabella | MO |
| 113 | 5/17/2019 | 19:26:46 | W8FAX | 3063 | Alan | Fairborn | OH |
| 114 | 5/17/2019 | 19:30:08 | KR7RK | 3792 | Keith | Tucson | AZ |
| 115 | 5/17/2019 | 19:37:39 | N2JNR | 18723 | Dave | Sherman Oaks | CA |
| 116 | 5/17/2019 | 19:38:03 | N8LJ | 9954T | Lee | Metamora | MI |
| 117 | 5/17/2019 | 19:46:17 | AA9OM | 17229T | Darrell | Portland | IN |
| 118 | 5/17/2019 | 19:53:18 | KD8YQX | 18094T | Jim | Warren | MI |
| 119 | 5/17/2019 | 19:54:44 | W4PH | 10737 | Howard | Asheville | NC |
| 120 | 5/17/2019 | 19:54:59 | AG5FX | 18905 | Jamie | Pittsburgh | PA |
| 121 | 5/17/2019 | 20:06:32 | K3SW | 20193T | Steve | Albrightsville | PA |
| 122 | 5/17/2019 | 20:22:55 | KA8HFN | 2046S | Larry | Wapakoneta | OH |
| 123 | 5/17/2019 | 20:55:20 | W4ALF | 14105S | Chris | Independence | KY |
| 124 | 5/17/2019 | 20:57:13 | KA8GOV | 15860 | Clif | Dayton | OH |
| 125 | 5/18/2019 | 11:57:04 | W8KBW | 17557 | Max | Tecumseh | MI |
| 126 | 5/18/2019 | 11:57:12 | KE8CEW | 15805T | Greg | Tecumseh | MI |
| 127 | 5/18/2019 | 12:30:26 | N9SE | 12753S | Marty | Sharpsville | IN |
| 128 | 5/18/2019 | 12:44:20 | KM4AHP | 17086 | Mark | Woodruff | SC |
| 129 | 5/18/2019 | 13:08:33 | K4LO | 11740 | Phil | Pace | FL |
| 130 | 5/18/2019 | 13:16:21 | K1LGQ | 2662T | Dennis | Brookline | NH |
| 131 | 5/18/2019 | 13:17:33 | K9WA | 14003S | Jim | Colona | IL |
| 132 | 5/18/2019 | 13:17:40 | K4FT | 16720 | John | Crab Orchard | KY |
| 133 | 5/18/2019 | 13:19:13 | KF6C | 3398T | Brian | San Marcos | CA |
| 134 | 5/18/2019 | 13:26:50 | W5DMT | 18584 | Dave | Franklin | TN |
| 135 | 5/18/2019 | 13:36:22 | KC8ZKD | 6810 | Walter | Middlefield | OH |
| 136 | 5/18/2019 | 13:56:31 | W4DHT | 17832T | Drex | North Fort Myers | FL |
| 137 | 5/18/2019 | 13:58:34 | KD8RUQ | 10343 | Mike | Alliance | OH |
| 138 | 5/18/2019 | 13:59:18 | KC8TVW | 13101 | Steve | Toledo | OH |
| 139 | 5/18/2019 | 14:02:39 | K8RCT | 17017 | Ern | Traverse City | MI |
| 140 | 5/18/2019 | 14:07:42 | K2WW | 13967 | Dean | Tupper Lake | NY |
| 141 | 5/18/2019 | 14:12:16 | W0JX | 15043 | Den | Milan | OH |
| 142 | 5/18/2019 | 14:20:48 | W2RMB | 20153 | Rodger | Rochester | NY |
| 143 | 5/18/2019 | 14:25:23 | N0RQV | 17520 | Ted | Loveland | CO |
| 144 | 5/18/2019 | 14:28:09 | W9NXM | 2599 | Joel | Lake Zurich | IL |
| 145 | 5/18/2019 | 14:28:46 | KE8EAS | 16136C | Josh | Athens | OH |
| 146 | 5/18/2019 | 14:34:56 | K8FN | 10746 | Robert | Tipp City | OH |
| 147 | 5/18/2019 | 14:39:47 | N9OL | 4014S | John | Evansville | IN |
| 148 | 5/18/2019 | 14:43:18 | KB3TIJ | 20346 | Dean | Williamsport | PA |
| 149 | 5/18/2019 | 14:47:17 | KX4BE | 19479 | Peter | Chattanooga | TN |
| 150 | 5/18/2019 | 14:50:25 | KA9P | 14095T | Scott | Hinsdale | IL |
| 151 | 5/18/2019 | 14:51:35 | KD8BBK | 2443T | Tony | Louisville | OH |
| 152 | 5/18/2019 | 14:52:09 | K8PRC | 14046T | Pedestrian Amateur Radio Club | Canton | OH |
| 153 | 5/18/2019 | 14:53:24 | N3JJT | 255T | Scott | Massillon | OH |
| 154 | 5/18/2019 | 15:03:56 | KD9KF | 19900 | Tom | Des Plaines | IL |
| 155 | 5/18/2019 | 15:05:09 | N0JOL | 13671C | Joe | Isanti | MN |
| 156 | 5/18/2019 | 15:12:11 | NO8C | 7239S | Mike | Miller City | OH |
| 157 | 5/18/2019 | 15:13:28 | KD9GDY | 18156T | Jim | Fort Wayne | IN |
| 158 | 5/18/2019 | 15:16:06 | K5KHK | 20224 | Karl Heinz | Rochester | NY |
| 159 | 5/18/2019 | 15:20:58 | NS8A | 3293T | Bridgewater ARC | Brownstown TWP | MI |
| 160 | 5/18/2019 | 15:22:07 | W8JLT | 3793 | John | Harrison | MI |
| 161 | 5/18/2019 | 15:35:11 | K3YV | 17259 | Woody | Spring Mills | PA |
| 162 | 5/18/2019 | 15:35:46 | KE8GBF | 18965 | Jared | Zeeland | MI |
| 163 | 5/18/2019 | 15:44:01 | N8IVJ | 18914 | Don | Massillon | OH |
| 164 | 5/18/2019 | 15:45:00 | KE8IDH | 18908 | Evan | Massillon | OH |
| 165 | 5/18/2019 | 15:45:14 | KB9B | 15478 | Steve | Greenwood | IN |
| 166 | 5/18/2019 | 15:46:22 | WA3WXR | 19169T | Jim | Pittsburgh | PA |
| 167 | 5/18/2019 | 15:51:58 | KN4MKR | 18748 | Paige | Fort Thomas | KY |
| 168 | 5/18/2019 | 15:52:47 | K9KVS | 19511 | Roger | Malta | IL |
| 169 | 5/18/2019 | 15:53:23 | KA9VLC | 19510 | Jim | Chicago | IL |
| 170 | 5/18/2019 | 16:18:57 | WB9LPU | 317 | Rich | Speedway | IN |
| 171 | 5/18/2019 | 16:19:42 | N5DUX | 7143 | Tommy | Longview | TX |
| 172 | 5/18/2019 | 16:29:49 | K4DXV | 151 | Steve | Louisville | TN |
| 173 | 5/18/2019 | 16:30:55 | KD8TUR | 12017T | Dave | Hillsboro | OH |
| 174 | 5/18/2019 | 16:32:49 | W8PU | 13440 | Gary | Midland | OH |
| 175 | 5/18/2019 | 16:33:45 | K3MD | 14351T | John | Winfield | PA |
| 176 | 5/18/2019 | 16:42:50 | W8BBQ | 9115T | Mark | Canfield | OH |
| 177 | 5/18/2019 | 17:00:23 | K3VVV | 17863 | Ernie | Mount Airy | MD |
| 178 | 5/18/2019 | 17:01:06 | KF5PFU | 10520 | Ryan | Stillwater | OK |
| 179 | 5/18/2019 | 17:07:43 | KS8KCC | 16000T | Dit | Tecumseh | MI |
| 180 | 5/18/2019 | 17:08:38 | K8CGE | 18000S | Loren D Hayes Memorial ARC/Loren | Lisbon | OH |
| 181 | 5/18/2019 | 17:08:46 | K8KS | 4444T | Kaz | Ann Arbor | MI |
| 182 | 5/18/2019 | 17:26:30 | W8NEE | 19914 | John | Columbus | OH |
| 183 | 5/18/2019 | 17:31:28 | KE5AL | 12776S | Jim | Pflugerville | TX |
| 184 | 5/18/2019 | 17:39:41 | W8XAL | 19663 | Dave | Greeley | CO |
| 185 | 5/18/2019 | 17:41:11 | P2PCG | 20517 | TULLIO | | |
| 186 | 5/18/2019 | 17:45:08 | WB9TFH | 4211 | Gil | West Allis | WI |
| 187 | 5/18/2019 | 17:46:34 | K8UYC | 10533 | Jack | Millsboro | DE |
| 188 | 5/18/2019 | 17:56:38 | K9US | 2834 | TIM | Bedford | IN |
| 189 | 5/18/2019 | 18:12:05 | WB9MSM | 11514 | Denny | Watertown | WI |
| 190 | 5/18/2019 | 18:46:16 | W1PDI | 18204 | Tom | Avon Lake | OH |
| 191 | 5/18/2019 | 19:04:24 | WS8G | 18903 | Rick | Beavercreek | OH |
| 192 | 5/18/2019 | 19:16:57 | K1BG | 12840 | Bruce | Harvard | MA |
| 193 | 5/19/2019 | 11:58:54 | KD8TTM | 11614T | Bill | Adrian | MI |
| 194 | 5/19/2019 | 11:59:05 | K8XXX | 8577T | Dah | Adrian | MI |
| 195 | 5/19/2019 | 11:59:16 | W8TQE | 2944T | Adrian Amateur Radio Club Inc | Adrian | MI |
| 196 | 5/19/2019 | 11:59:34 | K8KIC | 2938T | Ken | Adrian | MI |
| 197 | 5/19/2019 | 12:00:09 | AC8W | 2813 | Stan | Marysville | MI |
| 198 | 5/19/2019 | 12:00:27 | K8MU | 14823 | Larry | Roseville | MI |
| 199 | 5/19/2019 | 12:03:42 | NY2H | 12608C | Lou | Port Jefferson Station | NY |
| 200 | 5/19/2019 | 12:33:08 | K0FHG | 11870T | Bob | Saint Peters | MO |
| 201 | 5/19/2019 | 12:45:06 | K8KZB | 5053C | Jeff | Columbiaville | MI |
| 202 | 5/19/2019 | 12:45:36 | WA8MY | 10238 | Amy | Columbiaville | MI |
| 203 | 5/19/2019 | 13:01:05 | KE4WY | 18808 | Jim | Park Hills | KY |
| 204 | 5/19/2019 | 13:13:47 | WA5FRF | 8811 | Steve | Mico | TX |
| 205 | 5/19/2019 | 13:44:51 | KC7MRY | 16271 | John | Mont Alto | PA |
| 206 | 5/19/2019 | 13:45:34 | K4KLB | 7257 | Jon | Suffolk | VA |
| 207 | 5/19/2019 | 14:03:29 | K8CCA | 19843 | Eric | Walker | MI |
| 208 | 5/19/2019 | 14:20:38 | WB0SND | 6867S | Mike | De Soto | MO |
| 209 | 5/19/2019 | 14:35:27 | W2XYZ | 4862C | Frank | Venice | FL |
| 210 | 5/19/2019 | 14:49:25 | AC8KB | 9254 | Angela | Trotwood | OH |
| 211 | 5/19/2019 | 14:58:49 | WA8TON | 10707 | John | Ann Arbor | MI |