SKCC's 'Rag Chew' Newsletter
Editor's welcome -- and an invitation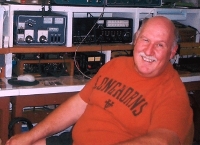 Welcome to the homepage for the SKCC's quarterly "Rag Chew" newsletter. I'm editor Ted Rachwal, K8AQM, 1629T. And to make this a successful newsletter, I need your help. Articles and pictures of your shack, projects, DX exploits, keys, QRP accomplishments, antennas, and field adventures will be published. We in SKCC do great and interesting things; let's tell and show others what we do.
Submission guildlines: You don't need a degree in English or journalism; submit any article and it can be polished, if needed. And send jpg photos. You can submit articles as Word, Notepad, or pdf files or on paper via the US Mail. I can work with all of them. The length of articles is not important; short articles and notes are fine. Articles from members around the globe are welcome, and you don't need to write them in English. With help from software, most can be translated and included. There are no limits to the possibilities for an interesting newsletter representing all SKCC members.
The newsletter will be only as good as the input I receive, so let's make this a great success! You can contact me at K8AQM1629T@comcast.net or via my call on QRZ.com.