Young Buck Award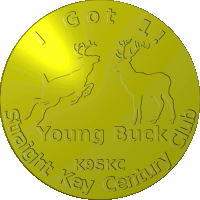 The purpose of this award is to encourage young operators to become more active.
Event Goal: Earn 1 point (Young Bucks should like this. How hard can it be to get 1 point?!)
Summary: Points are earned based on the age of the SKCC member you have a QSO with. Or, rather, the inverse of his or her age. For example, a QSO with someone who is 65 years old would be worth 1/65 point. Likewise, a QSO with a Young Buck of 20 years would be worth 1/20 point. Once you have made contacts with enough SKCC members to equal 1 whole point (or more), you're eligible for the award.
Of course, since 1/20 is bigger than 1/65, bagging a Young Buck is worth more than an old one!
Rules:
Both parties must be an SKCC Members, and may be counted only once (not once per band, just once).
QSO's count starting on May 15, 2007 (official award start date).
Contact and exchange SKCC number and age on any available band at anytime (WARC bands too),
Contacts within novice freqs can reduce the age of the other member by 1. If you work a 28-year-old on a novice band, that operator can be considered to be 27 (one year younger).
Contacts must have a Valid SKCC number at time of the QSO.
QSO's must be made using an SKCC-approved key (straight key, bug, or side swiper). The SKCC Board of Directors can grant exceptions on a case-by-case basis to those with physical disabilities that prevent the use of such keys. To request an exemption, use the email-board link under the Club Contacts section of the navigation column at left.
You can use a spreadsheet, found here to keep track of your progress. Other formats, such as a Word document, will work, too. But when you use the spreadsheet, it will calculate your score automatically when you add a new contact's actual age. When your total points reach or exceed 1, send your submission for this award to David Collins at n4wdc@va.metrocast.net
Submissions will be spot-checked.