SKCC QSL Bureau
The SKCC hosts a QSL Bureau for use by interested SKCC club members, both US and DX. You can save a lot in postage costs by sending multiple cards in one envelope via the bureau. There is no need to bother with addressing the individual cards. Also, bureau members will automatically receive a K3Y special event QSL card if they have worked any K3Y stations in January.
Anyone, even non-members, can send cards via the bureau to participating stations, but only members of the bureau can receive cards.
IMPORTANT: Not all SKCC members are members of the bureau. Please refer to the "good in the bureau" list below before sending cards. Cards sent to stations who are not "good in the bureau" will not be delivered. For members that are not part of the bureau please send direct to member with SASE.
If you are an U.S. SKCC member, you can join the QSL Bureau by providing postage in the form of self-addressed stamped envelopes (SASE). If you are a non-US member, you may join by buying postage credits from the bureau via PayPal. See below for details.
---
Using the bureau
Only send #10 business-sized envelopes (4-1/8" x 9-1/2") when sending SASEs to the bureau. This helps with organization; 99.9 percent of all cards fit into them without the need for folding.
For easier sorting, we require the following format for addressing your return envelopes: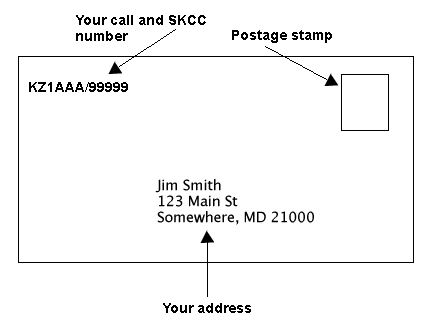 When enough cards arrive to fill an envelope, the bureau will send them out. This may be 6 to 10 cards depending on weight(1 Ounce). Please do not add extra postage beyond one forever stamp.
Note: The QSL Buro Manager recommends that you maintain no more than 4 Envelope credits at any one time.
Notes for good QSL cards:
1. QSL cards with cross-outs, write-overs, erasures, etc., cannot be accepted for awards. If you make a mistake, throw the card away and write a new one.
2. If the frequency is in MHz, be sure to put the decimal in the right place.
3. If the station you worked was mobile or portable, log both reports and indicate on the card where the station was mobile at the time of the contact.
4. Most hams use UTC time format. Please take note of the proper date for contacts after 0000 UTC.
5. All call signs must have separate envelopes. Only one call sign per envelope. All others must have envelopes in the Bureau and be registered as a member. (club calls, QSL managed calls, non-member calls) to receive QSLs.
6. PLEASE report address changes and Call Sign changes to the bureau so we can make those changes.
Members DX Stations Outside the USA
SKCC members ONLY residing outside the USA may purchase QSL Buro postage credits through the SKCC PayPal account.
A USD $3 purchase will convert to TWO - USPS Global mail stamps. You may send your payment via PayPal.com to PayPal@SKCCgroup.com - PLEASE include your Callsign and comment that the funds are for the QSL Buro so that we can tell a donation from a QSL Buro Envelope Credit purchase.
Mail your cards and envelopes to:
Straight Key Century Club
C/O Ted Rachwal K8AQM
6237 Twin Lakes Drive
Kimball, Mi 48074

For questions about the QSL Bureau, please send an email to the QSL Manager
---
The following members are "good in the bureau"
| Callsign | SKCC# | Name | Other Callsigns | SPC | Envelopes |
| --- | --- | --- | --- | --- | --- |
| AA2MX | 5071 | Bill | | NC | 1 |
| AA2XB | 1681 | Frank | | NY | 4 |
| AA4AZ | 17581 | Ted | | NJ | 2 |
| AA4BI | 2300 | Tim | KB3NXF, KX3H | SC | 3 |
| AA4WW/SK | 24053 | Matt | AA4WW | KY | 2 |
| AA5AD | 15454 | Joe | | AR | 4 |
| AA5D | 11276 | Mitch | KF5OEF | TX | 1 |
| AA6AC | 6276 | BOB | | CA | 1 |
| AA6MK | 13548 | Mike | | CA | 3 |
| AA8IV | 4989 | Richard | | OH | 2 |
| AA8MI | 8424 | Gene | | OH | 1 |
| AA8OF | 15748 | Don | | OH | 8 |
| AA8R | 19293 | Randy | | MI | 3 |
| AA9GB | 14589 | Cory | | WI | 3 |
| AA9LS | 25320 | Jim | | IL | 2 |
| AA9OM | 17229 | Darrell | | IN | 3 |
| AB0BM | 4432 | Gary | | IA | 3 |
| AB1BW | 2468 | George | | CT | 2 |
| AB1DQ | 14595 | James | | CT | 13 |
| AB2ZI | 5033 | Kevin | | NY | 8 |
| AB3GS | 16066 | Huey | | MD | 2 |
| AB4KA | 21218 | Jimmy | | FL | 2 |
| AB4PP | 32 | John-Paul | | NC | 12 |
| AB4QL | 24997 | Barry | | AL | 5 |
| AB5VY | 12977 | Jimmy | | CO | 3 |
| AB6QR | 14599 | Den | | CA | 2 |
| AB7MP | 454 | Mark | | WA | 4 |
| AB8AS | 23505 | Alan | | WV | 6 |
| AB8KS | 672 | Lloyd | | WV | 3 |
| AB8KT | 4500 | Ken | AB7KT | OH | 1 |
| AC0AC | 4452 | Alan | W5EAC | ND | 7 |
| AC0CW | 5993 | James | | GA | 4 |
| AC1DP | 21686 | Dave | | MA | 4 |
| AC1GF | 19399 | Bob | | NH | 2 |
| AC2C | 2748 | Ron | | MD | 2 |
| AC2MX | 18572 | Hank | | NY | 2 |
| AC3D | 5897 | Scott | | TN | 5 |
| AC7AF | 961 | Brian | | WY | 1 |
| AC8KJ | 8611 | George | KC8OFG | OH | 5 |
| AC8W | 2813 | Stan | A35AC, 3D2AC, VP2MAC, T32WW, VA3ACW, VA3ACW/VY2 | MI | 1 |
| AC9DN | 1789 | Roy | KV8KV | IN | 4 |
| AC9HP | 21348 | Wayne | | IN | 1 |
| AC9XS | 23280 | Prancer | | IN | 2 |
| AD0WB | 16527 | Mike | | CO | 9 |
| AD0YM | 18040 | Mike | | MO | 2 |
| AD5VC | 1555 | Dana | | LA | 3 |
| AD5WI | 866 | Mark | | AR | 4 |
| AE2DB | 22768 | Don | KD2QDD | NY | 4 |
| AE3A | 2591 | Colin | | NY | 1 |
| AE4GS | 14323 | Gary | KW4MG | TN | 2 |
| AE4JB | 15252 | Will | AE0WH, N0NEE, W4BFH | FL | 1 |
| AE4RV | 5536 | Geoffrey | | KY | 6 |
| AE6DH | 3257 | Richard | | CA | 7 |
| AE7CG | 2921 | Loren | AD6YU | AZ | 2 |
| AE7TG | 6008 | Allen | KF7EST | WA | 6 |
| AE9Q | 1228 | Dave | K9ZEN | AZ | 5 |
| AF0E | 5625 | Alex | K3OSO | CO | 1 |
| AF2Z | 2082 | Drew | | NJ | 1 |
| AF3Z | 3034 | Jim | | PA | 2 |
| AF4MY | 1667 | John | | NC | 1 |
| AF4QK | 20594 | Kenny | | NC | 2 |
| AF5DM | 4754 | David | | TX | 2 |
| AF5J | 8421 | Hal | K5HEM | TX | 2 |
| AF5U | 14743 | Little | NQ5RP, W5DSL | TX | 2 |
| AF7M | 27025 | Gary | | AZ | 2 |
| AF7RP | 1190 | John | K7JSW | OK | 5 |
| AF8A | 16348 | Gary | | OH | 3 |
| AG3I | 20474 | Marty | | PA | 4 |
| AG5LL | 6509 | Al | KB5JSB | TX | 2 |
| AG6V | 6933 | Donna | | WA | 1 |
| AG8A | 2532 | Randy | | FL | 5 |
| AH6AX | 11165 | Larry | | MD | 5 |
| AH6WA | 9516 | Mike | | HI | 3 |
| AI4AW | 4430 | Chris | | WI | 2 |
| AI6CU | 14406 | Tom | | NJ | 1 |
| AI6W | 22986 | Jon | AD5RX | CA | 13 |
| AI9IN | 8759 | Steve | KG9HM | IN | 3 |
| AI9W | 14086 | Bry | KB9QVT | IL | 3 |
| AJ4OM | 23514 | Jason | | TN | 9 |
| AJ8V | 19627 | Ricke | | MI | 3 |
| AK9A | 5902 | Bob | | WI | 4 |
| DF6JO | 24238 | Paul | | GER | 2 |
| DF7TV | 19092 | Tom | | GER | 5 |
| DJ2SX | 21606 | Daniel | | GER | 2 |
| DK0SU | 21555 | Operator | | GER | 2 |
| DL4FN | 26830 | Peter | DF0NTS | GER | 6 |
| DL9YCS | 7150 | Joerg | | GER | 1 |
| DU3/W5LFA | 4448 | Jerry | W5LFA | PHI | 1 |
| EA8BVP | 645 | Baltasar | | ECI | 1 |
| F5DE | 6247 | Bernard | | FRA | 5 |
| F6HKA | 6069 | Bert | | FRA | 3 |
| F6JOE | 9423 | Jean | FG8NY | FRA | 1 |
| F8EHJ | 23251 | Herve | | FRA | 1 |
| G0RDO | 2133 | John | GR0RDO, GO0RDO, GV0RDO | ENG | 5 |
| G4IVV | 26874 | Jon | | ENG | 2 |
| G5JIM | 24510 | James | | ENG | 2 |
| K0AF | 22366 | Andy | | IA | 4 |
| K0CRX | 22040 | Mike | | MN | 5 |
| K0CW | 4962 | Chas | | MO | 1 |
| K0FD | 15034 | Dan | | MO | 1 |
| K0FNR | 3099 | Jim | | CO | 4 |
| K0JQZ | 333 | Frank | KA4JQZ | CO | 3 |
| K0KEX | 5220 | Rick | | MO | 4 |
| K0RDS | 6787 | Dick | | TX | 2 |
| K1ACL | 12215 | Fred | | NH | 3 |
| K1ARR | 2775 | Art | KB1NHV | VT | 5 |
| K1CUH | 14045 | Peter | KC1CUH | MA | 1 |
| K1ECU | 16347 | Charlie | | CT | 4 |
| K1EDG | 9625 | Ed | | ME | 4 |
| K1TXU/SK | 2209 | Skip | K1TXU | CO | 6 |
| K2CDX | 11472 | Mike | | NY | 2 |
| K2CWM/SK | 3018 | Curt | WA2JSG, K2CWM | NJ | 1 |
| K2DCA | 3989 | John | | VA | 4 |
| K2EKM | 904 | Bill | | VA | 3 |
| K2HT | 5087 | Dick | | MO | 1 |
| K2LAZ | 3375 | Laz | | NJ | 20 |
| K2MEN | 2926 | Sheldon | | NJ | 3 |
| K2PAY | 4304 | Jerry | | NY | 2 |
| K2PQ | 4510 | Frank | | NJ | 1 |
| K2TV | 4303 | Bob | | VA | 2 |
| K2VS | 1051 | Carol | | NH | 1 |
| K3DRJ | 17818 | Jim | | MD | 4 |
| K3DRQ | 4493 | Dan | | PA | 1 |
| K3EGR | 7591 | John | | NC | 9 |
| K3ESE | 19100 | Lloyd | | MD | 3 |
| K3EW | 10605 | Phil | VP2MEW | MD | 2 |
| K3FA | 18428 | Oliver | WB3KLI | VA | 3 |
| K3JZD | 13330 | Jody | | PA | 3 |
| K3MQ | 3151 | Bob | | DE | 6 |
| K3OV | 21858 | James | | PA | 2 |
| K3PDH | 21373 | Patrick | | PA | 1 |
| K3PF | 5243 | Ron | | MD | 19 |
| K3PK | 19404 | Pete | | MD | 1 |
| K3RLL | 3133 | Don | WA3ZBJ | PA | 4 |
| K3WK | 25013 | Gary | | MD | 4 |
| K3WW | 14962 | Chas | | PA | 1 |
| K3YP | 5105 | Ray | | OH | 3 |
| K3ZGA/SK | 12392 | Bob | K3ZGA | FL | 2 |
| K4BAI | 3280 | John | | GA | 8 |
| K4CAB | 20209 | Dewey | | VA | 2 |
| K4DKC | 22765 | Sam | | MD | 1 |
| K4EGP | 22407 | Ed | KO4DIO | NC | 2 |
| K4FET | 18362 | Ron | KN4JBM | NC | 2 |
| K4GEK | 5830 | Kevin | | NC | 2 |
| K4GM | 7241 | George | | VA | 8 |
| K4IZ | 2577 | Detrick | KI4STU | VA | 2 |
| K4JPN | 2402 | Steve | | GA | 2 |
| K4KXO | 1104 | Ken | | SC | 1 |
| K4KYN | 26302 | Scrooge | | TN | 4 |
| K4NE | 3056 | Phil | | VA | 1 |
| K4OP | 4238 | John | | KY | 1 |
| K4QI | 19750 | Chuck | | FL | 1 |
| K4REK | 23478 | Randy | | AL | 5 |
| K4RZR | 7948 | Scotty | C6ARZ | FL | 2 |
| K4ZGB | 796 | Tom | | AL | 3 |
| K5BZH | 447 | Jim | | TX | 5 |
| K5ECI | 2672 | Bill | | OK | 2 |
| K5ENS | 19964 | Ken | N9KJU | TX | 4 |
| K5EWJ | 4077 | Cookie | | TX | 2 |
| K5MEG | 24217 | Meg | | GA | 3 |
| K5MUG | 11591 | Cray | | TX | 5 |
| K5PA | 1240 | Gene | | TX | 1 |
| K5PAX | 1208 | Harvey | | NM | 3 |
| K5SHT | 7210 | Dick | | TX | 11 |
| K5UI | 2980 | Jim | 3W/K5UI | TX | 2 |
| K5URU | 15198 | Blake | | TX | 4 |
| K5WL | 9898 | Bill | AF5GL, YN2WL | TX | 1 |
| K5WLW | 6674 | Wayne | | TX | 4 |
| K6ACQ | 21705 | Spence | | CA | 2 |
| K6IUZ | 14983 | Tom | | AL | 3 |
| K6JEB | 6009 | Jack | | CA | 1 |
| K6KQV | 2626 | Bill | W6PRI | CA | 1 |
| K6NIA | 19728 | Dave | VA3NIA, KM6CPF | CA | 1 |
| K6ZX | 18552 | Steve | N6SAW | FL | 3 |
| K7ABL | 3632 | Al | | WA | 2 |
| K7DJO | 5905 | John | | UT | 8 |
| K7DWI | 6907 | Arthur | KA5DWI | TX | 1 |
| K7IFG | 4694 | Ken | | OR | 2 |
| K7LWC | 6149 | Lyle | | WA | 2 |
| K7MW | 112 | Rick | | WA | 4 |
| K7SM | 9557 | Steve | | AZ | 1 |
| K7ZG | 6246 | Joe | K7AWJ | WA | 2 |
| K8AAX | 19588 | Paul | | MI | 1 |
| K8AQM | 1629 | Ted | VE9AQM, VY2AQM | MI | 4 |
| K8CGE | 18000 | Loren | | OH | 3 |
| K8CY | 19218 | ACARC | | OH | 1 |
| K8FZY | 7588 | Steven | | OH | 6 |
| K8JAD | 13072 | Jeremy | KD8VSQ | MI | 5 |
| K8KUF | 11854 | Tom | KB8J, KA8KUF | MI | 6 |
| K8LJG | 336 | John | | MI | 6 |
| K8MC | 17879 | Mike | WA8WGV, K8MC/4 | FL | 4 |
| K8MPW | 15372 | Bil | | ID | 5 |
| K8NB | 3112 | Noel | | MI | 7 |
| K8NGW | 12905 | Fred | | MI | 5 |
| K8OZR | 22715 | Larry | | OH | 1 |
| K8PRC | 14046 | Pedestrian Amateur Radio Club | | OH | 1 |
| K8SOR | 2483 | Skip | | SC | 2 |
| K8UPR | 4232 | Mike | | OH | 5 |
| K8XXX | 8577 | Dah | | MI | 1 |
| K8ZAA | 15019 | Randy | | MI | 5 |
| K9GJ | 23770 | Bob | | WI | 9 |
| K9LJ | 7575 | Len | | WI | 4 |
| K9MOV | 3094 | Lane | | IL | 2 |
| K9PFA | 23455 | Doug | | IL | 3 |
| K9PLX | 3473 | Chuck | | IL | 2 |
| K9QCK | 19002 | Phil | | IN | 3 |
| K9UOV | 13345 | Linda | | IL | 3 |
| K9VER | 14806 | Tom | | WI | 3 |
| KA0I | 2318 | Kevin | | MO | 2 |
| KA0N | 4330 | Wayne | KB0NIL | MN | 2 |
| KA0WKG | 22368 | Dan | | CO | 3 |
| KA1QYP | 12164 | Bill | | MA | 2 |
| KA1SAW | 2824 | Neal | | MA | 1 |
| KA2REY | 9152 | Virgil | | NY | 2 |
| KA2SJG | 442 | Jack | | NY | 3 |
| KA3CTQ | 2338 | Dan | | PA | 4 |
| KA4PNE | 3483 | Sam | KA5PNE | FL | 2 |
| KA4WJB | 1389 | Joe | | FL | 1 |
| KA5PVB | 12640 | Chuck | | TX | 5 |
| KA5VZG | 6264 | Alan | | TN | 3 |
| KA6J | 21259 | Jim | | TX | 3 |
| KA7LHE | 8219 | Jim | | WA | 5 |
| KA7VMA | 20081 | Dick | | WY | 3 |
| KA8HDE | 6913 | Blitzen | | MN | 4 |
| KA8HFN | 2046 | Larry | | OH | 4 |
| KA8VIT | 2593 | Bill | | OH | 1 |
| KA9ERV | 19706 | Craig | | IN | 4 |
| KA9GKE | 17764 | Rose | | IN | 4 |
| KB0SNE | 7373 | Mike | | MN | 1 |
| KB1FGC | 21047 | Rich | | CT | 2 |
| KB1ODO | 6229 | Andy | | VT | 1 |
| KB1OSI | 4484 | Devin | | NH | 3 |
| KB1WOD | 10530 | Dave | | MA | 1 |
| KB2MFS | 19845 | Tim | | TN | 2 |
| KB2RAW | 6539 | Bill | | NY | 3 |
| KB3FW | 26905 | Harv | | SC | 1 |
| KB3RKL | 15380 | Rick | | PA | 2 |
| KB4DXV | 7093 | Jim | | ME | 2 |
| KB4T | 981 | Frank | | FL | 5 |
| KB5ILL | 23626 | George | | LA | 1 |
| KB7GL | 3636 | Vic | | WA | 2 |
| KB7LJP | 14398 | James | | WA | 3 |
| KB8OOM | 11201 | Sam | | OH | 2 |
| KC0EEP | 4894 | Tori | | MO | 2 |
| KC0MYW | 14018 | Nick | | SD | 1 |
| KC1APK | 12860 | Dave | | VT | 1 |
| KC2EP | 10469 | Kris | KD2DEJ | NY | 1 |
| KC2ICA | 2206 | Dave | | NY | 1 |
| KC3W | 2201 | Bob | | MD | 3 |
| KC4HCH | 7688 | Roger | | AL | 2 |
| KC4LRR | 15307 | RJ | | TN | 2 |
| KC4LZN | 21030 | John | | FL | 3 |
| KC5F | 21092 | Steve | | NC | 2 |
| KC5SAM | 21170 | SAM | | MN | 5 |
| KC6WGN | 22968 | Gideon | | NV | 3 |
| KC6ZZT | 3647 | Joe | | CA | 2 |
| KC7QY | 4323 | Jim | | NM | 1 |
| KC8KYV | 25623 | Randy | | WV | 3 |
| KC8LTL | 4197 | Ken | | MI | 4 |
| KC9GXU | 25144 | John | | IN | 2 |
| KC9UL | 8667 | Curt | KC9UNL | IL | 1 |
| KC9YL | 23183 | Anne | | WI | 6 |
| KD0DK | 12635 | Dave | | IA | 2 |
| KD0Q | 17360 | Glenn | | IA | 1 |
| KD0WW | 6047 | Wiley | KD0DUB | CO | 4 |
| KD1KR | 23335 | Jim | | CT | 3 |
| KD2KEH | 16713 | Ken | | NY | 2 |
| KD2SPJ | 22631 | Court | | NJ | 2 |
| KD2YMM | 26231 | Kasey | | NY | 4 |
| KD2ZUD | 27215 | Jasper | | NY | 1 |
| KD4EE | 11016 | Scott | KD4JXI | KY | 3 |
| KD4UKW | 5989 | Andy | | GA | 9 |
| KD5EJA | 1065 | John | | AL | 1 |
| KD7DNY | 5999 | Walter | | AZ | 4 |
| KD8BBK | 2443 | Tony | | OH | 3 |
| KD8GZ | 711 | Tim | | OH | 2 |
| KD8TTM | 11614 | Bill | | MI | 4 |
| KD9CXO | 14803 | Bill | | IN | 1 |
| KD9EBS | 14956 | Sergey | | IL | 2 |
| KD9EZ | 17945 | Nate | | IN | 13 |
| KD9GDY | 18156 | Jim | | WI | 1 |
| KD9KHA | 23208 | Cupid | | IL | 4 |
| KE0FOM | 21528 | TOM | | MO | 2 |
| KE1LG | 4131 | Steve | | ME | 3 |
| KE4OH | 13651 | Steve | | CO | 2 |
| KE4YH | 1893 | Stew | | FL | 1 |
| KE5AQD | 2470 | Roger | | TX | 3 |
| KE5HL | 1769 | Clay | | TX | 2 |
| KE5LYW | 3918 | Robert | | TX | 2 |
| KE6ONV | 15004 | Jay | | CA | 4 |
| KE6PMA | 17716 | Tim | | CA | 3 |
| KE8UEX | 26310 | Ram | | MI | 4 |
| KE9V | 3383 | Jeff | | IN | 3 |
| KF0GVX | 26227 | Ryan | | NE | 2 |
| KF4CGP | 22472 | Rick | | TX | 1 |
| KF4JG | 101 | Grif | | VA | 2 |
| KF5PFU | 10520 | Ryan | | OK | 1 |
| KF7UFF | 26722 | Ben | | WY | 3 |
| KF7WNS/SK | 9895 | Gary | KF7WNS | OR | 1 |
| KF9AQ | 11555 | Kevin | | WI | 4 |
| KG0PP | 276 | Jim | | CO | 2 |
| KG4FSN | 226 | Juan | | FL | 4 |
| KG4GGG | 15542 | Roger | AE4RM | FL | 3 |
| KG4KGY | 6908 | Tom | | KY | 1 |
| KG4NXT | 21624 | John | | VA | 2 |
| KG4WHO | 11457 | Daniel | | VA | 1 |
| KG5RXG | 21838 | Mike | | TX | 1 |
| KG5SSB | 21881 | Dan | | MS | 1 |
| KG5WAW | 19659 | Jim | | TX | 3 |
| KG6EYC | 10435 | Frank | | CA | 7 |
| KG7YU | 22563 | Gordon | | WA | 2 |
| KI4EZK | 14442 | Char | | NC | 2 |
| KI4EZL | 12343 | Steve | | NC | 4 |
| KI4VGA | 18400 | Steve | | NC | 1 |
| KI5IO | 9532 | Nolan | | TX | 4 |
| KI6IMK | 3122 | Jerry | | CA | 5 |
| KJ1J | 12296 | John | | NH | 1 |
| KJ3Q | 4814 | Al | KJ4GOV | FL | 2 |
| KJ5WU | 9037 | Kurt | | MN | 9 |
| KJ7GNB | 20930 | Bill | | MT | 3 |
| KJ9M | 347 | Joe | K9JHM | IN | 1 |
| KK0I | 2370 | Jack | | WI | 2 |
| KK4BE | 2877 | Ray | | TN | 2 |
| KK5XX | 7639 | Frank | | TX | 6 |
| KK7XC | 20133 | Eric | | WA | 1 |
| KL1WE | 3868 | Lucille | | AK | 2 |
| KM3A | 21163 | Dave | KD6EOD | CA | 3 |
| KM4FO | 16428 | Dwight | | KY | 2 |
| KM4GC | 20739 | Doug | | VA | 7 |
| KM4MA | 8287 | John | KW9W | AL | 5 |
| KM4SK | 21884 | Evan | | VA | 2 |
| KM4THR | 17382 | Wayne | | FL | 2 |
| KM4WIP | 16752 | Steven | | VA | 1 |
| KM5BJ | 13292 | Mark | | MS | 4 |
| KM5PO | 19371 | Jim | | TX | 2 |
| KN4CFD | 20820 | Mike | | FL | 4 |
| KN4GPT | 17938 | Tom | | FL | 1 |
| KN4HAQ | 17960 | Adam | | FL | 2 |
| KN4LEL | 19118 | Dave | | FL | 1 |
| KN4NVU | 21247 | Paul | | TN | 24 |
| KN8RHM | 18350 | Rick | | MI | 1 |
| KO4GBD | 22936 | Aaron | | ME | 3 |
| KO4WFP | 25974 | Teri | | GA | 2 |
| KO4ZS | 3159 | Paul | | GA | 2 |
| KP4ED/SK | 6589 | Luis | KP4ED | PR | 1 |
| KP4SJ | 8843 | Pablo | | PR | 8 |
| KQ4CW | 22743 | Dave | | VA | 2 |
| KQ4YC | 24073 | James | | OH | 4 |
| KQ9L | 24778 | Rich | | IL | 4 |
| KR4IN | 16714 | Paul | | NC | 5 |
| KR6B | 15460 | Brian | | ME | 1 |
| KS1KCC | 20550 | SKCC | | MD | 4 |
| KS4KCC | 3702 | Bugs | KJ4INC, K4INC | NC | 5 |
| KS7KCC | 21877 | CW | KE8OBH | OH | 5 |
| KS7R | 966 | John | | MT | 2 |
| KS8KCC | 16000 | Dit | KE8ESF | MI | 4 |
| KT8DX | 3983 | Bob | W8RJD | OH | 4 |
| KT9X | 2474 | FLIP | | NV | 4 |
| KV4RH | 11478 | Benjamin | | SC | 1 |
| KX4AV | 21129 | Mark | | KY | 5 |
| KX4JV | 18603 | Tom | | FL | 3 |
| KX4QF | 20777 | Carolyn | | TN | 3 |
| KY2R | 7087 | Dave | | NJ | 3 |
| KY4GS | 25182 | Amanda | | SC | 2 |
| KY4O | 7091 | Bill | | TN | 3 |
| KZ5P | 2692 | Paul | | TX | 1 |
| KZ5W | 3216 | Bradley | | TX | 1 |
| M0ISI | 17067 | Antonio | | ENG | 4 |
| N0CW | 23240 | Chuck | | CA | 4 |
| N0GM | 12584 | George | | TX | 1 |
| N0GR | 4254 | Greg | | IA | 2 |
| N0HYD | 8033 | Burke | | KS | 3 |
| N0IP | 8411 | Todd | | MN | 1 |
| N0IPA | 23014 | Jim | W0DFM | CO | 2 |
| N0JUG | 18694 | Harold | | IA | 3 |
| N0NBD/SK | 123 | Paul | N0NBD | KS | 4 |
| N0PBO | 23474 | Rick | | IA | 3 |
| N0SMX | 11364 | Dennis | VP2MMX | FL | 3 |
| N1AAI | 25357 | Duane | | NH | 2 |
| N1CEO | 26432 | Peter | | MA | 2 |
| N1CO | 3234 | Bill | | ME | 1 |
| N1FG | 16270 | Larry | KJ1RE | NH | 1 |
| N1GKE | 5521 | Myrt | WA1USN | RI | 4 |
| N1MHV | 21332 | Bob | | GA | 7 |
| N1VAK | 25314 | Pete | | NC | 4 |
| N1VWD | 2143 | Brad | | VT | 2 |
| N1YE | 3275 | Gene | | ME | 7 |
| N2BE | 1373 | John | | NJ | 2 |
| N2EI | 5246 | Skip | | NJ | 2 |
| N2FBV | 6845 | Ken | | NY | 1 |
| N2IVY | 18032 | Andrew | | SC | 24 |
| N2KOF | 16437 | Jeff | | CT | 1 |
| N2KPJ | 16569 | Tom | | NY | 3 |
| N2LQ | 1606 | Ken | | NY | 1 |
| N2OB | 13512 | Steve | | NJ | 2 |
| N2PEZ | 20196 | Reiner | | NY | 2 |
| N2QFD | 4045 | Mal | | NY | 2 |
| N2SO | 7834 | CHAS | | NY | 4 |
| N2TNN | 25132 | Dean | | VA | 4 |
| N3EF | 1345 | Eric | | MD | 1 |
| N3JJT | 255 | Scott | | OH | 1 |
| N3KQN | 18333 | Rich | | PA | 3 |
| N3KRX | 2525 | Jerry | | DE | 1 |
| N3MVX | 3273 | Jim | | PA | 4 |
| N3RDG | 13774 | Bob | KC3DOF | PA | 1 |
| N3RSD | 4379 | Frank | | DE | 1 |
| N3RTW | 24005 | Sean | KN4ZMA | VA | 1 |
| N3TJB | 20082 | Todd | | DE | 4 |
| N4API | 11673 | Brian | | GA | 3 |
| N4DCC | 2464 | Bill | | VA | 2 |
| N4IDH | 12228 | Alton | | AL | 9 |
| N4IU | 24211 | Pat | WA2ZDM | FL | 1 |
| N4IVE | 14202 | David | KM4IXK | NC | 2 |
| N4ONT | 9493 | Barry | | GA | 4 |
| N4OW | 11375 | Al | | FL | 1 |
| N4RAY | 285 | Rodney | | AL | 3 |
| N4RE | 942 | Rick | | NC | 2 |
| N4RRT | 18330 | Don | | PA | 2 |
| N4SAX | 18421 | Randy | | FL | 2 |
| N4SDM | 19851 | Sam | | TN | 17 |
| N4STG | 11495 | Bruce | | GA | 4 |
| N4TMM | 14467 | Jim | | GA | 1 |
| N4UXA | 4103 | Bryan | | VA | 1 |
| N5GW | 7542 | Gene | | MS | 3 |
| N5IB | 4153 | Jim | | LA | 1 |
| N5IM | 14692 | Bill | | TX | 3 |
| N5JPX | 8672 | Jim | | MS | 1 |
| N5KPD | 21489 | Kris | | TX | 3 |
| N5LB | 13227 | Lionel | | MN | 3 |
| N5QAB | 7770 | Sam | | AR | 3 |
| N6CUQ | 24270 | Matt | KN6OGF | CA | 3 |
| N6IKH | 24090 | Lloyd | | CA | 4 |
| N6TEM | 22184 | Steve | | CA | 2 |
| N7ANH | 25848 | Anh | KK7EMW | WA | 3 |
| N7BO | 3725 | Russ | | UT | 1 |
| N7DR | 7491 | Doc | | CO | 2 |
| N7EF | 1829 | Don | | WA | 18 |
| N7GSU | 3658 | Robin | | OR | 5 |
| N7IGI | 6394 | Bob | | UT | 7 |
| N7JM | 20433 | Jim | | NV | 2 |
| N7KEF | 8919 | John | KD7KEF | AZ | 5 |
| N7LKL | 11440 | Dave | | OR | 2 |
| N7OOS | 10221 | Earl | KD7HXN, N7IMI | ID | 4 |
| N7PHI | 20999 | Derek | KJ4BQS | UT | 1 |
| N7QD | 21970 | Greg | KM6VLP | CA | 3 |
| N7TAT | 344 | Pat | N1AS | OR | 2 |
| N7TMS | 10049 | Todd | KF7ZCP | ID | 2 |
| N8DF | 22670 | Dave | | MI | 2 |
| N8FDI | 3291 | Ken | | MI | 1 |
| N8JEB | 25321 | Joe | | OH | 1 |
| N8KQ | 8934 | Randy | | OH | 7 |
| N8KR | 7559 | Ken | | FL | 2 |
| N8QY | 1628 | John | KA8MPT | OH | 1 |
| N8WS | 12485 | Bill | | OH | 2 |
| N8XI | 15024 | Rick | | MI | 1 |
| N8XMS | 957 | Paul | | MI | 3 |
| N8ZP | 7578 | Dan | | TX | 1 |
| N9NM | 8275 | Barb | | TX | 2 |
| N9OZW | 7084 | Pat | | IN | 2 |
| NA0F | 24487 | Larry | | MN | 5 |
| NA4EA | 9187 | Rob | | NC | 6 |
| NA7EE | 23406 | Nate | | OR | 4 |
| NA9A | 2343 | Joe | | IL | 2 |
| NA9GW | 281 | Bob | KC9HGW | IL | 4 |
| NB4F | 3355 | Robert | NI2V, N4KTM | GA | 2 |
| NB5Q | 18954 | Tom | | NM | 2 |
| NC0JB | 4816 | Jason | | KS | 3 |
| NC2M | 26325 | George | | NY | 4 |
| NC4RT | 10713 | Randy | WA4CIT | NC | 6 |
| NC9W | 13688 | Paul | | KY | 4 |
| ND0CW | 2882 | Dave | K8BBM | ND | 1 |
| ND1J | 19662 | David | | GA | 3 |
| ND4U | 5936 | Den | | TN | 15 |
| NE4AM | 27298 | Trevor | KO4IXU | KY | 1 |
| NE7D | 665 | Rock | W7RCK | OR | 14 |
| NF6R | 20696 | Bill | KK6RHW | CA | 4 |
| NG3P | 19347 | Gwen | | PA | 2 |
| NG5NG | 4730 | Neil | KE5WIQ | TX | 9 |
| NG8S | 6351 | Robin | | OH | 1 |
| NI4NN | 3263 | Chuck | K3PBY, K4PBY | FL | 1 |
| NI6V | 12575 | Matt | AL1V, K7MGR, NG7W | CA | 2 |
| NI8W | 26659 | Steve | | OH | 2 |
| NJ0U | 21275 | John | | IN | 1 |
| NJ3B | 21422 | Jim | | PA | 1 |
| NJ8L | 13613 | Vern | | OH | 6 |
| NK8I/SK | 2290 | Chas | NK8I, WB8FAI | OH | 9 |
| NM8GS | 19777 | Crew | | MI | 4 |
| NN4K | 9575 | Mac | | GA | 3 |
| NN4ZZ | 4225 | Al | | GA | 2 |
| NP3K | 7134 | Abe | | FL | 1 |
| NQ0RP | 1155 | Wayne | KC0PMH | OK | 1 |
| NQ8T | 5919 | Steve | AE7ID | OH | 3 |
| NR4AW | 1739 | Jesse | | NC | 3 |
| NR5N | 22183 | Randy | | WV | 3 |
| NU1N | 19518 | BRYAN BERGERON | | MA | 6 |
| NU7A | 15031 | Bren | | WA | 2 |
| NV7KU | 9399 | Don | KB1YBG, KA1KU | NV | 8 |
| NW7US | 4758 | Tomas | | OH | 4 |
| NX1K | 11024 | Comet | | MA | 4 |
| NZ7Q | 18974 | Paul | | NM | 1 |
| NZ8Y | 9854 | Gary | | OH | 8 |
| OE1TKW | 24839 | Helmut | | AUT | 1 |
| OH2ZL | 8013 | Kalevi | | FIN | 2 |
| OH6VA | 10932 | Antti | OH6FME | FIN | 2 |
| ON4VT | 15010 | Danny | | BEL | 1 |
| ON8WR | 13203 | Ward | | BEL | 2 |
| PA0RBA | 8200 | Rienus | | NED | 1 |
| PG4I | 11019 | Jo | YL/PG4I, PF6SKCC | NED | 4 |
| SP2SWI | 14331 | Mariusz | | POL | 4 |
| T32TR | 8509 | Ted | V47TR | T32 | 1 |
| UR3WA | 3072 | Andy | UU1CC | UKR | 1 |
| VA2GJ | 18768 | Gerald | VA2GLU | QC | 1 |
| VA2NW | 4889 | Thomas | KB1EPR, VA2EPR | QC | 8 |
| VA3NU | 5215 | Larry | | ON | 2 |
| VA3RSA | 21258 | Rich | | ON | 2 |
| VA7ES | 10987 | Eric | | BC | 2 |
| VE1AHX | 18100 | Ben | | NS | 2 |
| VE1EM | 10551 | Jesse | VE7LGX, VE3KPV, VE3IIM | NS | 1 |
| VE2KM | 18420 | Tony | VA2XDX, VA2KCC, VE0XDX | QC | 2 |
| VE2KZW | 16248 | Robert | | QC | 8 |
| VE3FUJ | 4936 | Brion | | ON | 3 |
| VE3HMK | 1760 | Mark | | ON | 20 |
| VE3KRU | 26110 | Keith | | ON | 1 |
| VE3MDX | 16258 | David | | ON | 4 |
| VE3MRX | 4917 | Bill | NV3D | ON | 5 |
| VE3RDE | 13907 | Roger | | ON | 12 |
| VE4AEA | 13127 | Lloyd | | MB | 5 |
| VE4DL | 16477 | David | CG4DLA, VE4DLA | MB | 7 |
| VE4MR | 7607 | Kevin | | MB | 3 |
| VE5CUL | 1672 | Brian | | SK | 5 |
| VE5XF | 1752 | Mark | VE3XFF | SK | 1 |
| VE7RJV | 13033 | Raj | | BC | 1 |
| VE9AS | 23155 | Richard | | NB | 5 |
| VE9CRM | 10075 | Club Radio Amateur de Madawaska | | NB | 1 |
| VE9EX | 10792 | Brent | CK9EX, CG9EX, CP1EX | NB | 6 |
| VE9WJ | 7674 | George | VE1AHC | NB | 2 |
| VE9ZZ | 17223 | Jr (Junior) | | NB | 1 |
| VK4DRK | 26381 | Derek | | AUS | 2 |
| VK5AV | 26928 | Tim | | AUS | 1 |
| W0DCX | 19283 | Dave | | MO | 3 |
| W0EJ | 10440 | Bill | | SD | 1 |
| W0EKS | 1662 | Jack | N0NV | MN | 4 |
| W0NZZ | 22005 | Denny | | TX | 10 |
| W0OOW | 2071 | Steve | | NE | 1 |
| W0RLY | 17845 | ERIC | AE0HY | GA | 3 |
| W0SZV | 4999 | Eldon | | MO | 1 |
| W0VQ | 25261 | Geoff | | WA | 2 |
| W1BV | 15862 | Mike | KC1FZW, K1MRF, NK8S | MA | 4 |
| W1DV | 1433 | Dave | | NC | 2 |
| W1EJ | 1594 | Ed | | CA | 2 |
| W1GKE | 6169 | Debbie | | RI | 2 |
| W1PDI | 18204 | Tom | | OH | 1 |
| W1SIM | 21420 | Larry | | RI | 4 |
| W1TAG | 15461 | John | | MA | 1 |
| W1VKE | 23885 | Vin | | MA | 2 |
| W1ZAH | 20478 | Frank | | CT | 3 |
| W1ZUB | 3896 | Stu | WR1O | NH | 3 |
| W2BJN | 13061 | Joel | | AL | 1 |
| W2DDG | 1377 | Larry | KC2OTX | NY | 11 |
| W2DL | 9702 | Bob | W2TAC | NY | 2 |
| W2ECK | 6518 | Paul | KC2NYU | GA | 2 |
| W2GSB | 7561 | Great South Bay Arc | | NY | 4 |
| W2LOS | 2729 | Mike | WB2LOS | NY | 3 |
| W2NR | 1050 | Randy | K2VT, KX1NH, W2RAN | NH | 4 |
| W2SKY | 22019 | Peter | | NY | 2 |
| W2TJ | 9330 | Tom | K2YEO, N2TRJ, NI2F | NY | 4 |
| W2US | 2412 | Hf Radio Group | | NY | 1 |
| W2XYZ | 4862 | Frank | | FL | 1 |
| W2ZRA | 7284 | Kevin | | NY | 1 |
| W3DF | 12995 | Dan | | MD | 3 |
| W3MMP | 5544 | Martin | K3PBU | PA | 2 |
| W3SI | 22628 | Bill | | MD | 1 |
| W3STN | 19000 | Stan | | MD | 7 |
| W3WAG | 27552 | Frank | | DC | 2 |
| W3WKV | 14042 | Will | | PA | 4 |
| W4ABQ | 2782 | Kevin | NQ4A | VA | 3 |
| W4AFB | 7196 | Keith | WD8AFB | FL | 5 |
| W4AW | 19566 | Jon | | KY | 1 |
| W4BWS | 81 | Don | HC4/W4BWS | FL | 4 |
| W4CMG | 20093 | Dancer | | TN | 3 |
| W4DWS | 22990 | Dennis | | GA | 4 |
| W4EDN | 11323 | Bill | WA2EDN | NC | 5 |
| W4ELP | 3074 | Ed | KD4W | VA | 4 |
| W4FOA | 641 | Tony | | GA | 3 |
| W4KLY | 4019 | Paul | | GA | 3 |
| W4LSV | 2795 | Barry | WB8LSV, K8QI | TN | 2 |
| W4LYH | 4878 | Marty | KB2HHW | NY | 4 |
| W4MOY | 27248 | Jim | | GA | 5 |
| W4NLT | 16400 | Andy | | VA | 2 |
| W4QDV | 21777 | Dave | | GA | 4 |
| W4RQ/SK | 8699 | Rich | KE4UN, W4RQ | FL | 2 |
| W4SR | 5425 | Greg | | MD | 3 |
| W4UCI | 4091 | Sandy | | NC | 2 |
| W4XJ | 616 | Randy | | MO | 2 |
| W4XX | 14077 | Dos Equis RC | K8SMS, KX4S | WV | 3 |
| W5CBP | 10969 | Christopher | KM5TP | NM | 2 |
| W5CVK | 21429 | Tom | | TX | 1 |
| W5CYF | 6797 | John | | TX | 3 |
| W5DW | 8344 | Bud | | TX | 4 |
| W5ESE | 688 | Scott | | TX | 2 |
| W5LDX | 14957 | LouAnn | KK6UZE | TX | 8 |
| W5MSV | 4515 | Mike | WD5CCW | MS | 1 |
| W5WJN | 19671 | Bill | | TN | 5 |
| W5YB | 14869 | Alex | 4Z1YB | NM | 1 |
| W5ZBT | 21049 | Tom | WA5ZBT | TX | 2 |
| W5ZR | 2931 | Bert | | LA | 2 |
| W6JIM | 15169 | Jim | KF6FCV | CA | 4 |
| W6LAX | 19243 | Roger | | CA | 1 |
| W6SMF | 19135 | Stan | | CA | 1 |
| W6SQQ | 1283 | Al | | CA | 6 |
| W6VXP | 14695 | Ted | | CA | 1 |
| W7DAX | 2429 | Dick | | UT | 1 |
| W7GRM | 17746 | Gregg | | ID | 2 |
| W7RGZ | 21140 | Bob | | WA | 3 |
| W7RRC | 6580 | River Radio Club | | OR | 4 |
| W7VC | 24194 | Olive | | OR | 5 |
| W7ZDX | 11620 | Bog | N5FSN | WA | 2 |
| W8ARC | 8734 | Bob | | WV | 1 |
| W8ATE | 13165 | Stan | N8PJP | MI | 5 |
| W8DIY | 13166 | Donna | | MI | 5 |
| W8ES | 9104 | Jay | W8LU, W3HI, AA4JW, W8AIM | WV | 1 |
| W8KBW | 17557 | Max | | MI | 5 |
| W8MDE | 4877 | Mike | KD8JHJ | OH | 5 |
| W8MU | 10953 | Don | KD8SKO | MI | 1 |
| W8SVC | 17826 | Steve | | MI | 1 |
| W8UA | 22104 | Jay | N8JLM | OH | 3 |
| W8WL | 10801 | Bill | | NE | 1 |
| W9AEM | 7875 | John | | WI | 3 |
| W9AIL | 24566 | David | KD9QYP | IL | 4 |
| W9AVM | 851 | Jim | | WI | 1 |
| W9DLN | 3635 | Dan | | WI | 14 |
| W9GOO | 21474 | John | | IN | 3 |
| W9GPP | 16616 | Rick | | IN | 1 |
| W9IL | 4532 | Lou | | FL | 3 |
| W9JDH | 80 | Jimmy | | IL | 2 |
| W9JX | 8822 | Stan | | FL | 2 |
| W9KCM | 22208 | Doc | | IL | 3 |
| W9KMK | 19270 | Gene | | MO | 3 |
| W9LW | 6222 | Jay | WB9MDS | IN | 4 |
| W9TE | 20000 | FWRC | | IN | 3 |
| W9TFC | 1391 | John | | WI | 2 |
| W9WOC | 11674 | Frank | | IL | 2 |
| WA0CIE | 18301 | Butch | | DE | 1 |
| WA0ITP | 4024 | Terry | | IA | 4 |
| WA0LIF | 16406 | Dick | | MN | 3 |
| WA0QZK | 1776 | Jack | | IN | 2 |
| WA1GCT/SK | 1797 | Roger | WA1GCT | TX | 3 |
| WA1LAD | 25440 | Gil | | RI | 2 |
| WA1LFD | 17831 | Kev | | NH | 3 |
| WA1RKS | 931 | Ellis | | MA | 1 |
| WA2LMC | 25795 | Cliff | | NC | 2 |
| WA2RUE | 2325 | Cw Operators Club | | FL | 1 |
| WA3GM | 10382 | Greg | | PA | 4 |
| WA3IGU | 19535 | Denny d | | PA | 5 |
| WA3KCP | 11705 | John | | PA | 2 |
| WA3PRR | 9716 | Ray | | PA | 1 |
| WA3TAD | 737 | Eric | | MD | 4 |
| WA3TMR | 6966 | Steve | | NC | 4 |
| WA3WXR | 19169 | Jim | | PA | 4 |
| WA4CHQ | 12554 | Neil | | VA | 2 |
| WA4CYD | 8605 | Barry | | SC | 2 |
| WA4GQG | 4059 | Kevin | | NC | 1 |
| WA4KUP | 24 | Brad | K0DBK | MN | 3 |
| WA4LXL | 25646 | TERRY | | FL | 4 |
| WA4ONV | 3316 | Joe | | FL | 2 |
| WA4ZOF | 8649 | Tom | | GA | 3 |
| WA5KBH | 21733 | George | | LA | 4 |
| WA6ES | 451 | Richard | | CA | 5 |
| WA6L | 3434 | Doug | KI6FEN | CA | 3 |
| WA6OEF | 8603 | Preston | | CA | 2 |
| WA6URY | 15370 | Dan | 7J1ABD | CA | 3 |
| WA7DUY | 2650 | Jim | | WA | 4 |
| WA7JYK | 9833 | Tom | WB7EUX | OR | 1 |
| WA7RCT | 498 | Cleon | | UT | 2 |
| WA7RV | 24109 | Mike | | AZ | 5 |
| WA8IWK | 2441 | Allen | | MI | 2 |
| WA8OKR | 3200 | Bill | | OH | 2 |
| WA8QFE | 3418 | Lee | | IN | 2 |
| WA8ZNC | 22868 | Tom | | WA | 2 |
| WA9BBN | 17763 | Ed | | IN | 3 |
| WA9ONY | 16405 | David | | WA | 2 |
| WA9TUT | 15173 | Dirk | | IL | 2 |
| WA9VBG | 12569 | Sam | | IN | 1 |
| WA9ZDC | 16301 | Swart | | MA | 3 |
| WB1AJX | 12872 | Howard | | RI | 1 |
| WB2ART | 2020 | Ken | | FL | 1 |
| WB2EAV | 13876 | Ed | | NY | 1 |
| WB2NVR | 13847 | Bob | | NY | 1 |
| WB2TQC | 149 | John | | NY | 1 |
| WB2VVV | 14078 | Chris | | RI | 1 |
| WB3AVD | 392 | Ted | | PA | 1 |
| WB3GCK | 15052 | Craig | | PA | 2 |
| WB3KBW | 8249 | Dan | | PA | 1 |
| WB4HMA | 15132 | Joe | | TN | 4 |
| WB4LAL | 9385 | Ike | | AL | 1 |
| WB5JWI | 5013 | Les | | TX | 4 |
| WB5LAI | 15189 | Van | | MS | 3 |
| WB5MET | 21928 | Jimmy | | TX | 5 |
| WB5RYB | 2885 | Bill | | GA | 2 |
| WB6IZG | 17714 | Bruce | | CA | 1 |
| WB6SZZ | 6373 | Ray | | CA | 4 |
| WB6UIA | 23694 | PETE | | WY | 2 |
| WB7BWZ | 20956 | Bob | | MT | 2 |
| WB7DKZ | 14733 | Andy | | WI | 2 |
| WB7EED | 14617 | Doc | | IN | 1 |
| WB7WHG | 2670 | Dave | WB9WHG | OR | 2 |
| WB8BNS | 20100 | Paul | | MI | 2 |
| WB8CPY | 19612 | Bill | | PA | 2 |
| WB8OGK | 3029 | Bruce | | MA | 2 |
| WB8QZM | 25114 | Brian | | TX | 9 |
| WB8UPO | 8286 | Terry | | OH | 14 |
| WB8ZOM | 17711 | Don | | MI | 4 |
| WB9CYY | 26540 | Don | | WI | 2 |
| WB9FMC | 2753 | Kurt | | IL | 5 |
| WB9TFF | 7057 | Donna | | WI | 2 |
| WB9TFH | 4211 | Gil | | WI | 2 |
| WD0ACB | 13243 | Bruce | | KS | 1 |
| WD2F | 9972 | Joe | | NY | 2 |
| WD4DIY | 20451 | Dale | | NC | 1 |
| WD4LSS | 22181 | Neal | | NC | 2 |
| WD5DAX | 16490 | John | | TN | 2 |
| WD5DAY | 2384 | Philip | | TX | 2 |
| WD5RS | 2492 | Russ | | TX | 4 |
| WD8KRV | 3746 | Dave | | AZ | 6 |
| WF4O | 9474 | Foster | | VA | 3 |
| WG0FLY | 20144 | Bill | | TX | 4 |
| WG3K | 7320 | Eric | W4OTN | MD | 1 |
| WI9P | 9197 | Reed | | MN | 4 |
| WK2S | 9434 | Art | TF/WK2S, MJ/WK2S, HB9/WK2S, M/WK2S | NJ | 1 |
| WL7WH | 2940 | Bob | | AK | 1 |
| WM3X | 12743 | Bill | | NC | 2 |
| WM4P | 10026 | Joel | | FL | 5 |
| WM9F | 14156 | Jeff | | MO | 1 |
| WN8YGR | 19999 | Keith | | FL | 3 |
| WO5S | 12074 | Floyd | W5FEC | TX | 1 |
| WO7T | 3298 | Mark | | AZ | 5 |
| WO8L | 17089 | Rick | | NC | 2 |
| WP4IZQ | 19326 | MEL | | PR | 2 |
| WQ1C | 228 | Warren | WR1TX | TX | 2 |
| WQ9Z | 325 | Roy | | IL | 3 |
| WR6D | 19804 | Dick | | CA | 3 |
| WT3C | 834 | TOM | | MD | 3 |
| WU1V | 9293 | Rick | | MA | 3 |
| WW7D | 6834 | Darryl | WB9TCY | WA | 6 |
| WX7V | 25995 | Chris | | TX | 3 |
| WY5R | 16980 | Addison | KI6OQJ | UT | 6 |
| WZ4Q | 16521 | Paul | N4LWW | VA | 3 |
| ZF2TA | 9955 | Ted | 3D2TR, A35TR | CAY | 1 |
| ZL2BLQ | 4356 | Stan | ZM2BLQ | NZL | 1 |