SKCC QSL Bureau
The SKCC hosts a free QSL bureau for all stations, members and non-members, for confirming contacts. You do not have to be an SKCC member to send in card to hams that are "good in the SKCC buro."
Please QSL. Even though cards are not required for SKCC awards, members may be working for other awards and need your confirmation. Do not wait to receive cards before you send. When you have enough outgoing QSLs to fill an envelope, send them in, along with some self-addressed stamped envelopes (SASEs).
If you would like to use the bureau, send SASEs, with at least one unit of postage each, to the bureau. You may want to send in more than one SASE to start.
---
Using the bureau
It is highly suggested to use only #10 business-sized envelopes (4-1/8" x 9-1/2") when sending SASEs to the bureau. This helps with organization; 99.9 percent of all cards fit into them without the need for folding.
For easier sorting, we require the following format for addressing your return envelopes: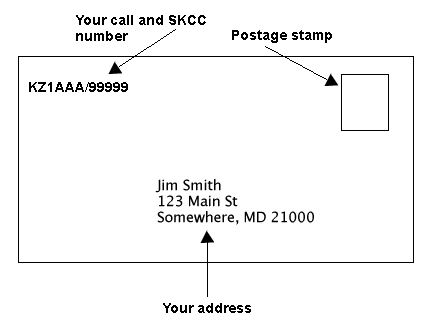 When enough cards arrive to fill an envelope, the bureau will send them out. This may be 6 to 10 cards depending on weight.
Notes for good QSL cards:
QSL cards with cross-outs, write-overs, erasures, etc., cannot be accepted for awards. If you make a mistake, throw the card away and write a new one.
If the frequency is in MHz, be sure to put the decimal in the right place.
If the station you worked was mobile or portable, log both reports and indicate on the card where the station was mobile at the time of the contact.
Most hams use UTC time format. Please take note of the proper date for contacts after 0000 UTC.
Members Outside the USA
SKCC members residing outside the USA may purchase QSL Buro postage credits through the SKCC PayPal account.
A USD $3 purchase will convert to TWO - USPS Global mail stamps. You may send your payment via PayPal.com to PayPal@SKCCgroup.com - PLEASE include your Callsign and comment that the funds are for the QSL Buro so that we can tell a donation from a QSL Buro Envelope Credit purchase.
Note: The QSL Buro Manager recommends that you maintain no more than 4 Envelope credits at any one time.
Mail your cards and envelopes to:
Straight Key Century Club
C/O Jeff Peters, K9JP
5562 Heritage Way
Traverse City, MI 49685

---
The following members are "good in the bureau"
| Callsign | SKCC# | Name | Other Callsigns | SPC | Envelopes |
| --- | --- | --- | --- | --- | --- |
| AA1EF | 14584 | Richard | | ME | 1 |
| AA2XB | 1681 | Frank | | NY | 4 |
| AA4GT | 3294 | George | N3ISH | FL | 2 |
| AA4HT | 3352 | Rip | | FL | 2 |
| AA5D | 11276 | Mitch | KF5OEF | TX | 2 |
| AA6AC | 6276 | Bob | | CA | 3 |
| AA8IV | 4989 | Richard | | OH | 2 |
| AA8MI | 8424 | Gene | | OH | 1 |
| AA8OF | 15748 | Don | | OH | 9 |
| AA9GB | 14589 | Cory | | WI | 3 |
| AA9KH | 219 | Jay | | IL | 5 |
| AB0BM | 4432 | Gary | | IA | 2 |
| AB1BW | 2468 | George | | CT | 3 |
| AB2ZI | 5033 | Kevin | | NY | 7 |
| AB4PP | 32 | John-Paul | | NC | 6 |
| AB5VY | 12977 | Jimmy | | CO | 3 |
| AB6QR | 14599 | Den | | CA | 3 |
| AB6TY | 2743 | Rich | | CA | 1 |
| AB7MP | 454 | Mark | | WA | 1 |
| AB8KS | 672 | Lloyd | | WV | 3 |
| AB8KT | 4500 | Ken | AB7KT | OH | 1 |
| AC0AC | 4452 | Alan | W5EAC | ND | 7 |
| AC2C | 2748 | Ron | | MD | 6 |
| AC2RJ | 14859 | Ruben | | NY | 3 |
| AC4NY | 14391 | Joe | | AL | 2 |
| AC7AF | 961 | Brian | | WY | 1 |
| AC9DN | 1789 | Roy | KV8KV | IN | 2 |
| AD5VC | 1555 | Dana | | LA | 5 |
| AD5WI | 866 | Mark | | AR | 4 |
| AD7HI | 628 | Scott | | UT | 1 |
| AE4RV | 5536 | Geoffrey | | KY | 6 |
| AE6DH | 3257 | Richard | | CA | 8 |
| AE7TG | 6008 | Allen | KF7EST | WA | 6 |
| AE9LL | 14 | Len | KC0RSX | IN | 1 |
| AE9Q | 1228 | Dave | K9ZEN | AL | 6 |
| AF0E | 5625 | Alex | K3OSO | CO | 2 |
| AF2Z | 2082 | Drew | | NJ | 2 |
| AF3Z | 3034 | Jim | | PA | 7 |
| AF4K | 1879 | Bry | | FL | 2 |
| AF4MY | 1667 | John | | NC | 3 |
| AF5DM | 4754 | David | | TX | 2 |
| AF5U | 14743 | Dave | W5DSL | TX | 4 |
| AF5XF | 17137 | Matt | | TX | 2 |
| AF7RP | 1190 | John | K7JSW | ID | 5 |
| AG4T | 8854 | Emilio | | FL | 1 |
| AG6V | 6933 | Donna | | WA | 4 |
| AG8A | 2532 | Randy | | FL | 4 |
| AH6AX | 11165 | Larry | | MD | 3 |
| AH6WA | 9516 | Mike | | HI | 3 |
| AI4AW | 4430 | Chris | | WI | 2 |
| AI6CU | 14406 | Tom | | CA | 3 |
| AI9IN | 8759 | Steve | KG9HM | IN | 1 |
| AI9W | 14086 | Bry | KB9QVT | IL | 4 |
| AJ4SB | 5552 | Rob | KJ4CBA | TN | 1 |
| CT1DGH | 13987 | Joao | | POR | 1 |
| CT1GFQ | 466 | Carlos | | POR | 3 |
| DK3DUA | 16484 | Tom | | GER | 1 |
| DL9YCS | 7150 | Joerg | | GER | 9 |
| DM4RW | 9571 | Robert | | GER | 1 |
| DU3/W5LFA | 4448 | Jerry | W5LFA | PHI | 2 |
| DU3GKT | 12131 | Jerry | DW3GKT, DV3GKT | PHI | 4 |
| EA5IIK | 12909 | Andy | | ESP | 5 |
| EA8BVP | 645 | Baltasar | | ECI | 4 |
| F5DE | 6247 | Bernard | | FRA | 2 |
| F6HKA | 6069 | Bert | | FRA | 6 |
| G0RDO | 2133 | John | GR0RDO, GO0RDO, GV0RDO | ENG | 4 |
| G3VVP | 2638 | Fred | | ENG | 2 |
| G4LMW | 4454 | Rob | | ENG | 2 |
| IK2RMZ | 5278 | Martin | | ITA | 1 |
| K0CW | 4962 | Charles | | MO | 1 |
| K0DBK | 24 | Brad | | MN | 3 |
| K0FTC | 2227 | John | K0JKB | CO | 5 |
| K0JQZ | 333 | Frank | KA4JQZ | CO | 4 |
| K0KEX | 5220 | Rick | | MO | 8 |
| K0RDS | 6787 | Dick | | TX | 1 |
| K1ARR | 2775 | Art | KB1NHV | VT | 1 |
| K1EDG | 9625 | Ed | | ME | 3 |
| K1EEE | 12006 | Mike | | NH | 2 |
| K1NV | 2609 | Jon | | NV | 1 |
| K1TXU | 2209 | Skip | | CO | 6 |
| K2CDX | 11472 | Mike | | NY | 2 |
| K2DCA | 3989 | John | | VA | 4 |
| K2DEP | 9273 | Steve | | MD | 3 |
| K2HT | 5087 | Dick | | MO | 8 |
| K2MEN | 2926 | Sheldon | | NJ | 3 |
| K2PAY | 4304 | Jerry | | NY | 4 |
| K2PQ | 4510 | Frank | | NJ | 3 |
| K2VS | 1051 | Carol | | NH | 2 |
| K3AFS | 6426 | Bill | | PA | 3 |
| K3CKO | 13811 | Bob | | NY | 2 |
| K3DRQ | 4493 | Dan | | PA | 4 |
| K3EGR | 7591 | John | | NC | 7 |
| K3EW | 10605 | Phil | VP2MEW | MD | 1 |
| K3JMH | 542 | Jeff | | FL | 1 |
| K3MQ | 3151 | Bob | | DE | 5 |
| K3PF | 5243 | Ron | | MD | 19 |
| K3WW | 14962 | Chas | | PA | 3 |
| K3YP | 5105 | Ray | | OH | 2 |
| K3ZGA | 12392 | Bob | | FL | 3 |
| K4BAI | 3280 | John | | GA | 3 |
| K4DJ | 11060 | Rich | | NC | 4 |
| K4GEK | 5830 | Kevin | | NC | 2 |
| K4GM | 7241 | George | | VA | 4 |
| K4JPN | 2402 | Steve | | GA | 2 |
| K4KBL | 11722 | Jerry | | GA | 3 |
| K4KXO | 1104 | Ken | | SC | 1 |
| K4MIJ | 7487 | Ralph | | TN | 1 |
| K4NE | 3056 | Phil | | VA | 2 |
| K4OP | 4238 | John | | KY | 2 |
| K4RNV | 5595 | Richard | KJ4IQT | SC | 3 |
| K4SAF | 699 | Carol | | KY | 1 |
| K4UK | 1941 | Stan | | VA | 1 |
| K4ZGB | 796 | Tom | | AL | 2 |
| K5BZH | 447 | Jim | | TX | 6 |
| K5ECI | 2672 | Bill | | OK | 7 |
| K5EWJ | 4077 | Cookie | | TX | 2 |
| K5HEM | 8421 | Hal | | TX | 1 |
| K5IX | 3026 | Dave | WB6MKT, W5MKT | TX | 1 |
| K5JYD | 2199 | Larry | | TX | 2 |
| K5MUG | 11591 | Cray | | TX | 3 |
| K5PA | 1240 | Gene | | TX | 2 |
| K5PAX | 1208 | Harvey | | NM | 3 |
| K5PRT | 4695 | Pete | | TX | 4 |
| K5SHT | 7210 | Dick | | TX | 12 |
| K5UI | 2980 | Jim | 3W/K5UI | TX | 2 |
| K5WL | 9898 | Bill | AF5GL | TX | 1 |
| K5YQF | 1820 | Cecil | | TX | 3 |
| K5ZOL | 3945 | Bob | K5ZOL/KP2 | TX | 2 |
| K6FFY | 1221 | Nick | | WA | 2 |
| K6JEB | 6009 | Jack | | CA | 2 |
| K6KQV | 2626 | Bill | W6PRI | CA | 3 |
| K7ABL | 3632 | Al | | WA | 2 |
| K7DJO | 5905 | John | | UT | 8 |
| K7GA | 4850 | Jeff | | WA | 1 |
| K7IFG | 4694 | Ken | | OR | 3 |
| K7JKZ | 12712 | John | | OK | 2 |
| K7MW | 112 | Rick | | WA | 1 |
| K7QBW | 5733 | Bob | K2QBW, K0QBW | OR | 5 |
| K7TFW | 5261 | Don | | WY | 3 |
| K7TP | 620 | Grover | W6EIS | CA | 1 |
| K7ZG | 6246 | Joe | K7AWJ | WA | 2 |
| K8AQM | 1629 | Ted | VE9AQM | MI | 3 |
| K8BAT | 10395 | John | KD8TFI, KA4BAT | OH | 3 |
| K8CLV | 7659 | Ron | | OH | 2 |
| K8DDB | 978 | Mike | | MI | 1 |
| K8EST | 8073 | Pat | KD4WGP | OH | 1 |
| K8FZY | 7588 | Steven | | OH | 6 |
| K8KUF | 11854 | Tom | KB8J, KA8KUF | MI | 1 |
| K8LJG | 336 | John | | MI | 6 |
| K8NB | 3112 | Noel | | MI | 15 |
| K8PRC | 14046 | Pedestrian Amateur Radio Club | | OH | 1 |
| K8QH | 3815 | Dave | | MI | 1 |
| K8SOR | 2483 | Skip | | SC | 3 |
| K8XXX | 8577 | Eastern Michigan Contest Club | | MI | 1 |
| K8ZAA | 15019 | Randy | | MI | 3 |
| K9CWD | 14269 | Thad | | IN | 1 |
| K9EW | 54 | Ed | | IL | 1 |
| K9JP | 3008 | Jeff | | MI | 1 |
| K9VER | 14806 | Tom | | WI | 2 |
| KA0I | 2318 | Kevin | | MO | 2 |
| KA0SOH | 1126 | Donn | K0ZFK | MO | 2 |
| KA1KU | 9399 | Don | KB1YBG | MA | 8 |
| KA1QYP | 12164 | Bill | | RI | 5 |
| KA1SAW | 2824 | Neal | | MA | 4 |
| KA2REY | 9152 | Virgil | | NY | 2 |
| KA3CTQ | 2338 | Dan | | PA | 4 |
| KA3NZR | 2522 | Harry | | WV | 1 |
| KA4PNE | 3483 | Sam | KA5PNE | FL | 3 |
| KA5DWI | 6907 | Art | | AZ | 1 |
| KA5PVB | 12640 | Chuck | | TX | 9 |
| KA5VZG | 6264 | Alan | | TN | 3 |
| KA7LHE | 8219 | Jim | | WA | 5 |
| KA8HFN | 2046 | Larry | | OH | 8 |
| KA8VIT | 2593 | Bill | | OH | 1 |
| KA9DFI | 3673 | Mike | | IL | 5 |
| KB1ODO | 6229 | Andy | | VT | 2 |
| KB1OSI | 4484 | Devin | | NH | 3 |
| KB2RAW | 6539 | Bill | | NY | 5 |
| KB2VFX | 2560 | Dan | | NY | 3 |
| KB3DT | 236 | Dave | KB3MQN | PA | 2 |
| KB4DXV | 7093 | Jim | | AZ | 1 |
| KB4T | 981 | Frank | | FL | 5 |
| KB5EBB | 8724 | Phil | | VA | 2 |
| KB7CSV | 1202 | Earl | | WY | 2 |
| KB7GL | 3636 | Vic | | WA | 2 |
| KB7LJP | 14398 | James | | WA | 1 |
| KB8OOM | 11201 | Sam | | OH | 3 |
| KC0EEP | 4894 | Tori | | MO | 4 |
| KC0MYW | 14018 | Nick | | SD | 3 |
| KC1APK | 12860 | Dave | | VT | 1 |
| KC1CUH | 14045 | Peter | | MA | 1 |
| KC2NRQ | 3062 | Jay | | NY | 3 |
| KC3W | 2201 | Bob | | MD | 3 |
| KC4ZA | 4421 | Alan | | VA | 3 |
| KC6ZZT | 3647 | Joe | | CA | 2 |
| KC7QY | 4323 | Jim | | NM | 3 |
| KC8LTL | 4197 | Ken | | MI | 4 |
| KC9UNL | 8667 | Curt | | IL | 2 |
| KD0DK | 12635 | Dave | | IA | 1 |
| KD0EKT | 9435 | Jason | | AR | 2 |
| KD0SVI | 11536 | Paul | | IA | 1 |
| KD0V | 1243 | Merlin | | MN | 1 |
| KD4UKW | 5989 | Andy | | GA | 9 |
| KD5EJA | 1065 | John | | AL | 2 |
| KD7DNY | 5999 | Walter | | AZ | 4 |
| KD7HXN | 10221 | Earl | | OR | 4 |
| KD8GZ | 711 | Tim | | OH | 1 |
| KD8VSQ | 13072 | Jeremy | | MI | 5 |
| KD9CXO | 14803 | Bill | | IN | 1 |
| KD9GZJ | 17398 | Jermaine | | IN | 1 |
| KE0HWZ | 15473 | Bill | | CO | 2 |
| KE0QM | 2166 | Dennis | | KS | 2 |
| KE1LG | 4131 | Steve | | ME | 3 |
| KE3O | 9282 | Bill | | MD | 1 |
| KE4OH | 13651 | Steve | | TN | 2 |
| KE4YH | 1893 | Stew | | FL | 2 |
| KE5AQD | 2470 | Roger | | TX | 3 |
| KE5LYW | 3918 | Robert | | TX | 2 |
| KE7MRT | 9492 | David | | AZ | 3 |
| KE8CEW | 15805 | Greg | | MI | 5 |
| KE8TLD | 17463 | Tanya | | MI | 5 |
| KF3EB | 13934 | Ric | | PA | 1 |
| KF4JG | 101 | Grif | | VA | 2 |
| KF5PFU | 10520 | Ryan | | OK | 1 |
| KF7WNS | 9895 | Gary | | OR | 2 |
| KG0PP | 276 | Jim | | CO | 5 |
| KG4FSN | 226 | Juan | | FL | 4 |
| KG4GCX | 10105 | Bryan | | NC | 1 |
| KG4IKQ | 13612 | Jim | | NC | 2 |
| KG4KGY | 6908 | Tom | | KY | 3 |
| KG4SFB | 10100 | Gary | | TN | 7 |
| KG4WHO | 11457 | Daniel | | VA | 1 |
| KG5PFD | 16073 | Reese | | LA | 3 |
| KG6EYC | 10435 | Frank | | CA | 8 |
| KG6MC | 11229 | Bob | | SC | 4 |
| KG7JEB | 14863 | George | | OR | 3 |
| KH6G | 2202 | Kala | | HI | 1 |
| KI4MZC | 12214 | Don | | GA | 2 |
| KI4STU | 2577 | Detrick | | VA | 3 |
| KI5IO | 9532 | Nolan | | TX | 5 |
| KI6FEN | 3434 | Doug | | CA | 4 |
| KI6IMK | 3122 | Jerry | | CA | 5 |
| KJ1J | 12296 | John | | NH | 3 |
| KJ1RE | 16270 | Larry | | NH | 3 |
| KJ3Q | 4814 | Al | KJ4GOV | FL | 2 |
| KJ4JSQ | 6365 | Bill | | VA | 1 |
| KJ5WU | 9037 | Kurt | | MN | 4 |
| KJ9M | 347 | Joe | K9JHM | IN | 3 |
| KK0I | 2370 | Jack | | WI | 1 |
| KK4BE | 2877 | Ray | | TN | 2 |
| KK4BMB | 8487 | Edward | | VA | 3 |
| KK5NA | 1923 | Joe | | TX | 3 |
| KK5XX | 7639 | Frank | | TX | 6 |
| KK6AW | 2806 | Kelsey | | CA | 3 |
| KL1WE | 3868 | Lucille | | AK | 2 |
| KM5BJ | 13292 | Mark | | MS | 4 |
| KO4ZS | 3159 | Paul | | GA | 2 |
| KP3W | 14267 | Jose | | PR | 2 |
| KP4ED | 6589 | Luis | | PR | 1 |
| KP4SJ | 8843 | Pablo | | PR | 4 |
| KR6B | 15460 | Brian | | CT | 2 |
| KR7W | 609 | Rick | | WA | 2 |
| KS7R | 966 | John | | MT | 2 |
| KS8KCC | 16000 | Dit | KE8ESF | MI | 5 |
| KT3A | 2185 | Cam | | PA | 3 |
| KU8T | 2442 | Tom | | IN | 5 |
| KV4RH | 11478 | Benjamin | | SC | 1 |
| KW4MG | 14323 | Gary | | FL | 2 |
| KW9W | 8287 | John | | AL | 5 |
| KX3H | 2300 | Tim | KB3NXF | PA | 4 |
| KX4WB | 7076 | William | KV4DT | TN | 2 |
| KX5U | 13307 | Allen | | FL | 1 |
| KY2R | 7087 | Dave | | NJ | 4 |
| KY8D | 14636 | Gan | KA8MWF | MI | 2 |
| KZ5P | 2692 | Paul | | TX | 1 |
| KZ5W | 3216 | Bradley | | TX | 2 |
| N0CVW | 9074 | Chas | AC0SX | KS | 2 |
| N0EAX | 1111 | Rich | | MO | 3 |
| N0GR | 4254 | Greg | | IA | 2 |
| N0HYD | 8033 | Burke | | KS | 3 |
| N0KWA | 4287 | Jim | | LA | 2 |
| N0NV | 1662 | Jack | | MN | 5 |
| N0YJ | 532 | Bert | | KS | 2 |
| N1AS | 344 | Keith | | OR | 7 |
| N1DN | 6482 | Phil | | CT | 2 |
| N1GKE | 5521 | Myrt | WA1USN | RI | 3 |
| N1VWD | 2143 | Brad | | VT | 7 |
| N1YE | 3275 | Gene | | ME | 4 |
| N1YF | 3276 | Shawn | | ME | 2 |
| N2BE | 1373 | John | | NJ | 2 |
| N2EI | 5246 | Skip | | NJ | 1 |
| N2GDS | 7502 | Hoss | | NY | 2 |
| N2HTT | 203 | Mike | | NY | 3 |
| N2LQ | 1606 | Ken | | NY | 1 |
| N2OB | 13512 | Steve | | NJ | 2 |
| N2QFD | 4045 | Mal | | NY | 2 |
| N2SLB | 2447 | Bob | | NY | 1 |
| N2SO | 7834 | Charles | | NY | 6 |
| N3ADF | 6459 | Jim | | MD | 2 |
| N3EF | 1345 | Eric | | MD | 1 |
| N3HBV | 6413 | Bob | | FL | 2 |
| N3KRX | 2525 | Jerry | | DE | 11 |
| N3MVX | 3273 | Jim | | PA | 4 |
| N3RSD | 4379 | Frank | | DE | 3 |
| N3YUG | 15885 | Jason | | MD | 5 |
| N4AES | 11010 | David | KK4PWE | KY | 1 |
| N4API | 11673 | Brian | | GA | 4 |
| N4DCC | 2464 | Bill | | VA | 2 |
| N4IDH | 12228 | Alton | | AL | 2 |
| N4IVE | 14202 | David | KM4IXK | NC | 4 |
| N4RAY | 285 | Rodney | | AL | 3 |
| N4STG | 11495 | Bruce | | GA | 4 |
| N4TMM | 14467 | Jim | | GA | 3 |
| N4UXA | 4103 | Bryan | | VA | 2 |
| N5DY | 2265 | Jack | | OK | 3 |
| N5HDX | 7466 | Joe | | TX | 1 |
| N5IM | 14692 | Bill | | TX | 4 |
| N5JPX | 8672 | Jim | | MS | 1 |
| N5KS | 10134 | KD | WY5R | TX | 6 |
| N5LB | 13227 | Lionel | | TX | 2 |
| N5LUL | 3779 | Brad | | TX | 1 |
| N5QAB | 7770 | Sam | | AR | 3 |
| N7BO | 3725 | Russ | | UT | 5 |
| N7DR | 7491 | Doc | | CO | 3 |
| N7EF | 1829 | Don | | WA | 16 |
| N7GSU | 3658 | Robin | | OR | 5 |
| N7IGI | 6394 | Bob | | UT | 11 |
| N7RD | 5507 | Ron | | AZ | 1 |
| N7SRG | 14587 | Steve | | AZ | 1 |
| N8FDI | 3291 | Ken | | MI | 1 |
| N8KQ | 8934 | Randy | | OH | 1 |
| N8TI | 773 | Joe | | MI | 1 |
| N8XE | 3806 | Jason | | OH | 4 |
| N8XI | 15024 | Rick | | MI | 2 |
| N8XMS | 957 | Paul | | MI | 2 |
| N9NM | 8275 | Barbara | | TX | 3 |
| N9OL | 4014 | John | | IN | 4 |
| N9OZW | 7084 | Pat | | IN | 3 |
| N9PUZ | 1783 | Tim | | IL | 2 |
| N9SE | 12753 | Marty | | IN | 3 |
| NA4EA | 9187 | Rob | | NC | 4 |
| NA9A | 2343 | Joe | | IL | 2 |
| NA9E | 14494 | George | | IN | 1 |
| NA9GW | 281 | Bob | KC9HGW | IL | 3 |
| NB4F | 3355 | Robert | NI2V, N4KTM | GA | 2 |
| NC0JB | 4816 | Jason | | KS | 3 |
| NC4RT | 10713 | Randy | WA4CIT | NC | 3 |
| NC9W | 13688 | Paul | | KY | 8 |
| ND0CW | 2882 | Dave | K8BBM | ND | 1 |
| NE7D | 665 | Rocky | W7RCK | OR | 16 |
| NG5NG | 4730 | Neil | KE5WIQ | TX | 6 |
| NG7W | 12575 | Matt | AL1V, K7MGR | WA | 2 |
| NI2F | 9330 | Tom | K2YEO, N2TRJ | NY | 6 |
| NK2F | 10683 | Phil | F5IYJ | NH | 1 |
| NK8S | 15862 | Mike | KC1FZW, K1MRF | MA | 1 |
| NM1W | 13718 | Jim | | NH | 6 |
| NN4ZZ | 4225 | Al | | GA | 2 |
| NP3CW | 2632 | Julio | | PR | 1 |
| NQ0RP | 1155 | Wayne | KC0PMH | KS | 6 |
| NQ3D | 2758 | Mike | | PA | 3 |
| NR4AW | 1739 | Jesse | | NC | 3 |
| NS8A | 3293 | Old Mission LH ARC | | MI | 1 |
| NT9K | 1926 | Bill | | FL | 5 |
| NX1K | 11024 | Mark | | WI | 6 |
| NZ8Y | 9854 | Gary | | OH | 5 |
| OH6VA | 10932 | Antti | OH6FME | FIN | 2 |
| ON4VT | 15010 | Danny | | BEL | 2 |
| OZ5TN | 7344 | Thomas | M6TTH, 2E0ETT, OV5T, AF7BE, M0TRN | DEN | 2 |
| PA0RBA | 8200 | Rienus | | NED | 1 |
| SP2SWI | 14331 | Mariusz | | POL | 7 |
| VA3NU | 5215 | Larry | | ON | 3 |
| VE1MAM | 8160 | Marc | VE9ICW | NB | 3 |
| VE3CBK | 8396 | Chris | | ON | 1 |
| VE3FAL | 50 | Fred | | ON | 4 |
| VE3FUJ | 4936 | Brion | | ON | 3 |
| VE3HMK | 1760 | Mark | | ON | 20 |
| VE3HNE | 4893 | Walt | | ON | 2 |
| VE3RDE | 13907 | Roger | | ON | 17 |
| VE3VG | 848 | Dennis | | ON | 3 |
| VE4AEA | 13127 | Lloyd | | MB | 2 |
| VE4MR | 7607 | Kevin | | MB | 2 |
| VE5CUL | 1672 | Brian | | SK | 2 |
| VE5SG | 6154 | Garry | | SK | 2 |
| VE7RJV | 13033 | Raj | | BC | 5 |
| VE9CRM | 10075 | Club Radio Amateur de Madawaska | | NB | 3 |
| VE9EX | 10792 | Brent | CK9EX, CG9EX | NB | 6 |
| VE9WJ | 7674 | George | VE1AHC | NB | 2 |
| W0CI | 2096 | Jerry | | IA | 1 |
| W0EJ | 10440 | Bill | | SD | 2 |
| W0SZV | 4999 | Eldon | | MO | 3 |
| W1DV | 1433 | Dave | | NY | 7 |
| W1EJ | 1594 | Ed | | CA | 7 |
| W1GKE | 6169 | Debbie | | RI | 5 |
| W1TAG | 15461 | John | | ME | 4 |
| W1TPB | 2956 | Ted | | MA | 1 |
| W1UL | 6668 | Urb | W2DEC, KP2/W2DEC, VP5/W1UL | NJ | 2 |
| W1WTG | 2841 | Charlie | | VA | 1 |
| W1ZUB | 3896 | Stu | WR1O | NH | 3 |
| W2BJN | 13061 | Joel | | AL | 2 |
| W2CKL | 9590 | Bob | | NY | 4 |
| W2CUA | 3813 | George | | IN | 2 |
| W2DDG | 1377 | Larry | KC2OTX | NY | 5 |
| W2GSB | 7561 | Great South Bay Arc | | NY | 1 |
| W2LOS | 2729 | Mike | WB2LOS | NY | 1 |
| W2RAN | 1050 | Randy | K2VT, KX1NH | NH | 3 |
| W2US | 2412 | Hf Radio Group | | NY | 1 |
| W3CEI | 492 | Larry | | PA | 1 |
| W3DF | 12995 | Dan | | MD | 2 |
| W3MMP | 5544 | Martin | K3PBU | PA | 2 |
| W3WKV | 14042 | Will | | PA | 5 |
| W4AFB | 7196 | Keith | WD8AFB | FL | 2 |
| W4DEC | 2119 | Larry | | AL | 1 |
| W4FOA | 641 | Tony | | GA | 4 |
| W4HAY | 678 | Frank | | TN | 3 |
| W4KLY | 4019 | Paul | | GA | 2 |
| W4KRN | 4495 | Karen | | VA | 2 |
| W4LSV | 2795 | Barry | WB8LSV, K8QI | TN | 3 |
| W4LYH | 4878 | Marty | KB2HHW | NY | 5 |
| W4NLD | 13770 | Jim | | NC | 3 |
| W4PCA | 1590 | Carroll | | TN | 1 |
| W4RBC | 9014 | Eastern Mennonite University ARC | | VA | 1 |
| W4RQ | 8699 | Rich | KE4UN | FL | 2 |
| W4SR | 5425 | Greg | | MD | 3 |
| W4TYD | 10258 | Ty | N3CAV | FL | 1 |
| W4UCI | 4091 | Sandy | | NC | 1 |
| W5CYF | 6797 | John | | TX | 1 |
| W5LDX | 14957 | LouAnn | KK6UZE | TX | 9 |
| W6FPS | 2126 | Ron | | CA | 3 |
| W6SQQ | 1283 | Al | | CA | 6 |
| W6VXP | 14695 | Ted | | CA | 2 |
| W7CQW | 4347 | Quint | K4CQW, KG4QW | ID | 1 |
| W7DAX | 2429 | Dick | | UT | 1 |
| W7GVE | 729 | Ed | | AZ | 1 |
| W7JBJ | 1280 | Gil | | WA | 7 |
| W7RRC | 6580 | River Radio Club | | OR | 4 |
| W8AIM | 9104 | Jay | W3HI, W8LU, AA4JW | WV | 2 |
| W8ARC | 8734 | Bob | | WV | 2 |
| W8BFT | 13629 | Ed | KD8ZGV | OH | 3 |
| W8FDV | 1390 | Jim | | AZ | 1 |
| W8MDE | 4877 | Mike | KD8JHJ | OH | 5 |
| W8MU | 10953 | Don | KD8SKO | MI | 2 |
| W8TQE | 2944 | Adrian Amateur Radio Club Inc | | MI | 1 |
| W9AVM | 851 | Jim | | WI | 3 |
| W9EBE | 3511 | Chip | | IL | 2 |
| W9GFB | 8056 | Jerry | KC9UHZ | IL | 1 |
| W9IL | 4532 | Lou | | FL | 3 |
| W9LW | 6222 | Jay | WB9MDS | IN | 4 |
| W9TFC | 1391 | John | | WI | 3 |
| W9WOC | 11674 | Frank | | IL | 2 |
| WA0ITP | 4024 | Terry | | IA | 6 |
| WA0LIF | 16406 | Dick | | MN | 2 |
| WA0QZK | 1776 | Jack | | IN | 1 |
| WA1AR | 4079 | Alan | | MA | 1 |
| WA1GCT | 1797 | Roger | | TX | 3 |
| WA1RKS | 931 | Ellis | | MA | 3 |
| WA1ZFE | 494 | Bill | | CT | 3 |
| WA2FBN | 8884 | Ken | | NY | 2 |
| WA2JSG | 3018 | Curt | | NJ | 2 |
| WA2RUE | 2325 | Cw Operators Club | | FL | 1 |
| WA3PRR | 9716 | Ray | | PA | 1 |
| WA4CYD | 8605 | Barry | | SC | 2 |
| WA4FAT | 11062 | Bill | | AL | 2 |
| WA4ONV | 3316 | Joe | | FL | 2 |
| WA4ZOF | 8649 | Tom | | GA | 5 |
| WA6ES | 451 | Richard | | CA | 5 |
| WA7RCT | 498 | Cleon | | UT | 1 |
| WA8IWK | 2441 | Allen | | MI | 2 |
| WA8OKR | 3200 | Bill | | OH | 3 |
| WA8QFE | 3418 | Lee | | IN | 2 |
| WA9ONY | 16405 | David | | WA | 2 |
| WA9VBG | 12569 | Sam | | IN | 2 |
| WA9ZDC | 16301 | Swart | | WI | 3 |
| WB1AJX | 12872 | Howard | | RI | 2 |
| WB2EAV | 13876 | Ed | | NY | 1 |
| WB2FXK | 1258 | Jack | | NY | 6 |
| WB2SXY | 2244 | Bill | | NY | 1 |
| WB2VVV | 14078 | Chris | | RI | 2 |
| WB3AVD | 392 | Ted | | PA | 4 |
| WB3GCK | 15052 | Craig | | PA | 3 |
| WB4BIN | 12373 | Dave | | TX | 4 |
| WB6SZZ | 6373 | Ray | | CA | 4 |
| WB7EED | 14617 | Doc | | IN | 4 |
| WB7EUX | 9833 | Tom | | OR | 6 |
| WB8OGK | 3029 | Bruce | | MA | 1 |
| WB8UPO | 8286 | Terry | | OH | 6 |
| WB9CAC | 3830 | Bill | | AZ | 2 |
| WD4AXA | 5175 | Ted | | AL | 2 |
| WD4ON | 3208 | Don | N8DWH | GA | 1 |
| WD5DAX | 16490 | John | | TN | 3 |
| WD5DAY | 2384 | Philip | | TX | 2 |
| WD8KRV | 3746 | Dave | | AZ | 3 |
| WD9HBC | 2298 | Jim | | IL | 1 |
| WF4O | 9474 | Foster | | VA | 3 |
| WG3K | 7320 | Eric | W4OTN | MD | 2 |
| WI9P | 9197 | Reed | | MN | 4 |
| WK2S | 9434 | Art | TF/WK2S, MJ/WK2S, HB9/WK2S, M/WK2S | NJ | 3 |
| WL7WH | 2940 | Bob | | AK | 4 |
| WM3X | 12743 | Bill | | NC | 3 |
| WM4P | 10026 | Joel | | FL | 5 |
| WM9F | 14156 | Jeff | | MO | 2 |
| WN4NRR | 16014 | Novice Radio Nostalgia Society | KM4WGC | FL | 1 |
| WO5S | 12074 | Floyd | W5FEC | TX | 2 |
| WQ9Z | 325 | Roy | | IL | 2 |
| WT4Y | 5163 | Gary | | GA | 1 |
| WW7D | 6834 | Darryl | WB9TCY | WA | 6 |
| WZ4Q | 16521 | Paul | N4LWW | VA | 6 |
| ZL1NZ | 8918 | Neil | | NZL | 1 |