K3Y 2019 QSL Card Design Contest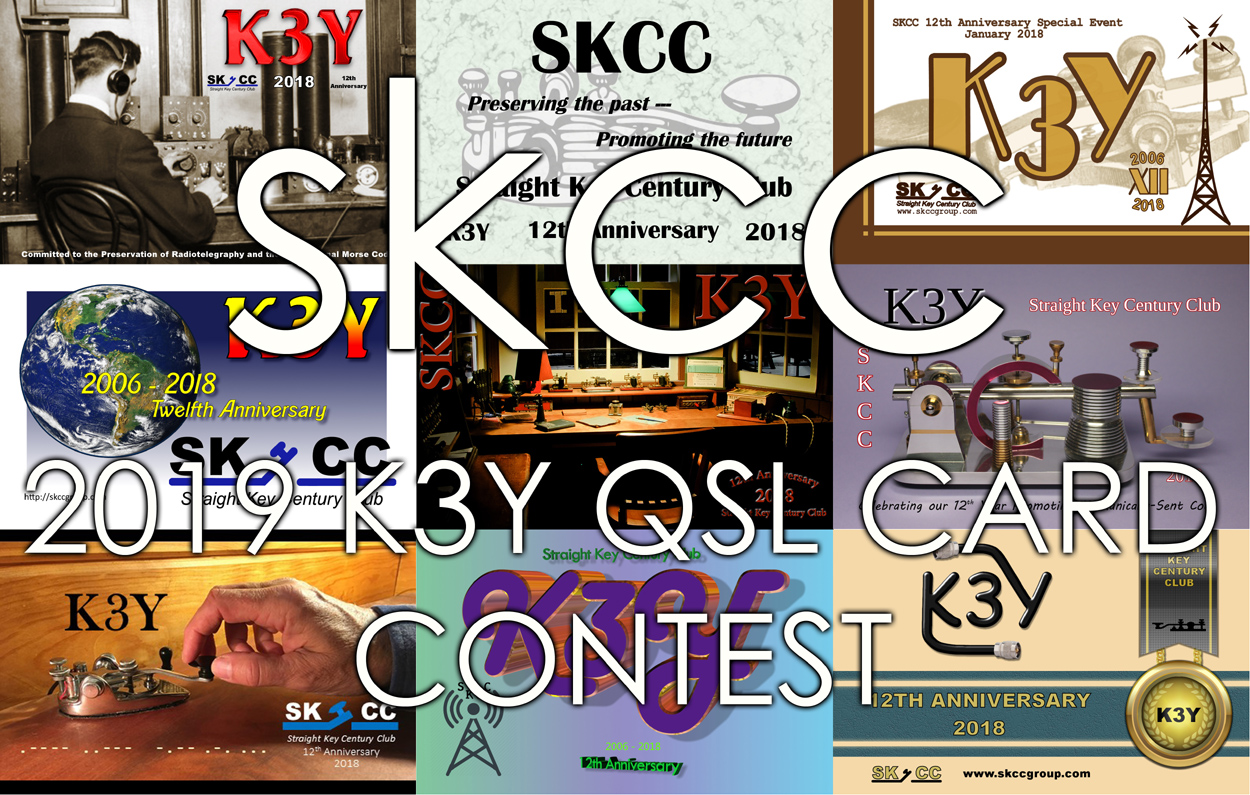 The 13th annual SKCC anniversary on-air event will start on January 2nd, directly following Straight Key Night. As usual we are calling upon SKCC members to come up with QSL card designs for this special event.
Designs will be uploaded to the K3Y page where SKCC members can view them and vote for their favorites starting on Dec. 15. The most popular design will become the official 2019 K3Y QSL card.
If enough card designs are submitted we will feature twelve of them in the 2019 SKCC print calendar. The calendar will include upcoming events of interest to SKCC members, also telegraphy and radio-related historical dates and astronomical data. You can see last year's calendar here:
https://www.skccgroup.com/k3y/k3y-docs/SKCC_2018_Calendar.pdf
There were many excellent and popular entries submitted for past events that did not win the top spot. Designers of these cards are invited to update them and re-submit for 2019.
Following are required design specifications for card images:
JPEG high quality format;
Image size 1650 x 1050 pixels, or better
Width-to-height ratio 5.5 x 3.5
Layout should be horizontal;
No text, logos or borders within 1/4" of edges (trim zone)
The following text elements should be included in the design:
"K3Y";
"Straight Key Century Club";
"SKCC";
"2019";
"13th Anniversary".
Please submit your designs by Dec. 14th at the latest. If you submit a design before then you can modify it through the 14th.
You can submit several different designs. However, it is suggested that you not submit multiple entries having minor variations. For example: the same basic design with differently colored backgrounds.
If you include graphics or photos that are not your own they must either be public domain or you must have permission from the original owner. Please advise us if you are using graphics or photos that are not your own.
By submitting a card design you agree that SKCC has the right to use it for the K3Y QSL card, K3Y websites, anniversary logo, mug graphic and calendar. Also, a variant of your design may be used on K3Y DX QSL cards.
Please send any questions or comments to me at af2z[at]skccgroup.com, or post a follow-up in the SKCC group on Groups.io, and I will get back to you. Also send your card images to me. I will confirm receipt and have them uploaded when the 2019 K3Y page is up.
We'll be posting contest updates in coming weeks. In the meantime, get busy with your K3Y card design(s). Good luck!
73,
Drew — AF2Z
K3Y Planning Group
---