SKS Homepage
SKCC Homepage
---
<!INSERT SPECIAL-SOUND>

The station at N6WK <!INSERT SPECIAL-OPR1>

<!Here are the categories.>

| | |
| --- | --- |
| &nbsp &nbsp &nbsp &nbsp &nbsp &nbsp | &nbsp &nbsp Categories (CAT) |
| &nbsp &nbsp &nbsp &nbsp &nbsp &nbsp | &nbsp &nbsp * = Special SKCC member. |
| &nbsp &nbsp &nbsp &nbsp &nbsp &nbsp | &nbsp &nbsp 1 = 1 watt or less. |
| &nbsp &nbsp &nbsp &nbsp &nbsp &nbsp | &nbsp &nbsp 2 = Greater than 1 watt, up to 5 watts. |
| &nbsp &nbsp &nbsp &nbsp &nbsp &nbsp | &nbsp &nbsp 3 = Greater than 5 watts, up to 100 watts. |
| &nbsp &nbsp &nbsp &nbsp &nbsp &nbsp | &nbsp &nbsp 4 = Greater than 100 watts. |
SKCC SKS Results
Date: June 24, 2009
<!INSERT THEME> Club call: K9SKC
Special SKCC member: Gordon - N6WK, SKCC# 3T
Information: <!font size="3" face="Tahoma" color="Yellow"> SKS Homepage
Number of participants: 55


QSOs x Mult + Bonus = Score




Results by Final Score

| Rank | CAT | Call | Name | SKCC | QTH | QSO's | Mult | Bonus | Score |
| --- | --- | --- | --- | --- | --- | --- | --- | --- | --- |
| - | *4 | K9SKC | Gordon | 3T | CA | 31 | 18 | 165 | 723 |
| 1 | 3 | K3TM | Roger | 5016 | MD | 42 | 25 | 230 | 1280 |
| 2 | 3 | K9MMS | Gary | 4291T | IL | 40 | 22 | 210 | 1090 |
| 3 | 3 | KØLUW | Russ | 1702T | NE | 34 | 23 | 200 | 982 |
| 4 | 3 | W5ZR | Bert | 2931T | LA | 31 | 20 | 145 | 765 |
| 5 | 3 | WA1BXY | Don | 4105T | RI | 26 | 16 | 105 | 521 |
| 6 | 3 | KE5PWL | Eric | 4229T | LA | 20 | 18 | 160 | 520 |
| 7 | 3 | W9CC | Larry | 469T | IN | 23 | 14 | 160 | 482 |
| 8 | 3 | NØTA | John | 2826T | CO | 23 | 16 | 110 | 478 |
| 9 | 3 | AF2Z | Drew | 2082T | NJ | 22 | 15 | 135 | 465 |
| 10 | 3 | N9FC | John | 3893T | IN | 18 | 17 | 155 | 461 |
| 11 | 3 | KG4W | Ed | 2416T | VA | 19 | 15 | 150 | 435 |
| 12 | 3 | NT9K | Bill | 1926T | FL | 17 | 15 | 160 | 415 |
| 13 | 3 | KA1XC | John | 5188 | MA | 18 | 14 | 100 | 352 |
| 14 | 3 | VA2SG | Jean-pierre | 5219 | Qc | 20 | 13 | 25 | 285 |
| 15 | 2 | AD5WI | Mark | 866T | AR | 14 | 11 | 125 | 279 |
| 16 | 2 | N2JNZ | George | 2836T | NY | 15 | 11 | 110 | 275 |
| 17 | 1 | VE3AKV | Bob | 5204T | On | 16 | 11 | 80 | 256 |
| 18 | 3 | AB1BW | George | 2468T | CT | 12 | 11 | 120 | 252 |
| 19 | 3 | WA9VEE | Wayne | 4844 | WI | 14 | 12 | 70 | 238 |
| 20 | 3 | K5ENA | John | 3045T | OK | 12 | 10 | 95 | 215 |
| 21 | 3 | NV9X | Jim | 1358 | IL | 12 | 9 | 100 | 208 |
| 22 | 3 | W6UT | Dennis | 2417T | CA | 12 | 8 | 110 | 206 |
| 23 | 3 | WA1VIL | Greg | 443C | MA | 12 | 10 | 75 | 195 |
| 24 | 3 | N5LUL | Brad | 3779 | TX | 10 | 9 | 100 | 190 |
| 24 | 3 | W3RT | Red | 3237T | PA | 11 | 10 | 80 | 190 |
| 26 | 2 | KA2KGP | Tom | 1494 | NY | 16 | 8 | 60 | 188 |
| 27 | 3 | KJ4FDV | Trey | 5317 | AL | 14 | 10 | 45 | 185 |
| 28 | 2 | KDØV | Merlin | 1243C | MN | 10 | 9 | 80 | 170 |
| 28 | 2 | N1LU | Don | 2252T | NH | 10 | 8 | 90 | 170 |
| 28 | 3 | KC1JB | Pete | 4853 | MA | 10 | 9 | 80 | 170 |
| 31 | 2 | KB4QQJ | Randy | 3508T | NC | 11 | 9 | 65 | 164 |
| 32 | 2 | K2RFP | Dick | 2099T | NY | 11 | 9 | 55 | 154 |
| 32 | 3 | WA1AR | Alan | 4079T | MA | 11 | 9 | 55 | 154 |
| 34 | 3 | K8KFJ | Gary | 2444 | WV | 9 | 9 | 55 | 136 |
| 35 | 2 | KC2EGL | Michael | 553T | PA | 10 | 8 | 45 | 125 |
| 36 | 3 | N9GGE | John | 2886 | IL | 7 | 6 | 70 | 112 |
| 37 | 2 | N4KGL | Greg | 5123T | FL | 7 | 6 | 50 | 92 |
| 38 | 3 | WL7WH | Bob | 2940T | AK | 6 | 5 | 35 | 65 |
| 39 | 3 | WR5RR | Ron | 5154 | OK | 4 | 2 | 55 | 63 |
| 40 | 1 | KKØI | Jack | 2370T | WI | 7 | 4 | 30 | 58 |
| 41 | 2 | NS8A | Jeff | 3293 | MI | 6 | 6 | 20 | 56 |
| 42 | 2 | W2JEK | Don | 5279 | NJ | 5 | 5 | 30 | 55 |
| 43 | 3 | KØKEX | Rick | 5220T | MO | 2 | 1 | 45 | 47 |
| 44 | 4 | W7DRA | Mike | 1891 | WA | 4 | 4 | 30 | 46 |
| 45 | 3 | KK9U | Mark | 3818 | IN | 2 | 2 | 40 | 44 |
| 46 | 2 | KG4BYN | Ben | 4519 | TN | 3 | 2 | 30 | 36 |
| 46 | 3 | K4JPN | Steve | 2402 | GA | 1 | 1 | 35 | 36 |
| 48 | 3 | W4KRN | Karen | 4495T | VA | 3 | 2 | 20 | 26 |
| 49 | 1 | N4FI | Dan | 324T | VA | 2 | 2 | 20 | 24 |
| 50 | 2 | W6GMT | Brock | 4774 | MN | 3 | 3 | 10 | 19 |
| 51 | 2 | K9JP | Jeff | 3008T | MI | 2 | 2 | 10 | 14 |
| 51 | 2 | W7YSB | Eldon | 4792 | AZ | 2 | 2 | 10 | 14 |
| 53 | 2 | N9QU | Leo | 3464T | WI | 1 | 1 | 10 | 11 |
| 54 | 3 | N9WAY | Anton | 3911 | WI | 1 | 1 | 0 | 1 |
Results by Category and Final Score

| Rank | CAT | Call | Name | SKCC | QTH | QSO's | Mult | Bonus | Score |
| --- | --- | --- | --- | --- | --- | --- | --- | --- | --- |
| 1 | *4 | K9SKC | Gordon | 3T | CA | 31 | 18 | 165 | 723 |
| 1 | 1 | VE3AKV | Bob | 5204T | On | 16 | 11 | 80 | 256 |
| 2 | 1 | KKØI | Jack | 2370T | WI | 7 | 4 | 30 | 58 |
| 3 | 1 | N4FI | Dan | 324T | VA | 2 | 2 | 20 | 24 |
| 1 | 2 | AD5WI | Mark | 866T | AR | 14 | 11 | 125 | 279 |
| 2 | 2 | N2JNZ | George | 2836T | NY | 15 | 11 | 110 | 275 |
| 3 | 2 | KA2KGP | Tom | 1494 | NY | 16 | 8 | 60 | 188 |
| 4 | 2 | KDØV | Merlin | 1243C | MN | 10 | 9 | 80 | 170 |
| 4 | 2 | N1LU | Don | 2252T | NH | 10 | 8 | 90 | 170 |
| 5 | 2 | KB4QQJ | Randy | 3508T | NC | 11 | 9 | 65 | 164 |
| 6 | 2 | K2RFP | Dick | 2099T | NY | 11 | 9 | 55 | 154 |
| 7 | 2 | KC2EGL | Michael | 553T | PA | 10 | 8 | 45 | 125 |
| 8 | 2 | N4KGL | Greg | 5123T | FL | 7 | 6 | 50 | 92 |
| 9 | 2 | NS8A | Jeff | 3293 | MI | 6 | 6 | 20 | 56 |
| 10 | 2 | W2JEK | Don | 5279 | NJ | 5 | 5 | 30 | 55 |
| 11 | 2 | KG4BYN | Ben | 4519 | TN | 3 | 2 | 30 | 36 |
| 12 | 2 | W6GMT | Brock | 4774 | MN | 3 | 3 | 10 | 19 |
| 13 | 2 | K9JP | Jeff | 3008T | MI | 2 | 2 | 10 | 14 |
| 13 | 2 | W7YSB | Eldon | 4792 | AZ | 2 | 2 | 10 | 14 |
| 14 | 2 | N9QU | Leo | 3464T | WI | 1 | 1 | 10 | 11 |
| 1 | 3 | K3TM | Roger | 5016 | MD | 42 | 25 | 230 | 1280 |
| 2 | 3 | K9MMS | Gary | 4291T | IL | 40 | 22 | 210 | 1090 |
| 3 | 3 | KØLUW | Russ | 1702T | NE | 34 | 23 | 200 | 982 |
| 4 | 3 | W5ZR | Bert | 2931T | LA | 31 | 20 | 145 | 765 |
| 5 | 3 | WA1BXY | Don | 4105T | RI | 26 | 16 | 105 | 521 |
| 6 | 3 | KE5PWL | Eric | 4229T | LA | 20 | 18 | 160 | 520 |
| 7 | 3 | W9CC | Larry | 469T | IN | 23 | 14 | 160 | 482 |
| 8 | 3 | NØTA | John | 2826T | CO | 23 | 16 | 110 | 478 |
| 9 | 3 | AF2Z | Drew | 2082T | NJ | 22 | 15 | 135 | 465 |
| 10 | 3 | N9FC | John | 3893T | IN | 18 | 17 | 155 | 461 |
| 11 | 3 | KG4W | Ed | 2416T | VA | 19 | 15 | 150 | 435 |
| 12 | 3 | NT9K | Bill | 1926T | FL | 17 | 15 | 160 | 415 |
| 13 | 3 | KA1XC | John | 5188 | MA | 18 | 14 | 100 | 352 |
| 14 | 3 | VA2SG | Jean-pierre | 5219 | Qc | 20 | 13 | 25 | 285 |
| 15 | 3 | AB1BW | George | 2468T | CT | 12 | 11 | 120 | 252 |
| 16 | 3 | WA9VEE | Wayne | 4844 | WI | 14 | 12 | 70 | 238 |
| 17 | 3 | K5ENA | John | 3045T | OK | 12 | 10 | 95 | 215 |
| 18 | 3 | NV9X | Jim | 1358 | IL | 12 | 9 | 100 | 208 |
| 19 | 3 | W6UT | Dennis | 2417T | CA | 12 | 8 | 110 | 206 |
| 20 | 3 | WA1VIL | Greg | 443C | MA | 12 | 10 | 75 | 195 |
| 21 | 3 | N5LUL | Brad | 3779 | TX | 10 | 9 | 100 | 190 |
| 21 | 3 | W3RT | Red | 3237T | PA | 11 | 10 | 80 | 190 |
| 22 | 3 | KJ4FDV | Trey | 5317 | AL | 14 | 10 | 45 | 185 |
| 23 | 3 | KC1JB | Pete | 4853 | MA | 10 | 9 | 80 | 170 |
| 24 | 3 | WA1AR | Alan | 4079T | MA | 11 | 9 | 55 | 154 |
| 25 | 3 | K8KFJ | Gary | 2444 | WV | 9 | 9 | 55 | 136 |
| 26 | 3 | N9GGE | John | 2886 | IL | 7 | 6 | 70 | 112 |
| 27 | 3 | WL7WH | Bob | 2940T | AK | 6 | 5 | 35 | 65 |
| 28 | 3 | WR5RR | Ron | 5154 | OK | 4 | 2 | 55 | 63 |
| 29 | 3 | KØKEX | Rick | 5220T | MO | 2 | 1 | 45 | 47 |
| 30 | 3 | KK9U | Mark | 3818 | IN | 2 | 2 | 40 | 44 |
| 31 | 3 | K4JPN | Steve | 2402 | GA | 1 | 1 | 35 | 36 |
| 32 | 3 | W4KRN | Karen | 4495T | VA | 3 | 2 | 20 | 26 |
| 33 | 3 | N9WAY | Anton | 3911 | WI | 1 | 1 | 0 | 1 |
| 1 | 4 | W7DRA | Mike | 1891 | WA | 4 | 4 | 30 | 46 |



<!INSERT NO-STATS> Sprint Stats



Number of participants by state..
| | | | | | | | | | |
| --- | --- | --- | --- | --- | --- | --- | --- | --- | --- |
| AK 1 | AL 1 | AR 1 | AZ 1 | CA 2 | CO 1 | CT 1 | DE 0 | FL 2 | GA 1 |
| HI 0 | IA 0 | ID 0 | IL 3 | IN 3 | KS 0 | KY 0 | LA 2 | MA 4 | MD 1 |
| ME 0 | MI 2 | MN 2 | MO 1 | MS 0 | MT 0 | NC 1 | ND 0 | NE 1 | NH 1 |
| NJ 2 | NM 0 | NV 0 | NY 3 | OH 0 | OK 2 | OR 0 | PA 2 | RI 1 | SC 0 |
| SD 0 | TX 1 | TN 1 | UT 0 | VA 3 | VT 0 | WA 1 | WI 4 | WV 1 | WY 0 |



Total USA participants: 53
Total non-USA participants: 2
<!INSERT STATS-1>


Number of QSOs by state..
| | | | | | | | | | |
| --- | --- | --- | --- | --- | --- | --- | --- | --- | --- |
| AK 6 | AL 14 | AR 14 | AZ 2 | CA 43 | CO 23 | CT 12 | DE 0 | FL 24 | GA 1 |
| HI 0 | IA 0 | ID 0 | IL 59 | IN 43 | KS 0 | KY 0 | LA 51 | MA 51 | MD 42 |
| ME 0 | MI 8 | MN 13 | MO 2 | MS 0 | MT 0 | NC 11 | ND 0 | NE 34 | NH 10 |
| NJ 27 | NM 0 | NV 0 | NY 42 | OH 0 | OK 16 | OR 0 | PA 21 | RI 26 | SC 0 |
| SD 0 | TX 10 | TN 3 | UT 0 | VA 24 | VT 0 | WA 4 | WI 23 | WV 9 | WY 0 |



Total QSOs with one or more USA operators: 668
Total QSOs with one or more non-USA operators: 36
<!INSERT STATS-2>


Soapbox

---

NV9X Operated by: Jim

Gud time. Worked a few new ones. TNX.



---

W5ZR Operated by: Bert

Got a late start, was on for a total of 45 minutes. All 40M tonight. Thanks for the Q's. 73 Bert


---

NS8A Operated by: Jeff

Signals were Great! Lots of summer time QRN here! Just had 30 minutes to operate from the lighthouse tonight! Thanks, Jeff - NS8A SKCC #3293


---

VE3AKV Operated by: Bob

Hello to all...

I managed to work the whole Sprint on 7.114...who needs a VFO anyways? ;)

Thanks to all who pulled out my QRPp 950mW signal and also to those who managed to read my fist in all the QRM.

It got a little crowded out there, some ops didn't hear me but they sure heard the ops that answered my call...then they went away - haha.

Rule #1 when running QRP or less...hold your place on the dial!
Rule #2 when running QRP or less...send as precisely as you can...make it easy for the other op.
Rule #3 when running QRP or less...have a great antenna...I was running NVIS at 12ft over another wire on the ground.

See ya'll next month... 72 de VE3AKV/QRPp at 950mW



---

KØLUW Operated by: Russ

Lots of fun as usual. Missed most of the first hour because of a thunderstorm in my area but still got a lot of operating in.


---

K9JP Operated by: Jeff

Lots of Fun and Good Fists Heard! 73, Jeff - K9JP SKCC #3008T


---

W4KRN Operated by: Karen

Shucks, almost missed the whole sprint...worked the last 15mins. Lots of QRN on 40m. Used Begali Spark Key.


---

K5ENA Operated by: John

Worked 20 then 40. QSB, but managed my usual 12 QSO's. Tried to snag K9SKC for 30 minutes on 20 but too much of a pile up then lost propagation with Gordon. Good to make contact with old and new friends.

73, K5ENA


---

NT9K Operated by: Bill

Nice pileup Gordon had going on 20 meters as K9SKC. 40 meters was very noisy here in Florida, due to local thunderstorms. I still managed a decent score and worked several new members, one new country for DX25 and lots of old friends. Snagged Russ K0LUW at the last minute for nice QRQ exchange. Almost missed you Russ. I got to work Drew AF2Z, been missing Drew the past couple sprints. I used to never miss working him in a sprint. Never did find Dick K2RFP?

For this sprint, I used my Kenwood TS-870 with 100 watts.
Antennas: 20 meters Cushcraft MA5B Mini Beam cranked up 34 ft and for 40 meters, I used a full wave delta loop that I repaired today. It blows my 40 meter inverted Vee away. The loop is vertically oriented and fed at the bottom corner.
Keys: Navy Flameproof, GHD Sideswiper, GHD GT501MIL, GHD Bug, Begali Blade, G3YUH Amplidan, Real Amplidan, NT9K Amplidan. All used in the sprint at least once. Until Next Time, 73. Bill NT9K..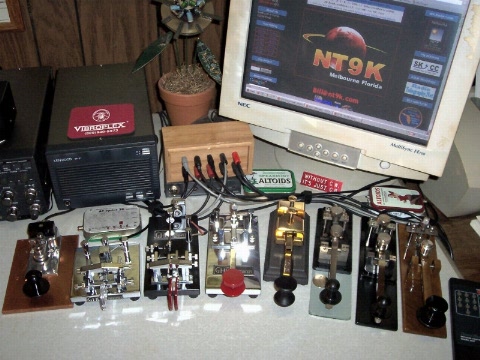 I used most of these keys during the sprint


---

KG4W Operated by: Ed

Well 40 mtrs was hot tonight. Still lil zapped from DXT, so in this one I never called CQ (can you believe it ?). Had 2 new DX contacts, tnx to VE7AHA & VA2SG.
Had 19 qsos & Gordon (K9SKC) had nice sig on 20M. Does anyone else have the hetrodyne (sp) on 7055 ? Cul dit-dit


---

N4KGL Operated by: Greg

I forgot this was the night and did not get started till 0100. So double my score. Not really! Lots of fun as always!


---

W9CC Operated by: Larry

20 meters was in good shape here, but 40 and 80 were very noisy. But static does not drown out the fun. 73 to all.


---

WA1AR Operated by: Alan

Difficult night on the bands for me. My worst results ever. 2 QRP stations I worked were as strong as all the others. Spent a fair amount of time to try to get K9SKC on 20 M with no success. I could hear him fine but no answer. I even turned on the amp for a bit.

Alan WA1AR 4079T


---

KKØI Operated by: Jack

Another fun event. Ran the HW-8 tonight...with the old gal. No luck on 20, so stayed on 40 for the event. Thanks for those that had good ears out there. 73s to all.


---

AD5WI Operated by: Mark

Since I'm going to be running QRP during field day I got wild and ran my FT-817ND at 5 watts for this sprint. One thing I learned is that when running 5 watts 'Hunt & Pounce' turns into 'PLEAD & BEG'.

Thanks to everyone who pulled my weak signal out of the noise. Was alot of fun, might just do it again.

73, Mark AD5WI #866T


---

KG4BYN Operated by: Ben

ok, had a ball! lots of activity, but also LOTS of noise, sadly. a BIG thanks the ops i worked! got rushed towards then end, so i need to manage my time better for these things, rather than sitting on one freq waiting for a "break" in the action. had i done so, probably would have made more contacts. equipment: my k-1 at 4 watts with a wire hung off the second floor balcony. key was the navy flameproof i recently bought from bill (nt9k).


---

VA2SG Operated by: Jean-pierre

My first SKCC sprint. Worked last 60 minutes. Even had a couple piles! 73 es CU!


---

KE5PWL Operated by: Eric

very nice sprint. it was nice to really blow the dust off the bug with randy kb4qqj, and a couple of others as well.


---

K9SKC Operated by: Gordon

Had a great time operating as K9SKC. The pile ups were huge ! Thank you to everyone that worked me and Thanks to everyone that tried to work me. I am sorry I couldn't get you all into my log




---

K8KFJ Operated by: Gary

I chased K9SKC on 20m for a while until it became evident I was never going to break the pileup with my peanut signal. I worked BC and QC but where was Ontario tonight? Bert W5ZR was once again the top S-meter needle bender at this QTH. I'm not sure I've worked VA2SG before so thanks Pete for the QC contact. 73, K8KFJ Gary in WV


---

KØKEX Operated by: Rick

Started out on 20M, K9SKC, Gordon was 40/S9 and had a big pile up, went to 40M and the QRN was 10/S9. I had to a net to attend but jumped back to 20M and there was Gordon.
K6JF Jim was up 2 kcs and his signal was great also. Then a phone call and that ended the Sprint for me. The time I got to spend was great...FYI: I hope to hear many of you during Field Day, The Platte County Amateur Radio Group will be operating 3A MO from Platte City, Mo. Listen for "K0KEX" on CW, we plan to start on 40 several of our PC ARG members are also SKCC members. The voice stations will be on all bands depending on conditions. It was 101 degs here this afternoon and the weekend will be about the same...HOT HOT HOT
Bob VE3AKV, good info in your comments, sri the QRN was so high here on 40M.

73's Rick


---

KB4QQJ Operated by: Randy

Nice Sprint as always. Band was a little noisy but had plenty of opportunities. I used AE4LD's ATS-3B at 2.75w into a newly made portable doublet at 35 feet. Larry did a nice job on that little rig. first time I go to use the Spark in a sprint. It is truly a saaweeet key. Fast and smooth. A real feather touch. For the bug I used a newly acquired 1962 Vibroplex Original Deluxe. $40 at a local hamfest and in great condition. I switched over to the 703 trying for Gordon on 20m, but never made it. He was 599 for most of the sprint. I worked a very nice non-member that was active in the sprint. Had the exchange down pat and very nice fist. Thanks Rod, W7OM. I'm watching the member page to see if he joins up. Great Sprint.
And to Dick, K2RFP, on your last sprint as Sprint Manager. Great Job Dick, and I hope to see some interesting Mystery Sprints upcoming. Now that you have all that spare time. hi hi
Thanks for your dedication on the past sprints and Thanks for all you do.

73,
Randy _ KB4QQJ


---

N5LUL Operated by: Brad

Had a great time once again. Heard many of the regulars, and a few new calls and numbers too. Will be back next month!!!



---

KC2EGL Operated by: Michael

What a blast. I tried to answer Andy VE7AHA and Gordon K9SKC on 20M without any luck. My 5W was not making it to the west coast. I worked a neighbor of mine (in DuBois Pa, 20 miles from me) Jim W3GYM, greetings neighbor. Good to have you in the log. At 0130Z my power went out. Some idiot was trying to run his neighbor's phone line to his trailor and he hit the wrong cable. The jolt knocked him on top of his neighbor's trailor. So I had the chance to operate via battery power. My K-2 and laptop held up very well. The idiot who thinks he is a phone tech should be just fine. He had all his faculties about him (so they claim) when the ambulance took him off to the ER.

Thanks to all who worked me. CU in the next SKCC event.



---

K9MMS Operated by: Gary

It was good to be back in the SKS. It has been about a year since I participated in an SKCC sprint event. I lost several minutes of op time due to two power outages between 0020 and 0030Z. (The AC power has been a bit unstable at my QTH the last couple of days due to the very hot weather, and high electricity demands, in the Chicago area.)

Radio: IC-746PRO at 100 W. Antennas: TH6 at 73 feet for 20m; 40-2CD at 63 feet and dipole at 30 feet for 40m; and inverted V dipole for 80m. Keys: Vibroplex SK and Vibroplex Original bug.

Twenty and 40 meters had plenty of activity. Went to 80 at 0140Z, but very little activity there. Only 2 QSOs in 7 minutes. Went back to 40 for the last 10 minutes. Very high noise levels on all 3 bands here, and copy was sometimes difficult.

Thanks for the QSOs. 73, Gary



---

WL7WH Operated by: Bob

Once again the band was up and down. Was great fun with the time I had to operate. Painting project was underway! Even got a qrp station this time (AD5WI). Look forward to the next one!!!


---

KA1XC Operated by: John

Slow start, I got hung up in a couple of normal non-skcc qso's at first, then tried to break into the K9SKC pileup on 20m with no results. Switched to 40 and things picked up. Band was a little noisy from WX but not too bad. Had fun. :)

Icom IC-7700, 110' dipole up 60' fed with 450 ohm ladder line, Johnson Matchbox tuner, Russian mil. surplus key.


---

KA2KGP Operated by: Tom

Typical lousy summertime band conditions here in WNY. I never heard so many RI stations on a sprint before! Hope for better bands next sprint. 73


---

AB1BW Operated by: George

Conditions turned out to be pretty good in CT. I made contacts on 20, 40 and 80 meters and was supprised how long 20 stayed open after dark here. Nice to see all of the activity on the bands on a weekday night. If it wasn't for SKCC, all would have been quiet. See you next month. 73, George





---

W6GMT Operated by: Brock

Lots of QRM this location. Hard cpy We need to spread out more. I heard no one on 7.100 to 7.120


---

K4JPN Operated by: Steve

Hvy QRN at this QTH, managed to work K9SKC, ater a lot of tries. I heard a few other stations, but no luck. Wait till next month. 73, Steve K4JPN


---

AF2Z Operated by: Drew

I heard good sigs on 20m at the start but I've learned that after ten minutes and no responses, don't waste any more time there. QSY'd to 40m, which was a little better: five contacts in all. But most of the action was on 80 for this contest; it was nothing special, just a steady flow of contacts. Some unfamiliar calls: Myrt N1GKE, Dick W9IXV, Bob W1IMA, Larry AE4LD, Roger K3TM... I made no contacts beyond the Eastern US. My rig: Elecraft K3 @ 12 watts (full bore!); 100' wire antenna; Junker straight key.


---

N2JNZ Operated by: George

Condx much better then DXT !! One surprise calling CQ was Rob , G4LMW on 40 meters and Randy , KB4QQJ !! Running a TT Argosy 525D , 5 watts to a ZeroFive 40 meter vertical and a Vibroplex J-36 Army Bug from 1942 !! Thanks to Dick , K2RFP for FB job on the SKS !!!


---

W7DRA Operated by: Mike

this is my first skcc monthly two hour sprint. worked three new guys who will get my qsl card soon

thanks mike w7dra


---

K2RFP Operated by: Dick

Thanks to Gordon for the quick fill-in for Tom. Well done!


---

W3RT Operated by: Red

Forgot about the Sprint until I went to the radio for some relaxation, dialed up on 80 & found the Sprint! Worked what I could, and missed a lot because of other interruptions. (Annie fell apart on me!- had to resort to the Speed-X and Flameproof) Annie's back together now. Hope to be more active in the Sprints. Thanks to all the participants and to the sponsors.

73, Red, W3RT in PA- SKCC #3237T


---
<! Start of insert other stuff here.> <! End of insert other stuff here.> Programmed by K2RFP.
Updated: June 26, 2009 1423 UTC
Sprint Manager: Dick - K2RFP