SKS Homepage
SKCC Homepage
---
<!INSERT SPECIAL-SOUND>

Special SKCC member: Mark (Ad5wi)


<!Here are the categories.>

| | |
| --- | --- |
| &nbsp &nbsp &nbsp &nbsp &nbsp &nbsp | &nbsp &nbsp Categories (CAT) |
| &nbsp &nbsp &nbsp &nbsp &nbsp &nbsp | &nbsp &nbsp * = Special SKCC member. |
| &nbsp &nbsp &nbsp &nbsp &nbsp &nbsp | &nbsp &nbsp 1 = 1 watt or less. |
| &nbsp &nbsp &nbsp &nbsp &nbsp &nbsp | &nbsp &nbsp 2 = Greater than 1 watt, up to 5 watts. |
| &nbsp &nbsp &nbsp &nbsp &nbsp &nbsp | &nbsp &nbsp 3 = Greater than 5 watts, up to 100 watts. |
| &nbsp &nbsp &nbsp &nbsp &nbsp &nbsp | &nbsp &nbsp 4 = Greater than 100 watts. |
SKCC SKS Results
Date: March 25, 2009
<!INSERT THEME> Club call: K9SKC
<!INSERT SPECIAL-OPR2>
Number of participants: 61


QSOs x Mult + Bonus = Score




Results by Final Score

| Rank | CAT | Call | Name | SKCC | QTH | QSO's | Mult | Bonus | Score |
| --- | --- | --- | --- | --- | --- | --- | --- | --- | --- |
| - | 3 | K9SKC/AD5WI | Mark | 866T | AR | 41 | 24 | 235 | 1219 |
| 1 | 3 | W5ZR | Bert | 2931T | LA | 55 | 31 | 240 | 1945 |
| 2 | 3 | KØLUW | Russ | 1702T | NE | 49 | 27 | 255 | 1578 |
| 3 | 3 | NØTA | John | 2826T | CO | 47 | 27 | 270 | 1539 |
| 4 | 3 | K4ZGB | Tom | 796T | AL | 44 | 26 | 180 | 1324 |
| 5 | 3 | NG7Z | Paul | 802T | WA | 40 | 25 | 235 | 1235 |
| 6 | 3 | K8EE | Gene | 4080 | OH | 40 | 26 | 180 | 1220 |
| 7 | 4 | KJ7BS | Mark | 2240T | AZ | 39 | 23 | 200 | 1097 |
| 8 | 3 | WA9VEE | Wayne | 4844 | WI | 30 | 22 | 135 | 795 |
| 9 | 3 | WA1AR | Alan | 4079T | MA | 33 | 19 | 145 | 772 |
| 10 | 3 | KB4QQJ | Randy | 3508T | NC | 29 | 20 | 175 | 755 |
| 11 | 3 | K1NV | Jon | 2609-T | NV | 28 | 17 | 210 | 686 |
| 12 | 3 | W6UT | Dennis | 2417T | CA | 27 | 19 | 170 | 683 |
| 13 | 3 | WA1LWS | Hans | 1933T | MD | 24 | 19 | 195 | 651 |
| 14 | 3 | VE5DC | Jerry | 4440 | Sk | 24 | 16 | 150 | 534 |
| 15 | 3 | KE5WIQ | Neil | 4730T | TX | 19 | 19 | 160 | 521 |
| 16 | 3 | AD5VC | Dana | 1555T | LA | 21 | 17 | 155 | 512 |
| 17 | 3 | KA1XC | John | 5188 | MA | 20 | 16 | 150 | 470 |
| 18 | 3 | KU8L | Curt | 5380 | MI | 22 | 16 | 115 | 467 |
| 19 | 3 | W5ALT | Walt | 103 | TX | 19 | 16 | 115 | 419 |
| 20 | 3 | AF2Z | Drew | 2082T | NJ | 19 | 15 | 125 | 410 |
| 21 | 3 | K9DTH | Ron | 3698T | IL | 18 | 13 | 105 | 339 |
| 22 | 3 | WA5VQM | Mark | 58 | TX | 16 | 13 | 120 | 328 |
| 23 | 3 | K9ZMD/6 | Gary | 891C | CA | 18 | 11 | 125 | 323 |
| 24 | 2 | KA2KGP | Tom | 1494 | NY | 17 | 12 | 90 | 294 |
| 25 | 3 | WA1VIL | Greg | 443C | MA | 15 | 12 | 105 | 285 |
| 26 | 3 | N6DIT | Dennis | 3283 | CA | 13 | 12 | 105 | 261 |
| 27 | 2 | VE3AKV | Bob | 5204 | On | 15 | 12 | 80 | 260 |
| 28 | 2 | KW4JS | John | 4800 | TN | 14 | 10 | 115 | 255 |
| 29 | 1 | KKØI | Jack | 2370T | WI | 12 | 12 | 100 | 244 |
| 30 | 3 | KAØCSW | Jim | 3741C | MN | 12 | 9 | 130 | 238 |
| 31 | 3 | W1EJ | Ed | 1594C | CA | 12 | 11 | 100 | 232 |
| 32 | 3 | K4BAI | John | 3280 | GA | 15 | 10 | 70 | 220 |
| 33 | 3 | K5ENA | John | 3045T | OK | 13 | 10 | 80 | 210 |
| 34 | 3 | K6CSL | Bert | 4486 | CA | 12 | 10 | 85 | 205 |
| 35 | 3 | WA2JSG | Curt | 3018C | NJ | 10 | 9 | 90 | 180 |
| 36 | 3 | N4RE | Rick | 942T | NC | 9 | 9 | 95 | 176 |
| 37 | 3 | WB9TFH | Gil | 4211 | West Allis Wi | 12 | 9 | 45 | 153 |
| 38 | 3 | N9GGE | John | 2886 | IL | 9 | 8 | 80 | 152 |
| 39 | 3 | K2RFP | Dick | 2099T | NY | 10 | 10 | 45 | 145 |
| 40 | 3 | K4UFT | Ted | 4289 | SC | 10 | 8 | 60 | 140 |
| 41 | 3 | NT9K | Bill | 1926T | FL | 7 | 7 | 85 | 134 |
| 42 | 3 | KØKEX | Rick | 5220 | MO | 10 | 6 | 65 | 125 |
| 43 | 3 | W5AG | Arch | 3965C | LA | 8 | 7 | 40 | 96 |
| 44 | 1 | N4FI | Dan | 324T | VA | 8 | 6 | 45 | 93 |
| 45 | 2 | N9AKF | Bart | 1625C | IN | 6 | 5 | 60 | 90 |
| 45 | 3 | W6SQQ | Al | 1283C | CA | 5 | 5 | 65 | 90 |
| 47 | 3 | AC7T | Doug | 5368 | WA | 7 | 6 | 45 | 87 |
| 48 | 3 | W1WYS | Fred | 5392 | MA | 7 | 6 | 40 | 82 |
| 49 | 3 | KE7WDJ | Esed | 4938 | Everett | 9 | 5 | 35 | 80 |
| 50 | 2 | N8XE | Jason | 3806 | OH | 4 | 4 | 55 | 71 |
| 51 | 3 | K6FFY | Nick | 1221T | WA | 6 | 4 | 45 | 69 |
| 52 | 3 | N6IB | Ron | 5396 | CA | 6 | 4 | 30 | 54 |
| 53 | 2 | KI6FEN | Doug | 3434 | CA | 5 | 5 | 20 | 45 |
| 54 | 3 | KD5MMM | Phil | 4209 | TX | 3 | 3 | 20 | 29 |
| 54 | 3 | LW3EX | Walt | 3804T | Argentina | 3 | 3 | 20 | 29 |
| 54 | 3 | W9CC | Larry | 469T | IN | 3 | 3 | 20 | 29 |
| 57 | 3 | K2PAY | Jerry | 4304C | NY | 2 | 2 | 20 | 24 |
| 58 | 3 | N7KFD | Jim | 3659 | UT | 2 | 2 | 10 | 14 |
| 59 | 2 | KG4BYN | Ben | 4519 | TN | 1 | 1 | 10 | 11 |
| 60 | 2 | KG1W | Rich | 3697 | CT | 1 | 1 | 0 | 1 |
Results by Category and Final Score

| Rank | CAT | Call | Name | SKCC | QTH | QSO's | Mult | Bonus | Score |
| --- | --- | --- | --- | --- | --- | --- | --- | --- | --- |
| 1 | 1 | KKØI | Jack | 2370T | WI | 12 | 12 | 100 | 244 |
| 2 | 1 | N4FI | Dan | 324T | VA | 8 | 6 | 45 | 93 |
| 1 | 2 | KA2KGP | Tom | 1494 | NY | 17 | 12 | 90 | 294 |
| 2 | 2 | VE3AKV | Bob | 5204 | On | 15 | 12 | 80 | 260 |
| 3 | 2 | KW4JS | John | 4800 | TN | 14 | 10 | 115 | 255 |
| 4 | 2 | N9AKF | Bart | 1625C | IN | 6 | 5 | 60 | 90 |
| 5 | 2 | N8XE | Jason | 3806 | OH | 4 | 4 | 55 | 71 |
| 6 | 2 | KI6FEN | Doug | 3434 | CA | 5 | 5 | 20 | 45 |
| 7 | 2 | KG4BYN | Ben | 4519 | TN | 1 | 1 | 10 | 11 |
| 8 | 2 | KG1W | Rich | 3697 | CT | 1 | 1 | 0 | 1 |
| 1 | 3 | W5ZR | Bert | 2931T | LA | 55 | 31 | 240 | 1945 |
| 2 | 3 | KØLUW | Russ | 1702T | NE | 49 | 27 | 255 | 1578 |
| 3 | 3 | NØTA | John | 2826T | CO | 47 | 27 | 270 | 1539 |
| 4 | 3 | K4ZGB | Tom | 796T | AL | 44 | 26 | 180 | 1324 |
| 5 | 3 | NG7Z | Paul | 802T | WA | 40 | 25 | 235 | 1235 |
| 6 | 3 | K8EE | Gene | 4080 | OH | 40 | 26 | 180 | 1220 |
| 7 | 3 | K9SKC/AD5WI | Mark | 866T | AR | 41 | 24 | 235 | 1219 |
| 8 | 3 | WA9VEE | Wayne | 4844 | WI | 30 | 22 | 135 | 795 |
| 9 | 3 | WA1AR | Alan | 4079T | MA | 33 | 19 | 145 | 772 |
| 10 | 3 | KB4QQJ | Randy | 3508T | NC | 29 | 20 | 175 | 755 |
| 11 | 3 | K1NV | Jon | 2609-T | NV | 28 | 17 | 210 | 686 |
| 12 | 3 | W6UT | Dennis | 2417T | CA | 27 | 19 | 170 | 683 |
| 13 | 3 | WA1LWS | Hans | 1933T | MD | 24 | 19 | 195 | 651 |
| 14 | 3 | VE5DC | Jerry | 4440 | Sk | 24 | 16 | 150 | 534 |
| 15 | 3 | KE5WIQ | Neil | 4730T | TX | 19 | 19 | 160 | 521 |
| 16 | 3 | AD5VC | Dana | 1555T | LA | 21 | 17 | 155 | 512 |
| 17 | 3 | KA1XC | John | 5188 | MA | 20 | 16 | 150 | 470 |
| 18 | 3 | KU8L | Curt | 5380 | MI | 22 | 16 | 115 | 467 |
| 19 | 3 | W5ALT | Walt | 103 | TX | 19 | 16 | 115 | 419 |
| 20 | 3 | AF2Z | Drew | 2082T | NJ | 19 | 15 | 125 | 410 |
| 21 | 3 | K9DTH | Ron | 3698T | IL | 18 | 13 | 105 | 339 |
| 22 | 3 | WA5VQM | Mark | 58 | TX | 16 | 13 | 120 | 328 |
| 23 | 3 | K9ZMD/6 | Gary | 891C | CA | 18 | 11 | 125 | 323 |
| 24 | 3 | WA1VIL | Greg | 443C | MA | 15 | 12 | 105 | 285 |
| 25 | 3 | N6DIT | Dennis | 3283 | CA | 13 | 12 | 105 | 261 |
| 26 | 3 | KAØCSW | Jim | 3741C | MN | 12 | 9 | 130 | 238 |
| 27 | 3 | W1EJ | Ed | 1594C | CA | 12 | 11 | 100 | 232 |
| 28 | 3 | K4BAI | John | 3280 | GA | 15 | 10 | 70 | 220 |
| 29 | 3 | K5ENA | John | 3045T | OK | 13 | 10 | 80 | 210 |
| 30 | 3 | K6CSL | Bert | 4486 | CA | 12 | 10 | 85 | 205 |
| 31 | 3 | WA2JSG | Curt | 3018C | NJ | 10 | 9 | 90 | 180 |
| 32 | 3 | N4RE | Rick | 942T | NC | 9 | 9 | 95 | 176 |
| 33 | 3 | WB9TFH | Gil | 4211 | West Allis Wi | 12 | 9 | 45 | 153 |
| 34 | 3 | N9GGE | John | 2886 | IL | 9 | 8 | 80 | 152 |
| 35 | 3 | K2RFP | Dick | 2099T | NY | 10 | 10 | 45 | 145 |
| 36 | 3 | K4UFT | Ted | 4289 | SC | 10 | 8 | 60 | 140 |
| 37 | 3 | NT9K | Bill | 1926T | FL | 7 | 7 | 85 | 134 |
| 38 | 3 | KØKEX | Rick | 5220 | MO | 10 | 6 | 65 | 125 |
| 39 | 3 | W5AG | Arch | 3965C | LA | 8 | 7 | 40 | 96 |
| 40 | 3 | W6SQQ | Al | 1283C | CA | 5 | 5 | 65 | 90 |
| 41 | 3 | AC7T | Doug | 5368 | WA | 7 | 6 | 45 | 87 |
| 42 | 3 | W1WYS | Fred | 5392 | MA | 7 | 6 | 40 | 82 |
| 43 | 3 | KE7WDJ | Esed | 4938 | Everett | 9 | 5 | 35 | 80 |
| 44 | 3 | K6FFY | Nick | 1221T | WA | 6 | 4 | 45 | 69 |
| 45 | 3 | N6IB | Ron | 5396 | CA | 6 | 4 | 30 | 54 |
| 46 | 3 | KD5MMM | Phil | 4209 | TX | 3 | 3 | 20 | 29 |
| 46 | 3 | LW3EX | Walt | 3804T | Argentina | 3 | 3 | 20 | 29 |
| 46 | 3 | W9CC | Larry | 469T | IN | 3 | 3 | 20 | 29 |
| 47 | 3 | K2PAY | Jerry | 4304C | NY | 2 | 2 | 20 | 24 |
| 48 | 3 | N7KFD | Jim | 3659 | UT | 2 | 2 | 10 | 14 |
| 1 | 4 | KJ7BS | Mark | 2240T | AZ | 39 | 23 | 200 | 1097 |



<!INSERT NO-STATS> Sprint Stats



Number of participants by state..
| | | | | | | | | | |
| --- | --- | --- | --- | --- | --- | --- | --- | --- | --- |
| AK 0 | AL 1 | AR 1 | AZ 1 | CA 8 | CO 1 | CT 1 | DE 0 | FL 1 | GA 1 |
| HI 0 | IA 0 | ID 0 | IL 2 | IN 2 | KS 0 | KY 0 | LA 3 | MA 4 | MD 1 |
| ME 0 | MI 1 | MN 1 | MO 1 | MS 0 | MT 0 | NC 2 | ND 0 | NE 1 | NH 0 |
| NJ 2 | NM 0 | NV 1 | NY 3 | OH 2 | OK 1 | OR 0 | PA 0 | RI 0 | SC 1 |
| SD 0 | TX 4 | TN 2 | UT 1 | VA 1 | VT 0 | WA 3 | WI 2 | WV 0 | WY 0 |



Total USA participants: 56
Total non-USA participants: 5
<!INSERT STATS-1>


Number of QSOs by state..
| | | | | | | | | | |
| --- | --- | --- | --- | --- | --- | --- | --- | --- | --- |
| AK 0 | AL 44 | AR 41 | AZ 39 | CA 98 | CO 47 | CT 1 | DE 0 | FL 7 | GA 15 |
| HI 0 | IA 0 | ID 0 | IL 27 | IN 9 | KS 0 | KY 0 | LA 84 | MA 75 | MD 24 |
| ME 0 | MI 22 | MN 12 | MO 10 | MS 0 | MT 0 | NC 38 | ND 0 | NE 49 | NH 0 |
| NJ 29 | NM 0 | NV 28 | NY 29 | OH 44 | OK 13 | OR 0 | PA 0 | RI 0 | SC 10 |
| SD 0 | TX 57 | TN 15 | UT 2 | VA 8 | VT 0 | WA 53 | WI 42 | WV 0 | WY 0 |



Total QSOs with one or more USA operators: 972
Total QSOs with one or more non-USA operators: 63
<!INSERT STATS-2>


Soapbox

---

KW4JS Operated by: John

Thanks to everyone whom I worked. Hope to see everyone next SKS. 73, KW4JS


---

KKØI Operated by: Jack

Decided to pull the HW8 off the shelf tonite and run with that along with the Begali Camelback. Had fun time. Nice to try QRP again. Tnx for all the contacts everyone.


---

KG1W Operated by: Rich

Just got in for the last three minutes on 80m. Tnx WA9VEE for QSO



---

AD5VC Operated by: Dana

My first entry into SKS in about a year. It was a busy and fun 2 hours on 20m and 40m.


---

N7KFD Operated by: Jim

I'm not much for contests, and even though I only made two contacts I had a lot of fun just listening and trying to make out who was who. I'll be back next month to try to break 20 points!


---

WA1AR Operated by: Alan

Band seemed good tonight. Did better than I thought. I felt like a pileup a few times. Good thing I recognized some of the calls. A few real weak ones but I got them all. Used 40 first hour then 80 the rest of the way. Bugged it as always.

Alan 4079T


---

W5ZR Operated by: Bert

40 meters was better than 80 meters, which was better than 20 meters.
Good sprint, and thanks to all for the qsos.
73.....Bert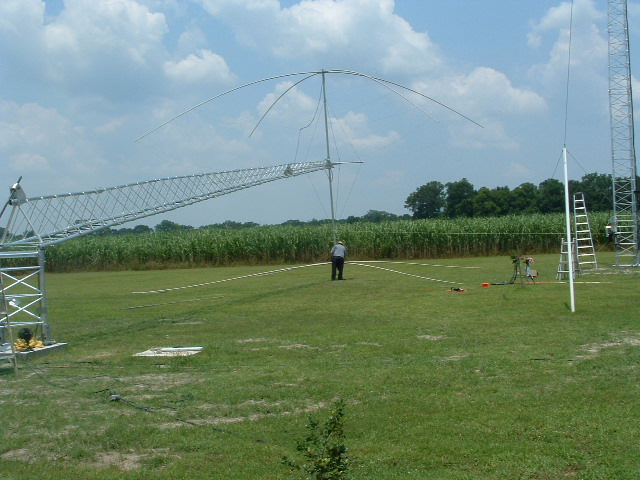 Getting the 40 Meter Quad up on a 70' fold-over tower.


---

KØLUW Operated by: Russ

A great sprint tonite. Lots of activity and propagation was reasonably good. Spent most of the time on 40m and finished up the last 1/2 hour on 80m.


---

WA2JSG Operated by: Curt

Very nice sprint again (as always). 25 watts from an IC706MKIIG to an elevated Butternut HF9V vertical from a 12v car battery. Worked K9SKC on 40m.



---

NØTA Operated by: John

40m was very nice! Got to 80m late, but it seemed to be quite busy, too. Glad to finally work K2RFP in a Sprint! Lots of strong signals, but K9SKC was 599+20 here!! K3, Vertical, and K2RFP logging software.


---

KJ7BS Operated by: Mark

My goal was to break 1000 points. I worked 5 non-members who knew the exchange, so it looks like we are getting participation from outside the club.

Signals were pretty good, some from the East and Northeast were weak, but workable. I have several signals that were right in the noise level, but repeats filled the exchange info well. Thanks to those who put up with all my requests for repteats.

Let's spread out a bit more. There's nothing that says we have to fit all our sprint signals into 5 KHz.

There were lots of tuner-uppers on the station calling CQ. Come on, tune up elsewhere.

We need practice zero beating stations. Thank goodness for RIT. I whould have missed most of my contacts if I had my narrow IF filter and SCAF-1 dialed in to weed out the close stations.

Remember, if you send QRL? and hear "C" or "Y", the frequency is in use, and listen for more that one or two seconds.

It sounded like there were lots of participants. It will be interesting to see how many scores get posted.

My closest contact was CA or NV while my longest contact was ON or NJ.

73 de Mark, KJ7BS


---

K4BAI Operated by: John

FT1000MP, 100W, zepp, inverted vee, dipole. Forgot about the SKS until heard K8MP calling about 0055 UTC. Thanks for the QSOs. Please look for the Georgia QSO Party on April 11 and 12. I will be mobile in many counties with KU8E on Saturday as W4AN/M (club call for South East Contest Club) and will probably be signing K4BAI from home on Sunday. Maybe going back out as K4BAI/M on Sunday afternoon if can get my mobile setup working by that time. 73, John, K4BAI.


---

N4RE Operated by: Rick

Enjoyed getting back into the SKS if only for 45 minutes. Everyone spaced out for easy copy.
TKS & 73,
Rick


---

N6IB Operated by: Ron

This was my first SKCC Sprint and it was a lot of fun. I only had :35 to operate because the Sprint comes at my dinner time!!! Just finished my new K2 and this was the first full day of using it so it was a good chance to get familiar with it.


---

VE3AKV Operated by: Bob

Started out on 40m - made a couple of QSO's...then moved to 80m.
I was all be myself until about 00:30 - then all hell broke loose ;)
Great contest - thanks to all for the rush and the pile up too!

See ya all next month.

Regards,

Bob
VE3AKV/QRP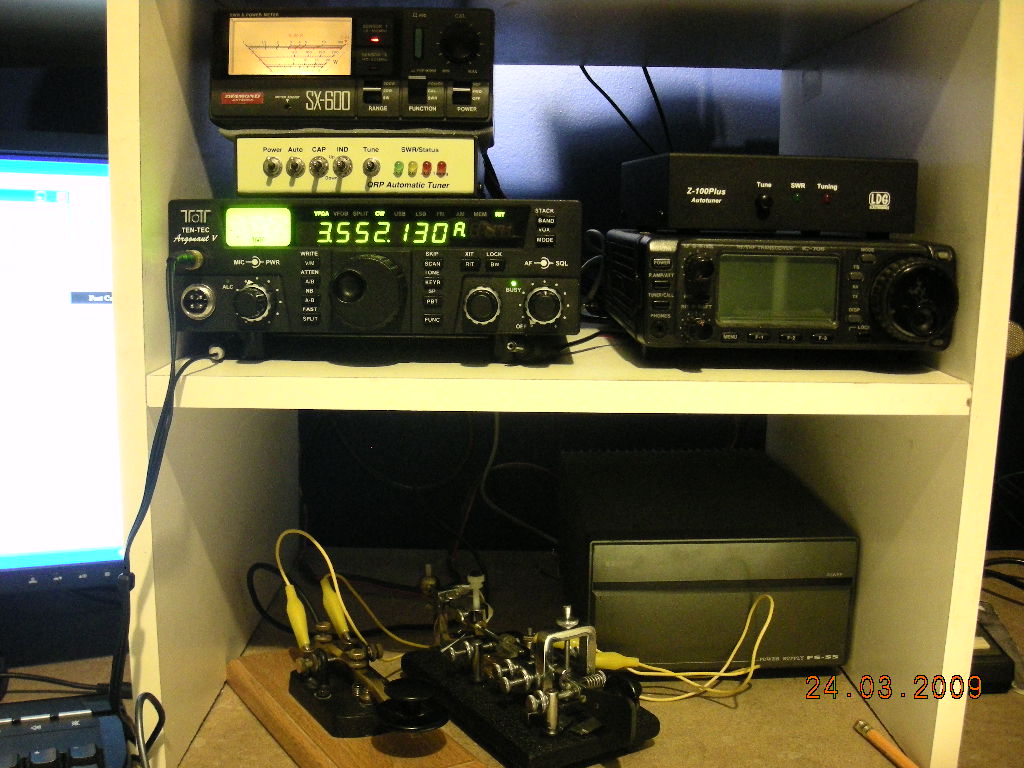 Ten Tec Argonaut 516 I used for this sprint.


---

WA5VQM Operated by: Mark

Thanks to the time change got to work a little 20 before it closed. Conditions a bit unstable on 40 - I couldn't count a couple of QSOs as folks went from strong to...gone. 80 wasn't too bad and I managed to work Mark running K9SKC who was very strong. Worked some new ones which is always a good thing. Enjoyed this one. 73, Mark.


---

K5ENA Operated by: John

Enjoyed it as always.

K5ENA


---

K1NV Operated by: Jon

It was a great pleasure to work Mark, K9SKC on three bands this time. He really got around! I started out bad by getting on 20M and calling "CQ SKS" an hour before the activity started. I wondered why nobody responded. That doggoned daylight savings time got me again.
LW3EX, Walt, got through on 20M but I heard little else in the way of DX. There were large gaps in my operating time while trying to find some operating room on 40 meters. The activity level seemed high although I didn't hear too much from the east coast except for WA1AR in MA.
80 meter signals were down until about 10 minutes before the end of the sprint and W1EJ and I finished up just under the gun at 0159Z.


---

W6UT Operated by: Dennis

Signals were better this evening. 20M was workable for abt 45 minutes, but slow. 40M was jumping. To early out here for 80M. Enjoyed as usual. Mostly used a 1917 Nickel Racer that I restored.


---

W1EJ Operated by: Ed

Great!


---

N8XE Operated by: Jason

It was good to get back into the "swing" of things. Operated QRP with my OHR500 at 5 watts and used the Lightning Bug.


---

KI6FEN Operated by: Doug

Nice to get a chance to work some qrp on the sprint tonight. Fun as always. Worked five stations.

If only the rockmite worked near 7.055, I'd have used that.

Longest contact tonight was K4ZGB, very loud and clear from Alabama.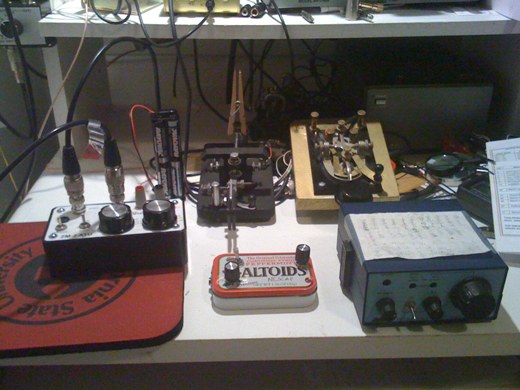 CCW from left: ZM-2 ATU Tuner, NESCAF Filter, Norcal 40A, J-38, Les Logan 500, 8 AA's


---

K4UFT Operated by: Ted

Used the Icom 703+ @10 Watts to the home brew vertical. Switched from the ChiCom Army K-5 key to the J-37 ... had forgotten how smooth the J-37 is.

Good results for me this time. 40 was the only band I worked since 20 was dead and my 80 Meter whip developed a problem. Had lots of atmospheric noise so I backed the RF gain down which helped a great deal. Also used full break-in for the first time in many years which enabled me to hear if other stations were calling at the same time I was. Break-in not as smooth as the TenTec Century 21 I had several years ago, but it was tolerable.





---

NG7Z Operated by: Paul

Another fine showing of skcc members. 20M was done by 0025 and 40M was hopping by then. It's always a crapshoot out here in the NW when to switch bands. Hardly any room to squeeze in to start CQing. And so I did a bit of S&P before settling down on an open freq. But just then I noticed that the logging program wasn't recording states. So I had to take 10 minutes and re-enter the ones I had worked by hand. Had to leave 15 minutes before the end. The sprints are one of my favorite contests. Thanks for the Q's.
Equipment IC-756
F12 C3 and Cushcraft 40-2CD 2 ele on 40.


---

K9ZMD/6 Operated by: Gary

After I returned from Wisconsin, the honey-do list kept me from getting my doublet back into the air - until two hours before SKS kickoff. Got 'er done, including transmatch touch up, with 10 seconds to spare.

Fun on forty tonight, lots of good strong signals . . . and it's so much easier to separate them with the IC-746PRO than with the IC-706MIIG I play with in Wisconsin.




---

K6FFY Operated by: Nick

It seems the band conditions in my area was starting to improve as the sprint time ran out.


---

KB4QQJ Operated by: Randy

Icom 703 at 10 watts into a doublet at 85 feet.
1942 Telegraph Apparatus Co. 510 bug and Navy Flameproof straight key
Great googly moogly!!
Bands were strange tonight. Every body strong. I didn't have to ask for a single fill. Thanks to Ron, N6IB #5396,in CA, I got the highest SKCC number I've worked so far. He was also my most distant contact this sprint. Nice signal. Strongest signal was John, N3WT, a booming 50 over!! He must be using the same ether as Bert, W5ZR. Thought I felt the ground shake in NC hihi.
Worked Walt LW3EX just before the sprint but never found him during. Band was way short for me. I didn't work one single DX member.
Glad to be back in the sprints though. Now the time has changed again I'm back in the weekday sprints.
Heard all the regulars and a lot of new members.
Special Thanks to Mark for doing a great job with K9SKC. I can use the extra points hi hi.
Thanks to all for a fun sprint. 73 till next month.


---

WA9VEE Operated by: Wayne

Bands in good shape. K3 a pleasure. Nice contest.



Apartment living


---

KA2KGP Operated by: Tom

Nice sprint, conditions not bad. Rig: IC-7000 at 5 watts into a 5 band gnd. mtd. vertical. Straight key, of course! 73


---

NT9K Operated by: Bill

I wasn't able to work the entire sprint. 20 meters seemed to stay open longer than usual. You could hear several skcc ops calling cq sks on the same 20 meter frequency. At one time, on 14.051, 14.052 and 14.053 I heard this happening all at the same exact time. Clearly, the 2nd op wasn't able to hear the other due to band conditions.

Thanks Mark AD5WI, for being K9SKC and the QSO. I noted 2 stations with big signals of 40 over S9, Bert W5ZR and Walt W5ALT. Nice to finally get Walt in my log too. Thank you Dick K2FRP, for providing us with the sprints. I heard you call me in the sprint Dick, but it wasn't my frequency, sorry I missed you this sprint.

I'll second Mark KJ7BS's comment on zero beating. Mostly, I heard excellent fists and operating from our members. Still, there is one regular that does not use any spacing between characters or words. I hope he will read this and not be offended, but he really needs to listen to his cw on tape. Maybe this person has a disability that causes this? I can copy him, only because I am used to him now. All I can say is bless his heart for trying so hard! No offense intended.

I'll be looking for you all again in the SKCC Mystery Sprint on April 5, 2009, 1700-2000 UTC. For that information see:
http://www.skccgroup.com/sprint/mystery/

73, Bill NT9K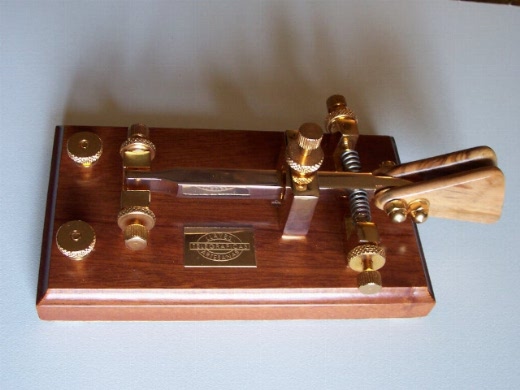 The LTA Sideswiper was one of the keys I used in this sprint


---

KE5WIQ Operated by: Neil

20M and 40M were both fantastic tonight. 80M was very noisy but made a few there. *Lots* of activity. Did S&P only (no CQ) with a lot of listening.

I have to agree with KJ7BS/Mark's comments. Spent some time listening to activity in lower 40M and heard several examples for each problem. Tuning directly over a qso in progress is bad form. Even with filters tightened < 100 Hz couldn't keep the qrm out in some cases. Please read through his list and ask if help is needed.

Very nice contacts made, including VE5DC from SK. Met more new members again. Always a lot of fun.

Not much activity in the novice part of 40M tonight, maybe due to the BC station making noise.

Had a great ragchew with W7GVE after the sprint. Great day for CW.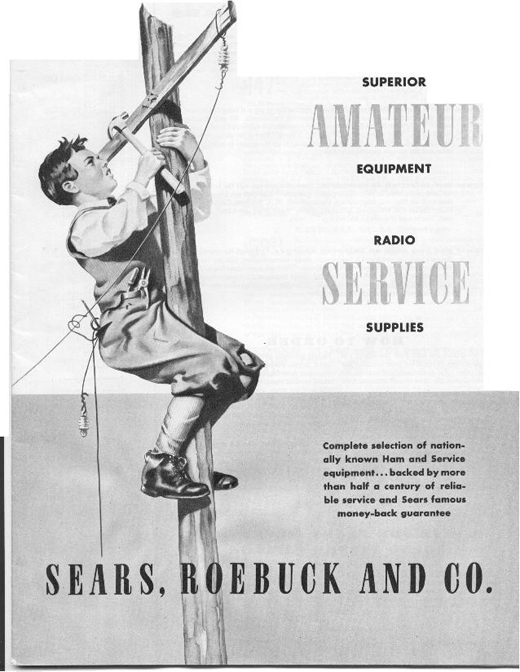 Sears at its best!


---

KA1XC Operated by: John

I was able to operate most of the sprint this time, on 20, 40, then 80 meters. I even QSO'd K9SRC, didn't realize he was the bonus contact until the end of the sprint. Last contact was with Mike WU2D on 80m who was running his homebrew 6 watt xtal controlled Paraset replica, very cool! Had fun,73!




---

KG4BYN Operated by: Ben

first sprint i was able to work in awhile. too bad i couldn't hang around longer, because conditions were great. thanks to bert for the contact! and thanks to everyone who participated in the event, as well, keeping cw alive and on the air 73, ben


---

AF2Z Operated by: Drew

I didn't even try 20m or 160m. 40m seemed a little more active this time than usual-- got four contacts there. Tony W4FOA was holding down the fort on 7114, the only station heard above 7100. Most contacts were on 80m. Tks Chas K1PUB for hanging on while I worked Russ K0LUW (Russ called me for a change; I usually have to call him!). My setup: Elecraft K3 running 10 watts; 100' endfed wire antenna; Junker straight key.


---

KD5MMM Operated by: Phil

lots of QSB here, only got a few, had fun.. 73


---

W5ALT Operated by: Walt

My first sprint and I had a good time. I'm planning to be back next time!


---

KU8L Operated by: Curt

Fun for a first skcc sprint. Op single band 40M --heard some activity on 20M early but weak and not many so went right to 40.

Heard the club station on 40 but decided not to wait in line.

Hardly any "c" worked. QSO's took a painful amount of time to complete--I gave up on S&P after about 30 minutes.

Collected a couple of new skcc states and a few new numbers.

Cheers


---

N9AKF Operated by: Bart

I had fun as usual, especially working a new SKCC member (5100) in his first sprint. I only worked 80m, lots of activity there. I'm sure I could have made more contacts, but I tend to operate at a pretty leisurely pace. Thanks to all who participated and I look forward to seeing everyone next month.

Bart, N9AKF
1625C


---

W6SQQ Operated by: Al

Drat... Only had an hour and 20M dropped out early. Went to 40M, heard many signals from the midwest and south, but they could'nt hear me. I think strong east coast sigs covered me up. Made one QSO, up the West coast to WA, both of us 579. This is the first time in months I have been able to work a sprint, and I really enjoyed it. Thanks to all who participated.

Roger(Al), W6SQQ


---

W9CC Operated by: Larry

Only had 20 minutes to work the sprint.


---

AC7T Operated by: Doug

Thanks, everyone, for the warm welcome.


---
<! Start of insert other stuff here.> <! End of insert other stuff here.> Programmed by K2RFP.
Updated: June 27, 2009 1240 UTC
Sprint Manager: Dick - K2RFP