SKS Homepage
SKCC Homepage
---
<!INSERT SPECIAL-SOUND>

<!INSERT SPECIAL-OPR1>

<!Here are the categories.>

| | |
| --- | --- |
| &nbsp &nbsp &nbsp &nbsp &nbsp &nbsp | &nbsp &nbsp Categories (CAT) |
| &nbsp &nbsp &nbsp &nbsp &nbsp &nbsp | &nbsp &nbsp * = Special SKCC member. |
| &nbsp &nbsp &nbsp &nbsp &nbsp &nbsp | &nbsp &nbsp 1 = 1 watt or less. |
| &nbsp &nbsp &nbsp &nbsp &nbsp &nbsp | &nbsp &nbsp 2 = Greater than 1 watt, up to 5 watts. |
| &nbsp &nbsp &nbsp &nbsp &nbsp &nbsp | &nbsp &nbsp 3 = Greater than 5 watts, up to 100 watts. |
| &nbsp &nbsp &nbsp &nbsp &nbsp &nbsp | &nbsp &nbsp 4 = Greater than 100 watts. |
SKCC SKS Results
Date: February 25, 2009
Theme: A tribute to Paul - NG7Z
Club call: K9SKC
Special SKCC member: Paul

Number of participants: 64


QSOs x Mult + Bonus = Score




Results by Final Score

| Rank | CAT | Call | Name | SKCC | QTH | QSO's | Mult | Bonus | Score |
| --- | --- | --- | --- | --- | --- | --- | --- | --- | --- |
| - | *4 | K9SKC | Paul | 802T | WA | 56 | 21 | 235 | 1411 |
| 1 | 3 | KØLUW | Russ | 1702T | NE | 44 | 22 | 230 | 1198 |
| 2 | 3 | K1NV | Jon | 2609-T | NV | 39 | 22 | 185 | 1043 |
| 3 | 3 | K8EE | Gene | 4080 | OH | 34 | 26 | 150 | 1034 |
| 4 | 3 | K1NNJ | Tom | 2937T | MA | 36 | 21 | 120 | 876 |
| 5 | 3 | WØJFR | John | 2826T | CO | 37 | 19 | 150 | 853 |
| 6 | 3 | K4JPN | Steve | 2402 | GA | 31 | 20 | 165 | 785 |
| 7 | 3 | KE5PWL | Eric | 4229T | LA | 33 | 19 | 110 | 737 |
| 8 | 3 | WA1LWS | Hans | 1933T | MD | 24 | 21 | 140 | 644 |
| 9 | 3 | K5EWJ | Cookie | 4077T | TX | 25 | 17 | 135 | 560 |
| 10 | 3 | AC9BP | John | 5195T | IN | 23 | 15 | 190 | 535 |
| 11 | 3 | KE5WIQ | Neil | 4730T | TX | 21 | 17 | 130 | 487 |
| 12 | 3 | K9DTH | Ron | 3698T | IL | 21 | 15 | 170 | 485 |
| 13 | 3 | W6UT | Dennis | 2417T | CA | 23 | 16 | 110 | 478 |
| 14 | 2 | KA2KGP | Tom | 1494 | NY | 22 | 15 | 115 | 445 |
| 15 | 3 | KKØI | Jack | 2370T | WI | 18 | 15 | 155 | 425 |
| 16 | 4 | KL8DX | Phil | 3800T | AK | 25 | 11 | 135 | 410 |
| 17 | 3 | NT9K | Bill | 1926T | FL | 17 | 14 | 125 | 363 |
| 18 | 3 | AF2Z | Drew | 2082T | NJ | 20 | 12 | 105 | 345 |
| 19 | 2 | W9QZ | Rick | 3974 | IN | 15 | 13 | 145 | 340 |
| 20 | 3 | K1PUB | Chas | 4101T | MA | 18 | 15 | 60 | 330 |
| 21 | 3 | W3RT | Red | 3237T | PA | 17 | 12 | 125 | 329 |
| 22 | 3 | N1LU | Don | 2252T | NH | 14 | 12 | 100 | 268 |
| 23 | 3 | KB7GL | Vic | 3636 | WA | 13 | 10 | 130 | 260 |
| 24 | 3 | VE5DC | Jerry | 4440 | Sk | 13 | 11 | 105 | 248 |
| 24 | 3 | W1EJ | Ed | 1594C | CA | 13 | 11 | 105 | 248 |
| 24 | 3 | WA1AR | Alan | 4079T | MA | 13 | 11 | 105 | 248 |
| 27 | 3 | WA1VIL | Greg | 443C | MA | 13 | 12 | 70 | 226 |
| 28 | 3 | KD5KJ | Jim | 3534 | AR | 12 | 8 | 125 | 221 |
| 29 | 3 | WB9FMC | Kurt | 2753 | IL | 11 | 7 | 95 | 172 |
| 30 | 3 | AD5WI | Mark | 866T | AR | 11 | 10 | 60 | 170 |
| 30 | 3 | N9GGE | John | 2886 | IL | 10 | 6 | 110 | 170 |
| 32 | 3 | NV9X | Jim | 1358 | IL | 9 | 8 | 95 | 167 |
| 33 | 3 | KC4FLT | Carl | 3625 | AL | 10 | 9 | 65 | 155 |
| 34 | 3 | K9ZMD/9 | Gary | 891C | WI | 9 | 9 | 70 | 151 |
| 35 | 3 | WL7WH | Bob | 2940T | AK | 9 | 4 | 110 | 146 |
| 36 | 3 | KI6FEN | Doug | 3434 | CA | 9 | 7 | 80 | 143 |
| 37 | 4 | HA8KW | Feco | 3447 | Ha | 10 | 7 | 70 | 140 |
| 38 | 1 | W2HWW | Tony | 4488 | NJ | 9 | 9 | 45 | 126 |
| 39 | 3 | K2RFP | Dick | 2099T | NY | 10 | 9 | 30 | 120 |
| 40 | 3 | KAØCSW | Jim | 3741C | MN | 9 | 7 | 50 | 113 |
| 41 | 3 | N5LUL | Brad | 3779 | TX | 8 | 7 | 55 | 111 |
| 42 | 3 | WA2JSG | Curt | 3018C | NJ | 7 | 7 | 50 | 99 |
| 43 | 3 | K4DMU | Joe | 5036 | KY | 8 | 8 | 30 | 94 |
| 43 | 3 | K6FFY | Nick | 1221T | WA | 6 | 4 | 70 | 94 |
| 45 | 3 | WA5VQM | Mark | 58 | TX | 4 | 4 | 55 | 71 |
| 46 | 2 | N4KGL | Greg | 5123 | AL | 5 | 5 | 45 | 70 |
| 47 | 2 | VE3AKV | Bob | 5204 | On | 6 | 5 | 30 | 60 |
| 48 | 1 | KB4QQJ | Randy | 3508T | NC | 6 | 6 | 20 | 56 |
| 49 | 3 | K6JF | Jim | 4261T | CA | 3 | 3 | 45 | 54 |
| 49 | 3 | W5AG | Arch | 3965C | LA | 9 | 6 | 0 | 54 |
| 51 | 1 | N4FI | Dan | 324T | VA | 7 | 6 | 10 | 52 |
| 52 | 3 | K2PAY | Jerry | 4304C | NY | 5 | 4 | 30 | 50 |
| 52 | 3 | KA1XC | John | 5188 | MA | 6 | 5 | 20 | 50 |
| 54 | 3 | KØKEX | Rick | 5220 | MO | 2 | 1 | 45 | 47 |
| 55 | 3 | W4KRN | Karen | 4495T | VA | 6 | 5 | 10 | 40 |
| 56 | 3 | KD5MMM | Phil | 4209 | TX | 4 | 4 | 20 | 36 |
| 57 | 2 | AC6NN | Craig | 3217 | VA | 3 | 3 | 20 | 29 |
| 57 | 3 | WA9VEE | Wayne | 4844 | WI | 3 | 3 | 20 | 29 |
| 59 | 1 | NS8A | Jeff | 3008T | MI | 3 | 3 | 15 | 24 |
| 60 | 2 | K2ZC | Dave | 1945C | NJ | 3 | 3 | 10 | 19 |
| 60 | 3 | G4LMW | Rob | 4454 | Eng | 3 | 3 | 10 | 19 |
| 60 | 3 | K6CSL | Bert | 4486 | CA | 3 | 3 | 10 | 19 |
| 63 | 3 | KB3RLI | Jonathan | 4589 | PA | 2 | 2 | 0 | 4 |
Results by Category and Final Score

| Rank | CAT | Call | Name | SKCC | QTH | QSO's | Mult | Bonus | Score |
| --- | --- | --- | --- | --- | --- | --- | --- | --- | --- |
| 1 | *4 | K9SKC | Paul | 802T | WA | 56 | 21 | 235 | 1411 |
| 1 | 1 | W2HWW | Tony | 4488 | NJ | 9 | 9 | 45 | 126 |
| 2 | 1 | KB4QQJ | Randy | 3508T | NC | 6 | 6 | 20 | 56 |
| 3 | 1 | N4FI | Dan | 324T | VA | 7 | 6 | 10 | 52 |
| 4 | 1 | NS8A | Jeff | 3008T | MI | 3 | 3 | 15 | 24 |
| 1 | 2 | KA2KGP | Tom | 1494 | NY | 22 | 15 | 115 | 445 |
| 2 | 2 | W9QZ | Rick | 3974 | IN | 15 | 13 | 145 | 340 |
| 3 | 2 | N4KGL | Greg | 5123 | AL | 5 | 5 | 45 | 70 |
| 4 | 2 | VE3AKV | Bob | 5204 | On | 6 | 5 | 30 | 60 |
| 5 | 2 | AC6NN | Craig | 3217 | VA | 3 | 3 | 20 | 29 |
| 6 | 2 | K2ZC | Dave | 1945C | NJ | 3 | 3 | 10 | 19 |
| 1 | 3 | KØLUW | Russ | 1702T | NE | 44 | 22 | 230 | 1198 |
| 2 | 3 | K1NV | Jon | 2609-T | NV | 39 | 22 | 185 | 1043 |
| 3 | 3 | K8EE | Gene | 4080 | OH | 34 | 26 | 150 | 1034 |
| 4 | 3 | K1NNJ | Tom | 2937T | MA | 36 | 21 | 120 | 876 |
| 5 | 3 | WØJFR | John | 2826T | CO | 37 | 19 | 150 | 853 |
| 6 | 3 | K4JPN | Steve | 2402 | GA | 31 | 20 | 165 | 785 |
| 7 | 3 | KE5PWL | Eric | 4229T | LA | 33 | 19 | 110 | 737 |
| 8 | 3 | WA1LWS | Hans | 1933T | MD | 24 | 21 | 140 | 644 |
| 9 | 3 | K5EWJ | Cookie | 4077T | TX | 25 | 17 | 135 | 560 |
| 10 | 3 | AC9BP | John | 5195T | IN | 23 | 15 | 190 | 535 |
| 11 | 3 | KE5WIQ | Neil | 4730T | TX | 21 | 17 | 130 | 487 |
| 12 | 3 | K9DTH | Ron | 3698T | IL | 21 | 15 | 170 | 485 |
| 13 | 3 | W6UT | Dennis | 2417T | CA | 23 | 16 | 110 | 478 |
| 14 | 3 | KKØI | Jack | 2370T | WI | 18 | 15 | 155 | 425 |
| 15 | 3 | NT9K | Bill | 1926T | FL | 17 | 14 | 125 | 363 |
| 16 | 3 | AF2Z | Drew | 2082T | NJ | 20 | 12 | 105 | 345 |
| 17 | 3 | K1PUB | Chas | 4101T | MA | 18 | 15 | 60 | 330 |
| 18 | 3 | W3RT | Red | 3237T | PA | 17 | 12 | 125 | 329 |
| 19 | 3 | N1LU | Don | 2252T | NH | 14 | 12 | 100 | 268 |
| 20 | 3 | KB7GL | Vic | 3636 | WA | 13 | 10 | 130 | 260 |
| 21 | 3 | VE5DC | Jerry | 4440 | Sk | 13 | 11 | 105 | 248 |
| 21 | 3 | W1EJ | Ed | 1594C | CA | 13 | 11 | 105 | 248 |
| 21 | 3 | WA1AR | Alan | 4079T | MA | 13 | 11 | 105 | 248 |
| 22 | 3 | WA1VIL | Greg | 443C | MA | 13 | 12 | 70 | 226 |
| 23 | 3 | KD5KJ | Jim | 3534 | AR | 12 | 8 | 125 | 221 |
| 24 | 3 | WB9FMC | Kurt | 2753 | IL | 11 | 7 | 95 | 172 |
| 25 | 3 | AD5WI | Mark | 866T | AR | 11 | 10 | 60 | 170 |
| 25 | 3 | N9GGE | John | 2886 | IL | 10 | 6 | 110 | 170 |
| 26 | 3 | NV9X | Jim | 1358 | IL | 9 | 8 | 95 | 167 |
| 27 | 3 | KC4FLT | Carl | 3625 | AL | 10 | 9 | 65 | 155 |
| 28 | 3 | K9ZMD/9 | Gary | 891C | WI | 9 | 9 | 70 | 151 |
| 29 | 3 | WL7WH | Bob | 2940T | AK | 9 | 4 | 110 | 146 |
| 30 | 3 | KI6FEN | Doug | 3434 | CA | 9 | 7 | 80 | 143 |
| 31 | 3 | K2RFP | Dick | 2099T | NY | 10 | 9 | 30 | 120 |
| 32 | 3 | KAØCSW | Jim | 3741C | MN | 9 | 7 | 50 | 113 |
| 33 | 3 | N5LUL | Brad | 3779 | TX | 8 | 7 | 55 | 111 |
| 34 | 3 | WA2JSG | Curt | 3018C | NJ | 7 | 7 | 50 | 99 |
| 35 | 3 | K4DMU | Joe | 5036 | KY | 8 | 8 | 30 | 94 |
| 35 | 3 | K6FFY | Nick | 1221T | WA | 6 | 4 | 70 | 94 |
| 36 | 3 | WA5VQM | Mark | 58 | TX | 4 | 4 | 55 | 71 |
| 37 | 3 | K6JF | Jim | 4261T | CA | 3 | 3 | 45 | 54 |
| 37 | 3 | W5AG | Arch | 3965C | LA | 9 | 6 | 0 | 54 |
| 38 | 3 | K2PAY | Jerry | 4304C | NY | 5 | 4 | 30 | 50 |
| 38 | 3 | KA1XC | John | 5188 | MA | 6 | 5 | 20 | 50 |
| 39 | 3 | KØKEX | Rick | 5220 | MO | 2 | 1 | 45 | 47 |
| 40 | 3 | W4KRN | Karen | 4495T | VA | 6 | 5 | 10 | 40 |
| 41 | 3 | KD5MMM | Phil | 4209 | TX | 4 | 4 | 20 | 36 |
| 42 | 3 | WA9VEE | Wayne | 4844 | WI | 3 | 3 | 20 | 29 |
| 43 | 3 | G4LMW | Rob | 4454 | Eng | 3 | 3 | 10 | 19 |
| 43 | 3 | K6CSL | Bert | 4486 | CA | 3 | 3 | 10 | 19 |
| 44 | 3 | KB3RLI | Jonathan | 4589 | PA | 2 | 2 | 0 | 4 |
| 1 | 4 | KL8DX | Phil | 3800T | AK | 25 | 11 | 135 | 410 |
| 2 | 4 | HA8KW | Feco | 3447 | Ha | 10 | 7 | 70 | 140 |



<!INSERT NO-STATS> Sprint Stats



Number of participants by state..
| | | | | | | | | | |
| --- | --- | --- | --- | --- | --- | --- | --- | --- | --- |
| AK 2 | AL 2 | AR 2 | AZ 0 | CA 5 | CO 1 | CT 0 | DE 0 | FL 1 | GA 1 |
| HI 0 | IA 0 | ID 0 | IL 4 | IN 2 | KS 0 | KY 1 | LA 2 | MA 5 | MD 1 |
| ME 0 | MI 1 | MN 1 | MO 1 | MS 0 | MT 0 | NC 1 | ND 0 | NE 1 | NH 1 |
| NJ 4 | NM 0 | NV 1 | NY 3 | OH 1 | OK 0 | OR 0 | PA 2 | RI 0 | SC 0 |
| SD 0 | TX 5 | TN 0 | UT 0 | VA 3 | VT 0 | WA 3 | WI 3 | WV 0 | WY 0 |



Total USA participants: 60
Total non-USA participants: 4
<!INSERT STATS-1>


Number of QSOs by state..
| | | | | | | | | | |
| --- | --- | --- | --- | --- | --- | --- | --- | --- | --- |
| AK 34 | AL 15 | AR 23 | AZ 0 | CA 51 | CO 37 | CT 0 | DE 0 | FL 17 | GA 31 |
| HI 0 | IA 0 | ID 0 | IL 51 | IN 38 | KS 0 | KY 8 | LA 42 | MA 86 | MD 24 |
| ME 0 | MI 3 | MN 9 | MO 2 | MS 0 | MT 0 | NC 6 | ND 0 | NE 44 | NH 14 |
| NJ 39 | NM 0 | NV 39 | NY 37 | OH 34 | OK 0 | OR 0 | PA 19 | RI 0 | SC 0 |
| SD 0 | TX 62 | TN 0 | UT 0 | VA 16 | VT 0 | WA 75 | WI 30 | WV 0 | WY 0 |



Total QSOs with one or more USA operators: 886
Total QSOs with one or more non-USA operators: 32
<!INSERT STATS-2>


Soapbox

---

KB3RLI Operated by: Jonathan

I only made two contacts because I had homework keeping me busy. Next time I'll make more qso's!


---

W2HWW Operated by: Tony

Used a just completed Softrock RXTX+XTall v6.3 on 80/40M, was surprised how well it got out.


---

WØJFR Operated by: John

40m was good for me. Spent last 30 minutes on 80m, but much slower. Worked a few more non-members than usual - nice! K2 (100w), 1/4 wave vertical, and K2RFP logger.


---

WA2JSG Operated by: Curt

I'll be happy when Daylight Savings Time arrives. 7pm USA EST during winter months doesn't allow me to catch my nap after work! (hi hi)



---

KC4FLT Operated by: Carl

Wow what a great time, I worked HA8KW!!
Thanks to Paul for working the club station and all the rest of the folks that worked to hard to make this happen 73! KC4FLT


---

KØLUW Operated by: Russ

Lots of QRN on my end tonite. Had a lot of trouble hearing the QRP guys. 20m was dead at my QTH from the start so I had to make most of my contacts on 40m. Always a lot of fun.



---

KI6FEN Operated by: Doug

Another enjoyable sprint. Lots of "T's" out there!


---

AC6NN Operated by: Craig

Didn't get on the air for very long, just enough to make three contacts (K0LUW, W4KRN, K4JPN). A special thanks to Karen for pulling me out of mud!



---

WA1AR Operated by: Alan

Not many Qs or points tonight but got some DX, HA8KW was Q5 solid but he had some EU QRM on me. Got K9SKC and W6UT on the west coast on 40. K1NV was busy and waited a long time to get in. Finished up with a S meter bending AF2Z on 80. Heard a bunch of others but tonight was too short not enough time to get them all.

Alan WA1AR


---

WA1VIL Operated by: Greg

Great fun as always. Sorry for the dupe N3WT but your signal sounded soooo good!

73 to all!

Greg


---

W4KRN Operated by: Karen

Nice to work a couple of new VE stations ! 80m much better than 40. Hope to see more VE's on the K3UK sked page. Thanks all !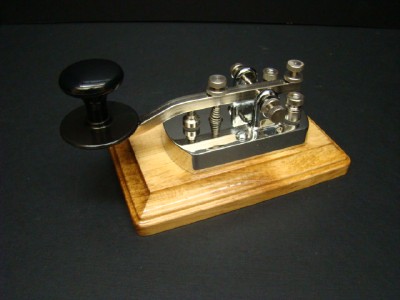 W.M. Nye Chrome


---

VE3AKV Operated by: Bob

Fun little contest - tnx to all for putting up with my fist :)

I'll see you next month.

Bob

K2RFP - 599 - Dick - 2009T - NY
KK0I - 599 - Jack - 2370T - WI
K8EE - 599 - Gene - 4080 - OH
W9LHG - 559 - John - 2993 - MN
WB9TFH - 559 - Gil - 4211 - WI
W4KRN - 559 - Karen - 4495T - VA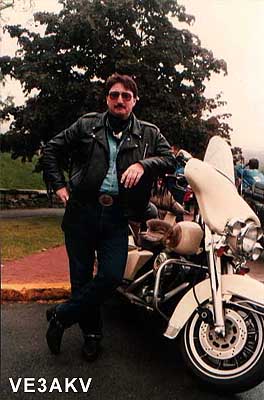 Radio - Fishing & Harley's - can it get any better?


---

K8EE Operated by: Gene

First time for the 2 hr sprint. Lots of fun. I may not win this time, but I'll be baaack.


---

N5LUL Operated by: Brad

Had a great time again! My work schedule keeps me away from the key.... so started 20 minutes late in the Sprint. Made 8 contacts (not including two enjoyable short rag-chews) running a HeathKit HW-16. I'll have to check my list later, but I think I finally got my 100th new number tonight! Thanks to all... will listen again next month.



---

KD5KJ Operated by: Jim

Lots of fun. Appreciate all who were patient with me using an old bug with poor contacts. A bit like using spark gap, I guess, but had a great time.


---

KL8DX Operated by: Phil

It has been ages since I participated in my last SKS due to the Sprint being over by the time I get home from work (I get home right at 5 pm local, or 0200z). I cashed in on a bit of Comp Time today in the hopes of accomplishing two things.

1. Working K5D
2. Working SKS

Accomplished both. I also knew that since Paul was working K9SKC that I would have a good chance at working him on a few bands. Mission accomplished. I was in this for sheer fun and I was very happy with my 25 QSO's. Big surprise was HA8KW coming back to my CQ on 40 meters! VE5DC also had a nice signal on 40! I also heard the deep south on 40 (TX, FL, AL, etc) but only managed a few contacts on that band (8). I worked 20 for the first hour and seeing everyone left for the low bands, I followed. It was also nice to see some 7-land contest callsigns (non-members) participating!! They threw their power right out there and it was fun to catch them on the SK! Until my next one, thanks for the contacts and also a special thanks for those that make this all happen!


---

KE5WIQ Operated by: Neil

Met a lot of new folks tonight. A lot of fun. Remember kids, stay on topic. Eh, whatever.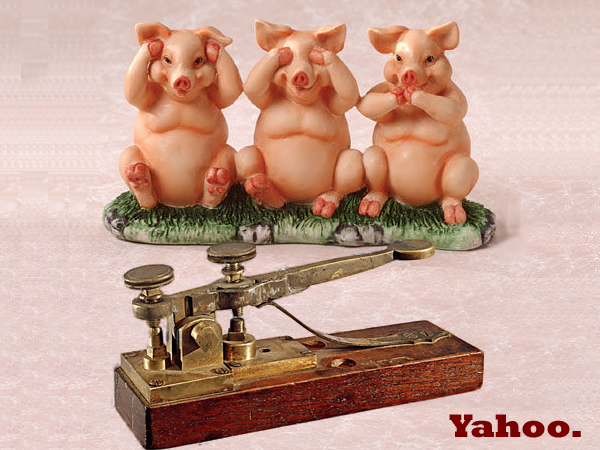 Yahoo.


---

W9QZ Operated by: Rick

My first Sprint. Ran with 2 Watts all the way. FT 817ND to a Zepp up 65 feet in the trees.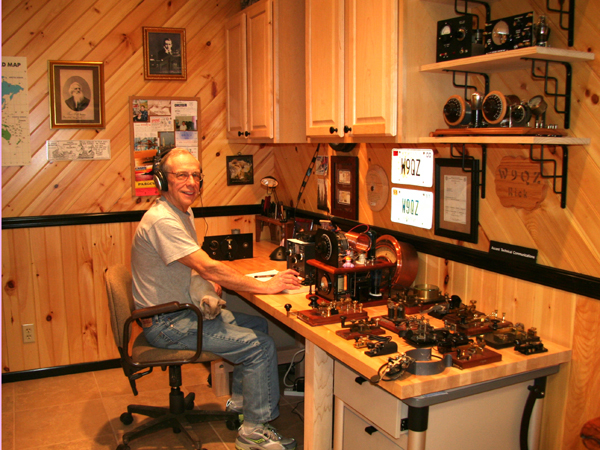 My Rogers, KY QTH


---

K9SKC Operated by: Paul

What a hoot to use the club callsign. It was like being on the other end of the DX path. Hope I was able to work you and thanks for all the Q's.
73 Paul NG7Z


---

KA1XC Operated by: John

Hey this was fun, was my first SKS! I managed to catch the last half and make a few contacts on 40. Tnx Carl KC4FLT for the warm welcome, and to Feco HA8KW for giving me a suprise call.

I got to use my new Russian military key for the first time. Rig is a 756Pro3, 110 ft flat top up about 60 ft. fed with ladder line to Johnson 250 watt Matchbox. 73!


---

KKØI Operated by: Jack

Managed to snag one on twenty meters before it went quiet. A majority of the contacts were made on 80 meters. It was nice to be able to work some of the newer members. We pounded the brass the good old fashioned way with the J-38.
Thanks for being out there tonight folks. I'll keep doing what I love to do...CW forever!


---

K1NNJ Operated by: Tom

Fun Sprint.
This is my new GHD straight key - smooth as silk.
My first QSO with it was SKCC #1 - the first time i had contact with Tom.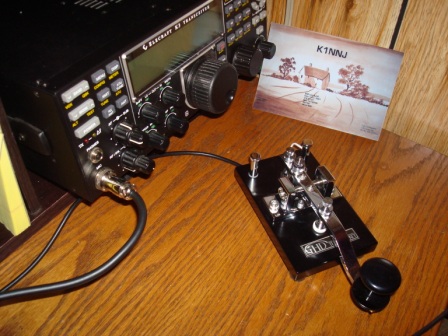 New Key


---

WA5VQM Operated by: Mark

Only was able to get on the last 45 minutes. Started off well but then it was real slow going. 20 was dead and 40 was dying. Did manage to work Paul as K9SKC so that was a plus. Looking forward to the next one. 73, Mark


---

K5EWJ Operated by: Cookie

Conditions were pretty good tonight. Signals started getting weak on forty meters about 30 minutes before the end. I had a nice surprise for my last QSO when Feco, HA8KW called me. It was great to work Hungary in a SKCC Sprint.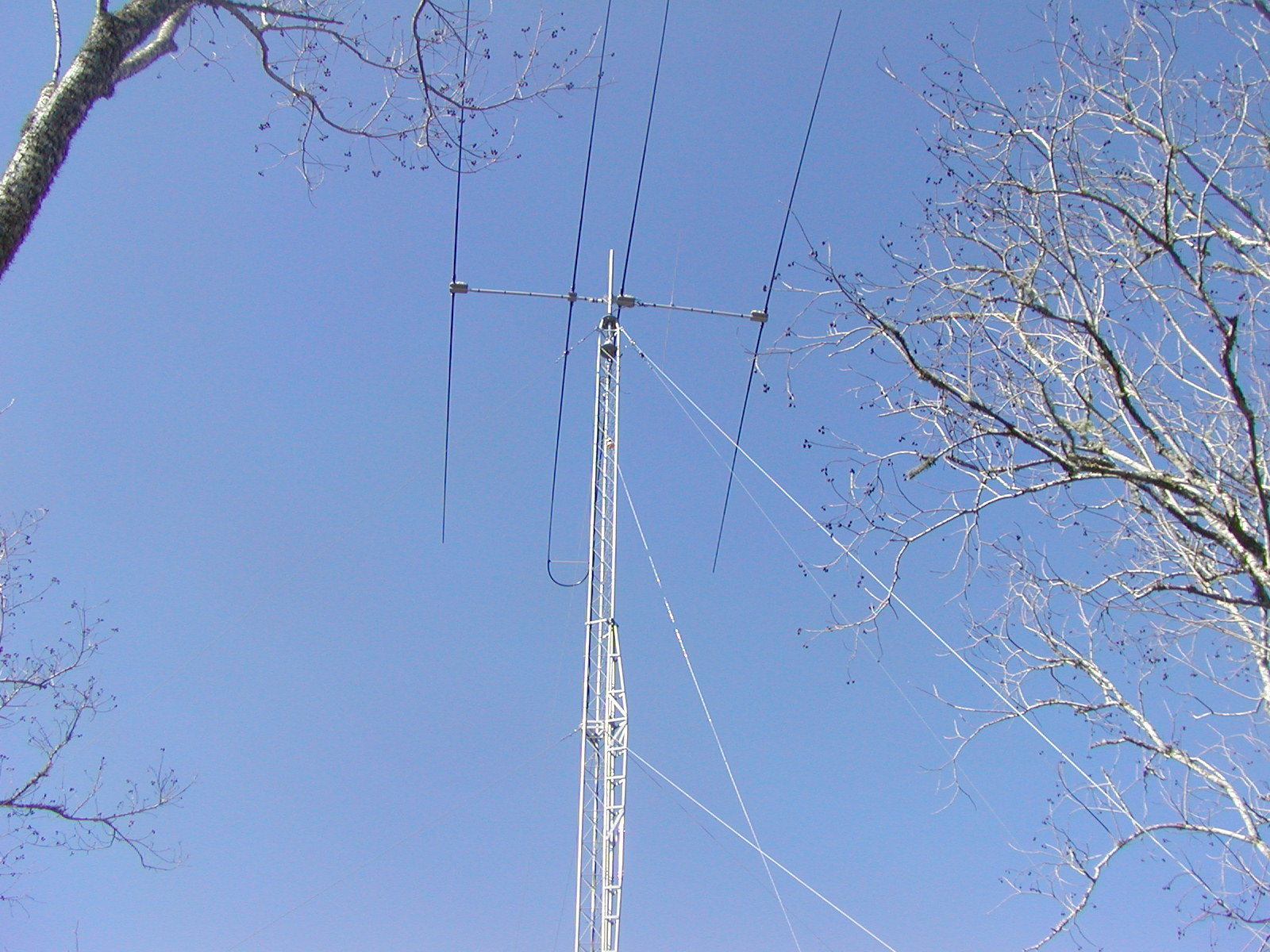 SteppIR Beam


---

K1NV Operated by: Jon

Twenty meters was pretty good for the first 20 minutes or so, then it dried up. I guess everybody went to forty. It was good to hear KL8DX and WL7WH on for this one. No other DX was in evidence. I got tied up with a non-member toward the end of the activity and never made it to 80M. Thanks to KA1XC, John in MA, for the final QSO just under the wire.
What was N5LUL, Brad, using for a rig?
It was a good SKS this month as I celebrate 50 years in amateur radio. I started on CW in 1959 and CW is still alive and well in 2009.


---

KE5PWL Operated by: Eric

fun as always. it was my first sprint in the new age :-) i finally bought a laptop and used k2rfp sprint logger. I used my blue racer 2000 for all qso's.


---

W1EJ Operated by: Ed

Wow an all 40 meter night.


---

KB4QQJ Operated by: Randy

Only made the last few minutes again but when the time changes I'll be back hi hi
Maybe even a QRO effort.... Russ was booming into NC at 40 over and I just made it before end of test. Thanks Russ. Worked four new members. A lot of non C or T numbers out there. That is great. Glad to work them. Only two T's. Bands sounded in great shape. Glad to see all the fun. See you in the WES. 73

Randy _ KB4QQJ


---

K6CSL Operated by: Bert

I enjoyed the challenge. I also stopped by 30M and worked K5D. Don, WA6QWY, very sorry we didn't get to finish our QSO. I think you faded into noise. I tried to query your state and # but got no reply. I'll look forward to giving it a go again in the next SKCC Sprint. 73's to all. Bert, K6CSL


---

NT9K Operated by: Bill

20 meters was still in good shape at the start.
Was in mid qso with K6CSL with him 599 and then QSB to NIL.
Did catch Phil in AK and Paul as K9SKC on 20 meters.
Moved to 40 and worked some new members, also HA8KW Feco in Hungary.
Strongest signal was WA1LWS Hans, at 40 over S9 on 40m.
Lots of quality fists on the air. Only heard one bad fist all night.
He kept running every letter together, not one single space.
I'll give my nod to Eric KE5PWL for having the best fist I heard.
Eric was simply cooking with his bug.

Thanks to Dick K2RFP, for bringing us the sprints.
Until next time,
73, Bill NT9K - SKCC #1926T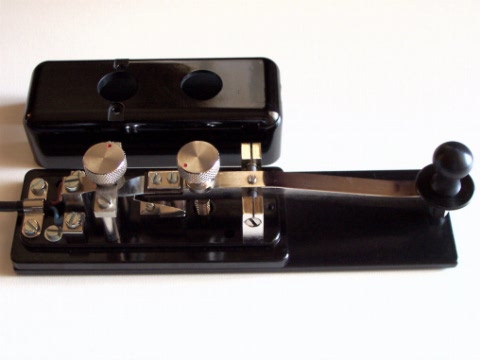 My new Amplidan - Finally my collection is complete!


---

G4LMW Operated by: Rob

Conditions not too good this time - but at least I got to work my 100th SKCC!!


---

N1LU Operated by: Don

NH was in a radio black hole for this one. Started out QRP and discovered that wasn't happening. Went QRO and did the best I could on 40m, then got a few on 80. Never received or sent such low RSTs, even when QRP. Nice to work HA8KW. Thanks Feco. Enough whinning. Hopefully be QRP in Florida for March.


---

W3RT Operated by: Red

I heard a lot of activity on 40 and 80 meters, and had a nice run on 80 for the last half hour. I worked one FISTS, and one non-member. Station was TS 940 at 50W, sloper at 25'. One or two qso's with the 'Bug, but settings were off! All the rest were with the Navy Flameproof. Good event! Thanks to all that I was able to work. Biggest signal was Russ in NE, K0LUW!

Red, W3RT- SKCC #3237T in PA.


---

KØKEX Operated by: Rick

Had a great time, only had time for a couple of contacts, thanks to everyone.
Rick


---

AF2Z Operated by: Drew

Not too bad. All the action was on 80m once again, but I did get Frank AA2XB on 160m; he was the only one I heard there. Tried QSY to 40m with Greg WA1VIL (if i remember correctly...), but no good. The farthest I got was Mark AD5WI in AR, my first contact of the evening. No DX, no K9SKC. My rig: Elecraft K3 running 12 watts; 100' endfed wire antenna; Junker straight key.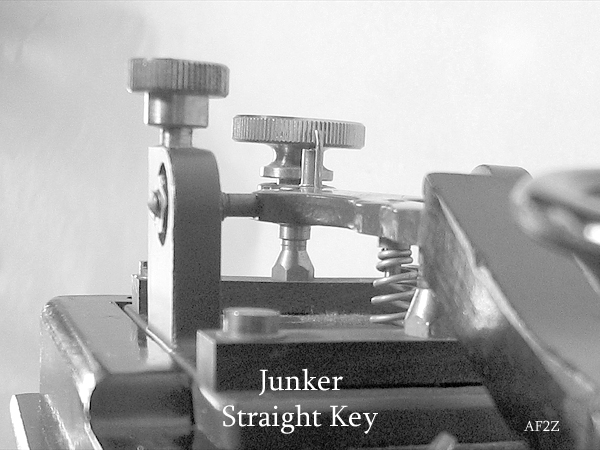 Junker


---

HA8KW Operated by: Feco

TNX for QSOs for my 1st SKS, I really enjoyed it. C U next time, probably more bands too. 73! Feco, HA8KW SKCC #3447


---

K4JPN Operated by: Steve

Tried 20M and 160M, butnothing heard. 40M was hot for the first hour and 80M was really hot at this QTH. Even worked G4LMW 4454 on 80M. Where was the West Coast.
73
Steve K4JPN


---

KA2KGP Operated by: Tom

Better band conditions here in WNY for this SKS. 80M was the best band with 15 QSO's. Thanks to all for the contacts. 73


---

KB7GL Operated by: Vic

Lots of fun -- it was nice to have the club call only 10 miles from my QTH. 20M died quickly here in the NW, but 40M was jumping. Got several more numbers toward my "C"! Great chatting with you all.


---

W5AG Operated by: Arch

Enjoyed the sprint. Thanks to all the new members and their enthusiasm. QSO's: 8 on 40m and one on 80m. Used sloper dipoles on each band. Started on 20m but no luck there. 73, Arch


---

K2RFP Operated by: Dick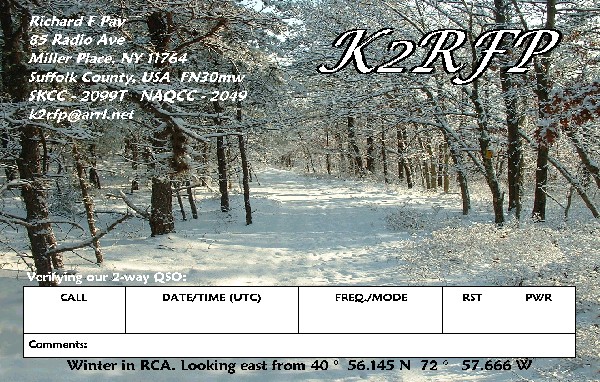 One of my many QSL cards made with my QSL Cardmaker program.


---
<! Start of insert other stuff here.> <! End of insert other stuff here.> Programmed by K2RFP.
Updated: June 27, 2009 1321 UTC
Sprint Manager: Dick - K2RFP