SKS Homepage
SKCC Homepage
---
<!INSERT SPECIAL-SOUND>
<!INSERT SPECIAL-IMAGE> <!INSERT SPECIAL-OPR1>

<!Here are the categories.>

| | |
| --- | --- |
| &nbsp &nbsp &nbsp &nbsp &nbsp &nbsp | &nbsp &nbsp Categories (CAT) |
| &nbsp &nbsp &nbsp &nbsp &nbsp &nbsp | &nbsp &nbsp * = Special SKCC member. |
| &nbsp &nbsp &nbsp &nbsp &nbsp &nbsp | &nbsp &nbsp 1 = 1 watt or less. |
| &nbsp &nbsp &nbsp &nbsp &nbsp &nbsp | &nbsp &nbsp 2 = Greater than 1 watt, up to 5 watts. |
| &nbsp &nbsp &nbsp &nbsp &nbsp &nbsp | &nbsp &nbsp 3 = Greater than 5 watts, up to 100 watts. |
| &nbsp &nbsp &nbsp &nbsp &nbsp &nbsp | &nbsp &nbsp 4 = Greater than 100 watts. |
SKCC SKS Results
Date: January 28, 2009
<!INSERT THEME> Club call: K9SKC
Special SKCC member: Carl - KC4FLT

Number of participants: 68


QSOs x Mult + Bonus = Score




Results by Final Score

| Rank | CAT | Call | Name | SKCC | QTH | QSO's | Mult | Bonus | Score |
| --- | --- | --- | --- | --- | --- | --- | --- | --- | --- |
| - | *3 | K9SKC | Carl | 3625 | AL | 21 | 16 | 160 | 496 |
| 1 | 3 | W5ZR | Bert | 2931T | LA | 46 | 28 | 165 | 1453 |
| 2 | 3 | KØLUW | Russ | 1702T | NE | 36 | 24 | 165 | 1029 |
| 3 | 3 | NG7Z | Paul | 802T | WA | 36 | 21 | 195 | 951 |
| 4 | 3 | N7NW | Hal | 5202 | WA | 33 | 19 | 150 | 777 |
| 5 | 3 | K9DTH | Ron | 3698T | IL | 30 | 21 | 135 | 765 |
| 6 | 3 | KKØI | Jack | 2370T | WI | 29 | 18 | 200 | 722 |
| 7 | 3 | WA1LWS | Hans | 1933T | MD | 28 | 19 | 175 | 707 |
| 8 | 3 | AC9BP | John | 5195 | IN | 29 | 18 | 180 | 702 |
| 9 | 3 | NE5DL | Dave | 5081C | TX | 27 | 19 | 180 | 693 |
| 10 | 4 | K3Y/Ø | John | 2826T | CO | 30 | 19 | 115 | 685 |
| 11 | 3 | K1NV | Jon | 2609-T | NV | 29 | 17 | 175 | 668 |
| 12 | 3 | KE5PWL | Eric | 4229T | LA | 27 | 20 | 110 | 650 |
| 12 | 3 | N9OL | John | 4014 | IN | 25 | 20 | 150 | 650 |
| 14 | 3 | K4CNW | Jack | 2961T | SC | 27 | 18 | 145 | 631 |
| 15 | 3 | W4KRN | Karen | 4495T | VA | 25 | 17 | 170 | 595 |
| 16 | 3 | NØJL | Jim | 2079T | IA | 21 | 18 | 155 | 533 |
| 17 | 3 | WA1AR | Alan | 4079T | MA | 23 | 17 | 135 | 526 |
| 18 | 3 | K5EWJ | Cookie | 4077C | TX | 25 | 17 | 100 | 525 |
| 19 | 3 | K1PUB | Chas | 4101T | MA | 24 | 15 | 150 | 510 |
| 20 | 3 | AD5WI | Mark | 866T | AR | 24 | 15 | 110 | 470 |
| 21 | 3 | N1LU | Don | 2252T | NH | 19 | 14 | 145 | 411 |
| 22 | 3 | K4JPN | Steve | 2402 | GA | 19 | 16 | 100 | 404 |
| 23 | 4 | W4RK | Bill | 3852 | MO | 20 | 15 | 80 | 380 |
| 24 | 3 | N2UM | Gary | 3041T | NY | 17 | 14 | 110 | 348 |
| 25 | 3 | K9ZMD/9 | Gary | 891C | WI | 15 | 14 | 110 | 320 |
| 26 | 3 | AF2Z | Drew | 2082T | NJ | 20 | 10 | 110 | 310 |
| 27 | 3 | W3RT | Red | 3237T | PA | 14 | 11 | 125 | 279 |
| 28 | 3 | K5ENA | John | 3045T | OK | 12 | 11 | 125 | 257 |
| 29 | 3 | KE5WIQ | Neil | 4730T | TX | 15 | 10 | 100 | 250 |
| 30 | 2 | KA2KGP | Tom | 1494 | NY | 14 | 9 | 115 | 241 |
| 31 | 3 | AF3Z | Jim | 3034 | PA | 14 | 9 | 90 | 216 |
| 32 | 3 | K5PAX | Harvey | 1208T | NM | 12 | 11 | 60 | 192 |
| 33 | 3 | N9GGE | John | 2886 | IL | 10 | 9 | 100 | 190 |
| 34 | 3 | W1EJ | Ed | 1594 | CA | 12 | 9 | 80 | 188 |
| 35 | 3 | KB7GL | Vic | 3636 | WA | 11 | 9 | 80 | 179 |
| 36 | 3 | K3YP | Ray | 5105 | OH | 10 | 10 | 65 | 165 |
| 36 | 3 | N8RVE | John | 4811C | OH | 10 | 8 | 85 | 165 |
| 38 | 3 | WA9VEE | Wayne | 4844 | WI | 11 | 7 | 80 | 157 |
| 39 | 3 | W6UT | Dennis | 2417T | CA | 12 | 8 | 60 | 156 |
| 40 | 3 | K2RFP | Dick | 2099T | NY | 10 | 8 | 75 | 155 |
| 41 | 3 | N5LUL | Brad | 3779 | TX | 9 | 9 | 65 | 146 |
| 42 | 3 | AC2C | Ron | 2748T | MD | 8 | 7 | 85 | 141 |
| 43 | 3 | KAØCSW | Jim | 3741C | MN | 10 | 8 | 55 | 135 |
| 43 | 3 | W9CC | Larry | 469T | IN | 10 | 7 | 65 | 135 |
| 45 | 3 | WA2JSG | Curt | 3018C | NJ | 8 | 7 | 75 | 131 |
| 46 | 3 | W1PID | Jim | 676 | NH | 6 | 6 | 90 | 126 |
| 47 | 3 | KK9U | Mark | 3818 | IN | 8 | 7 | 65 | 121 |
| 48 | 3 | K4UFT | Ted | 4289 | SC | 5 | 5 | 90 | 115 |
| 49 | 3 | KD5MMM | Phil | 4209 | TX | 7 | 6 | 55 | 97 |
| 50 | 3 | VE3HNE | Walt | 4893 | On | 4 | 4 | 80 | 96 |
| 51 | 3 | W4HDM | Damon | 3729T | GA | 6 | 6 | 50 | 86 |
| 52 | 1 | N4FI | Dan | 324T | VA | 7 | 5 | 50 | 85 |
| 53 | 3 | K6CSL | Bert | 4486 | CA | 6 | 4 | 60 | 84 |
| 54 | 3 | NV9X | Jim | 1358 | IL | 5 | 5 | 40 | 65 |
| 54 | 3 | WA1VIL | Greg | 443C | MA | 5 | 5 | 40 | 65 |
| 56 | 3 | KE7WDJ | Esed | 4938 | WA | 6 | 6 | 25 | 61 |
| 56 | 3 | N5KJ | Mark | 4614 | TX | 4 | 4 | 45 | 61 |
| 58 | 2 | N8XE | Jason | 3806T | OH | 4 | 4 | 40 | 56 |
| 58 | 3 | K6FFY | Nick | 1221C | WA | 4 | 4 | 40 | 56 |
| 60 | 1 | NT9K | Bill | 1926T | FL | 3 | 3 | 45 | 54 |
| 61 | 3 | N4KGL | Greg | 5123 | FL | 4 | 4 | 30 | 46 |
| 61 | 3 | WA4AN | Wayne | 4283 | TN | 4 | 4 | 30 | 46 |
| 63 | 3 | K6JF | Jim | 4261T | CA | 5 | 3 | 30 | 45 |
| 64 | 3 | KB1OSI | Devin | 4484 | NH | 5 | 4 | 20 | 40 |
| 65 | 2 | KB4QQJ | Randy | 3508T | NC | 2 | 2 | 25 | 29 |
| 66 | 3 | AB8S | Gail | 2487 | WV | 1 | 1 | 25 | 26 |
| 67 | 3 | ACØAC | Alan | 4452 | TX | 1 | 1 | 10 | 11 |
Results by Category and Final Score

| Rank | CAT | Call | Name | SKCC | QTH | QSO's | Mult | Bonus | Score |
| --- | --- | --- | --- | --- | --- | --- | --- | --- | --- |
| 1 | *3 | K9SKC | Carl | 3625 | AL | 21 | 16 | 160 | 496 |
| 1 | 1 | N4FI | Dan | 324T | VA | 7 | 5 | 50 | 85 |
| 2 | 1 | NT9K | Bill | 1926T | FL | 3 | 3 | 45 | 54 |
| 1 | 2 | KA2KGP | Tom | 1494 | NY | 14 | 9 | 115 | 241 |
| 2 | 2 | N8XE | Jason | 3806T | OH | 4 | 4 | 40 | 56 |
| 3 | 2 | KB4QQJ | Randy | 3508T | NC | 2 | 2 | 25 | 29 |
| 1 | 3 | W5ZR | Bert | 2931T | LA | 46 | 28 | 165 | 1453 |
| 2 | 3 | KØLUW | Russ | 1702T | NE | 36 | 24 | 165 | 1029 |
| 3 | 3 | NG7Z | Paul | 802T | WA | 36 | 21 | 195 | 951 |
| 4 | 3 | N7NW | Hal | 5202 | WA | 33 | 19 | 150 | 777 |
| 5 | 3 | K9DTH | Ron | 3698T | IL | 30 | 21 | 135 | 765 |
| 6 | 3 | KKØI | Jack | 2370T | WI | 29 | 18 | 200 | 722 |
| 7 | 3 | WA1LWS | Hans | 1933T | MD | 28 | 19 | 175 | 707 |
| 8 | 3 | AC9BP | John | 5195 | IN | 29 | 18 | 180 | 702 |
| 9 | 3 | NE5DL | Dave | 5081C | TX | 27 | 19 | 180 | 693 |
| 10 | 3 | K1NV | Jon | 2609-T | NV | 29 | 17 | 175 | 668 |
| 11 | 3 | KE5PWL | Eric | 4229T | LA | 27 | 20 | 110 | 650 |
| 11 | 3 | N9OL | John | 4014 | IN | 25 | 20 | 150 | 650 |
| 12 | 3 | K4CNW | Jack | 2961T | SC | 27 | 18 | 145 | 631 |
| 13 | 3 | W4KRN | Karen | 4495T | VA | 25 | 17 | 170 | 595 |
| 14 | 3 | NØJL | Jim | 2079T | IA | 21 | 18 | 155 | 533 |
| 15 | 3 | WA1AR | Alan | 4079T | MA | 23 | 17 | 135 | 526 |
| 16 | 3 | K5EWJ | Cookie | 4077C | TX | 25 | 17 | 100 | 525 |
| 17 | 3 | K1PUB | Chas | 4101T | MA | 24 | 15 | 150 | 510 |
| 18 | 3 | AD5WI | Mark | 866T | AR | 24 | 15 | 110 | 470 |
| 19 | 3 | N1LU | Don | 2252T | NH | 19 | 14 | 145 | 411 |
| 20 | 3 | K4JPN | Steve | 2402 | GA | 19 | 16 | 100 | 404 |
| 21 | 3 | N2UM | Gary | 3041T | NY | 17 | 14 | 110 | 348 |
| 22 | 3 | K9ZMD/9 | Gary | 891C | WI | 15 | 14 | 110 | 320 |
| 23 | 3 | AF2Z | Drew | 2082T | NJ | 20 | 10 | 110 | 310 |
| 24 | 3 | W3RT | Red | 3237T | PA | 14 | 11 | 125 | 279 |
| 25 | 3 | K5ENA | John | 3045T | OK | 12 | 11 | 125 | 257 |
| 26 | 3 | KE5WIQ | Neil | 4730T | TX | 15 | 10 | 100 | 250 |
| 27 | 3 | AF3Z | Jim | 3034 | PA | 14 | 9 | 90 | 216 |
| 28 | 3 | K5PAX | Harvey | 1208T | NM | 12 | 11 | 60 | 192 |
| 29 | 3 | N9GGE | John | 2886 | IL | 10 | 9 | 100 | 190 |
| 30 | 3 | W1EJ | Ed | 1594 | CA | 12 | 9 | 80 | 188 |
| 31 | 3 | KB7GL | Vic | 3636 | WA | 11 | 9 | 80 | 179 |
| 32 | 3 | K3YP | Ray | 5105 | OH | 10 | 10 | 65 | 165 |
| 32 | 3 | N8RVE | John | 4811C | OH | 10 | 8 | 85 | 165 |
| 33 | 3 | WA9VEE | Wayne | 4844 | WI | 11 | 7 | 80 | 157 |
| 34 | 3 | W6UT | Dennis | 2417T | CA | 12 | 8 | 60 | 156 |
| 35 | 3 | K2RFP | Dick | 2099T | NY | 10 | 8 | 75 | 155 |
| 36 | 3 | N5LUL | Brad | 3779 | TX | 9 | 9 | 65 | 146 |
| 37 | 3 | AC2C | Ron | 2748T | MD | 8 | 7 | 85 | 141 |
| 38 | 3 | KAØCSW | Jim | 3741C | MN | 10 | 8 | 55 | 135 |
| 38 | 3 | W9CC | Larry | 469T | IN | 10 | 7 | 65 | 135 |
| 39 | 3 | WA2JSG | Curt | 3018C | NJ | 8 | 7 | 75 | 131 |
| 40 | 3 | W1PID | Jim | 676 | NH | 6 | 6 | 90 | 126 |
| 41 | 3 | KK9U | Mark | 3818 | IN | 8 | 7 | 65 | 121 |
| 42 | 3 | K4UFT | Ted | 4289 | SC | 5 | 5 | 90 | 115 |
| 43 | 3 | KD5MMM | Phil | 4209 | TX | 7 | 6 | 55 | 97 |
| 44 | 3 | VE3HNE | Walt | 4893 | On | 4 | 4 | 80 | 96 |
| 45 | 3 | W4HDM | Damon | 3729T | GA | 6 | 6 | 50 | 86 |
| 46 | 3 | K6CSL | Bert | 4486 | CA | 6 | 4 | 60 | 84 |
| 47 | 3 | NV9X | Jim | 1358 | IL | 5 | 5 | 40 | 65 |
| 47 | 3 | WA1VIL | Greg | 443C | MA | 5 | 5 | 40 | 65 |
| 48 | 3 | KE7WDJ | Esed | 4938 | WA | 6 | 6 | 25 | 61 |
| 48 | 3 | N5KJ | Mark | 4614 | TX | 4 | 4 | 45 | 61 |
| 49 | 3 | K6FFY | Nick | 1221C | WA | 4 | 4 | 40 | 56 |
| 50 | 3 | N4KGL | Greg | 5123 | FL | 4 | 4 | 30 | 46 |
| 50 | 3 | WA4AN | Wayne | 4283 | TN | 4 | 4 | 30 | 46 |
| 51 | 3 | K6JF | Jim | 4261T | CA | 5 | 3 | 30 | 45 |
| 52 | 3 | KB1OSI | Devin | 4484 | NH | 5 | 4 | 20 | 40 |
| 53 | 3 | AB8S | Gail | 2487 | WV | 1 | 1 | 25 | 26 |
| 54 | 3 | ACØAC | Alan | 4452 | TX | 1 | 1 | 10 | 11 |
| 1 | 4 | K3Y/Ø | John | 2826T | CO | 30 | 19 | 115 | 685 |
| 2 | 4 | W4RK | Bill | 3852 | MO | 20 | 15 | 80 | 380 |



<!INSERT NO-STATS> Sprint Stats



Number of participants by state..
| | | | | | | | | | |
| --- | --- | --- | --- | --- | --- | --- | --- | --- | --- |
| AK 0 | AL 1 | AR 1 | AZ 0 | CA 4 | CO 1 | CT 0 | DE 0 | FL 2 | GA 2 |
| HI 0 | IA 1 | ID 0 | IL 3 | IN 4 | KS 0 | KY 0 | LA 2 | MA 3 | MD 2 |
| ME 0 | MI 0 | MN 1 | MO 1 | MS 0 | MT 0 | NC 1 | ND 0 | NE 1 | NH 3 |
| NJ 2 | NM 1 | NV 1 | NY 3 | OH 3 | OK 1 | OR 0 | PA 2 | RI 0 | SC 2 |
| SD 0 | TX 7 | TN 1 | UT 0 | VA 2 | VT 0 | WA 5 | WI 3 | WV 1 | WY 0 |



Total USA participants: 67
Total non-USA participants: 1
<!INSERT STATS-1>


Number of QSOs by state..
| | | | | | | | | | |
| --- | --- | --- | --- | --- | --- | --- | --- | --- | --- |
| AK 0 | AL 21 | AR 24 | AZ 0 | CA 35 | CO 30 | CT 0 | DE 0 | FL 7 | GA 25 |
| HI 0 | IA 21 | ID 0 | IL 45 | IN 72 | KS 0 | KY 0 | LA 73 | MA 52 | MD 36 |
| ME 0 | MI 0 | MN 10 | MO 20 | MS 0 | MT 0 | NC 2 | ND 0 | NE 36 | NH 30 |
| NJ 28 | NM 12 | NV 29 | NY 41 | OH 24 | OK 12 | OR 0 | PA 28 | RI 0 | SC 32 |
| SD 0 | TX 88 | TN 4 | UT 0 | VA 32 | VT 0 | WA 90 | WI 55 | WV 1 | WY 0 |



Total QSOs with one or more USA operators: 1015
Total QSOs with one or more non-USA operators: 4
<!INSERT STATS-2>


Soapbox

---

NT9K Operated by: Bill

I haven't decided if I like this QRPp business yet or not. I ran 100 mw tonight.
It sure takes a lot of patience and a few tricks to get through sometimes.
Thanks Carl for K9SKC. I used my Kenwood TS-870 with a WM-2 wattmeter.
Antennas were inverted V on 40 meters and an inverted L for 160.
Keys were GHD GN207AB, GHD GT501MIL and Vibroplex Annie.
Until next time, 72 Bill NT9K..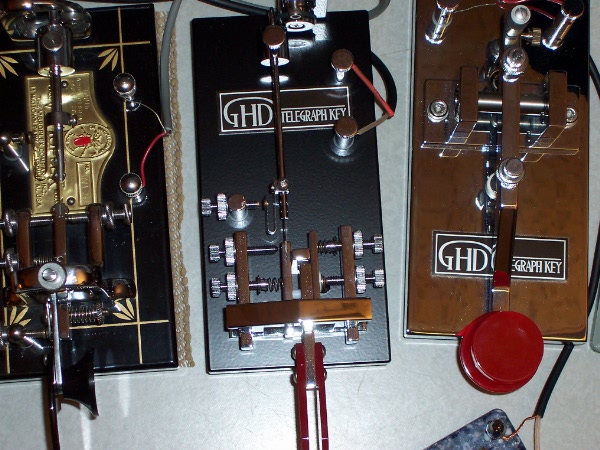 Milliwatting


---

NØJL Operated by: Jim

First time I worked on three bands. 20/ 40/ and 80.


---

KKØI Operated by: Jack

Nice evening....worked 20, 40 and 80 meters tonight with most of the contacts on 40 meters. Snagged only two K3Y calls. Bands had some QRN tonight...although fun sprint. Some pretty good fists out there...thanks to all the activities of the SKCC. Nice job all!


---

W4HDM Operated by: Damon

Started late, then I was caught up in a non member QSO (thats OK I tried to recruit him).
Finished up with a few S&Ps. Nothing to brag about but I had fun.


---

WA2JSG Operated by: Curt

Nice band conditions here, esp on 40m. Fun time, as usual.


---

N8XE Operated by: Jason

First SKS worked QRP. Used the OHR500 and the Navy Flameproof. Did not do too well, but still had fun. I was attempting to work K3Y stations as QRP, got a new one for QRP: K3Y/7!


---

AC2C Operated by: Ron

Good time. Wish I'd had more time to dedicate to it.



---

K5PAX Operated by: Harvey

Had fun hanging out around 7.114.

Thanks to all...

73


---

K3Y/Ø Operated by: John

Apologize for starting late - delayed getting home from work. Both 40 and 80m in good shape. Thanks for all the Q's. K3 - 120w, SteppIR Vertical, K2RFP logger. 73, John, W0JFR


---

KB4QQJ Operated by: Randy

I really miss the winter schedule for SKS. It now falls right in the3 middle of when I have to give KD4AEH (xyl)a good listening too...hi hi I did manage to get two contacts in in the final minutes. Thanks Jim and Carl. Well done, both of you. Great job on K3Y/3 and K9SKC. At least I got to play without getting skunked!!
Thanks Dick for a fun event. Bands seemed in good condition too.

73, BCNU in WES

Randy _ KB4QQJ


---

K4CNW Operated by: Jack

Good to hear lots of activity above 7.100


---

WA1AR Operated by: Alan

Worked 40M and 80M. Started out a bit rough. After and hour 40M picked up. Moved down to 80M and had a good run. Did better than I thought based on the first 45 min.


---

AC9BP Operated by: John

THANKS FOR WHO EVER SAID PRESS HARDER ON KEY SURE HELP ME ALOT.
thanks John


---

WA1LWS Operated by: Hans

Many signals heard but bands condx in Maryland were very noisy. Most stations were RST 449. Still can't find Delaware for the last state toward SKCC WAS.


---

KØLUW Operated by: Russ

I didn't log 3 QRP QSO's tonite because I could not get their numbers and/or call correct. I used 20 minutes of sprint time on these qso's. If a station is having trouble copying you, don't send the info once or twice. He is trying to get you tuned in and by the time he has you tuned in the number or call or whatever is not being sent. I "agained" two stations tonite at least 15 times each but could not copy their call or number because they never sent it more than twice each time. Try 5 or 6 times if you are not being heard and the station on the other end may be able to get it on the first go around.


---

W5ZR Operated by: Bert

40 meters was very good, and kept busy there for an hour and fourty five minutes. Used my 2 element 40 meter quad up at 70' - that way I could hear the qrp guys! Finished last 15 minutes on 80 meters. Great fun, thanks to all who worked me.....Bert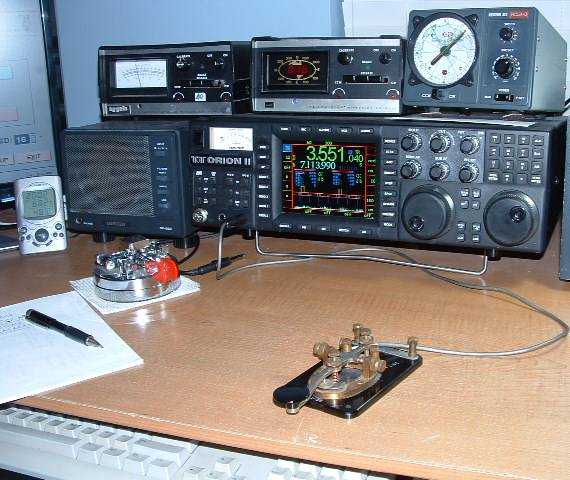 W5ZR's Orion II and J-38 SK (World War II vintage)


---

W1EJ Operated by: Ed

40 Meters was the place tonight.


---

K9SKC Operated by: Carl

Thanks so much for letting me use the club call! I enjoyed it! I know this - no one will ever invite me to a dxpedition HIHI -sorry folks for any poor operation. I had some log troubles with having to visit each and every textbox.
I think I lost a contact due to those issues.
I tried to work 80m and got no joy, my tunner is not what it could be I guess (keying turnned my monitor off once) Nothing like a little rf in the shack.
So thanks and hope to meet you all again on 40m HIHI
Carl
KC4FLT
aka (once) K9SKC

73!


---

KD5MMM Operated by: Phil

had fun, 73 all


---

NG7Z Operated by: Paul

Used the K3Y/7 callsign and had a blast. 20M was nearly closed so 40M was the meat and potatoes. 80M is not quite ready here on the west coast even at the end. Called several stations and not one heard me. Thanks for the Q's and see you next month.
73 Paul NG7Z


---

K3YP Operated by: Ray

Wish I could of invested the whole two hours! Had company. Enjoyed it!


---

KB7GL Operated by: Vic

Lots of QRN tonight on both 40M & 80M. Apologies to the stations I couldn't pull out of the noise on 40M. Got several new SKCC #s -- one of these days, I'll get that "C"


---

K5ENA Operated by: John

40 was HOT!

K5ENA


---

K4JPN Operated by: Steve

80M seemed to be the best band, but did work a few on 40M. Listened and called on 160M, but nothing heard or worked. 73, Steve K4JPN


---

AB8S Operated by: Gail

Although I've had my number for a while this was the first evening I was able to participate in a sprint. I mostly listened to the sprint this evening. Toward the end I heard Carl KC4FLT operating the club station. Good to meet you Carl. I also heard Eddy - W7GVE an thought I had him worked. we were wiped out by a flood of qrm. Sorry Eddy we can try again another day.
(Some of the others I heard this evening were k5prx,wa4ar,k4pax,wa4an,k9dth,k1nv.............)
I have a pretty good impression of the SKCC group. You seem to be a courteous and friendly bunch.


---

N5LUL Operated by: Brad

Although I only made 9 contacts this evening, I had a great time! Thanks to the C's, T's, and K3Y stations for helping boost the score. Will be back next month to try it again.

Rigs this evening were:
HeathKit HW-16 into a 40M dipole @ 35'...using a Winslow key
Yaesu FT-920 into a 80M dipole @ 20'... using a Vibroplex "Know-Code" key

73- Brad



---

K5EWJ Operated by: Cookie

I stayed on lower part of 40. Four hours of K3Y/5 and 2 for the Sprint are almost too much fun for one day.


---

KE5PWL Operated by: Eric

WOW, what a blast as k3y/5. 40 was hot for me, i never really got the chance to qsy to 80m like i wanted to. stayed with forty,and did a little bit of work on 20m also.


---

K4UFT Operated by: Ted

Icom 706MKIIg @50 Watts, Home-brew vertical using 40 Meter Hamstick and single quarter-wave counterpoise laid out to the West, and ChiCom Army K5 key.

Good condx on 40 so I stayed there. Worked K3Y/5,7,and 8 plus K9SKC. (55 Extra Special Bonus points?) Now I have seven of the K3Y calls worked (including K3Y/KL7) ... hope I can get a Clean Sweep before the end of the month.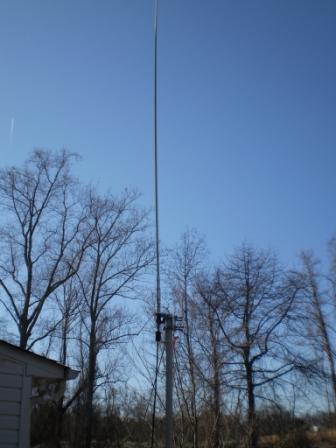 Home Brew Vertical with whip feedpoint about 5' off the ground on a PVC mast.


---

W4KRN Operated by: Karen

Enjoyed working the sprint as K3Y/4. It was nice to hear some of the new SKCC members. Thanks to all for the contacts.


---

K6CSL Operated by: Bert

Thanks for the fun 2 hours. Bert, K6CSL


---

K1NV Operated by: Jon

I started on 20M and worked down to 40M and 80M after local sunset. Nothing was heard on 160M. It was good to work the K3Y participants plus Carl, K9SKC, on 7.114 MHz. Hats off to them! I'm going to have to get out the calculator if the scoring gets any more complex.

Karen, K3Y/4, in VA and Ted, KY3/8, in MI were worked on both 20M and 40M. W4RK, Bill in MO, was logged on 20M and 80M.

I think using the grid square as part of the exchange might be a good move. CU next month....

Jon, K1NV Pahrump, NV


---

WA9VEE Operated by: Wayne

Rough night up here. Handed out lots of low RST's but received OK RST's. Better check if there's not a cold bird frozen to the antenna.


---

N7NW Operated by: Hal

Great sprint, my first. Had a blast. Using IC-746PRO to Delta 240 on 40 and C31XR on 20. Nothing heard on 15. Forgot to check for special station on 7114, darn. Looking forward to many more fun activities with SKCC. Great group and thanks for the many welcomes.


---

K1PUB Operated by: Chas

Worked this sprint as K3Y/1. 40 M seemed really slow, usually strong stations were weak. So I went to 80M and had a couple of nice runs interspersed with slow periods. Nothing going on on 160 M. Once again Alan, WA1AR, came through to give me MA.

All in all another fun sprint made moreso by operating K3Y/1.

73,

Chas


---

AF2Z Operated by: Drew

I operated this sprint as K3Y/2. Most contacts were on 80m; a couple on 160m. 40m was pretty well gone by sprint time. Condx: noisy. Didn't get farther west than MI. Worked Karen as K3Y/4, dealing with cat QRM... Also got K3Y/1, /3 and /8. Re-aquainted Rolan W3FDK with SKCC. My rig: Elecraft K3 @ 12 watts, Junker straight key, 100'x30' random wire antenna. Tks & 73!


Elecraft K3 & Junker Straight Key


---

KA2KGP Operated by: Tom

Band conditions were fair here in WNY for the SKS Sprint, even 20 meters was open a bit. Worked 4 club calls & some familiar call signs too. Thanks to all who participated. 73



---

K2RFP Operated by: Dick

Over by the trees and to the left is one of my QRP hangouts, but not this time of year.
This is in the 5200 acre NY State Wildlife Preserve that was once RCA's Radio Central transmitter site.
73, Dick.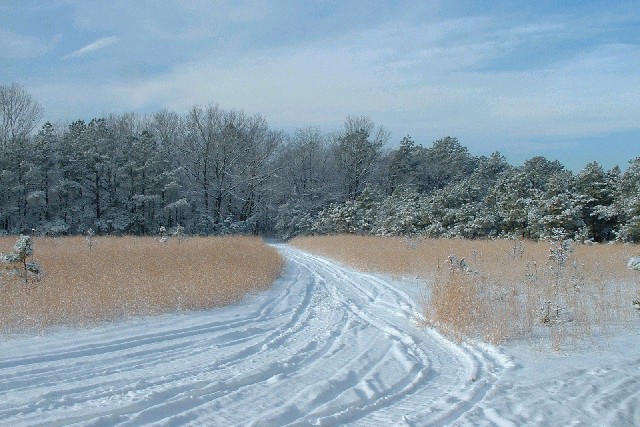 40 deg 55.88 min N, 72 deg 56.80 min W, looking West.


---

W9CC Operated by: Larry

I keep forgetting to go up to 7114 KHz, but otherwise lots of fun.


---

W1PID Operated by: Jim

thanks to all 73 Jim W1PID


---

AF3Z Operated by: Jim

I had a great time for a little over an hour, but would have liked to have been able to get on sooner. I spent my whole time on 80M. My antenna system probably does as much attenuating on 40 as it does propagating :-)so I decided to go to 80 and never left. K3Y/3 operating has my fist in the best shape it's been in for many years. Ten Tec Omni 6, navy flameproof, 90 watts, 80M inv vee all the way up at 15 feet in the center! Thanks to all!


---

WA1VIL Operated by: Greg

It was that kind of day. In the morning I thought it was Wednesday. Then I thought that 00:00 Z was still 8:00 pm Eastern....Thanks to the OP who sent "SKS ovr" at about 9:10...I needed that. Fun as always!

73 to all!


---

NE5DL Operated by: Dave

First SKS had fun.


---

W3RT Operated by: Red

Another fine Sprint! Was able to work Carl, the Club Station- nice signal! Had 3 K3Y/x stations to boost the score. The band (40) wasn't all that cooperative, but still able to get what I got!

Looking forward to the next SKCC activity.

73- thanks to all I was able to work.

Red- W3RT, SKCC #3237T


---

KE5WIQ Operated by: Neil

I got a kick out of everyone's comments about 40M. It was *great* here - it has never been that good for the SKS before. I notice everyone from /5 said similar. I wonder what the ions did differently?

CQ'ed a bunch and got some QRP'ers. Lost more than I logged though: sorry guys I really did try to dig you out!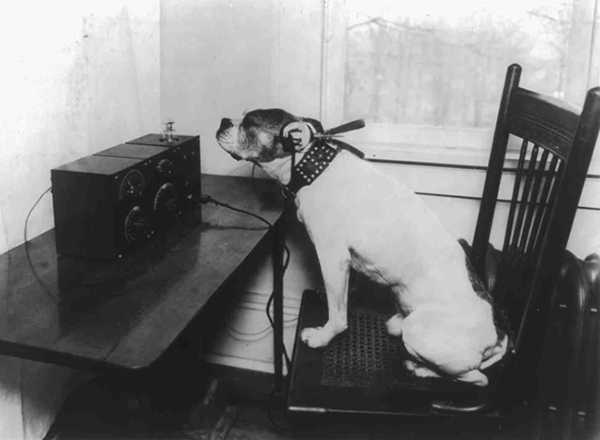 Doggone it, I know I heard him!


---

KE7WDJ Operated by: Esed

6 QSOs, 6 mult, 1 Centurions, 2 Tribunes, total 61 points with my 8 months old QRM-er in my lap is not that bad HI. 73 Esed, KE7WDJ/E73AW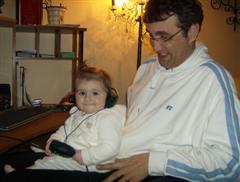 ---

ACØAC Operated by: Alan

K5EWJ - COOKIE - tnx my first QSO with you - right here in TX - delta loop @ 100W - Key: LTA GMVO SK - 73, Alan EM12px


---
Poll Question

What do you know about the Maidenhead grid square system?


Choice-1 = I know what it is, and I know my value.
Choice-2 = I know what it is, but I don't know my value.
Choice-3 = I have no clue what it is, nor what my value is.





---
<! Start of insert other stuff here.> <! End of insert other stuff here.> Programmed by K2RFP.
Updated: June 27, 2009 1337 UTC
Sprint Manager: Dick - K2RFP