SKS Homepage
SKCC Homepage
---
<!INSERT SPECIAL-SOUND>
<!INSERT SPECIAL-IMAGE>
<!INSERT SPECIAL-OPR1>

<!Here are the categories.>

| | |
| --- | --- |
| &nbsp &nbsp &nbsp &nbsp &nbsp &nbsp | &nbsp &nbsp Categories (CAT) |
| &nbsp &nbsp &nbsp &nbsp &nbsp &nbsp | &nbsp &nbsp * = Special SKCC member. |
| &nbsp &nbsp &nbsp &nbsp &nbsp &nbsp | &nbsp &nbsp 1 = 1 watt or less. |
| &nbsp &nbsp &nbsp &nbsp &nbsp &nbsp | &nbsp &nbsp 2 = Greater than 1 watt, up to 5 watts. |
| &nbsp &nbsp &nbsp &nbsp &nbsp &nbsp | &nbsp &nbsp 3 = Greater than 5 watts, up to 100 watts. |
| &nbsp &nbsp &nbsp &nbsp &nbsp &nbsp | &nbsp &nbsp 4 = Greater than 100 watts. |
SKCC SKS Results
Date: November 26, 2008
<!INSERT THEME> <!INSERT CLUB-CALL> <!INSERT SPECIAL-OPR2> Information: <!font size="3" face="Tahoma" color="Yellow"> SKS Homepage
Number of participants: 61


QSOs x Mult + Bonus = Score




Results by Final Score

| Rank | CAT | Call | Name | SKCC | QTH | QSO's | Mult | Bonus | Score |
| --- | --- | --- | --- | --- | --- | --- | --- | --- | --- |
| 1 | 3 | KG4W | Ed | 2416T | VA | 40 | 21 | 145 | 985 |
| 2 | 1 | W9IL | Lou | 4532 | IL | 33 | 21 | 185 | 878 |
| 3 | 1 | K4CNW | Jack | 2961T | SC | 34 | 21 | 150 | 864 |
| 4 | 1 | K8IJ | Chas | 4781 | KY | 30 | 23 | 145 | 835 |
| 5 | 3 | KØLUW | Russ | 1702T | NE | 31 | 20 | 90 | 710 |
| 6 | 1 | NG7Z | Paul | 802T | WA | 25 | 18 | 250 | 700 |
| 7 | 1 | ABØTX | Mike | 4607 | KS | 25 | 18 | 105 | 555 |
| 8 | 3 | KKØI | Jack | 2370T | WI | 21 | 17 | 135 | 492 |
| 9 | 1 | K9SKC/KC2KY | Neil | 3245C | NY | 22 | 15 | 105 | 435 |
| 10 | 1 | K8BTD | Gil | 728T | OH | 15 | 11 | 110 | 275 |
| 11 | 1 | W2SH | Charles | 1777 | NJ | 15 | 13 | 75 | 270 |
| 12 | 1 | AF2Z | Drew | 2082T | NJ | 14 | 12 | 80 | 248 |
| 13 | 3 | K9DTH | Ron | 3698T | IL | 14 | 13 | 65 | 247 |
| 14 | 4 | K1NV | Jon | 2609-T | NV | 14 | 11 | 75 | 229 |
| 15 | 1 | W6UT | Dennis | 2417T | CA | 18 | 9 | 65 | 227 |
| 16 | 4 | NT9K | Bill | 1926T | FL | 12 | 10 | 80 | 200 |
| 17 | 1 | N1LU | Don | 2252T | NH | 12 | 10 | 70 | 190 |
| 17 | 3 | KE5PWL | Eric | 4229T | LA | 12 | 10 | 70 | 190 |
| 19 | 1 | NGØK | Doug | 3135 | NE | 11 | 8 | 100 | 188 |
| 20 | 3 | WA1AR | Alan | 4079T | MA | 12 | 9 | 75 | 183 |
| 21 | 1 | KA7SPS | Dick | 2499 | OR | 14 | 10 | 40 | 180 |
| 22 | 1 | KD5KJ | Jim | 3534 | AR | 10 | 10 | 75 | 175 |
| 22 | 3 | K5ENA | John | 3045T | OK | 10 | 8 | 95 | 175 |
| 24 | 1 | KAØCSW | Jim | 3741C | MN | 11 | 9 | 65 | 164 |
| 25 | 2 | NØJL | Jim | 2079T | IA | 9 | 7 | 90 | 153 |
| 26 | 3 | WA1BXY | Don | 4105T | RI | 14 | 7 | 50 | 148 |
| 27 | 1 | K8KFJ | Gary | 2444 | WV | 9 | 8 | 60 | 132 |
| 27 | 1 | WA4BAM | John | 2716 | FL | 7 | 6 | 90 | 132 |
| 29 | 1 | W1EJ | Ed | 1594 | CA | 11 | 6 | 65 | 131 |
| 30 | 1 | K2PAY | Jerry | 4304 | NY | 3 | 1 | 120 | 123 |
| 30 | 3 | VE5DC | Jerry | 4440 | Sk | 11 | 8 | 35 | 123 |
| 32 | 1 | AE6GC | Jack | 4461 | CA | 10 | 6 | 60 | 120 |
| 32 | 1 | W4KRN | Karen | 4495T | VA | 10 | 8 | 40 | 120 |
| 34 | 1 | N5LUL | Brad | 3779 | TX | 8 | 7 | 50 | 106 |
| 34 | 1 | VE3HNE | Walt | 4893 | On | 4 | 4 | 90 | 106 |
| 34 | 1 | WB8ENE | Art | 3773 | OH | 6 | 6 | 70 | 106 |
| 37 | 1 | KB4QQJ | Randy | 2508T | NC | 5 | 4 | 80 | 100 |
| 38 | 1 | KD5MMM | Phil | 4209 | TX | 8 | 7 | 40 | 96 |
| 38 | 1 | NV9X | Jim | 1358 | IL | 4 | 4 | 80 | 96 |
| 40 | 1 | WA1VIL | Greg | 443 | MA | 5 | 5 | 70 | 95 |
| 41 | 1 | N7GSU | Robin | 3658 | OR | 9 | 7 | 30 | 93 |
| 42 | 1 | KC9HGW | Bob | 281T | IL | 8 | 7 | 30 | 86 |
| 43 | 1 | KC4FLT | Carl | 3625 | AL | 5 | 5 | 50 | 75 |
| 44 | 1 | W9CC | Larry | 469T | IN | 4 | 4 | 50 | 66 |
| 45 | 1 | N2UM | Gary | 3041C | NY | 5 | 5 | 40 | 65 |
| 46 | 1 | N6DIT/QRP | Dennis | 3283 | CA | 3 | 2 | 50 | 56 |
| 46 | 2 | G4LMW | Rob | 4454C | England | 4 | 4 | 40 | 56 |
| 48 | 1 | KA2KGP | Tom | 1494 | NY | 9 | 3 | 20 | 47 |
| 49 | 1 | K6FFY | Nick | 1221C | WA | 3 | 2 | 40 | 46 |
| 49 | 1 | WA2JSG | Curt | 3018 | NJ | 4 | 4 | 30 | 46 |
| 51 | 1 | KX3H | Tim | 2300T | PA | 3 | 3 | 30 | 39 |
| 51 | 1 | N9GGE/QRP | John | 2886 | IL | 3 | 3 | 30 | 39 |
| 53 | 1 | WA5VQM | Mark | 58 | TX | 4 | 4 | 20 | 36 |
| 54 | 1 | N6DIT | Dennis | 3283 | CA | 3 | 2 | 25 | 31 |
| 54 | 1 | W4HDM | Damon | 3729T | GA | 1 | 1 | 30 | 31 |
| 56 | 1 | N4FI | Dan | 324T | VA | 3 | 3 | 20 | 29 |
| 57 | 1 | N6EV | Paul | 3358T | CA | 4 | 2 | 10 | 18 |
| 58 | 1 | K4JPN | Steve | 2402 | GA | 4 | 4 | 0 | 16 |
| 59 | 1 | KCØRSX | Len | 14 | MN | 3 | 3 | 0 | 9 |
| 60 | 1 | KE5WIQ | Neil | 4730 | TX | 1 | 1 | 0 | 1 |
| 60 | 1 | W3RT | Red | 3237T | PA | 1 | 1 | 0 | 1 |
Results by Category and Final Score

| Rank | CAT | Call | Name | SKCC | QTH | QSO's | Mult | Bonus | Score |
| --- | --- | --- | --- | --- | --- | --- | --- | --- | --- |
| 1 | 1 | W9IL | Lou | 4532 | IL | 33 | 21 | 185 | 878 |
| 2 | 1 | K4CNW | Jack | 2961T | SC | 34 | 21 | 150 | 864 |
| 3 | 1 | K8IJ | Chas | 4781 | KY | 30 | 23 | 145 | 835 |
| 4 | 1 | NG7Z | Paul | 802T | WA | 25 | 18 | 250 | 700 |
| 5 | 1 | ABØTX | Mike | 4607 | KS | 25 | 18 | 105 | 555 |
| 6 | 1 | K9SKC/KC2KY | Neil | 3245C | NY | 22 | 15 | 105 | 435 |
| 7 | 1 | K8BTD | Gil | 728T | OH | 15 | 11 | 110 | 275 |
| 8 | 1 | W2SH | Charles | 1777 | NJ | 15 | 13 | 75 | 270 |
| 9 | 1 | AF2Z | Drew | 2082T | NJ | 14 | 12 | 80 | 248 |
| 10 | 1 | W6UT | Dennis | 2417T | CA | 18 | 9 | 65 | 227 |
| 11 | 1 | N1LU | Don | 2252T | NH | 12 | 10 | 70 | 190 |
| 12 | 1 | NGØK | Doug | 3135 | NE | 11 | 8 | 100 | 188 |
| 13 | 1 | KA7SPS | Dick | 2499 | OR | 14 | 10 | 40 | 180 |
| 14 | 1 | KD5KJ | Jim | 3534 | AR | 10 | 10 | 75 | 175 |
| 15 | 1 | KAØCSW | Jim | 3741C | MN | 11 | 9 | 65 | 164 |
| 16 | 1 | K8KFJ | Gary | 2444 | WV | 9 | 8 | 60 | 132 |
| 16 | 1 | WA4BAM | John | 2716 | FL | 7 | 6 | 90 | 132 |
| 17 | 1 | W1EJ | Ed | 1594 | CA | 11 | 6 | 65 | 131 |
| 18 | 1 | K2PAY | Jerry | 4304 | NY | 3 | 1 | 120 | 123 |
| 19 | 1 | AE6GC | Jack | 4461 | CA | 10 | 6 | 60 | 120 |
| 19 | 1 | W4KRN | Karen | 4495T | VA | 10 | 8 | 40 | 120 |
| 20 | 1 | N5LUL | Brad | 3779 | TX | 8 | 7 | 50 | 106 |
| 20 | 1 | VE3HNE | Walt | 4893 | On | 4 | 4 | 90 | 106 |
| 20 | 1 | WB8ENE | Art | 3773 | OH | 6 | 6 | 70 | 106 |
| 21 | 1 | KB4QQJ | Randy | 2508T | NC | 5 | 4 | 80 | 100 |
| 22 | 1 | KD5MMM | Phil | 4209 | TX | 8 | 7 | 40 | 96 |
| 22 | 1 | NV9X | Jim | 1358 | IL | 4 | 4 | 80 | 96 |
| 23 | 1 | WA1VIL | Greg | 443 | MA | 5 | 5 | 70 | 95 |
| 24 | 1 | N7GSU | Robin | 3658 | OR | 9 | 7 | 30 | 93 |
| 25 | 1 | KC9HGW | Bob | 281T | IL | 8 | 7 | 30 | 86 |
| 26 | 1 | KC4FLT | Carl | 3625 | AL | 5 | 5 | 50 | 75 |
| 27 | 1 | W9CC | Larry | 469T | IN | 4 | 4 | 50 | 66 |
| 28 | 1 | N2UM | Gary | 3041C | NY | 5 | 5 | 40 | 65 |
| 29 | 1 | N6DIT/QRP | Dennis | 3283 | CA | 3 | 2 | 50 | 56 |
| 30 | 1 | KA2KGP | Tom | 1494 | NY | 9 | 3 | 20 | 47 |
| 31 | 1 | K6FFY | Nick | 1221C | WA | 3 | 2 | 40 | 46 |
| 31 | 1 | WA2JSG | Curt | 3018 | NJ | 4 | 4 | 30 | 46 |
| 32 | 1 | KX3H | Tim | 2300T | PA | 3 | 3 | 30 | 39 |
| 32 | 1 | N9GGE/QRP | John | 2886 | IL | 3 | 3 | 30 | 39 |
| 33 | 1 | WA5VQM | Mark | 58 | TX | 4 | 4 | 20 | 36 |
| 34 | 1 | N6DIT | Dennis | 3283 | CA | 3 | 2 | 25 | 31 |
| 34 | 1 | W4HDM | Damon | 3729T | GA | 1 | 1 | 30 | 31 |
| 35 | 1 | N4FI | Dan | 324T | VA | 3 | 3 | 20 | 29 |
| 36 | 1 | N6EV | Paul | 3358T | CA | 4 | 2 | 10 | 18 |
| 37 | 1 | K4JPN | Steve | 2402 | GA | 4 | 4 | 0 | 16 |
| 38 | 1 | KCØRSX | Len | 14 | MN | 3 | 3 | 0 | 9 |
| 39 | 1 | KE5WIQ | Neil | 4730 | TX | 1 | 1 | 0 | 1 |
| 39 | 1 | W3RT | Red | 3237T | PA | 1 | 1 | 0 | 1 |
| 1 | 2 | NØJL | Jim | 2079T | IA | 9 | 7 | 90 | 153 |
| 2 | 2 | G4LMW | Rob | 4454C | England | 4 | 4 | 40 | 56 |
| 1 | 3 | KG4W | Ed | 2416T | VA | 40 | 21 | 145 | 985 |
| 2 | 3 | KØLUW | Russ | 1702T | NE | 31 | 20 | 90 | 710 |
| 3 | 3 | KKØI | Jack | 2370T | WI | 21 | 17 | 135 | 492 |
| 4 | 3 | K9DTH | Ron | 3698T | IL | 14 | 13 | 65 | 247 |
| 5 | 3 | KE5PWL | Eric | 4229T | LA | 12 | 10 | 70 | 190 |
| 6 | 3 | WA1AR | Alan | 4079T | MA | 12 | 9 | 75 | 183 |
| 7 | 3 | K5ENA | John | 3045T | OK | 10 | 8 | 95 | 175 |
| 8 | 3 | WA1BXY | Don | 4105T | RI | 14 | 7 | 50 | 148 |
| 9 | 3 | VE5DC | Jerry | 4440 | Sk | 11 | 8 | 35 | 123 |
| 1 | 4 | K1NV | Jon | 2609-T | NV | 14 | 11 | 75 | 229 |
| 2 | 4 | NT9K | Bill | 1926T | FL | 12 | 10 | 80 | 200 |



<!INSERT NO-STATS> Sprint Stats



Number of participants by state..
| | | | | | | | | | |
| --- | --- | --- | --- | --- | --- | --- | --- | --- | --- |
| AK 0 | AL 1 | AR 1 | AZ 0 | CA 6 | CO 0 | CT 0 | DE 0 | FL 2 | GA 2 |
| HI 0 | IA 1 | ID 0 | IL 5 | IN 1 | KS 1 | KY 1 | LA 1 | MA 2 | MD 0 |
| ME 0 | MI 0 | MN 2 | MO 0 | MS 0 | MT 0 | NC 1 | ND 0 | NE 2 | NH 1 |
| NJ 3 | NM 0 | NV 1 | NY 4 | OH 2 | OK 1 | OR 2 | PA 2 | RI 1 | SC 1 |
| SD 0 | TX 4 | TN 0 | UT 0 | VA 3 | VT 0 | WA 2 | WI 1 | WV 1 | WY 0 |



Total USA participants: 58
Total non-USA participants: 3
<!INSERT STATS-1>


Number of QSOs by state..
| | | | | | | | | | |
| --- | --- | --- | --- | --- | --- | --- | --- | --- | --- |
| AK 0 | AL 5 | AR 10 | AZ 0 | CA 49 | CO 0 | CT 0 | DE 0 | FL 19 | GA 5 |
| HI 0 | IA 9 | ID 0 | IL 62 | IN 4 | KS 25 | KY 30 | LA 12 | MA 17 | MD 0 |
| ME 0 | MI 0 | MN 14 | MO 0 | MS 0 | MT 0 | NC 5 | ND 0 | NE 42 | NH 12 |
| NJ 33 | NM 0 | NV 14 | NY 39 | OH 21 | OK 10 | OR 23 | PA 4 | RI 14 | SC 34 |
| SD 0 | TX 21 | TN 0 | UT 0 | VA 53 | VT 0 | WA 28 | WI 21 | WV 9 | WY 0 |



Total QSOs with one or more USA operators: 644
Total QSOs with one or more non-USA operators: 19
<!INSERT STATS-2>


Soapbox

---

KE5PWL Operated by: Eric

this was my worst ever. maybe it was just louisiana, but man it was terrible.


---

N6EV Operated by: Paul

Terrible, terrible, terrible. Conditions just weren't there. Never heard any stations outside of CA or OR. Couple that with the time change, which now limits the amount of time I can participate. Only 4 Qs, 2 states. Blaaah

There's always next month.

73 Paul N6EV 3358T
Suffering from a chronic case of brass poisoning. ;)


---

NØJL Operated by: Jim

Just got the antenna going again about 20 min into SKS.


---

N2UM Operated by: Gary

So who burned up all the ether?


---

W4HDM Operated by: Damon

One hour calling on 80m and 40m. No results. Caught K9SKC at the last minute for my one and only contact.


---

KD5KJ Operated by: Jim

Wow, conditions were very bad here. 40 meters was only band really open at all.
But had a good time and look forward to next meeting.


---

K9SKC/KC2KY Operated by: Neil

It was an honor to be able to use the K9SKC club call sign for this event. Thanks you to Dick, K2RFP, for inviting me. I operated on 20 meters for about 15 minutes, then went to 40 for about an hour, and spent the balance of the night on 80 meters. Used the amplifier (AL-80A, 500W) this time.
The band conditions were a little disappointing but I had fun just the same.


---

KAØCSW Operated by: Jim

Nice to work my first SKS as Centurion.
73
Jim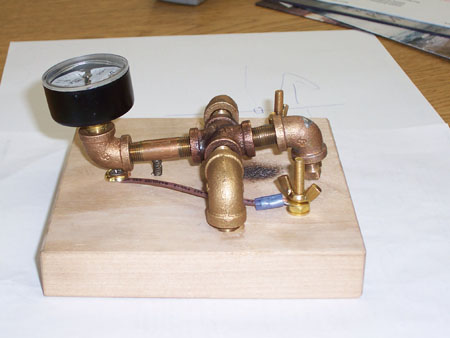 Home brew key made out of 1/8 inch pipe fittings. Tapper a pneumatic air gauge.


---

NGØK Operated by: Doug

Lots of fun tonight. I need to do these sprints more often. 40m condx poor as usual these days but 80m was very good. 73, de Doug, NG0K


---

K8BTD Operated by: Gil

K2 @ 5 watts. antenna wire vertical on hill 950 feet up from QTH. Only worked 80M. Heard lots of ops. Band was a little noisy. Had fun. Happy Thanksgiving all. See you next month. K8BTD, Gil


---

W4KRN Operated by: Karen

Fun sprint. Gud signals on 80m. Used the Norwegian Marine key I won from the last WES. Many tnx to Bill NT9K -- its fast and works great! Only able to operate 50 mins during sprint. Looking forward to Dec. WES. Tnx to all I worked.


---

KØLUW Operated by: Russ

With the SFI at 68, the A at 12 and the K at 2, band conditions were poor. What went up never came down on the skip. I kinda felt sorry for the QRP guys. I was running 100 watts and had to call stations several times to get an answer. I did not hear any east coast stations except for one in RI. I could not tell if the turnout was good or bad because of the poor conditions. Always fun though.


---

KB4QQJ Operated by: Randy

Well, that was easy for me! I only got to operate for 20 minutes. With the time change for the sprints I will be getting a late start. Had fun as always. Strongest signal heard was K4CNW at 40 over. All seemed to have strong signals tonight. Missed a lot of the regulars, maybe next time. Thanks Drew, AF2Z, for the last seconds contact. Just made it!

Randy _ KB4QQJ


---

KC9HGW Operated by: Bob

Missed about the first 1 1/2 hours due to dinner with XYL, but couldn't resist. Used my 80M dipole, still trimmed for 75M from SSB SS and worked a few. I won't talk about that antenna's odd confiuration on my tree-filled lot. Thanks for being there, guys. KD5KJ in Arkansas was there tonight - wish you had been there for Sweeps hi! I don't know how many were out there tonight, but I still remember the old days with about 30 logs submitted for any event. It's more fun with more SKCC stations.

Keep getting on the air, even if just for a few QSOs, and send in those logs. It's all good.

Bob KC9HGW 281T


---

VE3HNE Operated by: Walt

Got my skcc number about 5 days ago and this was my first time on this contest. I was a bit shaky as I have not used a stright key for a long time but the guys here were very kind and forgiving. I am looking forward to trying again.


---

VE5DC Operated by: Jerry

I was running QRP 5 watts with the FT-817.
73 de Jerry/VE5DC


---

WA1AR Operated by: Alan

Bands not so good here in MA. S9+ noise and weak signals. K4CNW and W4KRN were the strongest. Even K2RFP and AF2Z who are normally booming in were in the mud. I did not give out a 599 all night. Worked the whole 2 hours and ended up with 12 QSO. WA1VIL you got clobered by that NY station. I don't think he heard either of us.

Alan
WA1AR



---

N1LU Operated by: Don

I sure picked a bad night to play QRP!! Condx were very bad here in NH. 80m had more contacts that 40m, but big QRN. And 20m, forget about it. I can usually get a few on 20 early on, but not tonight.


---

W9IL Operated by: Lou

Made 3 QSO's on 20 meters, 4 on 40 meters, and then went to 80 meters for the remainder. Conditions were poor. Lots of band noise and QSB.


---

WA5VQM Operated by: Mark

Only got to work the last half hour but it was fun as always. Ran my old Johnson Ranger / National NC-173 combo with the J-38 from my novice days. The key still has the dyno-label I put on it 40 years ago when I was 13 LOL! Looking forward to the next sprint! 73, Mark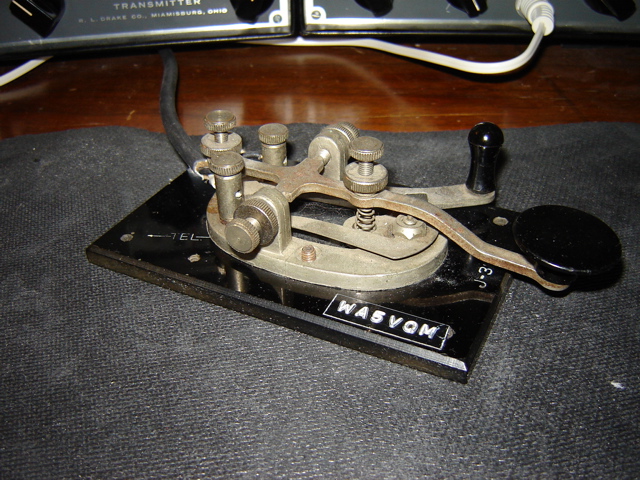 J-38


---

N4FI Operated by: Dan

QRP at 2W into a randon wire at 20 ft.


---

AE6GC Operated by: Jack

Tuff conditions but I got 5 new numbers. Thanks to all who put up with my nervousness. My fist was horrible tonight!


---

KD5MMM Operated by: Phil

enjoyed it again, 73 all.


---

K6FFY Operated by: Nick

Where was everyone tonight?


---

KG4W Operated by: Ed

Sigs were down on 20 & 40, so after 11 qsos I moved to 80 & stayed till the end.
Caught Rob G4LMW cqing on 40. 73... Ed



---

ABØTX Operated by: Mike

Thanks to all that copied my terrible fist. 40 meters seemed pretty quiet and I only got two stations worked there. I worked 23 on 80 meters including Jerry (VE5DC) with my measly 5 watts. WoW! Thanks to Reg (KA0RJY) for hanging in there and doing great for his first time! I beat up the K2 tonight using the 40/80 dipole up 57 feet on the tower and 5 watts out. 73 all!

Mike
AB0TX...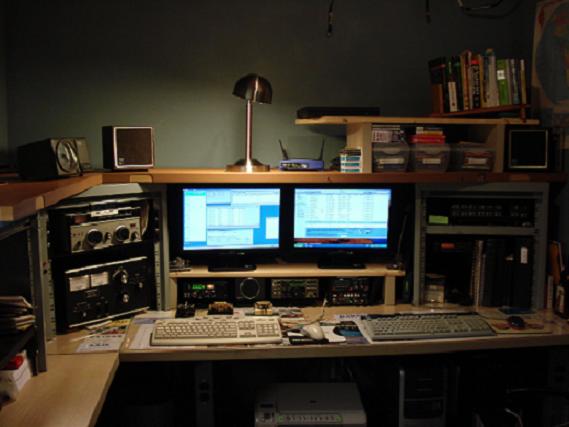 My home away from home!


---

K5ENA Operated by: John

I forgot about the time change and started an hour late. Seemed to be some one way propagation at times. 40 was not the best. 80 was good.

John, K5ENA


---

KX3H Operated by: Tim

Rough night, but still managed to snag a new state (WA) thanks to Paul NG7Z. Rig: K2, Junker key. 73 de Tim in PA.



---

N5LUL Operated by: Brad

Got a late start tonight and had 90 minutes operating time. Heard several that are now becoming more familiar to me, and made a few new contacts too. Had a fun time and will be back next month.


---

W6UT Operated by: Dennis

Very slow out here. Did manage to get 2 on 20 and 2 on 80. Nothing on 40B. Just hoping for some better conditions before our Special Event for January begins.


---

W9CC Operated by: Larry

QRP with Battery power. 80M Loop antenna. Got a late start because I forgot there was a sprint. I was just testing the K3 on the battery. 5 watts. It was a lot of fun.


---

K1NV Operated by: Jon

I scored a double-whammy this month. The change to standard time chopped my operating time in half due to inadvertently starting an hour late. The bands went almost completely dead at 0200Z when the contest was actually over which should have been a clue. That says something for the importance of SKCC activity, by the way. By 0215, it finally dawned on me that the SKS was over since nobody was answering my CQ's.

Secondly, I didn't immediately realize that an RST is now part of the required exchange. The ARRL eliminated it from many of their contests because of the total redundancy of it. I'd rather see some kind of meaningful information exchanged like one's age, grid square or county.

Maybe by December I will be organized again.


---

W1EJ Operated by: Ed

Only 11 QSOs but i got 6 new numbers. Twenty died quickly after two Qs, got one on 80 (Thanks to W6UT Dennis), the rest on 40. Some hard work with weak signals but still fun.


---

K8KFJ Operated by: Gary

I only had time to make a handful of contacts on 3.5 MHz but fun stuff neverthelesss. Had some QRN at this QTH tonight but thankfully most signals were quite strong. Once again, KG4W rattled my speaker and gets the strongest signal award at this QTH. My thanks to all that worked me.
73, Gary -K8KFJ- West Virginia


---

KE5WIQ Operated by: Neil

Had other commitments tonight after working on antennas most of the day. However, I did get token participation in the last few minutes by working someone new (to me): thanks AB0TX.

Should have 'C' for the next one. Didn't get paperwork processed in time for this one.


---

NG7Z Operated by: Paul

I started on 20M hoping that the band was still open. Only nabbed Mark AD5WI. Two cq's later and decided that it wouldn't be productive to stay. So down to 40M where the action was fast and furious. Several quick qso's later there was no answers to my cq's so I tried 7114. No one was there for the extra multipliers. Can't figure out why more guys don't try this easy way for more mults. Had to qrt at 0140. Thanks for the q's and see you next month.
Paul NG7Z


---

KC4FLT Operated by: Carl

Had fun tnx to all who had a part


---

NT9K Operated by: Bill

Lousy conditions. I could hear others, but they couldn't hear me.
Best contact was with Rob G4LMW on 40 meters.
Loudest signal was Jack K4CNW at 20 over on 80 meters.

I used 6 different keys. 1 Cootie, 1 Bug and 4 straight keys.
Radio was Kenwood TS-870 at 100 Watts.
Antennas: Cushcraft MA5B, Inverted V for 40, Inverted L for 160.

Until next time,
73, Bill NT9K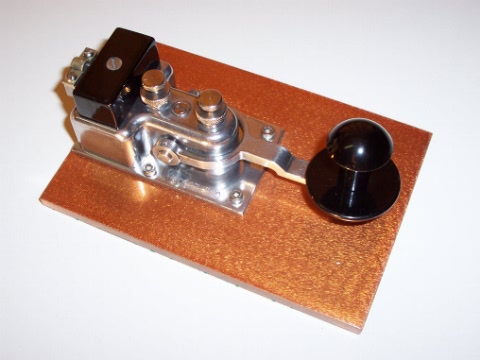 Naked Navy Flameproof CMI-26003A


---

KKØI Operated by: Jack

Another fun evening. 40 meters was terrible here...only a few contacts. The J-36 got a nice workout.


---

WB8ENE Operated by: Art

40 meters was terrible. All contacts were made on 80. Began my quest for the Centurion award this sprint. 94 to go.


---

W3RT Operated by: Red

Conditions seemed a bit lousy! Only worked the last half-hour, and was able to get one station! Thanks, Greg- WA1VIL.
I used the Navy Flameproof Key, and limited my output to 5 watts for this one.
Looking forward to more sprints. Keep up the Good Work, Dick.

And...thanks, Bill for your time and efforts.

Red Thompson, W3RT- SKCC #3237T in PA.


---

K4CNW Operated by: Jack

All QSO's were on 80 meters. Called CQ several times on 160 but had no takers.


---

AF2Z Operated by: Drew

20m and 40m were useless; all QSOs were on 80m. Lots of one-way propagation. No Cent's; no K9SKCC; nobody west of Wisconsin. An hour later start time would be mo' better. Worked Karen W4KRN, FB on her prize key. And Randy KB4QQJ who waited till the final seconds to pounce. Rig: Elecraft K3 @ 12 watts, 100-ft wire, Junker straight key.


---

K8IJ Operated by: Chas

Wow - what a fast 2 hours! Many thanks to all es vy 73. Chas, K8IJ


---

WA1VIL Operated by: Greg

Is it just me or was 80 the only band that was active? Listen for my "QRP" signal on 160 meters next sprint (QRP meaning 100W to a G5RV worked as a random wire). Regardless of conditions or scores SKS are fun! Happy Thanksgiving to all!


---

G4LMW Operated by: Rob

Terrible conditions. There was only a 3kHz slot that was noise free on 40 and they were occupied for the whole first hour (at which point I gave up!). Perhaps we could try "one QSO then QSY?"


---

KA2KGP Operated by: Tom

Really poor band conditions here in WNY. QSB/QRN, you name, it was there! Hope for better conditions next sprint. 73 to all.


---

W2SH Operated by: Charles

Operated only on 80m. QRP @ 5 Watts. Band conditions were good


---
<! Start of insert other stuff here.> <! End of insert other stuff here.> Programmed by K2RFP.
Updated: June 17, 2009 0122 UTC
Sprint Manager: Dick - K2RFP