| | |
| --- | --- |
| | Categories (CAT) |
| | 1 = 1 watt or less. |
| | 2 = Greater than 1 watt, up to 5 watts. |
| | 3 = Greater than 5 watts, up to 100 watts. |
| | 4 = Greater than 100 watts. |
| &nbsp &nbsp &nbsp &nbsp &nbsp &nbsp | &nbsp &nbsp * = Club call sign/operator. |
SKCC SKS Results
Date: September 24, 2008
Club call/operator: K9SKC/K4ZGB
Total participants: 64



QSOs x S/P/C + Bonus = Score




Results by Final Score

| Rank | CAT | Call | Name | SKCC | QTH | QSO's | S/P/C | Bonus | Score |
| --- | --- | --- | --- | --- | --- | --- | --- | --- | --- |
| 1 | 4 | K4BAI | John | 3280 | GA | 63 | 26 | 330 | 1968 |
| 2 | 3 (Club) | K9SKC/K4ZGB | Tom | 00T/796T | AL | 56 | 30 | 265 | 1945 |
| 3 | 3 | K0LUW | Russ | 1702T | NE | 51 | 27 | 215 | 1592 |
| 4 | 3 | K1NV | Jon | 2609-T | NV | 44 | 24 | 175 | 1231 |
| 5 | 3 | K8AQM | Ted | 1629T | MI | 36 | 26 | 150 | 1086 |
| 6 | 3 | WA1LWS | Hans | 1933T | MD | 34 | 19 | 205 | 851 |
| 7 | 3 | N6EV | Paul | 3358T | CA | 26 | 17 | 195 | 637 |
| 8 | 3 | K5ENA | John | 3045T | OK | 27 | 19 | 115 | 628 |
| 9 | 2 | WA1BXY | Don | 4105C | RI | 25 | 20 | 120 | 620 |
| 10 | 3 | K8JD | John | 1395T | MI | 27 | 15 | 180 | 585 |
| 11 | 3 | K9DTH | Ron | 3698T | IL | 22 | 17 | 135 | 509 |
| 12 | 3 | N5KIP | Dick | 3755 | LA | 18 | 14 | 150 | 402 |
| 13 | 4 | K0IVK | Joe | 1436T | MO | 18 | 17 | 90 | 396 |
| 14 | 3 | N4FI | Dan | 324T | VA | 17 | 15 | 120 | 375 |
| 15 | 2 | KE5PWL | Eric | 4229C | LA | 16 | 14 | 140 | 364 |
| 16 | 3 | N9FC | John | 3893T | IN | 17 | 11 | 170 | 357 |
| 17 | 1 | K9JWV | Jim | 3314 | UT | 17 | 13 | 130 | 351 |
| 18 | 3 | N1LU | Don | 2252T | NH | 19 | 12 | 120 | 348 |
| 19 | 3 | KC9HGW | Bob | 281T | IL | 18 | 14 | 90 | 342 |
| 20 | 3 | AF2Z | Drew | 2082T | NJ | 16 | 12 | 120 | 312 |
| 21 | 3 | W1EJ | Ed | 1594 | CA | 13 | 11 | 165 | 308 |
| 22 | 3 | K8BBM | Dave | 2882T | SD | 17 | 13 | 80 | 301 |
| 23 | 3 | K3UK | Andy | 1325 | NY | 17 | 12 | 95 | 299 |
| 24 | 3 | W4KRN | Karen | 4495 | VA | 14 | 12 | 115 | 283 |
| 25 | 3 | KA7SPS | Dick | 2499 | OR | 14 | 10 | 140 | 280 |
| 26 | 3 | K1PUB | Charlie (Chas) | 4101 | MA | 13 | 11 | 125 | 268 |
| 27 | 3 | KK0I | Jack | 2370T | WI | 15 | 13 | 55 | 250 |
| 28 | 3 | K2RFP | Dick | 2099T | NY | 14 | 11 | 85 | 239 |
| 29 | 3 | K4JPN | Steve Ray | 2402 | GA | 13 | 11 | 85 | 228 |
| 30 | 3 | K6FFY | Nick | 1221C | WA | 12 | 9 | 115 | 223 |
| 31 | 2 | KA2KGP | Tom | 1494 | NY | 17 | 8 | 85 | 221 |
| 32 | 3 | WA1VIL | Greg | 443 | MA | 12 | 10 | 90 | 210 |
| 33 | 2 | KB4QQJ | Randy | 3508T | NC | 13 | 8 | 100 | 204 |
| 34 | 3 | W3RT | Red | 3237T | PA | 13 | 9 | 85 | 202 |
| 35 | 2 | NT9K | Bill | 1926T | FL | 10 | 8 | 110 | 190 |
| 36 | 3 | KA3CTQ | Dan | 2338 | PA | 9 | 9 | 95 | 176 |
| 37 | 2 | KK5NA | Joe | 1923 | TX | 11 | 10 | 65 | 175 |
| 38 | 3 | N5LUL | Brad | 3779 | TX | 9 | 8 | 95 | 167 |
| 39 | 3 | KC4YTF | Terry | 4689 | VA | 11 | 8 | 75 | 163 |
| 40 | 3 | WA2JSG | Curt | 3018 | NJ | 11 | 10 | 50 | 160 |
| 41 | 3 | K6CSL | Bert | 4486 | CA | 10 | 10 | 55 | 155 |
| 42 | 2 | N9GGE | John | 2886 | IL | 11 | 8 | 65 | 153 |
| 43 | 2 | KC2EGL | Michael | 553T | PA | 9 | 8 | 80 | 152 |
| 44 | 3 | K8KFJ | Gary | 2444 | WV | 9 | 7 | 80 | 143 |
| 45 | 3 | NV9X | Jim | 1358 | IL | 8 | 6 | 70 | 118 |
| 46 | 3 | KJ7BS | Mark | 2240T | AZ | 6 | 6 | 80 | 116 |
| 47 | 3 | WL7WH | Bob | 2940C | AK | 8 | 6 | 60 | 108 |
| 48 | 2 | N0JL | Jim Lasley | 2079T | IA | 6 | 5 | 70 | 100 |
| 49 | 3 | WA4AN | Wayne | 4283 | TN | 7 | 7 | 50 | 99 |
| 50 | 2 | N1URA | Cory | 3452 | ME | 9 | 8 | 25 | 97 |
| 51 | 3 | K4CQW | Quint | 4347 | VA | 7 | 5 | 60 | 95 |
| 52 | 2 | KK5NA | Joe | 1923 | TX | 8 | 7 | 35 | 91 |
| 52 | 3 | K9PMV | Jerry | 1439 | IL | 6 | 6 | 55 | 91 |
| 54 | 3 | WA1AR | Alan | 4079T | MA | 6 | 6 | 50 | 86 |
| 55 | 3 | N9QU | Leo | 3464C | WI | 5 | 4 | 65 | 85 |
| 56 | 3 | AE6GC | Jack | 4461 | CA | 4 | 3 | 65 | 77 |
| 57 | 3 | N6WK | Gordon | 3T | CA | 4 | 3 | 55 | 67 |
| 58 | 3 | K6JF | Jim | 4261C | CA | 6 | 5 | 30 | 60 |
| 59 | 3 | N7DLI | Mike | 4615 | ID | 5 | 3 | 40 | 55 |
| 60 | 3 | K4UFT | Ted | 4289 | SC | 4 | 3 | 30 | 42 |
| 61 | 2 | KA9KQH | Dwayne | 4749 | IL | 3 | 3 | 30 | 39 |
| 62 | 3 | N1IIX | Chris | 3388 | NH | 3 | 3 | 20 | 29 |
| 63 | 2 | AB8FJ | Ted | 62C | OH | 2 | 2 | 15 | 19 |
| 64 | 4 | WB9CAC | Bill | 3830 | AZ | 1 | 1 | 0 | 1 |
Results by Category and Final Score

| Rank | CAT | Call | Name | SKCC | QTH | QSO's | S/P/C | Bonus | Score |
| --- | --- | --- | --- | --- | --- | --- | --- | --- | --- |
| 1 | 3 (Club) | K9SKC/K4ZGB | Tom | 00T/796T | AL | 56 | 30 | 265 | 1945 |
| 1 | 1 | K9JWV | Jim | 3314 | UT | 17 | 13 | 130 | 351 |
| 1 | 2 | WA1BXY | Don | 4105C | RI | 25 | 20 | 120 | 620 |
| 2 | 2 | KE5PWL | Eric | 4229C | LA | 16 | 14 | 140 | 364 |
| 3 | 2 | KA2KGP | Tom | 1494 | NY | 17 | 8 | 85 | 221 |
| 4 | 2 | KB4QQJ | Randy | 3508T | NC | 13 | 8 | 100 | 204 |
| 5 | 2 | NT9K | Bill | 1926T | FL | 10 | 8 | 110 | 190 |
| 6 | 2 | KK5NA | Joe | 1923 | TX | 11 | 10 | 65 | 175 |
| 7 | 2 | N9GGE | John | 2886 | IL | 11 | 8 | 65 | 153 |
| 8 | 2 | KC2EGL | Michael | 553T | PA | 9 | 8 | 80 | 152 |
| 9 | 2 | N0JL | Jim Lasley | 2079T | IA | 6 | 5 | 70 | 100 |
| 10 | 2 | N1URA | Cory | 3452 | ME | 9 | 8 | 25 | 97 |
| 11 | 2 | KK5NA | Joe | 1923 | TX | 8 | 7 | 35 | 91 |
| 12 | 2 | KA9KQH | Dwayne | 4749 | IL | 3 | 3 | 30 | 39 |
| 13 | 2 | AB8FJ | Ted | 62C | OH | 2 | 2 | 15 | 19 |
| 1 | 3 | K0LUW | Russ | 1702T | NE | 51 | 27 | 215 | 1592 |
| 2 | 3 | K1NV | Jon | 2609-T | NV | 44 | 24 | 175 | 1231 |
| 3 | 3 | K8AQM | Ted | 1629T | MI | 36 | 26 | 150 | 1086 |
| 4 | 3 | WA1LWS | Hans | 1933T | MD | 34 | 19 | 205 | 851 |
| 5 | 3 | N6EV | Paul | 3358T | CA | 26 | 17 | 195 | 637 |
| 6 | 3 | K5ENA | John | 3045T | OK | 27 | 19 | 115 | 628 |
| 7 | 3 | K8JD | John | 1395T | MI | 27 | 15 | 180 | 585 |
| 8 | 3 | K9DTH | Ron | 3698T | IL | 22 | 17 | 135 | 509 |
| 9 | 3 | N5KIP | Dick | 3755 | LA | 18 | 14 | 150 | 402 |
| 10 | 3 | N4FI | Dan | 324T | VA | 17 | 15 | 120 | 375 |
| 11 | 3 | N9FC | John | 3893T | IN | 17 | 11 | 170 | 357 |
| 12 | 3 | N1LU | Don | 2252T | NH | 19 | 12 | 120 | 348 |
| 13 | 3 | KC9HGW | Bob | 281T | IL | 18 | 14 | 90 | 342 |
| 14 | 3 | AF2Z | Drew | 2082T | NJ | 16 | 12 | 120 | 312 |
| 15 | 3 | W1EJ | Ed | 1594 | CA | 13 | 11 | 165 | 308 |
| 16 | 3 | K8BBM | Dave | 2882T | SD | 17 | 13 | 80 | 301 |
| 17 | 3 | K3UK | Andy | 1325 | NY | 17 | 12 | 95 | 299 |
| 18 | 3 | W4KRN | Karen | 4495 | VA | 14 | 12 | 115 | 283 |
| 19 | 3 | KA7SPS | Dick | 2499 | OR | 14 | 10 | 140 | 280 |
| 20 | 3 | K1PUB | Charlie (Chas) | 4101 | MA | 13 | 11 | 125 | 268 |
| 21 | 3 | KK0I | Jack | 2370T | WI | 15 | 13 | 55 | 250 |
| 22 | 3 | K2RFP | Dick | 2099T | NY | 14 | 11 | 85 | 239 |
| 23 | 3 | K4JPN | Steve Ray | 2402 | GA | 13 | 11 | 85 | 228 |
| 24 | 3 | K6FFY | Nick | 1221C | WA | 12 | 9 | 115 | 223 |
| 25 | 3 | WA1VIL | Greg | 443 | MA | 12 | 10 | 90 | 210 |
| 26 | 3 | W3RT | Red | 3237T | PA | 13 | 9 | 85 | 202 |
| 27 | 3 | KA3CTQ | Dan | 2338 | PA | 9 | 9 | 95 | 176 |
| 28 | 3 | N5LUL | Brad | 3779 | TX | 9 | 8 | 95 | 167 |
| 29 | 3 | KC4YTF | Terry | 4689 | VA | 11 | 8 | 75 | 163 |
| 30 | 3 | WA2JSG | Curt | 3018 | NJ | 11 | 10 | 50 | 160 |
| 31 | 3 | K6CSL | Bert | 4486 | CA | 10 | 10 | 55 | 155 |
| 32 | 3 | K8KFJ | Gary | 2444 | WV | 9 | 7 | 80 | 143 |
| 33 | 3 | NV9X | Jim | 1358 | IL | 8 | 6 | 70 | 118 |
| 34 | 3 | KJ7BS | Mark | 2240T | AZ | 6 | 6 | 80 | 116 |
| 35 | 3 | WL7WH | Bob | 2940C | AK | 8 | 6 | 60 | 108 |
| 36 | 3 | WA4AN | Wayne | 4283 | TN | 7 | 7 | 50 | 99 |
| 37 | 3 | K4CQW | Quint | 4347 | VA | 7 | 5 | 60 | 95 |
| 38 | 3 | K9PMV | Jerry | 1439 | IL | 6 | 6 | 55 | 91 |
| 39 | 3 | WA1AR | Alan | 4079T | MA | 6 | 6 | 50 | 86 |
| 40 | 3 | N9QU | Leo | 3464C | WI | 5 | 4 | 65 | 85 |
| 41 | 3 | AE6GC | Jack | 4461 | CA | 4 | 3 | 65 | 77 |
| 42 | 3 | N6WK | Gordon | 3T | CA | 4 | 3 | 55 | 67 |
| 43 | 3 | K6JF | Jim | 4261C | CA | 6 | 5 | 30 | 60 |
| 44 | 3 | N7DLI | Mike | 4615 | ID | 5 | 3 | 40 | 55 |
| 45 | 3 | K4UFT | Ted | 4289 | SC | 4 | 3 | 30 | 42 |
| 46 | 3 | N1IIX | Chris | 3388 | NH | 3 | 3 | 20 | 29 |
| 1 | 4 | K4BAI | John | 3280 | GA | 63 | 26 | 330 | 1968 |
| 2 | 4 | K0IVK | Joe | 1436T | MO | 18 | 17 | 90 | 396 |
| 3 | 4 | WB9CAC | Bill | 3830 | AZ | 1 | 1 | 0 | 1 |
Soapbox
---

K8KFJ Operated by: Gary

I just did a short 40m effort tonight but thought signals were quite good. I'm not sure I've worked Cory before (N1URA/QRP) so it was nice hooking up with him in ME tonight. I hope he did well. My thanks to Tom in AL K4ZGB for giving me the double whammy (796T & 00T) as K9SKC. John K4BAI wins the loudest signal award tonight here at my QTH. The key in use tonight was my Nye Viking Master Key. My thanks to those who make this fun Sprint possible.
73, Gary K8KFJ in WV SKCC #2444


---

KA9KQH Operated by: Dwayne

This was my inaugural run of my shiny new SKCC Number. I was intimidated and nervous because I've not done much CW work over the last several years, let alone straight key work. I had fun but I need some serious rag chew time to get my copy speed up to a comfortable pace.

Thanks for the SKCC it has motivated me to get back on the air and operate more.



---

N9QU Operated by: Leo

Lots of noise, a few signals and lots of fun trying. Thanks to all es 73.


---

N6EV Operated by: Paul

20 mtrs was decent this time around. 2 non-member QSOs, one with a CE1 stn. Key used this time was a Bunnell Spark Key.

73 till next time
N6EV 3358T "dit dit"


---

NV9X Operated by: Jim

Despite low score,had fun. Wish this was once a week.



---

N1LU Operated by: Don

20 meters was great for a change. Lots of 599 CA stations here in NH. Maybe the next cycle is starting!!


---

KJ7BS Operated by: Mark

I only got to work the last 25 minutes of the sprint. It was a good time. Wish I could have worked the full 2 hours.


---

N5KIP Operated by: Dick

I had a great time. Band conditions seemed much better this month and heard a number of strong stations. 73, Dick


---

NT9K Operated by: Bill

I worked the sprint with KB3OMJ's OHR 100 QRP radio and my corian sideswiper.
Antenna was inverted vee up 40 ft. at the apex.
I only worked 7049 - 7057 KHz.
Nice change of pace.
73, Bill NT9K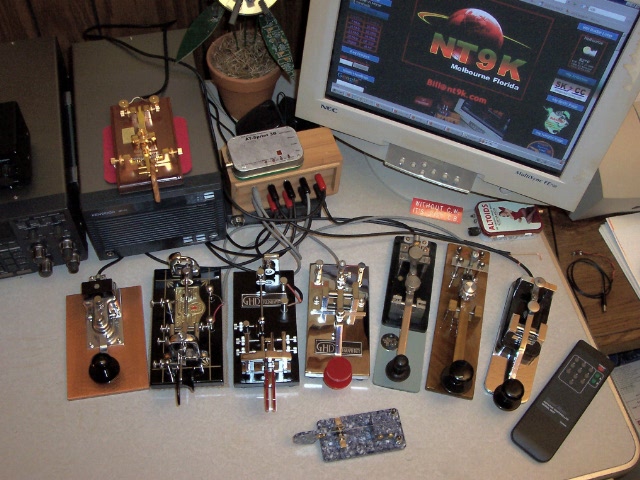 September Lineup


---

K9JWV Operated by: Jim

Wow. First time with 1 watt and garnered 352 points! 20 meters was in great shape out here in Utah. Didn't fair as well on 40 meters but that was because of lots of QRM but did manage 4 QSOs on 40. Love this 2 hour sprint right along with the NAQCC sprint!


---

KK0I Operated by: Jack

Stayed up in the 7.100+ area on 40 meters. Had a QSO with a new ham (was his 2nd cw qso). It was time well spent.

It was indeed a very enjoyable evening pounding brass!


---

K0LUW Operated by: Russ

It got kind of exciting in the last half hour with a storms in my area but a lot of fun as always. 20 meters was actually open for the first hour of the sprint for change...


---

N1URA Operated by: Cory

Have been away from HF for a while, decided to dust off the straight key and partake in SKS. Had a great time. Rig was 817 at 5 watts on battery power using a 75 meter dipole.
73/72 DE N1URA -Cory



---

KB4QQJ Operated by: Randy

Well, for the first time in a long time 80 meters was quite enough to operate QRP!! Only got to operate the last 40 minutes and got a good start on 80 so just stayed with it, never left 80 and didn't have to call cq but twice. Round robin contacts and I know I missed two at the end. Sorry but time ran out before I could get to you. Great time and one band was fun. I got to work 4 new stations, that is always good. I didn't work any "C's"..hi hi all T's or rising stars..Strongest signal was WA1AR, Alan 20 over. Thanks to all.

Randy _ KB4QQJ


---

K4BAI Operated by: John

FT1000MP, Alpha 78, 1 KW, TH6DXX, zepp, dipole, inverted vee. 20 M was good to the west. 40M was good outside the skip zone, which was as short as NC and LA. 80M was slightly noisy, but signals were pretty good. Missed the first ten minutes. Thanks for all the QSOs. Hope to see you all again during the next SKS. Worked 4 stations in the new 40M band above 7100. A good quiet place. 73, John, K4BAI, Columbus, GA.


---

KC9HGW Operated by: Bob

I usually work mostly Cs and Ts, but not tonight. It was good to hear a few new calls out there.


---

K1NV Operated by: Jon

Decent conditions and lots of new numbers. N1WPU/QRP (Ted) in ME made it into NV. 20 meters worked out well until the switch to 40M around 0215Z. No DX was heard, even on 20M.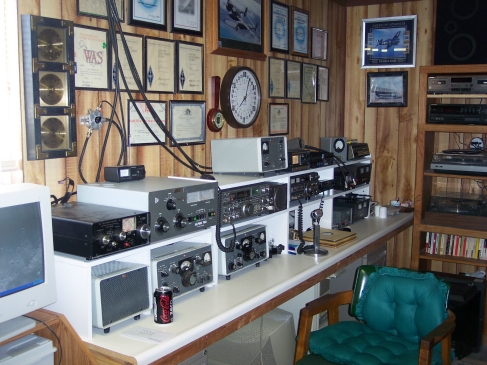 ---

WA1AR Operated by: Alan

Always wanted to try SKS with 1930s equiptment. I may have QRMed a few of you. Made the full two hours on this 50W home brew 807s in parallel and a National HRO senior. Not so easy as I only had 6 QSOs. I now appreciate a rig with 200HZ bandwidth an a roofing filter to boot. De-sensing is a real problem with close in signals. Brings new meaning to "single signal receiver". Being xtal bound does not help either. I could hear 3-4 QSOs at a time even with this state of the art 455kc crystal filter on. It was also hard to remember to flip the switch to go back to receive.

Alan
WA1AR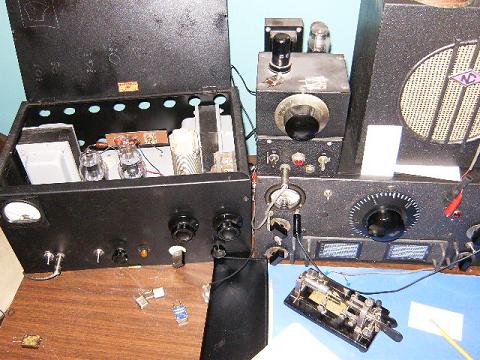 My new rig


---

WA2JSG Operated by: Curt

My first sprint calling CQ. Really fun event! 50 minutes operating time.
73, Curt



---

KK5NA Operated by: Joe

Lots of activity...some worked hard to pull me out. Thanks for another fine event! Rig: Elecraft K2 @ 5 watts and EDZ at 50 ft.


---

K3UK Operated by: Andy

Using new partially installed 80M antenna, it works. Started calling CQ at 0041 and had stations calling me until 0200 ! Loads of fun, many thanks.


---

W4KRN Operated by: Karen

Getting closer to the 'C' -- Hurry up Curt!


---

KE5PWL Operated by: Eric

I went qrp this go round, very surprised at 5 watts, conditions were good. even made a few on 20 this time. heard two on 80m but qrn was rough on my end.


---

KC2EGL Operated by: Michael

It is getting to the point that I can not get enough of these rather fun sprints weather it be SKCC, NAQCC, Flying Pigs, etc. I had to use the noise cancelling headphones tonight. The noise was a bit rough here in Brookville Pa. I find that using noise cancelling headphones makes my K-2 more impressive. Thanks to all who worked me and for putting up with rough conditions here in WPA. Rig: K-2 @ 5W, Key: SKCC Club Key 61, Antenna: Folded Dipole @ 35'
73
Michael


---

K4JPN Operated by: Steve Ray

Completely forgot about the sprint till 0110Z. Oh, well had fun for the time I was on.


---

K5ENA Operated by: John

I was glad to work some of the newer members. It is always good to work the older members as well. Enjoyed the Sprint.

John, K5ENA


---

K8BBM Operated by: Dave

fun to run 10 watts out, ic703+ to end fed half waves (Par antennas)
one nice ragchew with non-member and one nice rag chew with a new member who says his code was rusty. Enjoyed it all



---

N5LUL Operated by: Brad

It was fun again this month.... A few short contacts and a few rag-chews.

Running the HW-16 and HG-10B VFO into a 40M dipole @ 30' about 30W output... probably less.

Thanks Tom (K4ZGB)! K9SKC op for the night....one minute to go... 01:59 and finally made contact! And thanks to all the others.... hope to hear you again next time!

Brad Miskimen- N5LUL



---

W1EJ Operated by: Ed

New antenna(longer wire), good conditions, and I was able to spend an hour and fifty minutes (wife out of town)! Fun and my best score so far.


---

K6FFY Operated by: Nick

It was great to hear the bands so active with CW.


---

WL7WH Operated by: Bob

Finally heard some signals during a sprint. Went well for about 45 minutes and then band dropped. Look forward to the next one.


---

K6CSL Operated by: Bert

Much more comfortable running 100W this time instead of just 5W as I did last month. 2008 SKCC Sprint
2008 SKCC Sprint
09/24/08 K6CSL worked-------tx---rxname-------rx----------------rx#
20m CW 09/24/08 0006 K0LUW NE RUSS NE 1702
20m CW 09/24/08 0014 K8BBM CA DAVE SD 2882
20m CW 09/24/08 0017 K4BAI CA JOHN GA 3280
20m CW 09/24/08 0038 N1LU CA DON NH 2252T
20m CW 09/24/08 0055 K9QHO CA MIKE IN 4334
40m CW 09/24/08 0108 K6FFY CA NICK WA 1221C
40m CW 09/24/08 0121 KA7SPS CA DICK OR 2499
40m CW 09/24/08 0129 K1NV CA JON NV 2609T
40m CW 09/24/08 0135 K9JWV CA JIM UT 3314
40m-B CW 09/24/08 0159 N6EV CA PAUL CA 3358T
(Note 40m-B, above 7100KHz)
Corrects Typographical Error in QSO#8, K1NV


---

KA2KGP Operated by: Tom

A decent turnout for the SKS Sprint and fair band conditions too. 80m. was a bit noisey, but plenty of activity. Another nice SKS sprint; 72


---

W3RT Operated by: Red

Another fine Sprint! Was only on for 1 hour, but made good use of the time, I thought. A lot of activity on 40 and 80.
Used 85 watts from the '940 & sloper. Key was the old Navy Flameproof. Signals were strong from all over. Tnx to all that I was able to work.
Red Thompson, W3RT in PA, SKCC #3237T


---

AF2Z Operated by: Drew

20m was kind of disappointing-- some very good signals from the West and I worked them easily but calling CQ got no results there. Guess there weren't many western ops on the band yet. Most of my action was on 80m; only 4 qsos on 40m. Not much activity above 7100-- i guess that band is better for the long WES. I finally worked Andy K3UK-- it's funny to see his callsign all the time on the website but never work him before now. (Elecraft K3 @ 12 watts, 100x30' endfed wire, Junker straight key)-- 73 to all.


---

K1PUB Operated by: Charlie (Chas)

Didn't seem to be a lot of activity, and conditions weren't very good--QRN on 80 and 40 was S9, higher at times, and 20 was dead. Had fun though and that's what counts.


---

KK5NA Operated by: Joe

Lots of fun! Rig K2 @ 5watts, Ant EDZ @ 50ft, Key American Morse KK1.


---

N6WK Operated by: Gordon

Used my just completed K2 for the sprint at 10 watts. I ended up with family business and only got to operate the last 20 minutes or so. Had a blast.


---

K2RFP Operated by: Dick

Since I made some modifications to this LTA BBVO key to
suit my sending style, it has been a delight to use.
It is the only key I used for this sprint.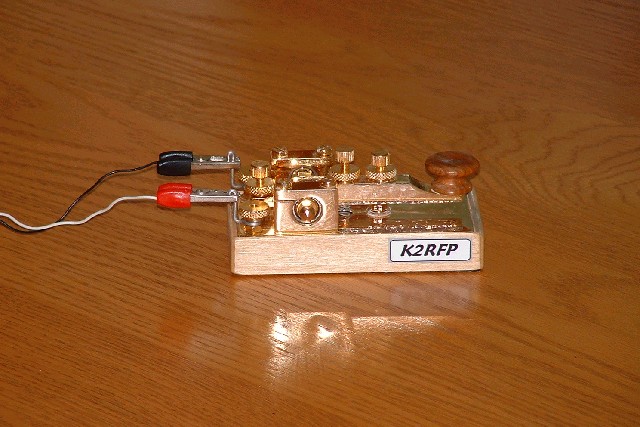 My LTA BBVO key.


---

AE6GC Operated by: Jack

Thanks to all. I only had 3 qsos but all were new numbers and two were west coast east coast contacts!!!!!


---

K8AQM Operated by: Ted

First time using the Sprint Logger program, like shooting fish in a barrel! Great fun! Most unusual number received was v3v2...really...from non SKCC...but new state! I really did leave the amp off.


---

K4UFT Operated by: Ted

Got in last 45 minutes. 20M dead. 40M strong as usual. Lots of QRM & QRN. Hopefully, I can get in the full 2 hours of operation in October. J-37 key to IC-706MKIIg @30W to home brew vertical.


---

N0JL Operated by: Jim Lasley

First time QRP. Only there about an hour. Called to LD phone call!


---

K8JD Operated by: John

I decided to get into sprint at last minute. slow start and fast finish. Just on 80 and 40M.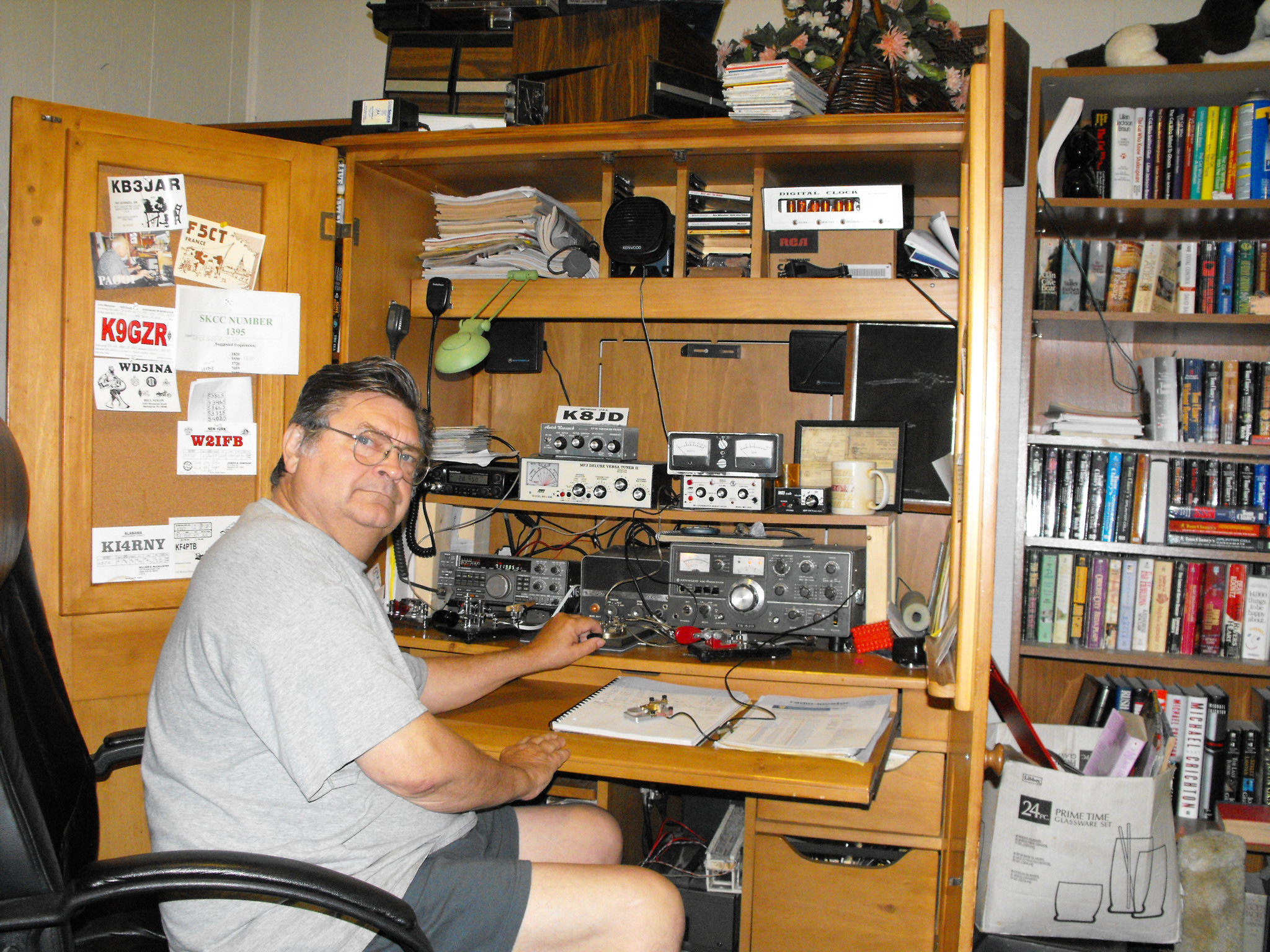 CQ SKS


---
Powered by www.skccgroup.com - Automated by K2RFP.
Updated: September 26,2008 1817 UTC