| | |
| --- | --- |
| | Categories (CAT) |
| | 1 = 1 watt or less. |
| | 2 = Greater than 1 watt, up to 5 watts. |
| | 3 = Greater than 5 watts, up to 100 watts. |
| | 4 = Greater than 100 watts. |
| &nbsp &nbsp &nbsp &nbsp &nbsp &nbsp | &nbsp &nbsp * = Club call sign/operator. |
SKCC SKS Results
Date: August 27, 2008
Club call/operator: K9SKC/KJ7BS
Total participants: 72



QSOs x S/P/C + Bonus = Score




Results by Final Score

| Rank | CAT | Call | Name | SKCC | QTH | QSO's | S/P/C | Bonus | Score |
| --- | --- | --- | --- | --- | --- | --- | --- | --- | --- |
| 1 | 3 | K4ZGB | Tom | 796T | AL | 46 | 24 | 220 | 1324 |
| 2 | 3 | K0LUW | Russ | 1702T | NE | 43 | 26 | 200 | 1318 |
| 3 | 3 | W7JI | Lou | 3064C | KS | 41 | 25 | 285 | 1310 |
| 4 | 3 | KB4T | Frank | 981T | FL | 39 | 24 | 250 | 1186 |
| 5 | 3 | K9MMS | Gary | 4291T | IL | 38 | 24 | 215 | 1127 |
| 6 | 3 (Club) | K9SKC/KJ7BS | Mark | 00T | AZ | 36 | 24 | 205 | 1069 |
| 7 | 3 | W9IL | Lou | 4532 | IL | 35 | 25 | 190 | 1065 |
| 8 | 4 | K8AQM | Ted | 1629T | MI | 35 | 23 | 210 | 1015 |
| 9 | 3 | K9DTH | Ron | 3698C | IL | 36 | 22 | 190 | 982 |
| 10 | 3 | K4CNW | Jack | 2961T | SC | 39 | 19 | 190 | 931 |
| 11 | 3 | W0JFR | John | 2826T | CO | 29 | 21 | 265 | 874 |
| 12 | 3 | WA1BXY | Don | 4105 | RI | 32 | 21 | 115 | 787 |
| 13 | 3 | W6UT | Dennis | 2417T | CA | 29 | 19 | 195 | 746 |
| 14 | 3 | WA1LWS | Hans | 1933T | MD | 30 | 19 | 175 | 745 |
| 15 | 3 | W9CC | Larry | 469T | IN | 28 | 21 | 155 | 743 |
| 16 | 3 | NT9K | Bill | 1926T | FL | 24 | 18 | 295 | 727 |
| 17 | 3 | KL7GLL | Gene | 1098T | VA | 29 | 18 | 195 | 717 |
| 18 | 3 | K1NV | Jon | 2609-T | NV | 27 | 19 | 125 | 638 |
| 19 | 3 | WA1AR | Alan | 4079T | MA | 28 | 18 | 130 | 634 |
| 20 | 2 | KB4QQJ | Randy | 3508T | NC | 26 | 18 | 145 | 613 |
| 21 | 3 | N1LU | Don | 2252T | NH | 22 | 19 | 175 | 593 |
| 22 | 3 | K2SQS | Frank | 2535 | NJ | 24 | 19 | 135 | 591 |
| 23 | 3 | K5EWJ | Cookie | 4077T | TX | 24 | 18 | 125 | 557 |
| 24 | 3 | N7EF | Don | 1829T | WA | 21 | 17 | 175 | 532 |
| 25 | 3 | K8MEG | Rich | 4637 | MI | 20 | 18 | 165 | 525 |
| 26 | 3 | AF2Z | Drew | 2082T | NJ | 24 | 15 | 150 | 510 |
| 27 | 3 | W4HDM | Damon | 3729T | GA | 22 | 14 | 175 | 483 |
| 28 | 3 | N4FI | Dan | 324T | VA | 21 | 17 | 125 | 482 |
| 29 | 3 | KE5PWL | Eric | 4229 | LA | 20 | 18 | 115 | 475 |
| 30 | 3 | N0JL | Jim | 2079T | IA | 22 | 14 | 145 | 453 |
| 31 | 3 | K4JPN | Steve | 2402 | GA | 19 | 14 | 115 | 381 |
| 32 | 3 | K8KFJ | Gary | 2444 | WV | 14 | 13 | 120 | 302 |
| 33 | 1 | WB8OGK | Bruce | 3029 | MA | 16 | 11 | 115 | 291 |
| 34 | 3 | N4RE | Rick | 942T | NC | 13 | 12 | 80 | 236 |
| 35 | 2 | VE5DC | Jerry | 4440 | SK | 12 | 11 | 100 | 232 |
| 36 | 2 | KA2KGP | Tom | 1494 | NY | 15 | 10 | 80 | 230 |
| 37 | 3 | KK7YJ | Jim | 2728T | MT | 11 | 10 | 100 | 210 |
| 38 | 3 | K5ENA | John | 3045T | OK | 12 | 11 | 75 | 207 |
| 39 | 3 | WB8ENE | Art | 3773 | OH | 10 | 10 | 95 | 195 |
| 40 | 3 | K5ICW | Hank | 198C | TX | 10 | 9 | 100 | 190 |
| 41 | 3 | WA1VIL | Greg | 443 | MA | 9 | 9 | 80 | 161 |
| 42 | 3 | NV9X | Jim | 1358 | IL | 9 | 9 | 65 | 146 |
| 43 | 3 | AC2C | Ron | 2748T | MD | 10 | 8 | 60 | 140 |
| 44 | 3 | K6FFY | Nick | 1221C | WA | 7 | 7 | 90 | 139 |
| 45 | 3 | AB8FJ | Ted | 62C | OH | 9 | 7 | 70 | 133 |
| 46 | 3 | W4UCZ | Mark | 3609C | GA | 10 | 7 | 55 | 125 |
| 47 | 3 | W3RT | Red | 3237T | PA | 7 | 7 | 65 | 114 |
| 48 | 2 | W0EA | Tom | 4593 | IA | 9 | 7 | 45 | 108 |
| 49 | 3 | N1VWD | Brad | 2143C | VT | 5 | 5 | 70 | 95 |
| 50 | 2 | KC2EGL | Michael | 553T | PA | 8 | 6 | 45 | 93 |
| 51 | 3 | N9GGE | John | 2886 | IL | 7 | 5 | 55 | 90 |
| 52 | 2 | WA6L | John | 4210 | CA | 8 | 7 | 30 | 86 |
| 53 | 2 | N9AKF | Bart | 1625 | IN | 5 | 5 | 50 | 75 |
| 53 | 2 | WA2JSG | Curt | 3018 | NJ | 6 | 5 | 45 | 75 |
| 53 | 3 | N7DLI | Mike | 4615 | ID | 7 | 5 | 40 | 75 |
| 56 | 3 | K4UFT | Ted | 4289 | SC | 6 | 6 | 35 | 71 |
| 57 | 3 | N6EV | Paul | 3358T | CA | 5 | 5 | 45 | 70 |
| 58 | 3 | N8XE | Jason Hissong | 3806C | OH | 5 | 5 | 35 | 60 |
| 59 | 3 | KC9HGW | Bob | 281T | IL | 5 | 4 | 35 | 55 |
| 60 | 3 | KD5MMM | Phil | 4209 | TX | 4 | 4 | 35 | 51 |
| 61 | 3 | XE2HUM | Oscar | 4621 | XE | 4 | 4 | 30 | 46 |
| 62 | 3 | K6BFA | Pete | 4164 | VA | 4 | 3 | 25 | 37 |
| 63 | 3 | K6JF | Jim | 4261C | CA | 3 | 3 | 25 | 34 |
| 64 | 3 | K2PAY | Jerry | 4304 | NY | 3 | 3 | 20 | 29 |
| 65 | 2 | AA8XX | Tom | 1179 | MI | 2 | 2 | 20 | 24 |
| 65 | 3 | MM5PSL | Peter | 4439 | SH | 2 | 2 | 20 | 24 |
| 65 | 3 | N5KJ | Mark | 4614 | TX | 2 | 2 | 20 | 24 |
| 68 | 3 | G4LMW | Rob | 4454 | UK | 2 | 2 | 15 | 19 |
| 69 | 2 | K6CSL | Bert | 4486 | CA | 1 | 1 | 10 | 11 |
| 69 | 3 | N9WAY | Anton | 3911 | WI | 3 | 2 | 5 | 11 |
| 71 | 3 | AC6NN | Craig | 3217 | VA | 1 | 1 | 5 | 6 |
| 72 | 3 | KA3CTQ | Dan | 2338 | PA | 2 | 2 | 0 | 4 |
Results by Category and Final Score

| Rank | CAT | Call | Name | SKCC | QTH | QSO's | S/P/C | Bonus | Score |
| --- | --- | --- | --- | --- | --- | --- | --- | --- | --- |
| 1 | 3 (Club) | K9SKC/KJ7BS | Mark | 00T | AZ | 36 | 24 | 205 | 1069 |
| 1 | 1 | WB8OGK | Bruce | 3029 | MA | 16 | 11 | 115 | 291 |
| 1 | 2 | KB4QQJ | Randy | 3508T | NC | 26 | 18 | 145 | 613 |
| 2 | 2 | VE5DC | Jerry | 4440 | SK | 12 | 11 | 100 | 232 |
| 3 | 2 | KA2KGP | Tom | 1494 | NY | 15 | 10 | 80 | 230 |
| 4 | 2 | W0EA | Tom | 4593 | IA | 9 | 7 | 45 | 108 |
| 5 | 2 | KC2EGL | Michael | 553T | PA | 8 | 6 | 45 | 93 |
| 6 | 2 | WA6L | John | 4210 | CA | 8 | 7 | 30 | 86 |
| 7 | 2 | N9AKF | Bart | 1625 | IN | 5 | 5 | 50 | 75 |
| 7 | 2 | WA2JSG | Curt | 3018 | NJ | 6 | 5 | 45 | 75 |
| 8 | 2 | AA8XX | Tom | 1179 | MI | 2 | 2 | 20 | 24 |
| 9 | 2 | K6CSL | Bert | 4486 | CA | 1 | 1 | 10 | 11 |
| 1 | 3 | K4ZGB | Tom | 796T | AL | 46 | 24 | 220 | 1324 |
| 2 | 3 | K0LUW | Russ | 1702T | NE | 43 | 26 | 200 | 1318 |
| 3 | 3 | W7JI | Lou | 3064C | KS | 41 | 25 | 285 | 1310 |
| 4 | 3 | KB4T | Frank | 981T | FL | 39 | 24 | 250 | 1186 |
| 5 | 3 | K9MMS | Gary | 4291T | IL | 38 | 24 | 215 | 1127 |
| 6 | 3 | W9IL | Lou | 4532 | IL | 35 | 25 | 190 | 1065 |
| 7 | 3 | K9DTH | Ron | 3698C | IL | 36 | 22 | 190 | 982 |
| 8 | 3 | K4CNW | Jack | 2961T | SC | 39 | 19 | 190 | 931 |
| 9 | 3 | W0JFR | John | 2826T | CO | 29 | 21 | 265 | 874 |
| 10 | 3 | WA1BXY | Don | 4105 | RI | 32 | 21 | 115 | 787 |
| 11 | 3 | W6UT | Dennis | 2417T | CA | 29 | 19 | 195 | 746 |
| 12 | 3 | WA1LWS | Hans | 1933T | MD | 30 | 19 | 175 | 745 |
| 13 | 3 | W9CC | Larry | 469T | IN | 28 | 21 | 155 | 743 |
| 14 | 3 | NT9K | Bill | 1926T | FL | 24 | 18 | 295 | 727 |
| 15 | 3 | KL7GLL | Gene | 1098T | VA | 29 | 18 | 195 | 717 |
| 16 | 3 | K1NV | Jon | 2609-T | NV | 27 | 19 | 125 | 638 |
| 17 | 3 | WA1AR | Alan | 4079T | MA | 28 | 18 | 130 | 634 |
| 18 | 3 | N1LU | Don | 2252T | NH | 22 | 19 | 175 | 593 |
| 19 | 3 | K2SQS | Frank | 2535 | NJ | 24 | 19 | 135 | 591 |
| 20 | 3 | K5EWJ | Cookie | 4077T | TX | 24 | 18 | 125 | 557 |
| 21 | 3 | N7EF | Don | 1829T | WA | 21 | 17 | 175 | 532 |
| 22 | 3 | K8MEG | Rich | 4637 | MI | 20 | 18 | 165 | 525 |
| 23 | 3 | AF2Z | Drew | 2082T | NJ | 24 | 15 | 150 | 510 |
| 24 | 3 | W4HDM | Damon | 3729T | GA | 22 | 14 | 175 | 483 |
| 25 | 3 | N4FI | Dan | 324T | VA | 21 | 17 | 125 | 482 |
| 26 | 3 | KE5PWL | Eric | 4229 | LA | 20 | 18 | 115 | 475 |
| 27 | 3 | N0JL | Jim | 2079T | IA | 22 | 14 | 145 | 453 |
| 28 | 3 | K4JPN | Steve | 2402 | GA | 19 | 14 | 115 | 381 |
| 29 | 3 | K8KFJ | Gary | 2444 | WV | 14 | 13 | 120 | 302 |
| 30 | 3 | N4RE | Rick | 942T | NC | 13 | 12 | 80 | 236 |
| 31 | 3 | KK7YJ | Jim | 2728T | MT | 11 | 10 | 100 | 210 |
| 32 | 3 | K5ENA | John | 3045T | OK | 12 | 11 | 75 | 207 |
| 33 | 3 | WB8ENE | Art | 3773 | OH | 10 | 10 | 95 | 195 |
| 34 | 3 | K5ICW | Hank | 198C | TX | 10 | 9 | 100 | 190 |
| 35 | 3 | WA1VIL | Greg | 443 | MA | 9 | 9 | 80 | 161 |
| 36 | 3 | NV9X | Jim | 1358 | IL | 9 | 9 | 65 | 146 |
| 37 | 3 | AC2C | Ron | 2748T | MD | 10 | 8 | 60 | 140 |
| 38 | 3 | K6FFY | Nick | 1221C | WA | 7 | 7 | 90 | 139 |
| 39 | 3 | AB8FJ | Ted | 62C | OH | 9 | 7 | 70 | 133 |
| 40 | 3 | W4UCZ | Mark | 3609C | GA | 10 | 7 | 55 | 125 |
| 41 | 3 | W3RT | Red | 3237T | PA | 7 | 7 | 65 | 114 |
| 42 | 3 | N1VWD | Brad | 2143C | VT | 5 | 5 | 70 | 95 |
| 43 | 3 | N9GGE | John | 2886 | IL | 7 | 5 | 55 | 90 |
| 44 | 3 | N7DLI | Mike | 4615 | ID | 7 | 5 | 40 | 75 |
| 45 | 3 | K4UFT | Ted | 4289 | SC | 6 | 6 | 35 | 71 |
| 46 | 3 | N6EV | Paul | 3358T | CA | 5 | 5 | 45 | 70 |
| 47 | 3 | N8XE | Jason Hissong | 3806C | OH | 5 | 5 | 35 | 60 |
| 48 | 3 | KC9HGW | Bob | 281T | IL | 5 | 4 | 35 | 55 |
| 49 | 3 | KD5MMM | Phil | 4209 | TX | 4 | 4 | 35 | 51 |
| 50 | 3 | XE2HUM | Oscar | 4621 | XE | 4 | 4 | 30 | 46 |
| 51 | 3 | K6BFA | Pete | 4164 | VA | 4 | 3 | 25 | 37 |
| 52 | 3 | K6JF | Jim | 4261C | CA | 3 | 3 | 25 | 34 |
| 53 | 3 | K2PAY | Jerry | 4304 | NY | 3 | 3 | 20 | 29 |
| 54 | 3 | MM5PSL | Peter | 4439 | SH | 2 | 2 | 20 | 24 |
| 54 | 3 | N5KJ | Mark | 4614 | TX | 2 | 2 | 20 | 24 |
| 55 | 3 | G4LMW | Rob | 4454 | UK | 2 | 2 | 15 | 19 |
| 56 | 3 | N9WAY | Anton | 3911 | WI | 3 | 2 | 5 | 11 |
| 57 | 3 | AC6NN | Craig | 3217 | VA | 1 | 1 | 5 | 6 |
| 58 | 3 | KA3CTQ | Dan | 2338 | PA | 2 | 2 | 0 | 4 |
| 1 | 4 | K8AQM | Ted | 1629T | MI | 35 | 23 | 210 | 1015 |
Soapbox
---

K5ICW Operated by: Hank

My first SKS. Lots of fun. Thanks to all. Tried out my new GHD Mechanical Bug. 73 Hank k5icw


---

WA6L Operated by: John

Argonaut V at 5 watts. Not a good outing for me. 20 meters was dead. 40 meters was jumping, but I couldn't get through with my little 5 watts. Then the DX SSB came in and put the icing on the cake. Still, I always have a lot of fun on this sprint, and I enjoy the good (and interesting) fists out there. Thanks, and see you all next month. 73, John, WA6L



---

AC6NN Operated by: Craig

Just put up a new 80m loop but only had 5 min. to get in the contest! Maybe more next month.


---

WB8OGK Operated by: Bruce

Fun fun fun. Lots of activity on the lower and upper 40. I got my Softrock SDR rig working again and was able to hear a lot better than the sprintathon. My arm wasn't so great and my sending was a bit QLF hihi. Goodto see all the folks on the band tonight.


---

N1LU Operated by: Don

Sure beats watching the convention!! Some QRN, but good condx otherwise. Thanks KH6G for Hawaii. Fun as always.


---

K2SQS Operated by: Frank

Enjoyed the low key sprint. Nice to finally work the SKCC station.


---

W3RT Operated by: Red

I was only able to work the last 43 minutes of the SKS this time. The only antenna I have up right now is the ground mounted vertical. Hope to get the rest of the farm up in the air by the weekend.
73 & thanks to all that I worked. Good job again, Bill for your efforts. Red, W3RT- SKCC #3237T PA.


---

NT9K Operated by: Bill

Sounded like a pretty good turnout. Lots of big signals on 40 meters. I worked a few on 20, but mostly 40. Thanks to Mark KJ7BS for K9SKC on 3 bands. Big signals from Bruce N1LU and Cookie K5EWJ.

I used my new bug the entire sprint. Fouled up a few times, but it was fun. Seemed like I kept following N0JL around all night. Only S&P this time. Seemed like I heard more bugs than ever before? Until next time 73, Bill NT9K..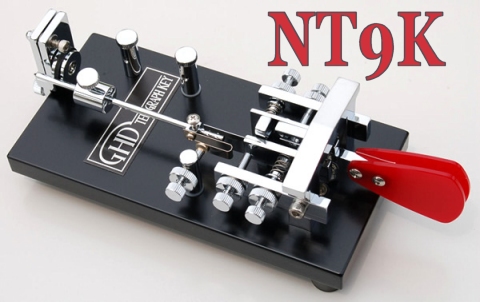 I used the GHD GN207ab bug for this sprint.


---

W0JFR Operated by: John

20m was pretty weak, but the two bands on 40m were hot. Best signals: W7JI & K9SKC. K3, vertical, K2RFP logger.


---

WA1VIL Operated by: Greg

Great way to spark activity in the "dead zone" above 7100! Keep it up and I can use my 1965 vintage novice crystals and a boatanchor TX for SKS!


---

NV9X Operated by: Jim

Wish there was one a week, instead of once a month.


---

K0LUW Operated by: Russ

Lots of QRN tonite. Had trouble copying the QRP guys. Still as always, a lot of fun.


---

AB8FJ Operated by: Ted

Great fun working all the stations in the Novice portion of the band this evening. Rig was my Argonaut V at 20W and Bencher RJ-2 key.


---

W7JI Operated by: Lou

This was my first SKS and I enjoyed operating it.


---

VE5DC Operated by: Jerry

Ran


---

MM5PSL Operated by: Peter

Two 'T' stations worked. Hope I got the scoring right?
73
Peter
Shetland Islands


---

WA2JSG Operated by: Curt

Thought I'd try my Icom IC703 turned down to 4 watts for this one, from a 12v battery (which died hi hi). Fun event. Curt



---

N9AKF Operated by: Bart

Great sprint and band conditions! I got a late start, but stll made contacts from the east coast to the west coast.
Bart


---

K5EWJ Operated by: Cookie

Missed most of the first hour but 40 A was pretty good. Never ran out of stations on 40A so did not get to 40B. Equipment was Elecraft K3, 1962 Vibroplex Original and rotatable dipole on SteppIR beam at 67 ft. Only one QSO on 20 meters.


Tower at K5EWJ


---

K9SKC/KJ7BS Operated by: Mark

What a blast. Sorry if I could not hear some of the stations calling me. Thunder storms in the state and neighboring states causing static crashes from lightning.

I spent the first 30 minutes working 20m. Then spent 30 minutes working the high 40m band. The final hour was spent on the lower 40 meter band.

Thanks for the stations who QRS for me.

Station: Kenwood TS-850S/AT @ 100w to a Cushcraft R-7000 vertical mounted up 8 feet. Used my 1940 Vibroplex Lightning bug and trusty Army Signal Corps J-38.

I just love operating the club call.


---

KC9HGW Operated by: Bob

Got home late from a work farewell party, but managed a few contacts.


---

KB4T Operated by: Frank

Conditions were different compared to the most recent SKS events.
Propagation was shorter but grew longer as the hours passed.
Sigs that have been strong in the past were weak and stations closer (relatively) were
much stronger. I still wonder why folks repeat stuff when it's not necessary? Repeats should
only be given when requested. Can't make more QSOs when time is spent sending thing
unnecessarily.

Still....all in all....a fun evening. de Frank KB4T SKCC 981T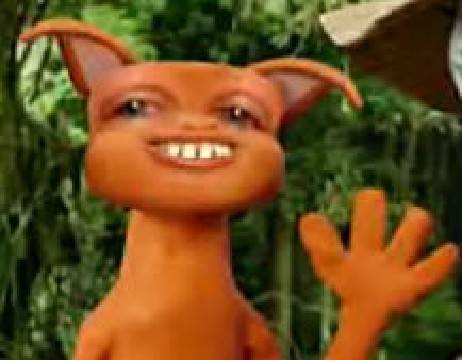 SKS makes me Happy!


---

K8KFJ Operated by: Gary

Did a 40m only S&P effort this evening making 14 contacts in 13 States. The band sounded very good and most signals were very strong. Nice to hear activity in the 71XX MHz area again. Enjoyed hearing the sideswiper of N0JL (very distinctive keying). K9SKC was my last contact .. tks Mark. My appreciation to all that gave me a contact. Rig was an Icom706MKII2G to a vertical.
//Gary -K8KFJ- West Virginia SKCC #2444


---

AF2Z Operated by: Drew

Started on 20m as usual, but nil. Went to lower 40m which was pretty busy, so settled there for awhile. Then to 7100+ for six QSOs including one dup from lower 40 (tks Jack K4CNW), plus Mark at K9SKC. Even made a few contacts on 80m (tks Tom KA2KGP for hanging in there... needed lots of repeats due QRN). In all, got six or seven never worked before, including non-member Will K9FO. My station: Elecraft K3 @ 12w, 100' wire up 30', Junker straight key. -- 73 & tks to all!


---

K8MEG Operated by: Rich

Band conditons were pretty good. Nice hearing some solid signals. Thanks to all those who I worked. 73, Rich


---

XE2HUM Operated by: Oscar

FUN NIGHT DOWN HERE, BUT BAD PROPOGATION, I DONT HEARD ANYTING


---

K8AQM Operated by: Ted

Got off to a very slow start but really enjoyed re-learnig how to use a bug. I will get better so please forgive my "swing." Great to work a couple of Hawaii stations.


---

K9MMS Operated by: Gary

Arrived home from work, via heavy traffic, about 15 minutes before the start of the sprint - whew! Still a bit stressed at the start of the contest -- oh well. :)

Twenty and 80 meters were not very productive for me. Most of the QSOs were on 40. The second band on 40 does help some.

Still, fun as always. Thanks for the QSOs. 73, Gary


---

K4ZGB Operated by: Tom

Worked several new members including Pete, MM5PSL on 40 meters.


---

KE5PWL Operated by: Eric

another fun time. i had the bug rocking this go-round. 40 was a workhorse band again. lot's of qrn for me though. lost one qso with ae6l i think that was the call.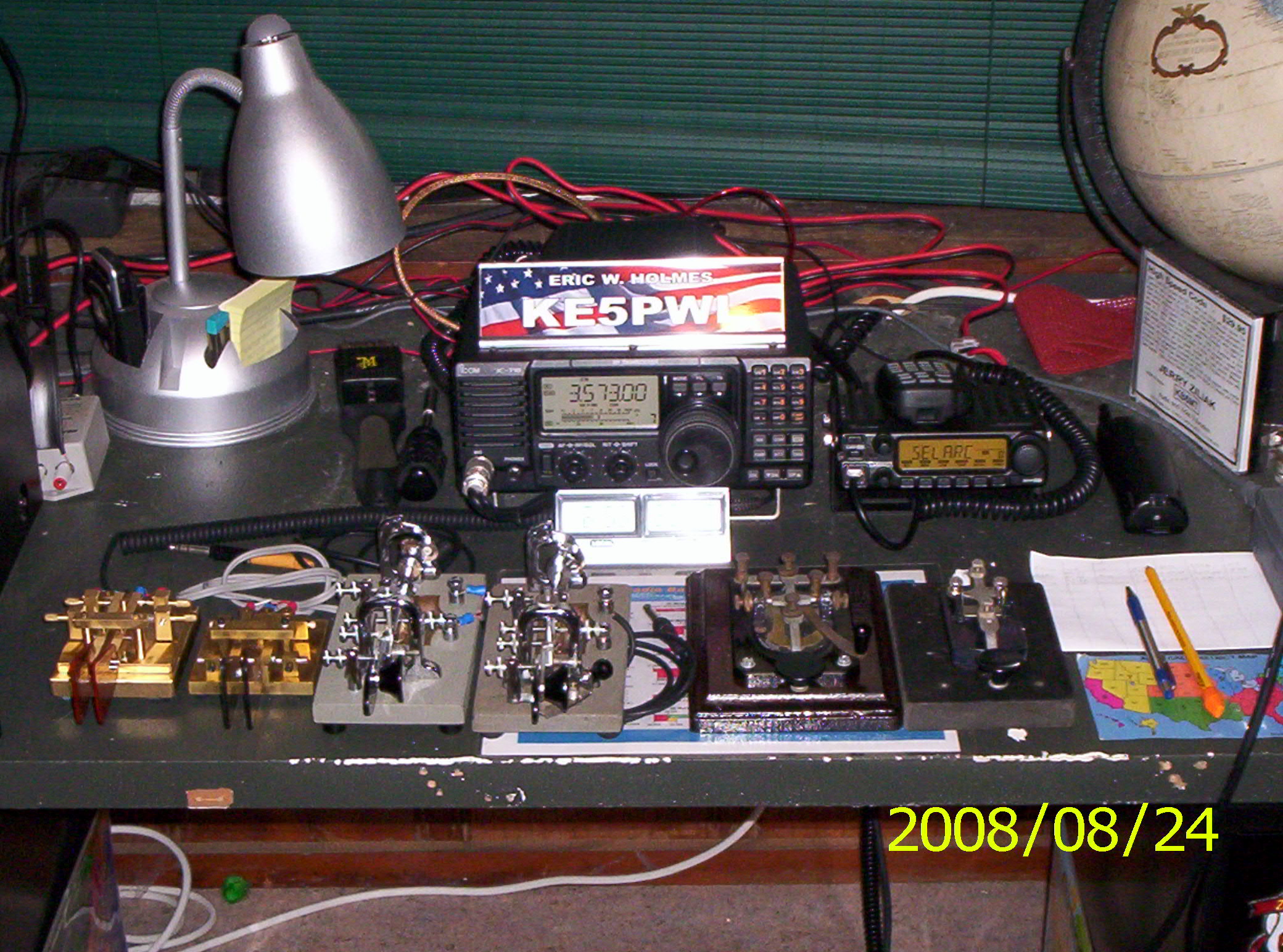 ---

KL7GLL Operated by: Gene

What a fabulous turnout and exciting two hours, with activity from start to finish. Lots of new SKCC Members worked, including Doug, KH6U, in Hawaii, my only contact on 20 mtrs, and a few non-members. Almost all my time was spent on 40 mtrs, with no success on 80 mtrs. Signal levels were strong and noise levels were low, making for a great SKS.


---

W4HDM Operated by: Damon

Great Sprint! Worked lots of new SKCC ops and one non-member.

Only lost one contact in the noise -WU7R- could not pull him out for the points :O( ...Sorry Ci
and lost some due to pile-ups.

Had to stop 15 min early .... Dinner!


---

KB4QQJ Operated by: Randy

Another Fine Sprint!! Everybody was loud tonight!! hard to tell strongest signal. I think everybody was at least 589. K8MEG, Rich was the only one that went to full scale on the 703. That would be 60 over!! Boom!!
A very fine fist was Mike, N7DLI. First time I've heard him. Many new calls were heard and that's great!!
Thanks to all that tried and I didn't get to. I got to work the whole time but only worked 40 meters.
I heard nothing on 20 or 80. 73 es BCNU

Randy _ KB4QQJ


---

K6FFY Operated by: Nick

The bands started to come alive for me shortly before the Sprint time ran out.


---

WA1LWS Operated by: Hans

Where are DE, AR, MS and WY?


---

N6EV Operated by: Paul

Got home late from work darn it. Was only able to get on the air the last 15 minutes of SKS, so it was a scramble to give out some points (5 Qs). Key for this short one was an 1881 Bunnell steel lever legless key. Hopefully work doesn't get in the way next time.

73 Paul N6EV #3358T "dit dit"


---

K6CSL Operated by: Bert

I worked K8AQM,Ted #1629T in MI. He was the only signal I heard during the 2 hours, except for W0IS in MN who was Fox for the SOC Summer Fox Hunt which occurs 01:00UTC to 02:30UTC each Wednesday(Tuesday evening PDT) I was very surprised to work Ted when I was unable to work the MN station. 73's to all
Bert, K6CSL #4486


---

G4LMW Operated by: Rob

Nice to hear many stations active - but no time to work them!


---

W0EA Operated by: Tom

I set up portable operations in Ellis Park in Cedar Rapids, IA for the SKS. One 40m inverted Vee up about 30 feet was the antenna. Ran 5 watts out of my FT-890 and used my J38 SK. Had a blast working a bunch of guys including a QRS contact. The band was in great shape and I had LOTS of loud signals with no problem working anybody I heard even with 5 watts. I had to pack up about 30min early because it got too dark to write! hihi...

All in all, my first SKS was a huge sucess.


---

KA2KGP Operated by: Tom

A couple of QSO's on 80m., most were on 40m. with fair band conditions. Good turnout for the sprint.



---

WA1AR Operated by: Alan

Used only 40 Meters. Band was jumping at both ends of 40M. Constant activity. Only thing that slowed me down was I had to stop to do the loging. Propagation was very diffrent than previous SKS. Not the usual local east coast stations. Lots of new calls from the west and I even worked W6UT across the length of the US in California.

Alan
WA1AR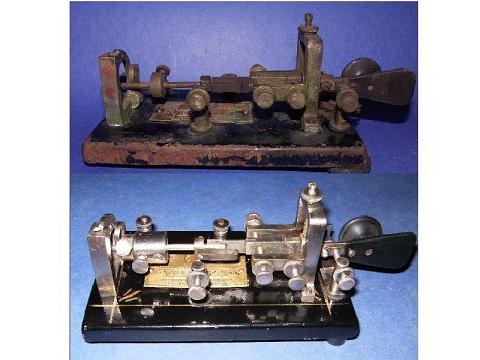 Restored Key use for SKS


---

WB8ENE Operated by: Art

Actually, I didn't even know about the new 40 meter band until now. Haven't operated a sprint in a while. Got the 4BTV mounted on the roof, so was able to make a couple of contacts on 20M this time. Only operated the first hour of the sprint.


---

N1VWD Operated by: Brad

Icom-736 @ 100w
Windom @ abt 35'
Bencher RJ-1 Straight Key
I am all for the new 40m band great idea!


---

K4CNW Operated by: Jack

Lots of fun but QRN due to heavy thunderstorms made things a little rough here. Had to take several breaks due to let the storms pass by. Was happy to see John, N2AKG, one of our newest members in the Sprint. I recruited John via email after an on the air QSO.

I'm not in favor of making the 40 meter band a permanent change. With the upswing of the solar cycle and better winter time conditions coming, I think it will dilute SKS activity on other HF bands.




---

AA8XX Operated by: Tom

I did not have much time but it is really fun i got two qso's with my 5 watts and loop antenna, did a lot of listening and trying. tnx for having it
AA8XX TOM


---

K4UFT Operated by: Ted

J-37 key. Antenna is end-fed 25' wire.

Started out with Icom 703 with 10 Watts on 40 Meters ... No Joy. Switched to Icom 706 with 30 Watts above 7100 kHz ... Great! Minimum QRN and no QRM from Foreign Broadcast.

Called CQ and got response from someone not in the Sprint and spent 25 minutes in QSO. He was new, on straight key, kinda slow, and trying hard so I think this was time well spent. Told him to look at SKCC website and join in the fun.

It's okay by me if Cycle 24 starts anytime now ...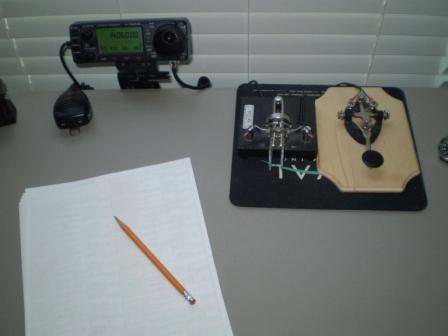 Clean Desk Indicates Staged Photo


---

W9CC Operated by: Larry

It was a fun sprint. Upon checking calls and numbers, I'd say a couple guys need to update their info -- either that or Slim likes to work sprints!


---

KD5MMM Operated by: Phil

only got 4 QSOs, but enjoyed it. looking forward to next time.


---

W6UT Operated by: Dennis

Worked 20/40 (both bands). Had another great time.


---

N4RE Operated by: Rick

I could only operate the last hour. I heard lots of great fists but couldn't catch them all! Maybe next time.

Rick - N4RE - 942T


---

K1NV Operated by: Jon

I finished installing the tribander on the tower just minutes before the start of the sprint. Twenty meters was good for the first hour and forty was hot during the second. No DX stations were heard, but eastern US stations were plentiful on both bands.


---

K4JPN Operated by: Steve

Enjoyed srint, look forward to when condx good again and can use QRP.
73,
Steve K4JPN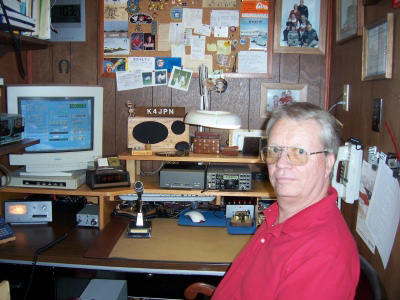 ---

N8XE Operated by: Jason Hissong

Got to work my first UK SKCC member, G4LMW. Thanks Rob!


---

N0JL Operated by: Jim

Good time. Most pleased that I worked 9 stations without either a 'C' or a 'T.' Where were the 'C' stations? I only worked two!


---

KC2EGL Operated by: Michael

Started out with a bang. I was on a pace for 25 or so QSO's. Then everyone and their brother found 40M so it was hard for me to sit on a frequency and call CQ. Had a blast anyway. Thanks to those who worked me. CU in the next sprint.
73
Michael
KC2EGL
SKCC 553T


---

AC2C Operated by: Ron

Good conditions, good participation.

I sure wish I'd had more time for the sprint.


---

KA3CTQ Operated by: Dan

I always get busy when the SKS comes up. Only time for two QSOs.


---
Poll #1 - Should the new 40 meter band be a permanant change?
Choice-1 = Yes
Choice-2 = No




---
Poll #2 - Which best describes your station and operations?
1) An Icom radio, a rig controller, and computer control of the radio.
2) A Kenwood radio, a rig controller, and computer control of the radio.
3) An other make of radio, computer controlled.
4) No computer control of the radio.




---
Powered by www.skccgroup.com - Automated by K2RFP.
Updated: August 29,2008 1635 UTC