| | |
| --- | --- |
| | Categories (CAT) |
| | 1 = 1 watt or less. |
| | 2 = Greater than 1 watt, up to 5 watts. |
| | 3 = Greater than 5 watts, up to 100 watts. |
| | 4 = Greater than 100 watts. |
| &nbsp &nbsp &nbsp &nbsp &nbsp &nbsp | &nbsp &nbsp * = Club call sign/operator. |
SKCC SKS Results
Date: July 23 2008
Club call/operator: K9SKC/K9MMS
Total participants: 60



QSOs x S/P/C + Bonus = Score




Results by Final Score

| Rank | CAT | Call | Name | SKCC | QTH | QSO's | S/P/C | Bonus | Score |
| --- | --- | --- | --- | --- | --- | --- | --- | --- | --- |
| 1 | 3 | K0LUW | Russ | 1702T | NE | 41 | 25 | 225 | 1250 |
| 2 | 3 | K4CNW | Jack | 2961T | SC | 37 | 24 | 220 | 1108 |
| 3 | 3 | KB4T | Frank | 981T | FL | 38 | 22 | 160 | 996 |
| 4 | 3 (Club) | K9SKC/K9MMS | Gary | 00T | IL | 36 | 22 | 135 | 927 |
| 5 | 3 | K1NV | Jon | 2609-T | NV | 33 | 21 | 185 | 878 |
| 6 | 3 | K9DTH | Ron | 3698 | IL | 28 | 18 | 115 | 619 |
| 7 | 4 | HC2AD | Allan | 3671C | EC | 22 | 18 | 160 | 556 |
| 8 | 3 | KK7YJ | Jim | 2728T | MT | 24 | 15 | 150 | 510 |
| 9 | 3 | W3RT | Red | 3237 T | PA | 19 | 18 | 155 | 497 |
| 10 | 3 | KE5PWL | Eric | 4229 | LA | 20 | 17 | 145 | 485 |
| 11 | 3 | K5EWJ | Cookie | 4077T | TX | 20 | 17 | 120 | 460 |
| 12 | 3 | N6EV | Paul | 3358C | CA | 19 | 15 | 135 | 420 |
| 13 | 3 | N0JL | Jim | 2079C | IA | 19 | 16 | 115 | 419 |
| 14 | 3 | NT9K | Bill | 1926T | FL | 18 | 14 | 150 | 402 |
| 15 | 3 | WA1AR | Alan | 4079T | MA | 19 | 13 | 100 | 347 |
| 16 | 3 | N9FC | John | 3893T | IN | 17 | 12 | 95 | 299 |
| 17 | 3 | WA1LWS | Hans | 1933T | MD | 15 | 11 | 125 | 290 |
| 18 | 3 | K5ENA | John | 3045T | OK | 13 | 12 | 110 | 266 |
| 19 | 3 | W4HDM | Damon | 3729T | VA | 16 | 12 | 65 | 257 |
| 20 | 3 | AF2Z | Drew | 2082T | NJ | 13 | 12 | 100 | 256 |
| 21 | 3 | AI4AW | Chris | 4430 | GA | 17 | 10 | 85 | 255 |
| 22 | 3 | W4ONC | Joe Riplinger | 3765 | VA | 12 | 11 | 100 | 232 |
| 23 | 3 | N4FI | Dan | 324T | VA | 13 | 12 | 75 | 231 |
| 24 | 2 | N2UM | Gary | 3041 | NY | 11 | 10 | 110 | 220 |
| 24 | 3 | K8KFJ | Gary | 2444 | WV | 12 | 10 | 100 | 220 |
| 26 | 2 | N2JNZ | George | 2836T | NY | 12 | 8 | 105 | 201 |
| 27 | 2 | N1LU | Don | 2252T | NH | 10 | 10 | 100 | 200 |
| 27 | 3 | K4ZGB | Tom | 796T | AL | 13 | 10 | 70 | 200 |
| 29 | 3 | K6JF | Jim | 4261C | CA | 11 | 9 | 90 | 189 |
| 30 | 3 | KC9GMN | Bob | 2297 | IL | 13 | 9 | 70 | 187 |
| 31 | 3 | KA3CTQ | Dan | 2338 | PA | 10 | 8 | 105 | 185 |
| 32 | 3 | K7ZYV | Carl | 205 | MS | 11 | 8 | 90 | 178 |
| 33 | 2 | W5TM | Ed | 4530 | OK | 9 | 6 | 110 | 164 |
| 34 | 3 | AE6GC | Jack Regan | 4461 | CA | 9 | 8 | 85 | 157 |
| 35 | 3 | KC8HKI | Nick | 3338 | GA | 12 | 9 | 40 | 148 |
| 36 | 3 | AD5VC | Dana | 1555T | LA | 10 | 9 | 55 | 145 |
| 37 | 3 | W4NBS | Tom | 4049 | AL | 10 | 9 | 50 | 140 |
| 38 | 2 | N6DIT | Dennis | 3283 | CA | 7 | 7 | 70 | 119 |
| 38 | 3 | N9QU | Leo | 3464C | WI | 7 | 7 | 70 | 119 |
| 40 | 3 | K6FFY | Nick | 1221C | WA | 7 | 5 | 80 | 115 |
| 41 | 1 | KB4QQJ | Randy | 3508T | NC | 8 | 7 | 55 | 111 |
| 42 | 3 | KA7SPS | Dick | 2499 | OR | 6 | 5 | 70 | 100 |
| 43 | 3 | NV9X | Jim | 1358 | IL | 8 | 8 | 30 | 94 |
| 44 | 2 | AB0TX | Mike | 4607 | KS | 5 | 5 | 65 | 90 |
| 45 | 2 | N9GGE | John | 2886 | IL | 6 | 5 | 30 | 60 |
| 46 | 3 | AA3UJ | Seung | 4000 | PA | 4 | 4 | 40 | 56 |
| 47 | 3 | K8NB | Noel | 3112T | MI | 7 | 5 | 20 | 55 |
| 48 | 3 | N7EF | Don | 1829T | WA | 3 | 3 | 45 | 54 |
| 49 | 3 | AC6NN | Craig | 3217 | VA | 4 | 4 | 30 | 46 |
| 49 | 3 | N8CPA | Steve | 8 | OH | 4 | 4 | 30 | 46 |
| 51 | 2 | K6BFA | Pete | 4164 | VA | 3 | 3 | 30 | 39 |
| 52 | 2 | EA8ALP | Adelto Glez | 4597 | CA | 1 | 1 | 35 | 36 |
| 53 | 3 | W6SQQ | Al | 1283C | CA | 3 | 3 | 25 | 34 |
| 54 | 4 | KL8DX | Phil | 3800C | AK | 4 | 3 | 20 | 32 |
| 55 | 3 | K2PAY | Jerry | 4304 | NY | 2 | 2 | 20 | 24 |
| 56 | 3 | W4FOA | Tony | 0641 T | GA | 4 | 2 | 15 | 23 |
| 57 | 3 | W1EJ | Ed | 1594 | CA | 2 | 1 | 20 | 22 |
| 58 | 3 | LW3EX | Walt | 3804T | LU | 1 | 1 | 10 | 11 |
| 59 | 3 | KB1OSI | Devin Walker | 4484 | NH | 2 | 2 | 0 | 4 |
| 60 | 3 | KA5EXI | Michael | 4579 | AL | 1 | 1 | 0 | 1 |
Results by Category and Final Score

| Rank | CAT | Call | Name | SKCC | QTH | QSO's | S/P/C | Bonus | Score |
| --- | --- | --- | --- | --- | --- | --- | --- | --- | --- |
| 1 | 3 (Club) | K9SKC/K9MMS | Gary | 00T | IL | 36 | 22 | 135 | 927 |
| 1 | 1 | KB4QQJ | Randy | 3508T | NC | 8 | 7 | 55 | 111 |
| 1 | 2 | N2UM | Gary | 3041 | NY | 11 | 10 | 110 | 220 |
| 2 | 2 | N2JNZ | George | 2836T | NY | 12 | 8 | 105 | 201 |
| 3 | 2 | N1LU | Don | 2252T | NH | 10 | 10 | 100 | 200 |
| 4 | 2 | W5TM | Ed | 4530 | OK | 9 | 6 | 110 | 164 |
| 5 | 2 | N6DIT | Dennis | 3283 | CA | 7 | 7 | 70 | 119 |
| 6 | 2 | AB0TX | Mike | 4607 | KS | 5 | 5 | 65 | 90 |
| 7 | 2 | N9GGE | John | 2886 | IL | 6 | 5 | 30 | 60 |
| 8 | 2 | K6BFA | Pete | 4164 | VA | 3 | 3 | 30 | 39 |
| 9 | 2 | EA8ALP | Adelto Glez | 4597 | CA | 1 | 1 | 35 | 36 |
| 1 | 3 | K0LUW | Russ | 1702T | NE | 41 | 25 | 225 | 1250 |
| 2 | 3 | K4CNW | Jack | 2961T | SC | 37 | 24 | 220 | 1108 |
| 3 | 3 | KB4T | Frank | 981T | FL | 38 | 22 | 160 | 996 |
| 4 | 3 | K1NV | Jon | 2609-T | NV | 33 | 21 | 185 | 878 |
| 5 | 3 | K9DTH | Ron | 3698 | IL | 28 | 18 | 115 | 619 |
| 6 | 3 | KK7YJ | Jim | 2728T | MT | 24 | 15 | 150 | 510 |
| 7 | 3 | W3RT | Red | 3237 T | PA | 19 | 18 | 155 | 497 |
| 8 | 3 | KE5PWL | Eric | 4229 | LA | 20 | 17 | 145 | 485 |
| 9 | 3 | K5EWJ | Cookie | 4077T | TX | 20 | 17 | 120 | 460 |
| 10 | 3 | N6EV | Paul | 3358C | CA | 19 | 15 | 135 | 420 |
| 11 | 3 | N0JL | Jim | 2079C | IA | 19 | 16 | 115 | 419 |
| 12 | 3 | NT9K | Bill | 1926T | FL | 18 | 14 | 150 | 402 |
| 13 | 3 | WA1AR | Alan | 4079T | MA | 19 | 13 | 100 | 347 |
| 14 | 3 | N9FC | John | 3893T | IN | 17 | 12 | 95 | 299 |
| 15 | 3 | WA1LWS | Hans | 1933T | MD | 15 | 11 | 125 | 290 |
| 16 | 3 | K5ENA | John | 3045T | OK | 13 | 12 | 110 | 266 |
| 17 | 3 | W4HDM | Damon | 3729T | VA | 16 | 12 | 65 | 257 |
| 18 | 3 | AF2Z | Drew | 2082T | NJ | 13 | 12 | 100 | 256 |
| 19 | 3 | AI4AW | Chris | 4430 | GA | 17 | 10 | 85 | 255 |
| 20 | 3 | W4ONC | Joe Riplinger | 3765 | VA | 12 | 11 | 100 | 232 |
| 21 | 3 | N4FI | Dan | 324T | VA | 13 | 12 | 75 | 231 |
| 22 | 3 | K8KFJ | Gary | 2444 | WV | 12 | 10 | 100 | 220 |
| 23 | 3 | K4ZGB | Tom | 796T | AL | 13 | 10 | 70 | 200 |
| 24 | 3 | K6JF | Jim | 4261C | CA | 11 | 9 | 90 | 189 |
| 25 | 3 | KC9GMN | Bob | 2297 | IL | 13 | 9 | 70 | 187 |
| 26 | 3 | KA3CTQ | Dan | 2338 | PA | 10 | 8 | 105 | 185 |
| 27 | 3 | K7ZYV | Carl | 205 | MS | 11 | 8 | 90 | 178 |
| 28 | 3 | AE6GC | Jack Regan | 4461 | CA | 9 | 8 | 85 | 157 |
| 29 | 3 | KC8HKI | Nick | 3338 | GA | 12 | 9 | 40 | 148 |
| 30 | 3 | AD5VC | Dana | 1555T | LA | 10 | 9 | 55 | 145 |
| 31 | 3 | W4NBS | Tom | 4049 | AL | 10 | 9 | 50 | 140 |
| 32 | 3 | N9QU | Leo | 3464C | WI | 7 | 7 | 70 | 119 |
| 33 | 3 | K6FFY | Nick | 1221C | WA | 7 | 5 | 80 | 115 |
| 34 | 3 | KA7SPS | Dick | 2499 | OR | 6 | 5 | 70 | 100 |
| 35 | 3 | NV9X | Jim | 1358 | IL | 8 | 8 | 30 | 94 |
| 36 | 3 | AA3UJ | Seung | 4000 | PA | 4 | 4 | 40 | 56 |
| 37 | 3 | K8NB | Noel | 3112T | MI | 7 | 5 | 20 | 55 |
| 38 | 3 | N7EF | Don | 1829T | WA | 3 | 3 | 45 | 54 |
| 39 | 3 | AC6NN | Craig | 3217 | VA | 4 | 4 | 30 | 46 |
| 39 | 3 | N8CPA | Steve | 8 | OH | 4 | 4 | 30 | 46 |
| 40 | 3 | W6SQQ | Al | 1283C | CA | 3 | 3 | 25 | 34 |
| 41 | 3 | K2PAY | Jerry | 4304 | NY | 2 | 2 | 20 | 24 |
| 42 | 3 | W4FOA | Tony | 0641 T | GA | 4 | 2 | 15 | 23 |
| 43 | 3 | W1EJ | Ed | 1594 | CA | 2 | 1 | 20 | 22 |
| 44 | 3 | LW3EX | Walt | 3804T | LU | 1 | 1 | 10 | 11 |
| 45 | 3 | KB1OSI | Devin Walker | 4484 | NH | 2 | 2 | 0 | 4 |
| 46 | 3 | KA5EXI | Michael | 4579 | AL | 1 | 1 | 0 | 1 |
| 1 | 4 | HC2AD | Allan | 3671C | EC | 22 | 18 | 160 | 556 |
| 2 | 4 | KL8DX | Phil | 3800C | AK | 4 | 3 | 20 | 32 |
Soapbox
---

KB1OSI Operated by: Devin Walker

My first contest! It was thrilling...


---

N6EV Operated by: Paul

SSB took out 40 in the end. 20 more productive than 40 this time around. Nice to see more of my fellow Centurions this time around.

As always.. fun to the last dit!
73 Paul


---

W4ONC Operated by: Joe Riplinger

I chased HC2AD all over the band but could never make contact. I still had a great time.


---

KB4T Operated by: Frank

Summer is here with all the static bursts that kept covering up the last letter in everyone's callsign! Had to tell several stations that I simply could not hear them through the noise. Bummer. Several stations called me that were not in the Sprint and didn't understand that I was in a contest. A few SKCC members called me and didn't realize we were having a SPRINT either!! Imagine I confused some and angered others. Bummer again. Hope everyone enjoyed the SKS. It was tough with all the noise. 73 de KB4T SKCC 981T in FL.


---

N1LU Operated by: Don

I could only operate the last half. Too much QRN on 80M, but kept busy on 40M QRP. Had fun as always.


---

W3RT Operated by: Red

A nice active 2 hour Sprint. Almost got AK! Close, but no cigar. Stuck to 40 & 20, and there was a lot of activity.
That's good to hear.

Thanks to all that contacted my station.

73, Red- W3RT, SKCC # 3237T in PA.


---

N9FC Operated by: John

CONDX VERY BAD IN INDY QRN


---

N2JNZ Operated by: George

Lots of QRN at my location but had fun !! Seemed to be alot on but signals weak here , Elecraft K-1-4 , Half G5RV up 35 ft as a sloper , Vibroplex Original 100th Anniversary Bug !!!


---

K9DTH Operated by: Ron

Not much activity on 20 so went to 40 early in evening.static level on 40 was s-9 making poor copy all evening. I heard K9skc but could not copy through the qrn.Maybe better conditions next time. 73s to all.


---

EA8ALP Operated by: Adelto Glez

Hi everyone, during Sprint July 23 2008 contest, I received a bunch of strong signals from SKCC members, but only W3MWR (George - PA - #2829 T) was able to hear me from the other side of the Atlantic Ocean. I'm in Canary Islands. I was using QRP 3 Watts and a Long Wire antenna.

73's.

EA8ALP #4597


---

K0LUW Operated by: Russ

Lots of QRN and poor propagation tonite. I had a lot of trouble hearing the QRP guys. Still fun as always. I only operated 40m tonite because I could not hear anyone on 20m.
Rig is an Icom 756pro3 at 100w into 2 phased vertical dipoles aimed east and west center fed at 40 feet and 3/8 wavelength spacing.


---

N9QU Operated by: Leo

Heard nothing on 20 and s6 noise on 80 but 40 had lots of signals. Couldn't connect with many due to static crashes but managed to get seven. All t's and seven different S/P/C'S. Lots of fun. 73 and thanks to all. Leo


---

W4HDM Operated by: Damon

Very nice Sprint .... 40 was very noisy but I managed to make several great cotacts! Only had one I had to scratch from bad copy, and one that tried, (6 land I think) I could not pull out.

Working the Sprint away from my QTH in Ga. Working from Central Virginia. My fist is a little rusty on the K-1 key as I am use to the Vibroplex and do not use this one much.
Rig ic7000, AT 7000, and a modified "Mystery Antenna" at abt 40 feet.

Thanks to all who participated!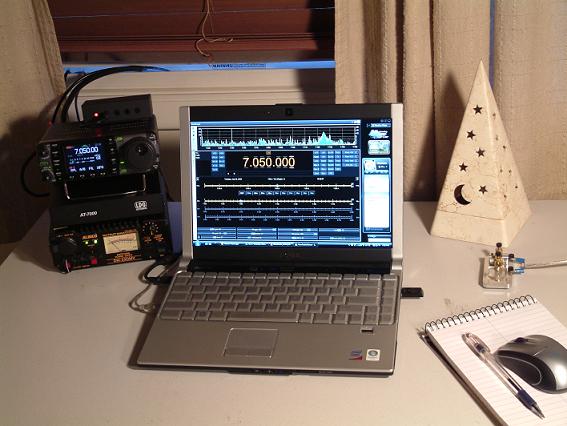 My portable atation in Virginia


---

NT9K Operated by: Bill

Very noisy in Florida. Thanks Jack K4CNW for waiting for me to get my log caught up.
Sorry to those that I couldn't copy and thanks to Gary for K9SKC on 40 meters.
Tonight I used 5 straight keys tonight and worked 20 and 40 meters.
Dennis W6UT was loud at the end on 20 meters.

I had a good time and even got to work some new members too.
73, Bill NT9K..



Navy Flameproof CMI-26003A Stripped and Polished


---

W5TM Operated by: Ed

Lots of QRN


---

AI4AW Operated by: Chris

Thank your for the qso's. Tonight was my last night on the radio. I will be moving to WI and hope to be back on soon.

73,
Chris


---

K8KFJ Operated by: Gary

Spent too much time on 14MHz at the start of the Sprint attempting to work HC2AD who was loud. Darn, missed him again. Signals were very good on 40 but so was the storm QRN at my location. Thankfully, most of the signals won out over the static. Worked stations from NH to FL to IA so the band was definately open in all directions. Key was my Nye Viking Master Key. My thanks to those who worked me and made it fun.
73, Gary -K8KFJ- WV SKCC #2444


---

KA5EXI Operated by: Michael

This was sure fun. Broke my absence from CW of about 15 years...sweaty palms, forgot my own call for a second, usual Novice jitters, hi. Only one contact, but that's all I needed to get back behind the brass and away from the mike for a while, right at end of Sprint window, hi.
Local storms took out first hour of operations due to local lightning, then hvy QRN on frequencies. Heard some stations calling SKS after cut-off but probably so wrapped up in the SKS they forgot the time, hi.
I'll be back, folks. Thanks to the SKCC crew for putting this together. Michael G / KA5EXI / SKCC #4579


---

KE5PWL Operated by: Eric

what a blast this month. I did S&P and called cq a few times also. first time to work k9skc and alaska too. kl8dx. the j-38 was on fire. can't wait till next month, i'll have my 1954 vibroplex original bug in action then.


---

K4ZGB Operated by: Tom

Only had about 30 minutes to operate before bad weather moved in.


---

KB4QQJ Operated by: Randy

Well, all things considered I think I did ok. Running 300 and 500 mW tonight and it was noisy here in NC. One contact on 20 ( Thanks again Alan ) HC2AD. No one else could hear me. All the rest were on 40. Strongest signal heard was Frank KB4T at 20 over. Tried several times for Russ K0LUW ( 10 over) but he couldn't quite hear me. A couple new contacts and a chance to use my new acquisition, a WWII BRITISH ARMY No. 2 MK III TELEGRAPH KEY. Haven't taken a photo since cleaning but here is how it arrived. As always had a great time!!!
Randy _ KB4QQJ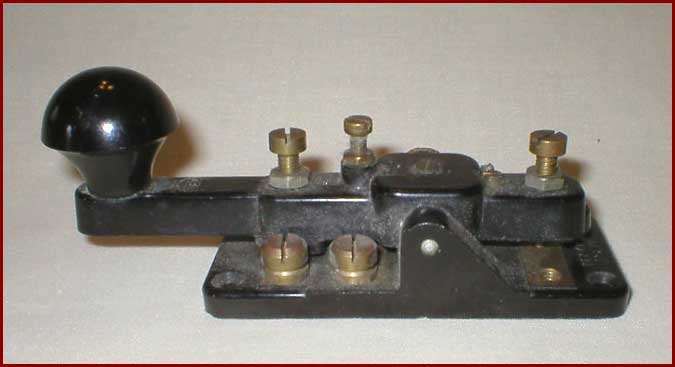 ---

W1EJ Operated by: Ed

Tried, tried, and tried, again and again to work K9SKC on 40meters but alas no joy in Mudville!


---

K5EWJ Operated by: Cookie

Twenty was fairly good. Forty was really noisy with Dolly churning out in the gulf, but I made quite a few contacts anyway. Heard some weak stations calling that I could not pick out. Was a rough night for QRP. I missed the first 20 minutes but had a good time after I got started. July is not the best month for high numbers of contacts in a sprint.


---

K6FFY Operated by: Nick

An enjoyable 2 hours.


---

K9SKC/K9MMS Operated by: Gary

It was a privilege and FUN to operate as K9SKC. Thanks to NT9K, Bill.

I had hoped to make 50 QSOs, and hand out K9SKC as much as possible, but the conditions would not allow it. I encountered several dead times, and had many unanswered CQs.

The conditions were poor. I started on 20 and stayed there for the first half hour. The QSO rate became very slow after about 20 minutes. Went to 40 at 0033Z and stayed there for the duration. High noise levels and weak / QSB signals made some of the QSOs difficult -- lost a few.

I was pleasantly surprised to have HC2AD call me on 40 and we were able to complete the QSO.

Thanks for all of the QSOs and for your patience when I had to request repeats. 73, Gary . K9SKC / K9MMS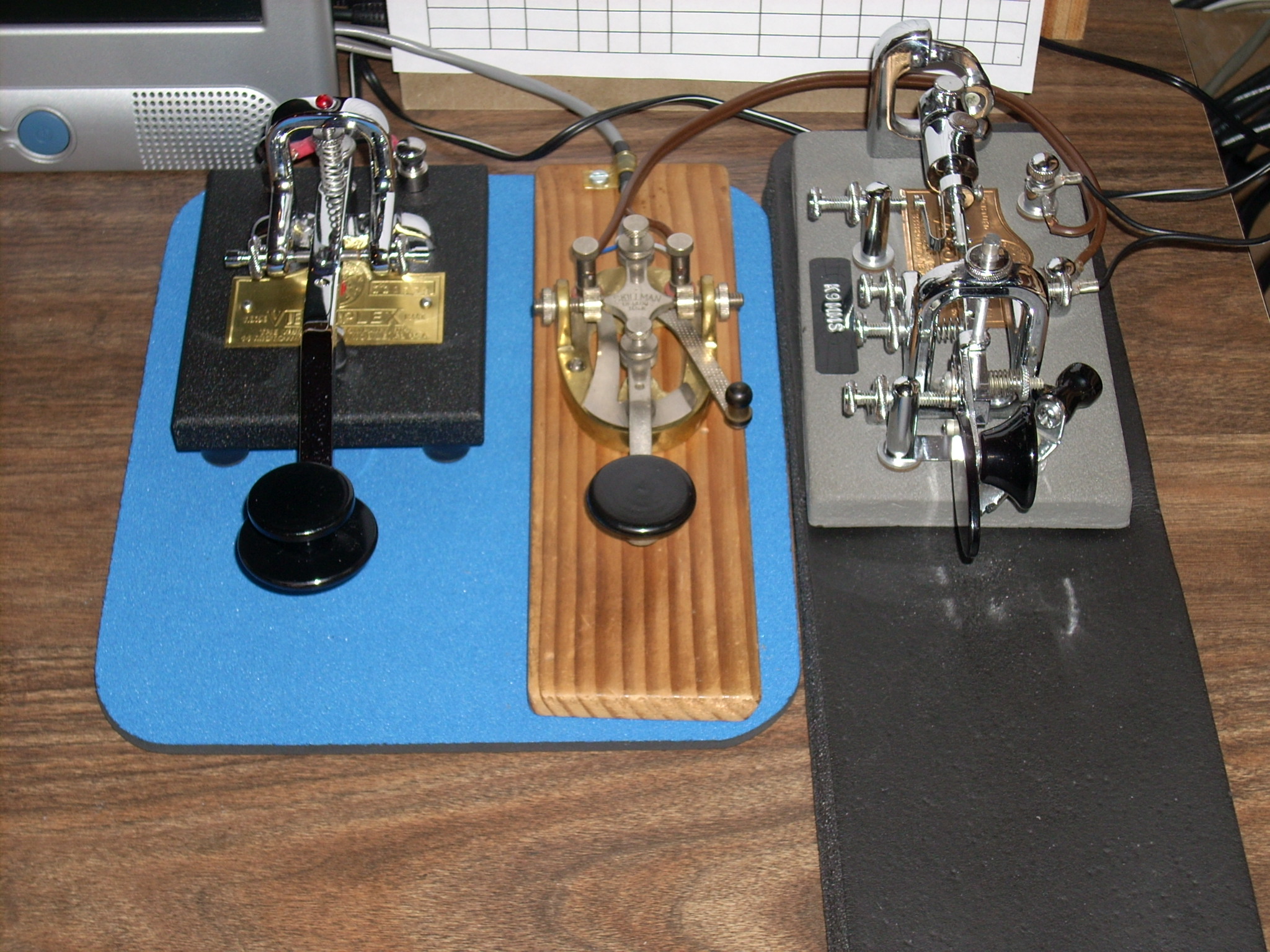 The "line-up" used by K9MMS for K9SKC. Vibroplex S.K., Skillman H.S.K., & Vibroplex Original.


---

K1NV Operated by: Jon

Big signal from Allan, HC2AD, on 20 meters. Is he using the HCJB antennas? Most QSO's were made on 20 meters this month with a flurry of 40 meter activity at the end. AD5VC, Dana, and I eked one out at the closing bell. Copy was a little rough due to the ringing in my ears from the CQ WW VHF contest over the past weekend.


---

K8NB Operated by: Noel

Only had about 25 minutes to play, but had fun. 20 watts on 40 meters and my old Vibroplex Champion. Hope to be back for next month.


---

KC9GMN Operated by: Bob

It's nice to back into the sprints, I enjoyed this one very much. My radio here was a Yaesu Ft-101Z to a simple dipole antenna up 30 feet and using a very cheap straight key. Thanks to everyone I made contact with and hope to see you all next time.

73
Bob


---

N8CPA Operated by: Steve

This was an all DAH event for me. But some DAHS were 3 times as long as others. I set my keyer in bug emulation and used my Vibrokeyer lever as a smashed cootie. Smash it to the left and when it springs back, smash it to the left again for the next element. The keyer was just a feed-thru. Memories were made, but not used, in the production of these QSO's. I wish I had had more time. 73


---

HC2AD Operated by: Allan

This is my first sks with brand new 3671C. 20m on good shape first 40 min... then somebody turn off the ionosphere. I pass to 40m, good for local hams but not so good for dx considering the path... few qso on it with a lot of noise...
Anyway...sks will be always funny and i really enjoy it.
This time i operate with icom ic-718, key bencher rj-1, amp Swan MarkII with 500w, ant HyGain Th6dx for 20m, ant vert Hustler 5btv for 40...

Allan/hc2ad
skcc 3671C


---

KC8HKI Operated by: Nick

Very frustrating. I stopped half way through. Seems like the more noise, the more people send confusing code. Lots of thunderstorms in the area. No good for radio. Maybe next time.


---

AF2Z Operated by: Drew

20m started off pretty good this time. Usually people can't hear me there. Got Allan HC2AD right off the bat (but couldn't reach him later on 40m). Mike AB0TX vanished in mid-QSO. On 40m worked some of the usuals. Tried 80 for a spell but no takers; too much QRN, I guess. Went back to 20 for the final QSO with Chris AI4AW. My rig: Elecraft K3 @ 12 watts, 100' wire up 30', Junker straight key. -- 73, Drew


---

N9GGE Operated by: John

The rig I use for these SKSs is a MFJ 9040 I bought used off ebay. Wow! it acually works. Now if the lighnting would just go away for once, more guys will hear me.


---

KA3CTQ Operated by: Dan

Still working portable in PA in a borrowed shack.
Great sprint with 40M jam packed with SKS. I stayed on 40M and got my personal best score. All the "T" SKCCers help with that.


---

K4CNW Operated by: Jack

Thunderstorms held off and bands were in pretty good shape. Nothing heard on 10 or 15 but 20 & 40 were jumping. Worked several non-members who seemed to have figured out what was going on with the Sprint and I put in a a plug for SKCC. Hopefully they will opt to join. Thanks to all for making the Sprint so enjoyable.


---

WA1AR Operated by: Alan

Was on 40M for the first 1.5 hours. Not too bad but lots of QRN and weak signals. A major T-storm just north of me the whole time. Tried 80M and spent 25 minuits and got nothing. Moved back to 40M for the last 5 minuits and picked up Cookie, W5EWJ at the end. Worked one non-member and finally got K9SKC on 40M. 100n the bug.

Alan WA1AR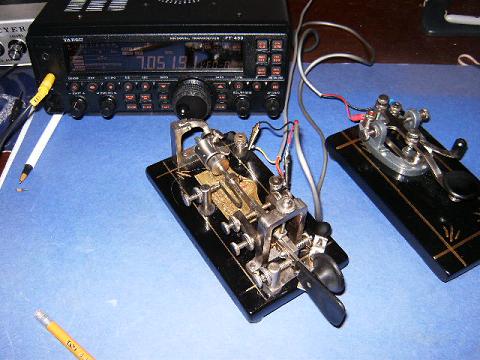 New rig meets old keys


---

AB0TX Operated by: Mike

Hate to miss an opportunity to beat up the J-38! worked about an hour of the sprint and heard quite a few stations on. Surprised that speeds were so slow. Where were these sprints when I was a novice? I am used to the faster contests like November Sweeps. I had to really look for stations calling CQ. Had a lot of fun and look forward to doing future sprints. Keeps my straight key skills in shape.
Thanks for the contacts as all are new SKCC numbers for me!

Mike
AB0TX

#4607


---

LW3EX Operated by: Walt

Nothing new at all under the Sun...
I was one hour on 20m, listened several stations but the band is closed by this time.
I could do one Q with K4CNW, tnx Jack.


---

N0JL Operated by: Jim

Had a ball, as usual. This is the way to get your 'C' or 'T.' I worked 10 new ones toward my 'T.' And only on 40!


---

KL8DX Operated by: Phil

Since I don't get home until after SKS is half over (if I get home on time), I only had time for a few contacts. I only did S&P for this one to give out my C and AK. I listened to 40 meters but it was dead here. I stuck to 20, the only band that had any signals. Lots of static crashes made it rough to copy weaker stations. The strongest signal for me was one I did not work but, heard working another station that being NV0S. Those I worked had good signals into Alaska, those being KK7YJ, KE5PWL, AD5VC, and AI4AW. It appears many shared similar band conditions. Short lived for me but always a good time!


---

W6SQQ Operated by: Al

Rats! Planned to work the whole Sprint. Got a phone call at 00:20, that led to another, then a visitor at the door. Sprint was over by the time I returned. Rats!

1st contact was K9SKC, great signal on 20M.
2nd was AE6GC, great to hear you in there, Jack. Also 20M.
3rd was K5ENA, good sig on 40M, John.

Oh well, maybe next time.


---
Powered by www.skccgroup.com - Automated by K2RFP.
Updated: July 24,2008 2032 UTC