| | |
| --- | --- |
| | Categories (CAT) |
| | 1 = 1 watt or less. |
| | 2 = Greater than 1 watt, up to 5 watts. |
| | 3 = Greater than 5 watts, up to 100 watts. |
| | 4 = Greater than 100 watts. |
| &nbsp &nbsp &nbsp &nbsp &nbsp &nbsp | &nbsp &nbsp * = Club call sign/operator. |
SKCC SKS Results
Date: June 25 2008
Club call/operator: K9SKC/KJ7BS
Total participants: 56



QSOs x S/P/C + Bonus = Score




Results by Final Score

| Rank | CAT | Call | Name | SKCC | QTH | QSO's | S/P/C | Bonus | Score |
| --- | --- | --- | --- | --- | --- | --- | --- | --- | --- |
| 1 | 3 | K9MMS | Gary | 4291T | IL | 42 | 27 | 200 | 1334 |
| 2 | 3 | K9DTH | Ron | 3698 | IL | 40 | 24 | 170 | 1130 |
| 3 | 3 | KG4W | Ed | 2416T | VA | 38 | 23 | 235 | 1109 |
| 4 | 3 | K4CNW | Jack | 2961T | SC | 32 | 24 | 185 | 953 |
| 5 | 3 (Club) | K9SKC/KJ7BS | Mark | 00T | AZ | 36 | 20 | 190 | 910 |
| 6 | 3 | W0JFR | John | 2826T | CO | 32 | 22 | 165 | 869 |
| 7 | 3 | W5TM | Ed | | OK | 31 | 22 | 140 | 822 |
| 8 | 3 | AI4AW | Chris | 4430 | GA | 30 | 20 | 130 | 730 |
| 8 | 3 | N9FC | John | 3893T | IN | 30 | 18 | 190 | 730 |
| 10 | 3 | N9OL | John | 4014C | IN | 26 | 19 | 155 | 649 |
| 11 | 3 | W9CC | Larry | 469T | IN | 26 | 18 | 180 | 648 |
| 12 | 3 | K1NV | Jon | 2609-T | NV | 24 | 18 | 170 | 602 |
| 13 | 4 | KL8DX | Phil | 3800 | AK | 26 | 17 | 135 | 577 |
| 14 | 3 | KI4CIA | Melinda | 2C | AL | 26 | 16 | 125 | 541 |
| 15 | 3 | W3RT | Red | 3237T | PA | 19 | 12 | 90 | 318 |
| 16 | 3 | KC9HGW | Bob | 281T | IL | 15 | 13 | 100 | 295 |
| 17 | 3 | KE5PWL | Eric | 4229 | LA | 16 | 13 | 75 | 283 |
| 18 | 3 | K8KFJ | Gary | 2444 | WV | 17 | 10 | 100 | 270 |
| 19 | 3 | KU4GW | Cliff | 652 | NC | 13 | 13 | 95 | 264 |
| 20 | 3 | VE5DC | Jerry | 4440 | SK | 13 | 12 | 100 | 256 |
| 21 | 2 | KB4QQJ | Randy | 3508T | NC | 13 | 12 | 95 | 251 |
| 22 | 3 | W5ZR | Bert | 2931T | LA | 15 | 10 | 90 | 240 |
| 23 | 3 | K5ENA | John | 3045T | OK | 12 | 11 | 85 | 217 |
| 24 | 3 | AA4HT | "Rip" | 3352T | FL | 11 | 11 | 90 | 211 |
| 24 | 3 | W5QLF | Joe | 375 | TX | 11 | 11 | 90 | 211 |
| 26 | 3 | N6EV | Paul | 3358C | CA | 10 | 8 | 125 | 205 |
| 27 | 3 | AF2Z | Drew | 2082T | NJ | 13 | 10 | 65 | 195 |
| 28 | 3 | WA1VIL | Greg | 443 | MA | 11 | 11 | 70 | 191 |
| 29 | 3 | AB1BW | George | 2468T | CT | 11 | 8 | 90 | 178 |
| 30 | 3 | K6FFY | Nick | 1221C | WA | 8 | 7 | 105 | 161 |
| 31 | 3 | NT9K | Bill | 1926T | FL | 10 | 9 | 65 | 155 |
| 32 | 3 | K0LUW | Russ | 1702T | NE | 9 | 8 | 75 | 147 |
| 33 | 3 | N0JL | Jim | 2079C | IA | 9 | 9 | 45 | 126 |
| 34 | 2 | N2JNZ | George | 2836T | NY | 8 | 8 | 60 | 124 |
| 35 | 2 | W1EJ | Ed | 1594 | CA | 6 | 5 | 90 | 120 |
| 36 | 2 | N2UM | Gary | 3041 | NY | 8 | 7 | 55 | 111 |
| 37 | 3 | KA3CTQ | Dan | 2338 | PA | 8 | 6 | 55 | 103 |
| 38 | 3 | LW3EX | Walt | 3804T | LU | 8 | 8 | 35 | 99 |
| 39 | 3 | K6JF | Jim | 4261 | CA | 7 | 6 | 55 | 97 |
| 40 | 3 | WB4FSF | Bonnie | 2504 | FL | 6 | 6 | 35 | 71 |
| 41 | 2 | N6DIT | Dennis Bullock | 3283 | CA | 3 | 2 | 60 | 66 |
| 42 | 3 | K2PAY | Jerry | 4304 | NY | 3 | 3 | 55 | 64 |
| 43 | 2 | N9GGE | John | 2886 | IL | 7 | 6 | 15 | 57 |
| 44 | 3 | N1VWD | Brad | 2143C | VT | 6 | 5 | 25 | 55 |
| 45 | 2 | AB8FJ | Ted | 62C | OH | 5 | 5 | 25 | 50 |
| 45 | 2 | KC2EGL | Michael | 553T | PA | 5 | 4 | 30 | 50 |
| 45 | 3 | K5PAX | Harvey | 1208T | NM | 5 | 5 | 25 | 50 |
| 48 | 2 | K2RFP | Dick | 2099T | NY | 3 | 3 | 40 | 49 |
| 49 | 3 | AA8XX | Tom | 1179 | MI | 6 | 6 | 10 | 46 |
| 50 | 3 | WA2JSG | Curt | 3018 | NJ | 5 | 4 | 25 | 45 |
| 51 | 2 | KA2KGP/P | Tom Perry | 1494 | NY | 3 | 3 | 30 | 39 |
| 51 | 2 | KH6OZ | George | 3975C | MT | 2 | 2 | 35 | 39 |
| 53 | 3 | N9QU | Leo | 3464C | WI | 3 | 2 | 20 | 26 |
| 54 | 2 | KC0RSX | Len | 14 | MN | 2 | 2 | 20 | 24 |
| 55 | 3 | KL7GLL | Gene | 1098T | VA | 4 | 4 | 0 | 16 |
| 56 | 2 | KD5ZKU | Ron | 3745 | TX | 1 | 1 | 0 | 1 |
Results by Category and Final Score

| Rank | CAT | Call | Name | SKCC | QTH | QSO's | S/P/C | Bonus | Score |
| --- | --- | --- | --- | --- | --- | --- | --- | --- | --- |
| 1 | 3 (Club) | K9SKC/KJ7BS | Mark | 00T | AZ | 36 | 20 | 190 | 910 |
| 1 | 2 | KB4QQJ | Randy | 3508T | NC | 13 | 12 | 95 | 251 |
| 2 | 2 | N2JNZ | George | 2836T | NY | 8 | 8 | 60 | 124 |
| 3 | 2 | W1EJ | Ed | 1594 | CA | 6 | 5 | 90 | 120 |
| 4 | 2 | N2UM | Gary | 3041 | NY | 8 | 7 | 55 | 111 |
| 5 | 2 | N6DIT | Dennis Bullock | 3283 | CA | 3 | 2 | 60 | 66 |
| 6 | 2 | N9GGE | John | 2886 | IL | 7 | 6 | 15 | 57 |
| 7 | 2 | AB8FJ | Ted | 62C | OH | 5 | 5 | 25 | 50 |
| 7 | 2 | KC2EGL | Michael | 553T | PA | 5 | 4 | 30 | 50 |
| 8 | 2 | K2RFP | Dick | 2099T | NY | 3 | 3 | 40 | 49 |
| 9 | 2 | KA2KGP/P | Tom Perry | 1494 | NY | 3 | 3 | 30 | 39 |
| 9 | 2 | KH6OZ | George | 3975C | MT | 2 | 2 | 35 | 39 |
| 10 | 2 | KC0RSX | Len | 14 | MN | 2 | 2 | 20 | 24 |
| 11 | 2 | KD5ZKU | Ron | 3745 | TX | 1 | 1 | 0 | 1 |
| 1 | 3 | K9MMS | Gary | 4291T | IL | 42 | 27 | 200 | 1334 |
| 2 | 3 | K9DTH | Ron | 3698 | IL | 40 | 24 | 170 | 1130 |
| 3 | 3 | KG4W | Ed | 2416T | VA | 38 | 23 | 235 | 1109 |
| 4 | 3 | K4CNW | Jack | 2961T | SC | 32 | 24 | 185 | 953 |
| 5 | 3 | W0JFR | John | 2826T | CO | 32 | 22 | 165 | 869 |
| 6 | 3 | W5TM | Ed | | OK | 31 | 22 | 140 | 822 |
| 7 | 3 | AI4AW | Chris | 4430 | GA | 30 | 20 | 130 | 730 |
| 7 | 3 | N9FC | John | 3893T | IN | 30 | 18 | 190 | 730 |
| 8 | 3 | N9OL | John | 4014C | IN | 26 | 19 | 155 | 649 |
| 9 | 3 | W9CC | Larry | 469T | IN | 26 | 18 | 180 | 648 |
| 10 | 3 | K1NV | Jon | 2609-T | NV | 24 | 18 | 170 | 602 |
| 11 | 3 | KI4CIA | Melinda | 2C | AL | 26 | 16 | 125 | 541 |
| 12 | 3 | W3RT | Red | 3237T | PA | 19 | 12 | 90 | 318 |
| 13 | 3 | KC9HGW | Bob | 281T | IL | 15 | 13 | 100 | 295 |
| 14 | 3 | KE5PWL | Eric | 4229 | LA | 16 | 13 | 75 | 283 |
| 15 | 3 | K8KFJ | Gary | 2444 | WV | 17 | 10 | 100 | 270 |
| 16 | 3 | KU4GW | Cliff | 652 | NC | 13 | 13 | 95 | 264 |
| 17 | 3 | VE5DC | Jerry | 4440 | SK | 13 | 12 | 100 | 256 |
| 18 | 3 | W5ZR | Bert | 2931T | LA | 15 | 10 | 90 | 240 |
| 19 | 3 | K5ENA | John | 3045T | OK | 12 | 11 | 85 | 217 |
| 20 | 3 | AA4HT | "Rip" | 3352T | FL | 11 | 11 | 90 | 211 |
| 20 | 3 | W5QLF | Joe | 375 | TX | 11 | 11 | 90 | 211 |
| 21 | 3 | N6EV | Paul | 3358C | CA | 10 | 8 | 125 | 205 |
| 22 | 3 | AF2Z | Drew | 2082T | NJ | 13 | 10 | 65 | 195 |
| 23 | 3 | WA1VIL | Greg | 443 | MA | 11 | 11 | 70 | 191 |
| 24 | 3 | AB1BW | George | 2468T | CT | 11 | 8 | 90 | 178 |
| 25 | 3 | K6FFY | Nick | 1221C | WA | 8 | 7 | 105 | 161 |
| 26 | 3 | NT9K | Bill | 1926T | FL | 10 | 9 | 65 | 155 |
| 27 | 3 | K0LUW | Russ | 1702T | NE | 9 | 8 | 75 | 147 |
| 28 | 3 | N0JL | Jim | 2079C | IA | 9 | 9 | 45 | 126 |
| 29 | 3 | KA3CTQ | Dan | 2338 | PA | 8 | 6 | 55 | 103 |
| 30 | 3 | LW3EX | Walt | 3804T | LU | 8 | 8 | 35 | 99 |
| 31 | 3 | K6JF | Jim | 4261 | CA | 7 | 6 | 55 | 97 |
| 32 | 3 | WB4FSF | Bonnie | 2504 | FL | 6 | 6 | 35 | 71 |
| 33 | 3 | K2PAY | Jerry | 4304 | NY | 3 | 3 | 55 | 64 |
| 34 | 3 | N1VWD | Brad | 2143C | VT | 6 | 5 | 25 | 55 |
| 35 | 3 | K5PAX | Harvey | 1208T | NM | 5 | 5 | 25 | 50 |
| 36 | 3 | AA8XX | Tom | 1179 | MI | 6 | 6 | 10 | 46 |
| 37 | 3 | WA2JSG | Curt | 3018 | NJ | 5 | 4 | 25 | 45 |
| 38 | 3 | N9QU | Leo | 3464C | WI | 3 | 2 | 20 | 26 |
| 39 | 3 | KL7GLL | Gene | 1098T | VA | 4 | 4 | 0 | 16 |
| 1 | 4 | KL8DX | Phil | 3800 | AK | 26 | 17 | 135 | 577 |
Soapbox
---

KH6OZ Operated by: George

Only operated the last 20 minutes of the SKS. Had 2 Qso's.
Thanks Mark for K9SKC QRP, and Jim K9JWV 2xQRP.
Lots of fun again 73's to all.



---

N9FC Operated by: John

storms an qrn still fun
jOHN


---

K2RFP Operated by: Dick

After my first contact about 7 minutes into the sprint I felt like crawling under a rock..the sprint logger didn't work right!
Please accept my apologies.
I stopped sprinting and fixed it, then came back to make two more contacts in the sprint.
Condx didn't seem too good for 3 watts.


---

N9QU Operated by: Leo

Heard many stations but worked only a few. Lots of QRN.
Could not find K9SKC but looked on 10, 15, 20, 40 & 80.
Had fun!
73 es tnx to all. e e


---

AB1BW Operated by: George

Another fun sprint even with poor conditions and a high noise level. At least I didn't have to shut down because of thunder storms again. Bounced back and forth between 20 and 40 meters with nothing heard on 10 or 15. Bring on the sunspots!!! 73 to all, George


---

KC2EGL Operated by: Michael

Did not have much time for this month's SKS due to preparing for Field Day. Had fun as always. I bagged my first QSO from Saskatchewan in the Great White North. Thanks Gerald VE5DC.

CUL during Field Day.
73
Michael
KC2EGL
SKCC 553T


---

LW3EX Operated by: Walt

Nice Sprint !!!
Spent a great time, warmed my fist on this cold nite
Tnx all, CU on next WES, 73 - ..-


---

K6JF Operated by: Jim

Could have scored a few more sations, but was looking for new numbers. Picked up three numbers and one state.


---

KI4CIA Operated by: Melinda

The best two hours I've spent in a long time ... 20 meters was HOT! And working DX never gets old ... I'd be happy if those were the only three I worked :)

It was nice to meet old friends again and make some new ones ... thanks to all, especially those who had to put up with a faulty key near the end of the sprint!


---

W0JFR Operated by: John

Started on 15m, but no takers. 20m was pretty nice, but ran dry around 0100z. 40m was real noisy (S9 noise here), but most stations broke thru the noise. K3/100 (new), SteppIR BigIR, K2RFP logging s/w.


---

KG4W Operated by: Ed

Worked only 20 & 40 mtrs, had 22 of 38 qsos on 20. Very sorry I could not complete qso with ZL2SWR on 20, just could not pull it off. Figured out after sks who it was !@#$opied all but last letter in call & last 2 numbers of nr.
The sprint logger by K@RFP is great. CU next time.



---

WA2JSG Operated by: Curt

My 1st SKCC contest. Lotsa fun!


---

N9OL Operated by: John

I really enjoy these SKS nights! 73!


---

N2JNZ Operated by: George

Lousy nite to QRP .... thanks to all who got me !!

Elecraft K1
Half G5RV sloper up 35 ft
Vibroplex 100th Annie Bug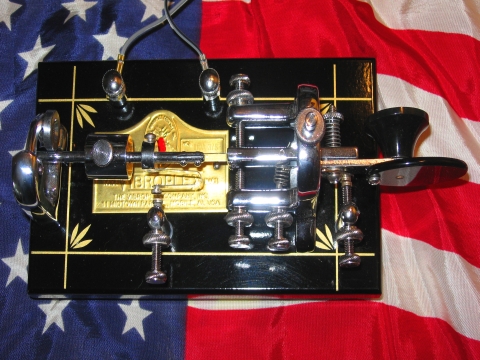 ---

K9SKC/KJ7BS Operated by: Mark

I always have a blast operating the club call! I started on 10m but nothing going on there. The most productive band was 20m. There was a lot of QRN on 40m, but it was workable.

73
Mark, KJ7BS


---

W3RT Operated by: Red

A nice turn-out for the SKS. Only worked 20 & 40 meters, but lots of good signals heard everywhere! Worked one non-member, and hope he becomes on of the SKCC Group.


73 to all. Red, W3RT in PA, SKCC # 3237T


---

KU4GW Operated by: Cliff

This was just the 2nd Sprint I've ever participated in. Boy,is my wrist tired! I tried 10 meters at first with no success. I heard K5EWJ Cookie on 28.050 strong right before the net. 40 meters was in fairly good shape tonight compared to the past few weeks. Must have been less storms around.Lucked up and got K9SKC on 30 meters! Thanks Mark!Looking forward to my next Sprint.It was a lot of fun. I'm getting better at bug copying.After Field Day my speed should increase some too. I remember year before last, after Field Day, I was hearing CW for 2 days after it ended even when I wasn't near a radio! 73 de Cliff KU4GW
SKCC # 652. SK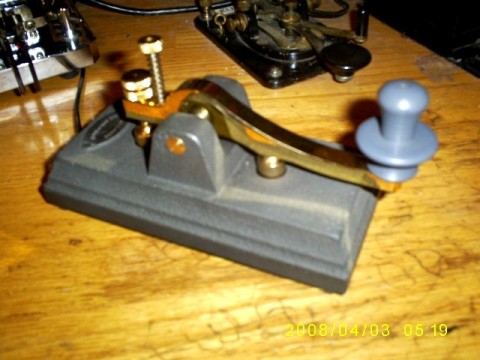 Key I used in Sprint - Begali Camelback with Navy Knob


---

N6EV Operated by: Paul

Every limited time to participate this time around. Only 10 QSOs.. but fun none the less. Used the antique Bunnell Camelback Telegraph KOB (circa 1878) in the foreground.

See you all in a few days for SKN!
73, Paul N6EV
SKCC 3358C / FISTS 1407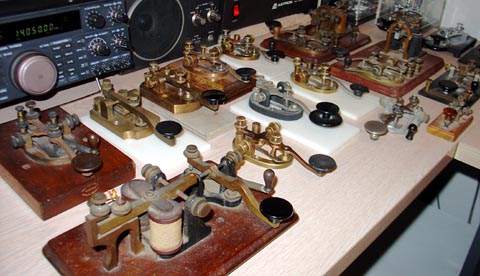 Lots to choose from! You can never have enough straight keys! Still room for more!


---

KC9HGW Operated by: Bob

I was checking some new gear for Field Day and came
across SKS, and couldn't resist. This was my first
Sprint with the Pro3 and my first in Several months.



---

W5TM Operated by: Ed

Lots of QRN. All QSO's were on 40m.

80m dipole at 80 feet, fed with 600 ohm line

Elecraft K3, Johnson KW Matchbox


---

W5ZR Operated by: Bert

I only got in for the last half hour. 40 Meters seemed to be quite busy with SKS qsos. Good show!


---

K8KFJ Operated by: Gary

Nice to catch Phil KL8DX in AK on 20m. 40m was productive enough that I never made it to 80. Thanks to all the Tribunes that showed up that kept us fairly busy. There was some big signals tonight including KB4QQJ/QRP. My key tonight was the usual Nye Viking Master Key. Ya gotta luv the Weekday Straight Key Sprint. 73, Gary -K8KFJ- #2444


---

K5ENA Operated by: John

20 Meters had good propagation, from Alaska to Ecuador to Argentina. Good Sprint.


---

KE5PWL Operated by: Eric

wow, 20 meters was hot for me. had a great hour and a half.


---

WA1VIL Operated by: Greg

20 Meters was open tonight-much better propagation from this QTH than last month. Thanks to all the ops who slowed down a bit, gave fills and put up with my ragged fist. Great fun as always!


---

K9MMS Operated by: Gary

Twenty was good at the start, then it seemed to stall out. Made 10 QSOs in the first 20 minutes, then went 18 minutes without another QSO on 20. Checked 40, but it was noisy and sparse, so returned to 20.

QSYd to 40 at 0052Z. Spent the rest of the time on 40 meters. Checked 80 a couple of times, but it was very noisy and almost no signals heard. Thirteen QSOs on 20 and 29 Qs on 40 meters.

Sure hope conditions improve soon, but we are now in the summer noise. Thanks for the QSOs. 73, Gary


---

K6FFY Operated by: Nick

A fun two hours. Sprint contacts started off slowly, but got better as propagation improved.


---

K1NV Operated by: Jon

I could hear the guys back east, but they couldn't hear me through the QRN on 40 meters. 20M was the best band for this Sprint. DX was in evidence with HC2AD, KL8DX, VE5DC, and LW3EX worked. I found Stan, ZL2BQH, on 20 meters just after the sprint ended.
The Lafayette key, TS-940S, and 135 foot dipole are still my mainstays for the sprints.


---

KB4QQJ Operated by: Randy

Forty minutes late getting started but as always a good time. Got on the air and heard a 40 over station calling "sks" -- BOOM -- there was Kaz, K8KS, my first contact and strongest signal of the night. Heard lots of stations but just wasn't the night for NC to get back to them. Only a few could hear me tonight. Nil on 80 and only 4 contacts on 20. But one of those was a first QSO with a legend. Melinda KI4CIA # 02C was hauling in at 579. First time contact with her and been trying since K2A. Thanks Melinda! Special thanks to KA2KGP Tom, in NY for sticking with me and pulling me out of the muck I was in. Your ears have got to be ringing after that one Tom. It took me a few times but Thanks for the perseverance. Looking for some big scores this time as many times as I heard "sks" hi hi. Ready for another one.

Randy KB4QQJ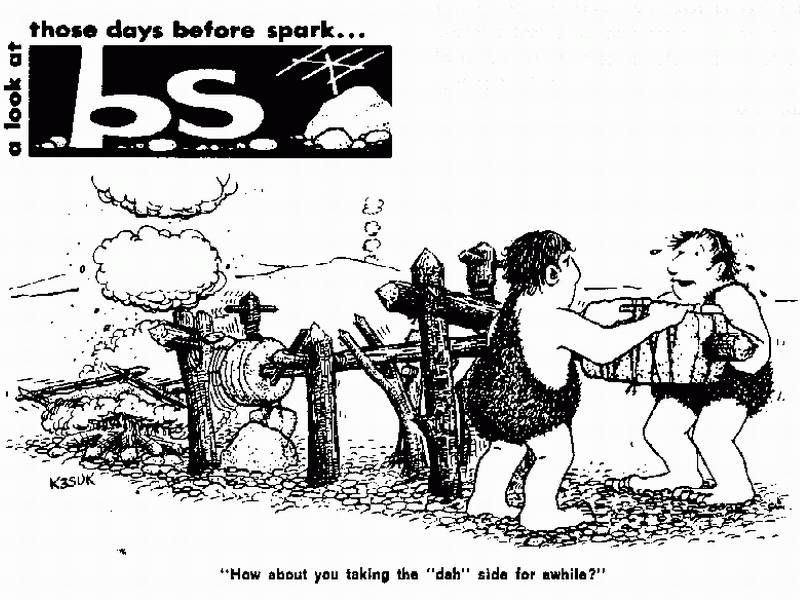 Hey! I think I heard those guys last night!!


---

NT9K Operated by: Bill

It was very noisy here in Florida with thunderstorms in the area. It was great to hear some old friends, even if I didn't get to work them all. No new members, but did work a non-member W5TM.

My equipment: Rig Kenwood TS-870 @ 100W, Antennas 40 meter inverted vee and 2 rusty slinkies for 20 meters, my key for this sprint was my LTA Sideswiper for all qso's but one slow one. For that one, I used my newest Navy Flameproof.

73, Bill NT9K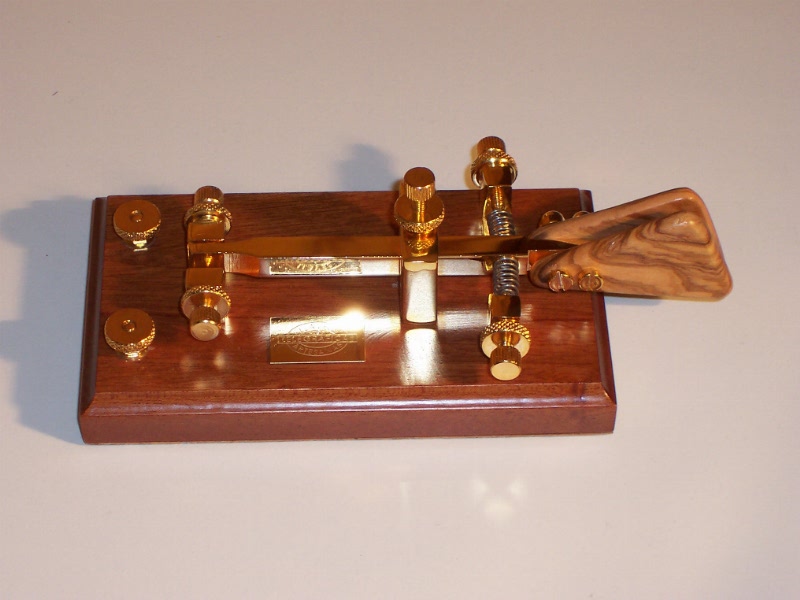 LTA Sideswiper


---

K4CNW Operated by: Jack

Had a great time! Thunderstorms held off and QRN was low for a change. Worked Cookie on 10 meters to start the Sprint but no other activity heard there. KL8DX had a booming signial on 20 from Denali National Park in Alaska.


---

AF2Z Operated by: Drew

The first sprint with my new K3. Was a little distracted between the new rig and a new logbook format. Sri to Cliff KU4GW for mistaking you for Ed KG4W, and Kaz K8KS for the dup... Worked two non-members: Rod W7OM in WA (vy active op!) and Ed W5TM in OK... There were some good sigs on 80m but no SKCC; only two QSOs on 20m, the rest on 40... Heard K9SKC but never caught up with him... These sprints really light up the band; afterwards it's dead as a doornail... My station: Elecraft K3 @ 10 watts, 100ft wire, Junker straight key. -- 73, Drew


---

N1VWD Operated by: Brad

Icom-736 @ 100w
Windom @ 35ft
Bencher RJ-1 straight key
Waltham, Vt



---

KL8DX Operated by: Phil

I normally don't get home from work early enough to participate in this contest other than during the last 15-30 minutes. I ended up staying home due to an illness and spent most of the day in bed. My wife called a few minutes before the contest began to check up on me. I decided to get up and work what I could and even though I did not feel well. The 2 hours flew by.

The band conditions were pretty rough with lots of noise but I was excited to work into several states. I worked several new SKCC numbers and a few moved up to C's and T's from the last time I worked them, congrats! I think I have around 107 SKCC numbers now.

Thanks for the contacts and to all those that make this and the other SKCC contests possible.

Phil KL8DX
Denali National Park, AK



---

AA8XX Operated by: Tom

lots of fun and i ran 50 watts and my 40 meter full loop up at 15 feet, a real cloud warmer hi hi. I cud only get one station on 20 meters then went to 40 for 4 qso's and from there to 80 for one more Really lots of fun. Thanks for having a straight key contest.
73 TOM AA8XX


---

AA4HT Operated by: "Rip"

Even though the bands were noisey in Florida from thunder storms, found some great signals on 20 and 40. Always enjoy the sprint.


---

WB4FSF Operated by: Bonnie

20 meters was in very unusual condition: first I worked Jack in South Carolina and just a few minutes later, I worked Phil in Alaska!!

It was a fun contest. Lots of QRN on 40 meters. I enjoyed meeting the stations I was able to QSO. 73, Bonnie


---

W9CC Operated by: Larry

There was lots less noise on 20 but eventually everyone moved to 40. Lots of fun for everyone I'm sure.


---

KL7GLL Operated by: Gene

Only had 15 minutes to work before called away for family, but made the most of it, working both Allan, HC2AD, and Phil, KL8DX, as well as a couple of continental US Members. Interesting condx and wish I could have stayed to play longer.


---

KA2KGP/P Operated by: Tom Perry

Worked portable from my camp. I almost bent my straight key trying to cut thru the QRN ! Summertime static levels were nasty. I hope next month quiets down a bit. 73 to all.


---

N0JL Operated by: Jim

Last month helped me toward my 'C' and this month helps toward my 'T.' Great fun. All with a cootie key.


---

K0LUW Operated by: Russ

Tough night - got "rained out" - all but the last 35 minutes and a noise level of 20 over s9 from the storm. Hope everyone had a good time.


---

W5QLF Operated by: Joe

This was my second time out on SKS and the first time using Sprintlogger. Twenty meters was fairly good with some rather stong signals and not too many in the mud. This was excellent warm-up for Field Day 2008. I enjoy the quick turn around of the results and will try to work this Sprint more often.

73, Joe W5QLF



---
Powered by www.skccgroup.com - Automated by K2RFP.